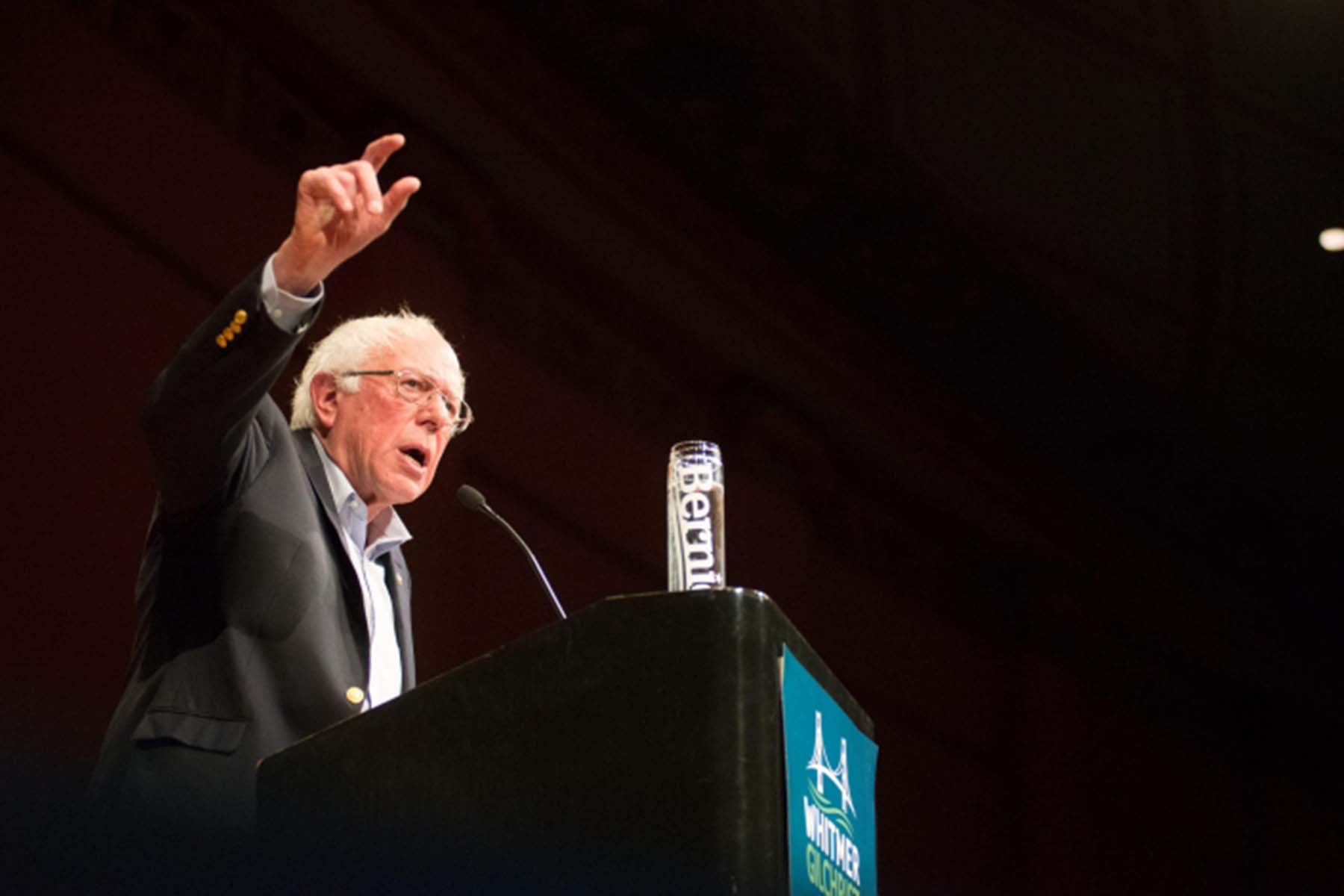 Emma Ruberg as "Sanders garners support among Muslim, Arab American communities in Michigan" for Michigan Daily
Senator Bernie Sanders, I-Vt., works to earn support of Muslim and Arab American communities before the primary on March 10.
Annie Klusendorf/Daily
Bernie Sanders, the Vermont senator hoping to win the Democratic presidential nomination, has made an extensive effort to reach out to the Muslim community, garnering large support. Arab American and Muslim groups on various social media platforms use #Muslims4Bernie and #InshallahBernie to show their support. Many in the Muslim community have taken to referring to Sanders as "Amo Bernie," meaning "Uncle Bernie."
At a campaign event in Dearborn on Saturday, Sanders addressed members of the area's large Arab American and Muslim communities. He discussed the need to focus on what unifies people, rather than what divides them.
"Every person in this room, it doesn't matter if you're Christian, Muslim, Jewish, whatever you may be, you have the same dreams and aspirations," Sanders said on Saturday. "Last I heard, everyone needs health care as a human right. Last I heard, everyone wants their kids to get a quality education."
According to the Los Angeles Times, representatives from the Sanders campaign said they hope Muslims will help him win the upcoming Michigan primary, as he did in 2016. They also believe the campaign's outreach, which includes campaign ads in Arabic, to the Arab American and Muslim communities would be a relevant factor if he wins. Sanders's campaign released a digital ad on Sunday highlighting support for the senator among members of Michigan's Arab American population.
U.S. Rep. Rashida Tlaib, D-Mich., backed Sanders early on, endorsing him in October 2019. In the video announcing her support for Sanders, she cited his backing of her and other recently elected women of color. She spoke of Sanders's commitment to implementing values they both share.
"For me, representing the third poorest Congressional district in the country, he is in many ways pushing back against this really painful oppression," Tlaib said. "It's been incredibly inspiring to see his unwavering support for the same ideals that I have."
His campaign manager Faiz Shakir is the first Muslim and Pakistani American campaign manager for a major political party presidential campaign. Sanders has also received endorsements from many leaders in the Muslim community. In addition to Tlaib, U.S. Rep. Ilhan Omar, D-Minn, endorsed Sanders in October. Tlaib and Omar are the first two Muslim women elected to Congress, both with widespread support from the Muslim community and throughout their districts. Tlaib is also the first woman of Palestinian descent to serve in that role.
Other prominent Arab American community leaders in Michigan have thrown their support behind Sanders in recent weeks. In a Feb. 27 press release, the Sanders campaign announced endorsements from four Michigan public officials, including state Rep. Yousef Rabhi, D-Ann Arbor, who has ties to the Arab American and Muslim communities, as well as Dearborn Heights Councilmember Dave Abdallah, a Lebanese immigrant, and Ann Arbor Councilmember Ali Ramlawi, D-Ward 5, a Palestinian American whose father left the West Bank as a refugee in 1948.
State Rep. Abdullah Hammoud, the first Arab American Muslim to represent Michigan's 15th State House District, and former gubernatorial candidate Abdul El-Sayed have also joined the Sanders's camp, speaking at a campaign rally in Dearborn on Saturday.
On Twitter, Hammoud explained his reason for backing Sanders, saying the senator "not only sees Arab and Muslim Americans, he doubles down and organizes WITH us. There has never been a candidate for president who has been as sincere in those efforts."
Sanders has also received support from various groups representing Arab American and Muslim communities, such as the American Arab and Muslim Political Action Committee , the Michigan Yemeni-American Democratic Caucus , as well as leaders of the Arab American Civil Rights League and the American Arab Chamber of Commerce.
In the 2016 presidential election, 63 percent of registered Muslim voters turned out to vote in Michigan, more than a 12 percent increase from the 2012 presidential election. However, this 63 percent only accounts for 36 percent of total eligible Muslim voters, due to low registration rates.
LSA sophomore Eman Naga, who is involved in the Sanders campaign, discussed how support among the Muslim community could affect the upcoming election if voter turnout rises, especially in cities like Dearborn.
"I feel like Arab Americans have genuinely been a sleeping giant just because they don't go out and vote as much as they can," Naga said. "So I think getting Dearborn to vote and getting those numbers from Dearborn could sincerely help the nominee especially because Michigan has a lot of Muslims in general. Being able to draw from that support, I think it would change the game."
Sanders' outreach and foreign policy positions both are major factors in his widespread support. He was one of only two Democratic presidential candidates to speak at the Islamic Society of North America's annual convention, one of the largest annual gatherings of American Muslims. He also spoke at a Los Angeles mosque following the New Zealand mass shooting in Christchurch.
Sanders spoke about his outreach to the Muslim community in an interview with Hasan Minhaj, host of Netflix's Patriot Act, saying his outreach to various communities was not a political tactic, specifically in regards to hiring Shakir as campaign manager.
"We don't hire people because they're Pakistani," Sanders said. "We hire people because they can do the job, because they're smart, they are hardworking and they can do their job, and I don't give a damn where they came from or what their religion is. Now, maybe that sounds radical, but it is what I believe."
Sanders has visited Dearborn previously. In 2016, he won the city, which has the largest Muslim population in the United States, by 20 points over Hillary Clinton. During his visit in July of this year, he spoke with residents and community members at Qahwah House, a popular local coffee house owned by a Yemeni immigrant. Former Vice President Joe Biden also visited Dearborn, speaking at a local restaurant.
Hiba Dagher, LSA sophomore and member of the Arab Student Association, discussed Sanders' and Biden's visits to Dearborn and explained how she believed the difference between the candidates was demonstrated during that time.
"Bernie Sanders and Joe Biden came to Dearborn to visit and they both appeared at local businesses, but the difference between them is staggering," Dagher said. "Joe Biden chose to go to this trendy, slightly upscale, kind of restaurant. Bernie Sanders chose to go to this Yemeni American coffee shop nestled in East Dearborn. It just said so much about (Sanders's) commitment to actually reaching out to as many Americans, real, everyday people, not just people who can move and afford to live in a better neighborhood."
Business senior Razeen Karim said Sanders's outreach is a reason for his support and said the consistency of Sanders's positions makes him seem more genuine than other candidates.
"He's been extremely consistent with his values throughout his entire life and he's always been very honest with those values," Karim said. "Voices (in the Muslim community) aren't really heard other than just being tokenized when needed. Bernie has just always been willing to listen."
Public Health senior Umaima Abbasi participates in voter education efforts and campaigns for Sanders. She said his dependability is one of the main reasons she is supporting him.
"All his policies that the Democrats are finally now deciding over are policies that he's been fighting for since the 1980s," Abbasi said. "He's remained consistent in his stance for universal health care, he's remained consistent in his stance on immigration policy and foreign policy. I feel that's what makes him stand out, that he created all these policies and he's been fighting for them and now everyone else is hopping on that bandwagon."
Many of his policy positions are shared among members of Arab American community, including the senator's stance on the Israeli-Palestinian conflict.
At an Atlanta rally in November, Sanders — who, if elected, would be the first Jewish president — said the current situation is unsustainable for residents of both Israel and Palestine. The month prior, Sanders spoke at the annual conference of J-Street, a group advocating an end to the Israeli-Palestinian conflict. Sanders discussed his plan for U.S. funding to Israel and how it could be used to support a solution.
"I would use the leverage of $3.8 billion," Sanders said. "It's a lot of money (so) we have a right to demand respect for human rights and democracy. Some of that $3.8 billion should go right now into humanitarian aid in Gaza."
Engineering junior Omar Al-Ejel explained why Sanders' position on the Israeli-Palestinian conflict is important and why Sanders would be unique in helping solve the problem.
"I think his stance on Palestine is (important). He's uniquely positioned to be someone who could also give his voice on that because he's Jewish," Al-Ejel said. "He's willing to say that he will divert money or use the money that's being sent to Israel, the billions of dollars, to invest in people living in Gaza."
Sanders also often speaks about President Donald Trump's ban on travel from Muslim-majority countries, saying he will end the policy if he becomes president. On his campaign website, Sanders explains how he would take action if elected.
"(I will) overturn President Trump's racist and disgusting Muslim ban," the website reads. "(We will) work with Congress to codify limitations on the President's ability to restrict or suspend the entry of people or classes of people into the United States."
Another key part of Sanders's platform is his anti-war position. Following the U.S.'s assassination of Iran General Qasem Soleimani in January, Sanders doubled down on his calls for the U.S. to pull back from military intervention in that region.
Dagher discussed why Sanders's anti-war message appealed to her and others in the Arab American and Muslim communities, especially those to whom U.S. intervention in the Middle East may seem like a norm.
"He has really good domestic and foreign policy stances, especially with foreign policy," Dagher said. "A lot of people in my generation have grown up with there being a U.S. presence in the Middle East. I think that he is one of the few candidates who has actually made some commitments to trying to solve the problems rather than continue to escalate them."
Al-Ejel said he agrees with Sanders's foreign policy positions, but his other stances were also important in garnering his support. He noted parallels between his personal religious beliefs and Sanders's policies.
"What got me into the campaign wasn't just Bernie's stance on immigration or war … but that his policies like Medicare for All embody part of my faith," Al-Ejel said. "Everyone should live healthy and good lives — fighting climate change and pollution (…) is part of being a Muslim. The point I'm trying to make is that I don't want people to think that Muslims are single-issue voters. There are great policies that we care about, and doing right by our community when it comes to protection and representation is only half of the story."
Naga is firm in her support for Sanders, but also made it clear she did not believe he was a perfect candidate.
"There are things that I wish he can do better for the Muslim community," Naga said. "I wish that he didn't vote for the war in Afghanistan. I wish that he can say that a big part of why Trump was successful was racially-based and not economically-based. I wish that he can stop saying things like he is 'pro-Israel' before stating that Palestinians are being systemically oppressed by the Israeli government. The clarification of being pro-Israel before stating that the government is robbing Palestinians rubs me the wrong way. However, despite his faults, from my view, he is the best candidate to not only care about Muslim issues but human issues."