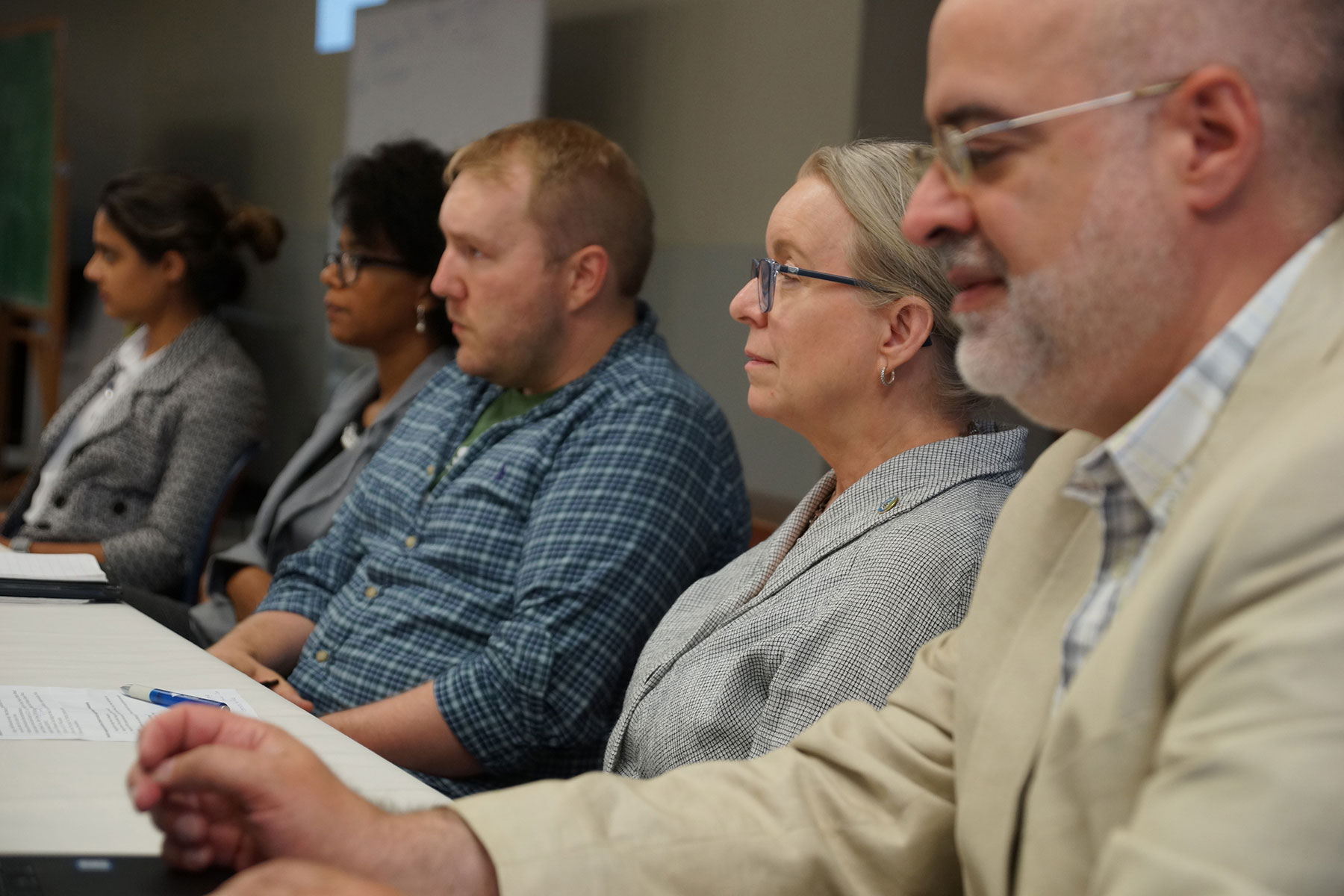 The Milwaukee Muslim Women's Coalition and ACLU of Wisconsin hosted a "No Muslim Ban" community forum held at the Islamic Society of Milwaukee on June 29, in response to the U.S. Supreme Court decision to uphold the travel ban created by President Trump to block Muslims from entering the country.
The public discussion focused on understanding the SCOTUS ruling, its effects, and how the public could engage in the political system to affect legislative changes. Moderated by the American Civil Liberties Union (ACLU), the forum included Asma Kadri-Keeler (ACLU of Wisconsin), Tahjood Mohieldin (Milwaukee Muslim Women's Coalition), Jacob Robinson (Veterans for Peace), Mary Flynn (LSS Refugee Settlement), and Ahmed Quereshi (Quereshi Law).
The issue of national security was used to justify the Muslim ban, which has given Trump wide powers to circumvent the Constitution and established laws. For example, he classified Canada – a historic ally who shares a border with the United States – as a national security threat as justification to impose tariffs on steel and aluminum products.
"Supporters say that the ruling only affects 8% of the worlds population, but what that misses in the analysis is the fact that some of these countries are areas that are war torn largely by Civil War. So there is a larger percentage of very desperate people who are deserving of asylum and a chance for their families to come here," said Quereshi. "Syria is one of the banned countries, and there are Syrian immigrants all across America who now cannot bring loved ones here, people who are needy and deserving of consideration – assuming they pass the strong vetting procedure which has already been in place for years."
Quereshi also noted that there had been no case of anyone committing an act of terrorism in America who had entered the country under the asylum or refugee programs.
"This is not the first time the Supreme Court has been wrong or has allowed official racism and xenophobia to continue rather than standing up to it. As with those rulings, history will judge this new decision harshly," said the ACLU of Wisconsin in a statement. "Two of the defining themes of Donald Trump's presidency emerged early in his Muslim Ban decision: His determination to stamp anti-Muslim bigotry into national policy, and the key roles of the courts and the public in stopping him. The Supreme Court failed in its public duty of upholding this country's most basic principles of freedom and equality."
The decision to uphold Trump's Muslim ban is a failure of historic proportions. In 1944, the Supreme Court decision in Korematsu upheld Executive Order 9066, allowing the government to implement its grossly discriminatory Japanese American imprisonment policy based on false assertions of national security. It is one of the most shameful chapters of U.S. history, and the Muslim Ban decision now joins it.