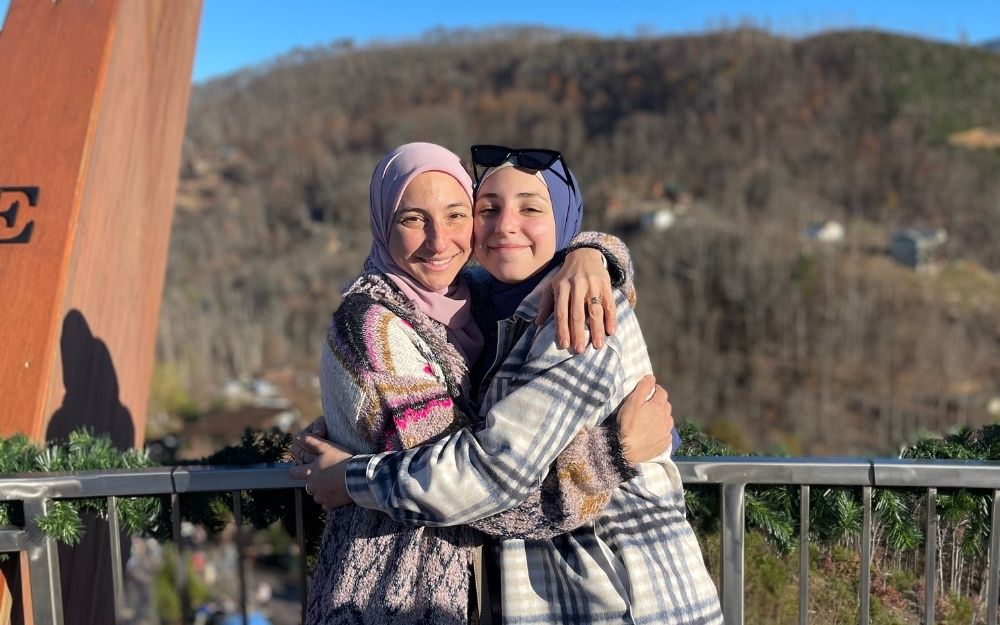 Leen Mortada (right) credits her mother Manal Roumani (left) with pushing her out of her comfort zone.
Winner of Marquette University's prestigious Magis Award shares some advice with Muslims who are headed to college: "Figure out what you want your college experience to be, then follow through with it in every way possible. Stay true to what you want and to your own values."
That's exactly what MU sophomore Leen Mortada of River Hills is doing, say those who know her. 
"I was not surprised at all that she won the Magis Award because I know how hard she works and all she does," said Mortada's friend Jehan Khaled, an MU sophomore from Mequon. "She is very caring, always helping people. I just think it is awesome for her to be recognized."
A 4.0 student in the Honors Program, double majoring in International Affairs and Criminology with a minor in Social Justice and Welfare, Mortada values leadership, service, and opportunities to represent her faith, she told Wisconsin Muslim Journal Monday in a Zoom interview. She is also in MU's Excellence in Leadership Program (E-Lead), a three-year academic program for select students across disciplines that develops leadership rooted in the Jesuit tradition.
Mortada is president-elect of Marquette's Muslim Student Association and an officer in MU's Students for Justice in Palestine. She works 10 hours a week as an intern in MU's Center for Engagement and Inclusion, volunteers for the Big Brother Big Sister of America Program and tutors for MU's Educational Opportunity Program, which offers support to first-generation and low-income students. She also works on MU's Student Success Initiative committee, which identifies resources to help MU first year and transfer students, and maintains a website.
Marquette recognized Mortada in March with one of its highest honors, the Magis Award, a university-wide award given to one student from each class "who has demonstrated exceptional leadership, dedication and commitment above and beyond the requirements of a paid or appointed role," according to the MU website. 
Winning a top honor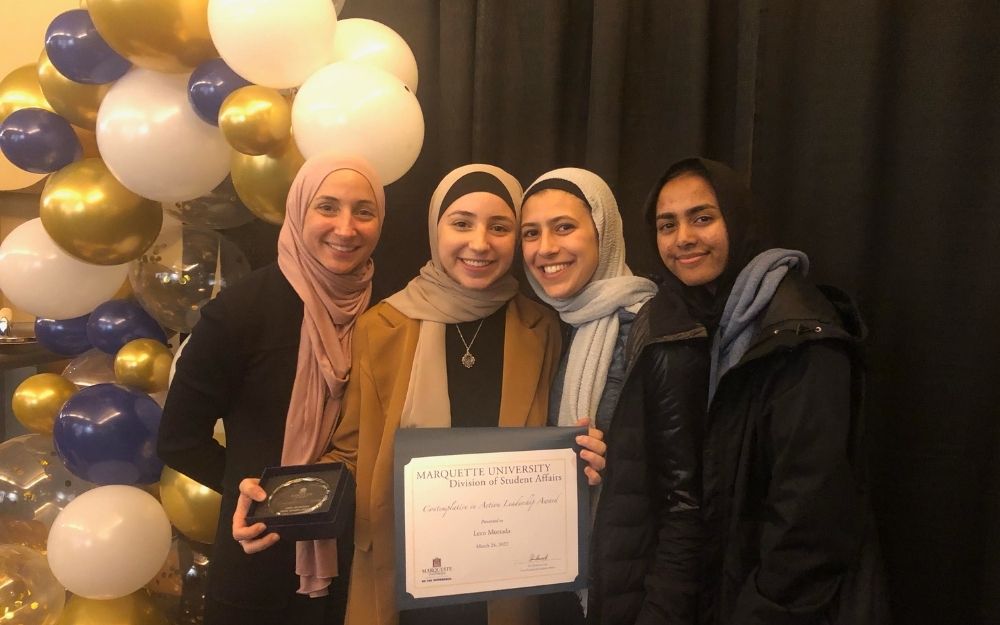 At Marquette University's March awards ceremony, Leen Mortada (second from left) holds the Magis Award and the Contemplative in Action Leadership Award. Her mother Manal Roumani (left) and her friends Jehan Khaled and Yusra Khaja (right)
The Office of Engagement and Inclusion nominated Mortada for the campus-wide Magis Award, which recognizes students who have shown exceptional leadership, dedication and commitment. Magis is Latin for "more." (Mortada also won the "Contemplative in Action Leadership Award," which made her eligible for the Magis Award.)
Tiffany Fulford, coordinator of cultural engagement for the Office of Engagement and Inclusion, compiled "thoughts from multiple professional staff members" to nominate Mortada. Fulford shared the nomination with WMJ. 
It says:
"Leen's service goes beyond the Office of Engagement and Inclusion as an executive board member on the Muslim Student Association. Within this role, she has shown an extraordinary amount of resourcefulness, open-mindedness and consistency to raise awareness of MSA's initiatives. She has worked with various university department leaders to discuss how MSA's goals and values may align with theirs and in turn has created meaningful collaborations that are mission-driven. 
"Before Leen's work, departments may not have recognized the opportunity to collaborate, but she has genuinely fostered connections that uphold the Magis value within Marquette's community.
"Furthermore, Leen's willingness to learn has resonated across campus and has influenced students, staff and faculty alike. Willingness to learn itself is the epitome of Magis. 
"She understands there will always be an opportunity to do more for the community and is constantly seeking ways to do so. The spirit of Magis also spreads to the connections she makes with others. Staff within the Office of Engagement and Inclusion have truly noticed her service for and with others encourages others to do the same.  Whether it's through leadership, diversity and inclusion, involvement or service, Leen has gone above and beyond with quality and care for all." 
Leadership is part of who she is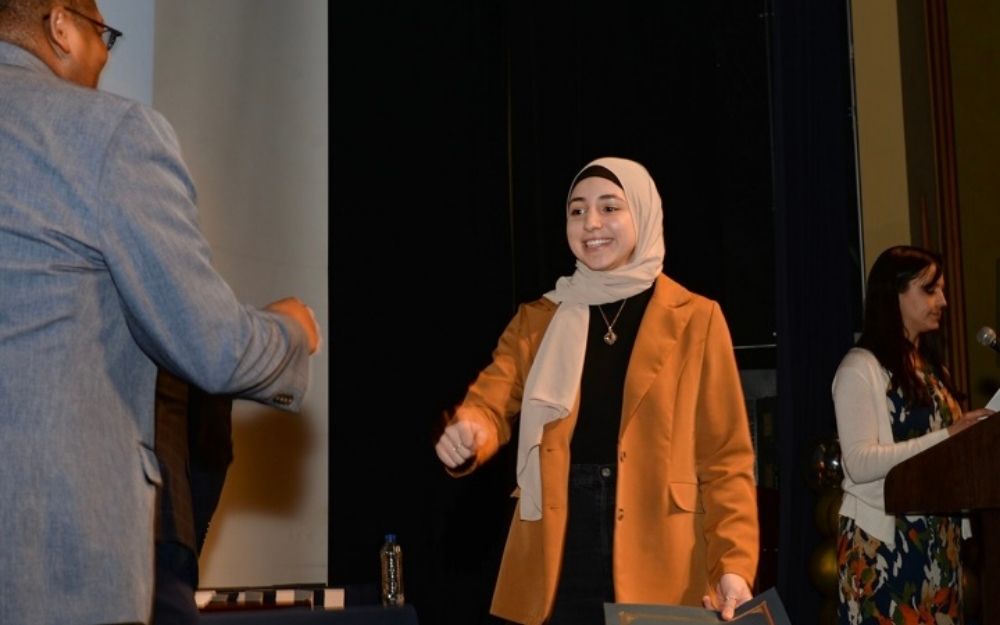 Leen Mortada of River Hills receives Marquette University leadership award from MU Vice President of Student Affairs Xavier Cole, Ph.D.
"Think about what you would want in a great employee, friend, leader or child. It would be along the lines of someone that is dependable, patient, kind, empathetic, while still being funny and knowing how to put limits for themselves. These are all characteristics that help make Leen who she is," Mortada's mother Manal Roumani told WMJ.
"As a small child, she was always a leader. I can remember when we were gathered for iftar at Islamic Society of Milwaukee when she was about 5 years old. There were a lot of children but not really any activities catered to them. Leen started gathering the kids and ended up getting about a dozen of them to play a game of hide and seek! She was 5 and didn't know any of these kids! 
"Leen is also humble, willing to learn and willing to admit when she is wrong, which is very important as she takes on the role as the MSA president at Marquette University.
"Her Muslim identity has always been a big part of her life. While a lot of teens shy away from their Muslim identity, Leen didn't. On World Hijab Day, she brought in hijabs, which some of her friends and teachers wore. For a school that only has a couple of hijabis, this, to me at least, is a big deal! 
"Not only that, but when she would hang out with her friends, she would tell them it was time for her to pray and did so in front of them without being shy or intimidated by them. 
"What was even more touching was one of her Christian friends asked Leen if it was ok if she prayed with her. The scene was beautiful, two young ladies of different faiths next to each other praying, each in their own way! 
"I am grateful every day for being blessed with such a phenomenal human as my daughter."
Learning leadership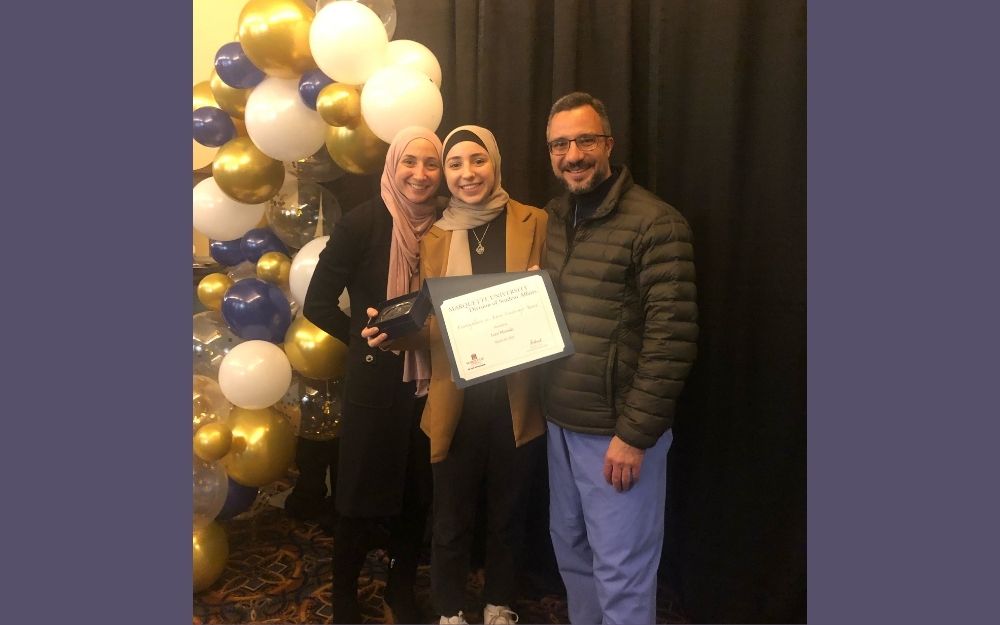 Leen Mortada (center) with parents Manal Roumani and Mohammed Ayman Mortada at Marquette University awards ceremony in March
Mortada credits her parents for setting her on the path to leadership, both by example and "throwing her in the deep end." Her parents, Manal Roumani and Mohammed Eyman Mortada, immigrants from Syria, take their children to visit Damascus every summer, creating a strong sense of connection, she added. 
Her father spent his first 10 years of life in Saudi Arabia before his family returned to Syria. He finished Damascus University Medical School. The opportunity to do his residency at Aurora Sinai Medical Center brought him to Milwaukee, where he met his future wife, Manal Roumani.  He also had two fellowships at Aurora Sinai, where he specialized in cardiac electrophysiology and cardiovascular disease. He is a physician with Aurora Health Care. 
Her mother Manal Roumani was born in Germany to Syrian parents. They moved back to Damascus when she was about 5. The family moved to the United States when she was 10 and to Greater Milwaukee when she was in middle school. She graduated from Nicolet High School and later graduated summa cum laude at the University of Wisconsin – Milwaukee in computer science. She earned a post-baccalaureate certificate from Cardinal Stritch University. She is now a high school computer science teacher in the Mequon-Thiensville School District. 
Mortada's parents put her in Salam School, the Islamic K-12 school on Milwaukee's Southside, where she attended first to fifth grade. Her mother taught middle school mathematics there and helped coach the cross-country team. Mortada went to the University School of Milwaukee for middle and high school. 
Her family attends Dar Ul Hikmah mosque in Greenfield, "but I spent a lot of time growing up going to the ISM, too."
"I wore hijab from a young age," Mortada recalled. "When I went from Salam School to a non-Muslim school, I felt the responsibility of representing my faith to others.
"It's probably not fair to expect a kid to represent a whole religion but I think it helped me mature. I would watch what I was saying and doing. I liked having the role of being a leader for my faith."
But her leadership really began when, "as a child, Mom put me in a lot of YMCA day camps and other activities. I was used to being around people who weren't Muslim," Mortada said. "The first days in a new place, I'd feel scared, but mom would just tell me, 'You've got to do it.' She really forced me to step out of my comfort zone. By the end, I'd always love it.
"At USM, I was surrounded by a lot of go-getters and that inspired me, too," she added. "My friends were always trying to do their best, always involved in activities. I see that I have been raised with parents who also cultivated that in me."

Mapping out a college path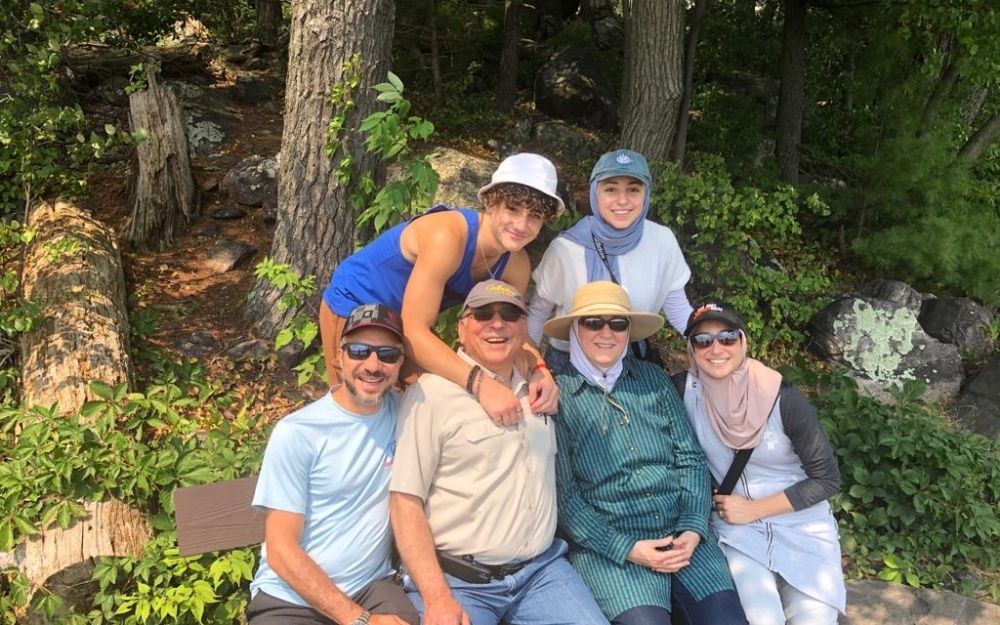 Leen Mortada with her family on a 2021 trip to Wisconsin Dells. Back row: Leen and her brother Ali Mortada. Front row: father Mohammed Eyman Mortada, grandparents Sami and Sawsan Roumani, and mother Manal Roumani
One reason Mortada chose to study at Marquette was to stay close to family, she said. She anticipates continuing her studies in graduate school and expects that might take her away from home.
"Marquette's mission and its core values appealed to me, how it teaches service leadership and has a lens on every single class that emphasizes those values. They say everyone transforms in college. I want to be in a place that will help me grow in values I have chosen for my life." 
She thought she'd major in journalism because she wants to correct the erroneous media portrayals of Muslims, Syrians and Arabs she too often sees, she said. But an introductory course in criminology her freshman year changed her path. 
"When I learned about the criminal justice system here in America and how it works, there's no way I can major in anything but criminology. There is so much that needs to be done here, especially with the racism in the system, at its foundation. I'd like to effect change."
She is also glad she pursued additional academic options available to her, like the Honors Program and the E-Lead program. She advises future college students to consider the Honors Program at their universities, something you have to apply to before you are in college. "I personally love it because you are in smaller classes with a group of people you get to know. I've made a lot of friends through this program."
The E-Lead program at Marquette provides special classes your sophomore, junior and senior year that allow you to develop your own leadership style, she said. 
Finding a supportive community on campus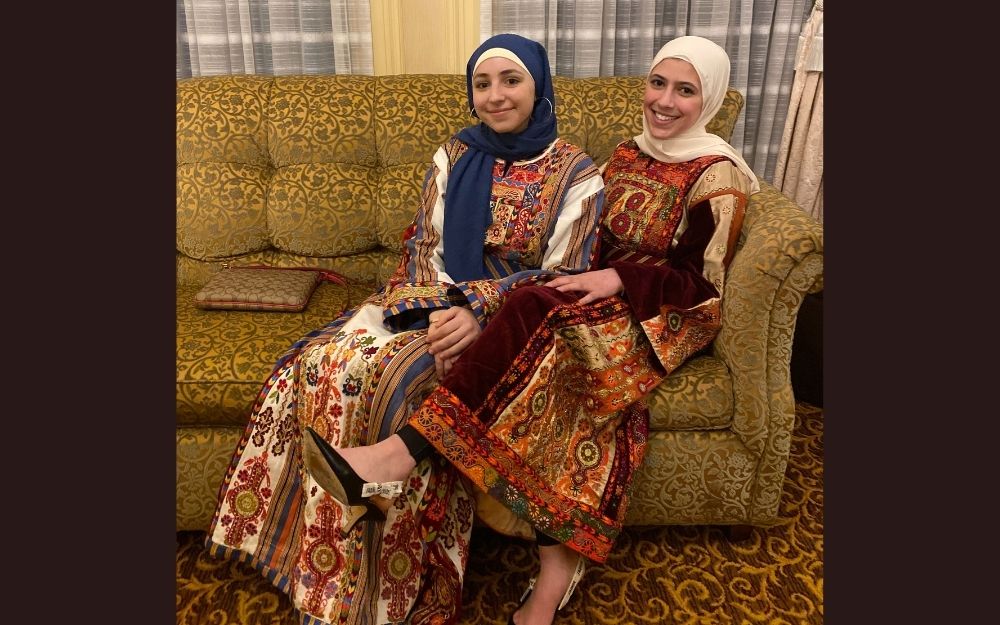 Leen Mortada and friend Jehan Khaled at a 2022 wedding
Another tip she offers future college students, especially Muslims, is to find a supportive community. "I think that is a huge thing for me," she said.
For Mortada, joining the Muslim Student Association has been "a comfort. It's almost like a support group where they'll understand you and be there for you." Involvement in the MSA also creates opportunities to organize activities and practice leadership skills, she said. 
"We had an MSA event and invited non-Muslims where we addressed some misconceptions," Mortada said. "One of the biggest is that all Muslims are Arabs and all Arabs are Muslims. We had a game night for it. I think many people, especially students, would come out for games instead of lectures," although some lectures have drawn large audiences, she said. 
Likewise, her internship in the Center for Engagement and Inclusion has given her opportunities to help organize events, "from planning to funding to implementing, ensuring everything is set." The Center hosts an event each month for different groups. For example, March was "Women's History Month." They brought a speaker who talked about her career as a baker of hypoallergenic foods. Last year, they held an event around Arab heritage. She hopes they will have another next year, she said.
Through her internship, they also host "talk circles." Mortada decided to start one this semester for Muslim women on campus. "We talk about how comfortable everyone feels on campus, what's needed to make it better, what support they have," she said.
Mortada has also participated in organizing events for SJP. They had one in April when Milwaukee Muslim Women Coalition's president Janan Najeeb spoke. 
"One of my goals for next year is to make events that create opportunities for people to get to know each other, for Muslims and non-Muslims to get to know each other." 
A final piece of advice
"Some opportunities you go look for," Mortada said. "But when you are out there, being active on campus, others will come your way. Find a few things you like – whether it's working in organizations or offices on campus. Get out there. Join in.
"Everyone needs to figure out their own way," Mortada said.
She can still imagine her mother saying, as she did when she dropped her off at day camp, "I'm leaving, so you're going to have to figure this out."