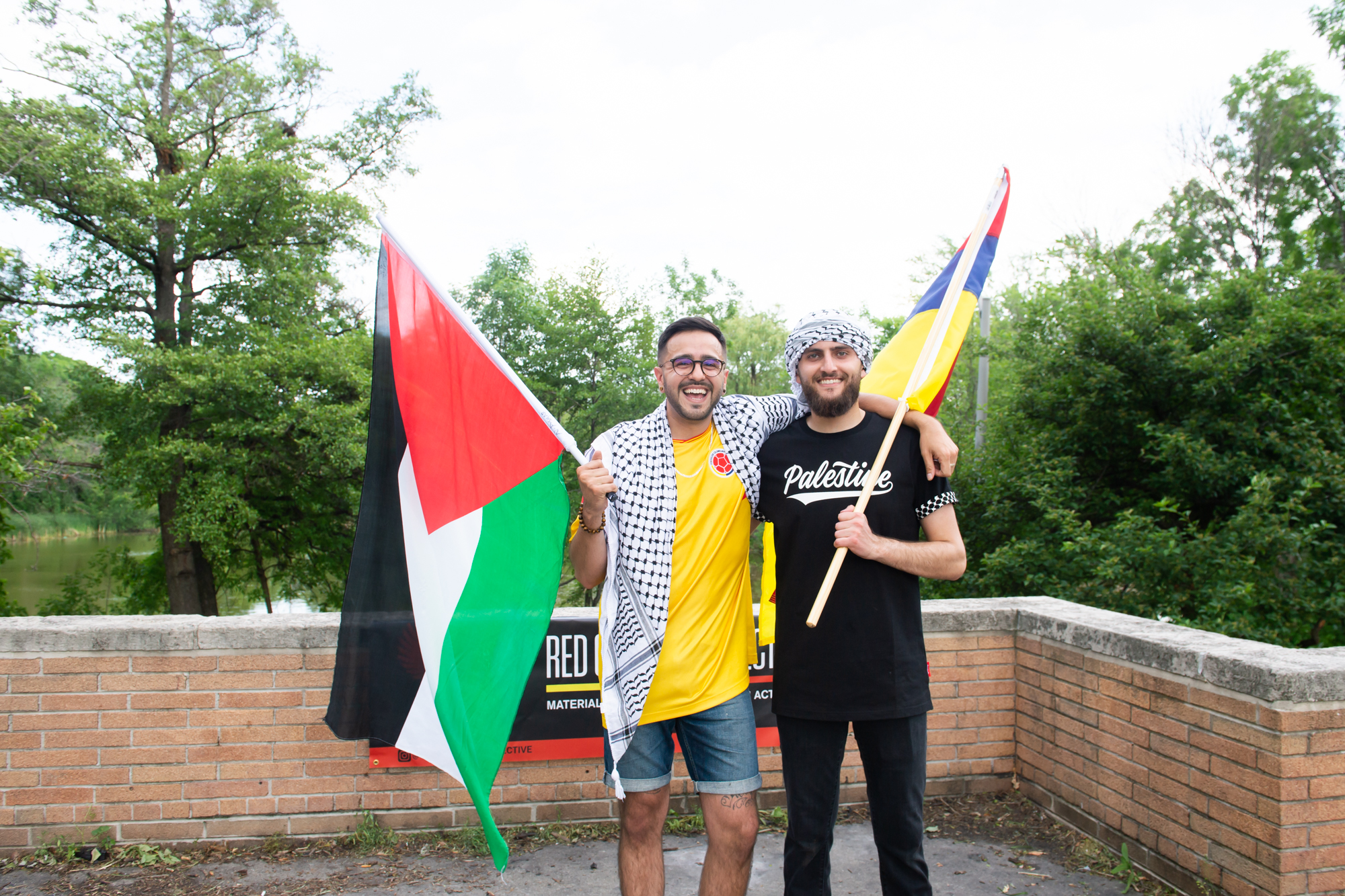 Photo
Mouna Photography for the Wisconsin Muslim Journal
Sarah, 7, of Milwaukee smiled broadly and wiggled, giddy in her seat, as a henna artist painted a heart on her little hand and filled it with a crisscross pattern. She told her it was the keffiyeh, a symbol of Palestine.
Sarah and her family were among about 300 people who attended Sunday what organizers said was the first collaborative event for Palestinians and Colombians in Milwaukee and probably the first local event for Palestinians and any Latinx community. It promoted intercultural understanding through art, dance, and music, while speeches encouraged young people to lead in creating change in their ancestral homelands.
The Colombia-Palestine Solidarity Cultural Event, held Sunday, June 6, at Mitchell Park, was organized by young people from the Students for Justice in Palestine chapters at the University of Wisconsin-Milwaukee and Marquette University and the Red Condor Collective, a Colombian diaspora initiative. Both organizations aim to bring awareness to the current governmental oppression and human rights violations, leaders said. They promoted the event as an opportunity for "healing and uplifting our communities, showing solidarity and raising funds for Colombia and Palestine."
More than 200 Palestinians in Gaza were killed in May by Israeli airstrikes after conflict flared over the Israeli government's plan to evict Palestinian families from East Jerusalem. Likewise, Colombia is experiencing a rise in state repression since the country's largest trade unions went on strike at the end of April.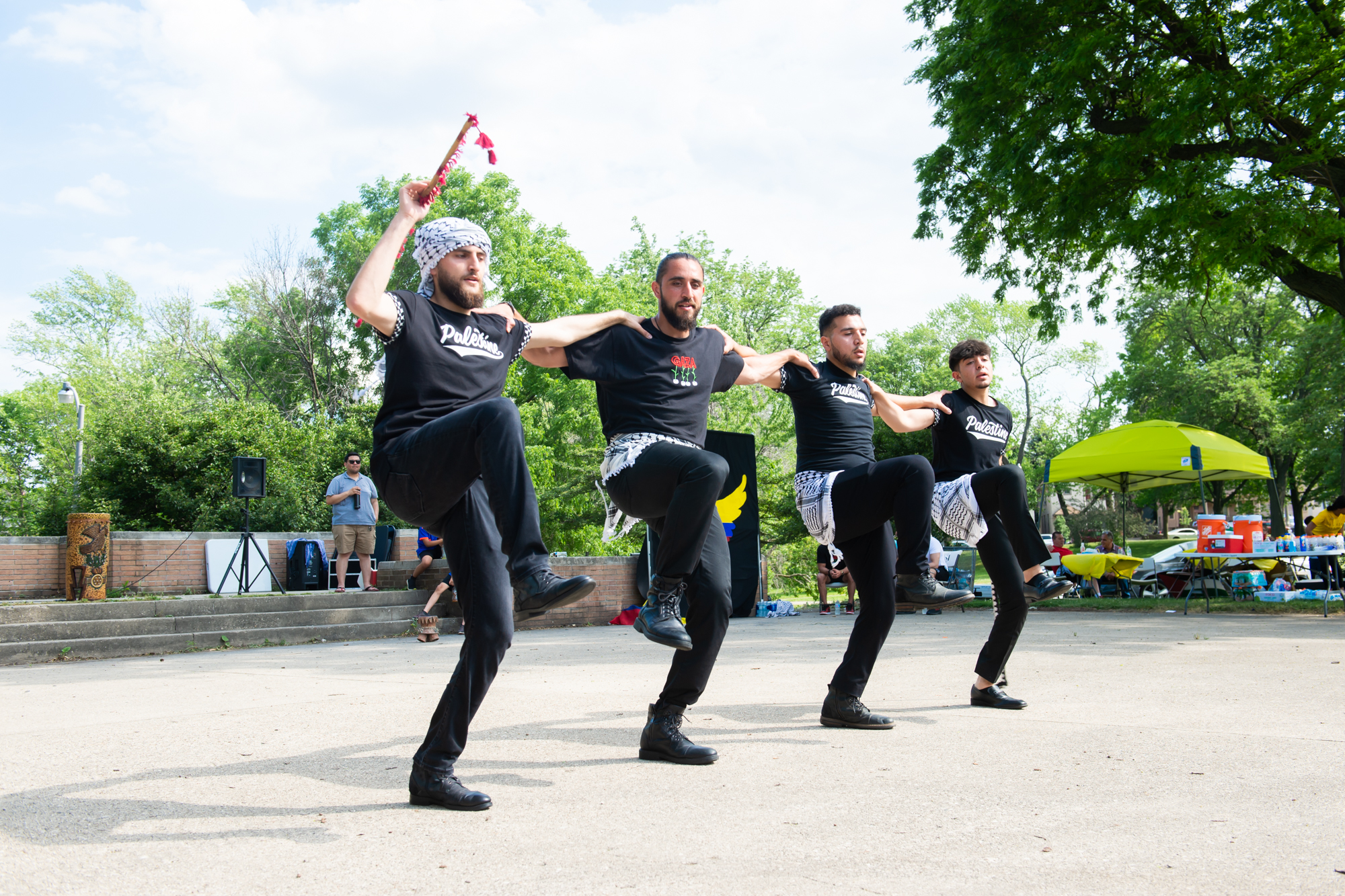 "The fundraising will go to the Palestine Children's Relief Fund and the Red Condor Collective," said Mahdi Jaber, 22, of Milwaukee, president of the UW-Milwaukee SPJ chapter, in an interview a day after the event. "We've $1,100 so far from selling tee-shirts, food and other items. That will be split in half towards Palestine and Colombia. The campaign for the causes will be on-going."
The Palestine Children's Relief Fund was established in 1992 by concerned humanitarians in the United States to bring injured and sick children for free medical care they could not get locally, the PCRF website states. The Red Condor Collective will be giving their donations to an organization called Congreso de los Pueblos, which helps protestors in Colombia with food, health and safety, legal aid and medical needs, its leaders said.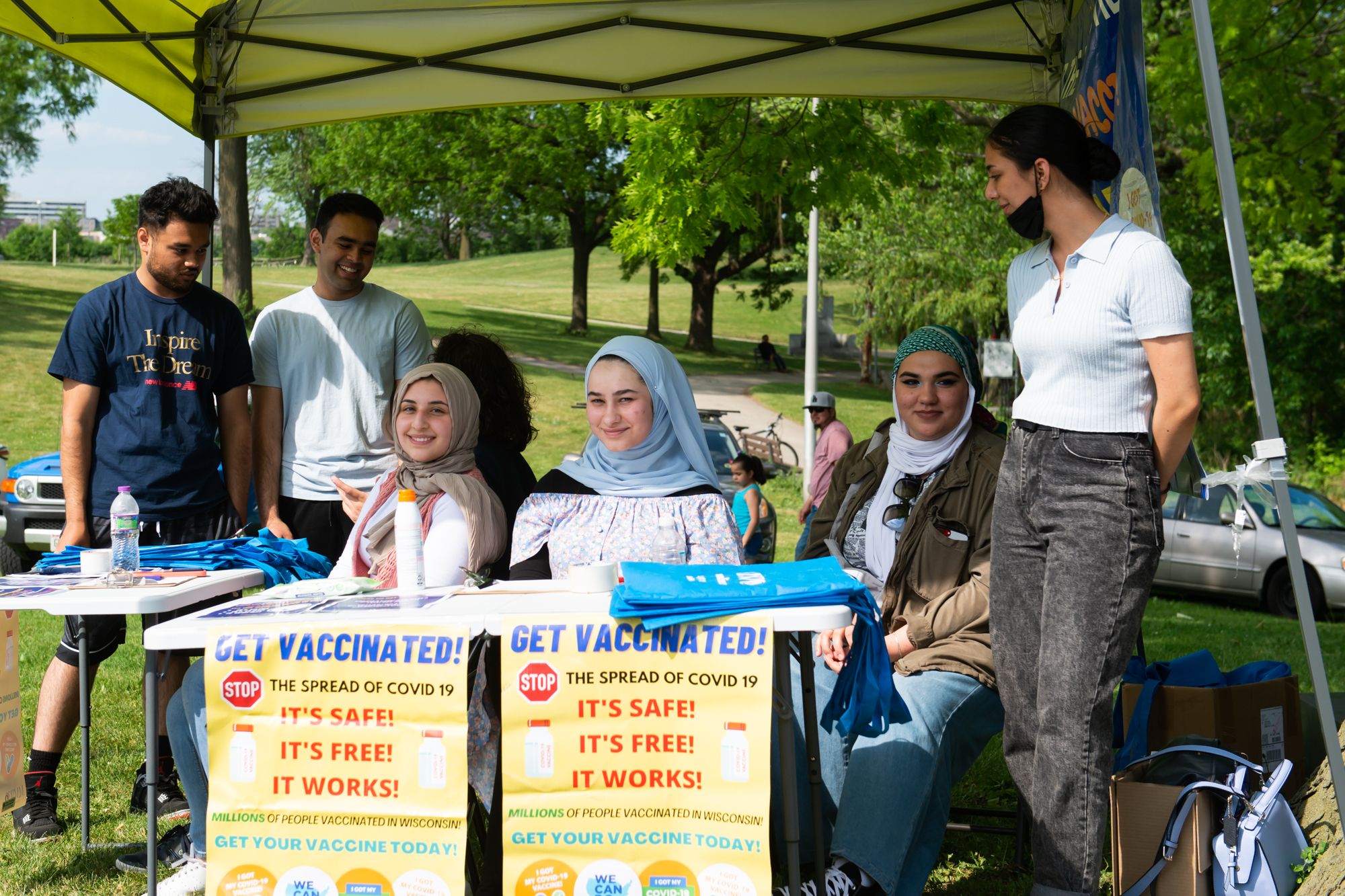 Other collaborating organizations included: Fanana Banana, Rumanah Nourish, Heroine Illustration, Esma Sweet Secret: Palestinian Baker, La Revo Books, Henna: Tarin Sohel and Salma Akhter, Voces de la Frontera, Bembe Drum and Dance Team, Ghurba Dabke and the Milwaukee Muslim Women's Coalition's COVID-19 Information Clinic. Performers donated their time and vendors donated a percentage of sales to the fundraising.
Solidarity and unity through art, music and dance
Bembe Drum and Dance Team brought smiles to the audience as dancers in layered skirts of bright red, green and yellow, twirled and shook their hips to the fast beat of the percussion band as they moved in sync like swans on a pond.
"Through the understanding of our two cultures music, art and dance, we build a foundation to understand one another's backgrounds," said Abdallah Badwan, 25, of Milwaukee, who performed traditional Palestinian dance with Ghurba Dabke. "Through that understanding, we build unity between these two communities."
Meanwhile, arts and crafts tents buzzed with activity. Artists painted henna designs on hands and arms. Fanana Banana coached guests in painting on a solidarity banner and making their own signs for future protests.
From another tent, tee-shirts collaboratively created by the SPJ chapters and the RCC were sold. Designed by artist John Fleissner, the tee-shirt combined symbols from Colombia and Palestine with the word "Resist" in the center. The top half had an image of a Palestinian man wearing a keffiyeh headscarf surrounded by olive branches and a key, symbols of the Palestinian struggle.  In the lower half, an Afro-Colombian man bangs pots and pans, signaling Colombian resistance.
"We chose to focus on cultural aspects to amplify the resistance through dance and music of Colombian and Palestinian people," said Jaber. "Not only do these cultural events create future collaborative initiatives but increase capacity to build community through a safe space for people."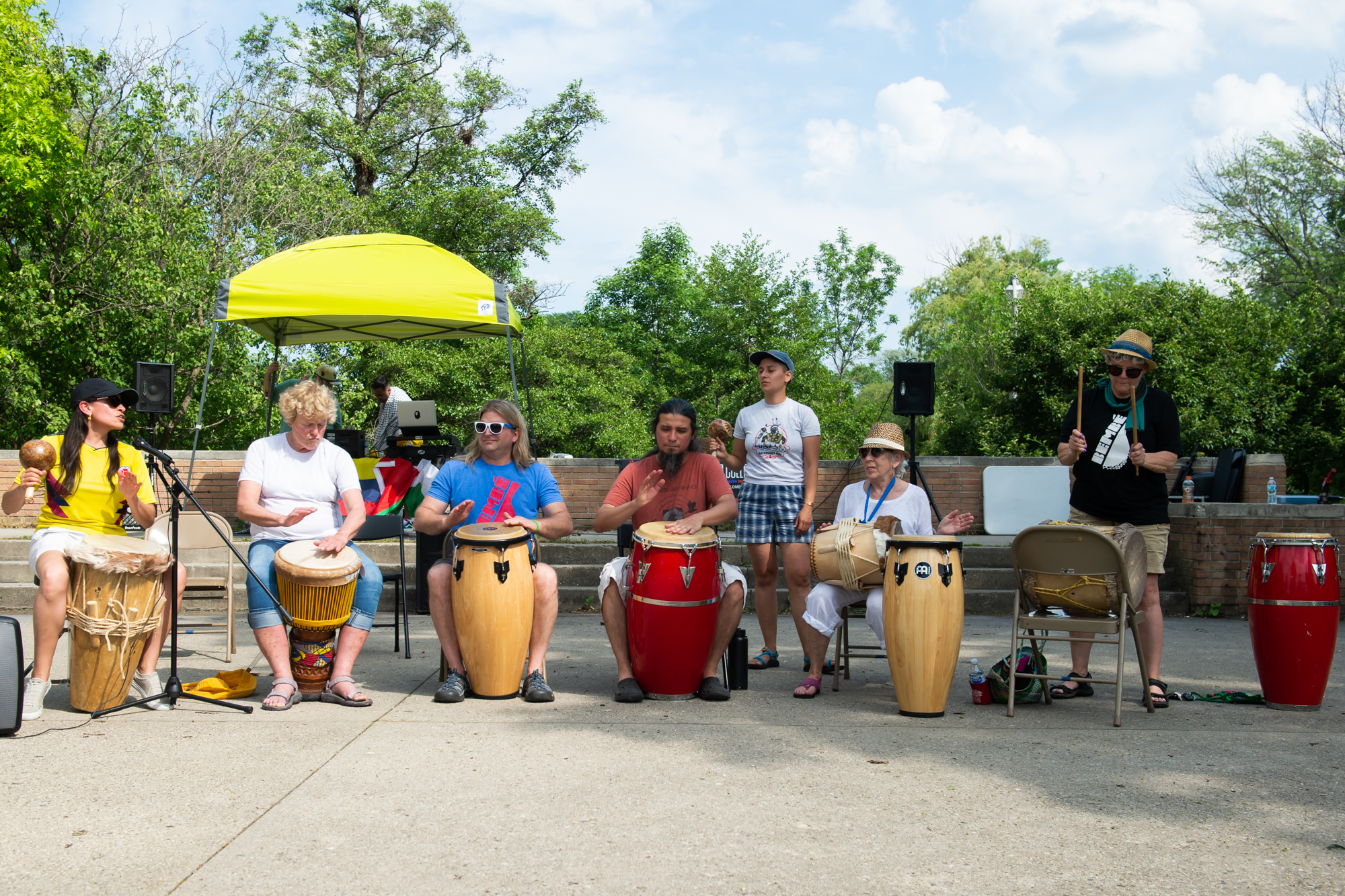 "Cultural events of this form amplify voices of the people through art, culture and dance to build community," added Eric Kleppe-Montenegro, 30, of Milwaukee, organizer of the media team for the Red Condor Collective. "Events of this form give multiple groups of people a platform for understanding one another in order to move forward in organizing for change."
Just the beginning
This event will be the foundation for future collaborative initiatives between Milwaukee's Palestinians, the Muslim community and the Latinx community, numerous collaborators and participants said.
"Collaborative initiatives of this form draw in bigger audiences so more people are aware of what's going on" with these groups, said Mellack Jaber, 25, of Milwaukee, flashing a beaming smile. "Many attendees believe this is the change that needs to occur in order to mend the gaps of non-collaboration between these two groups of people."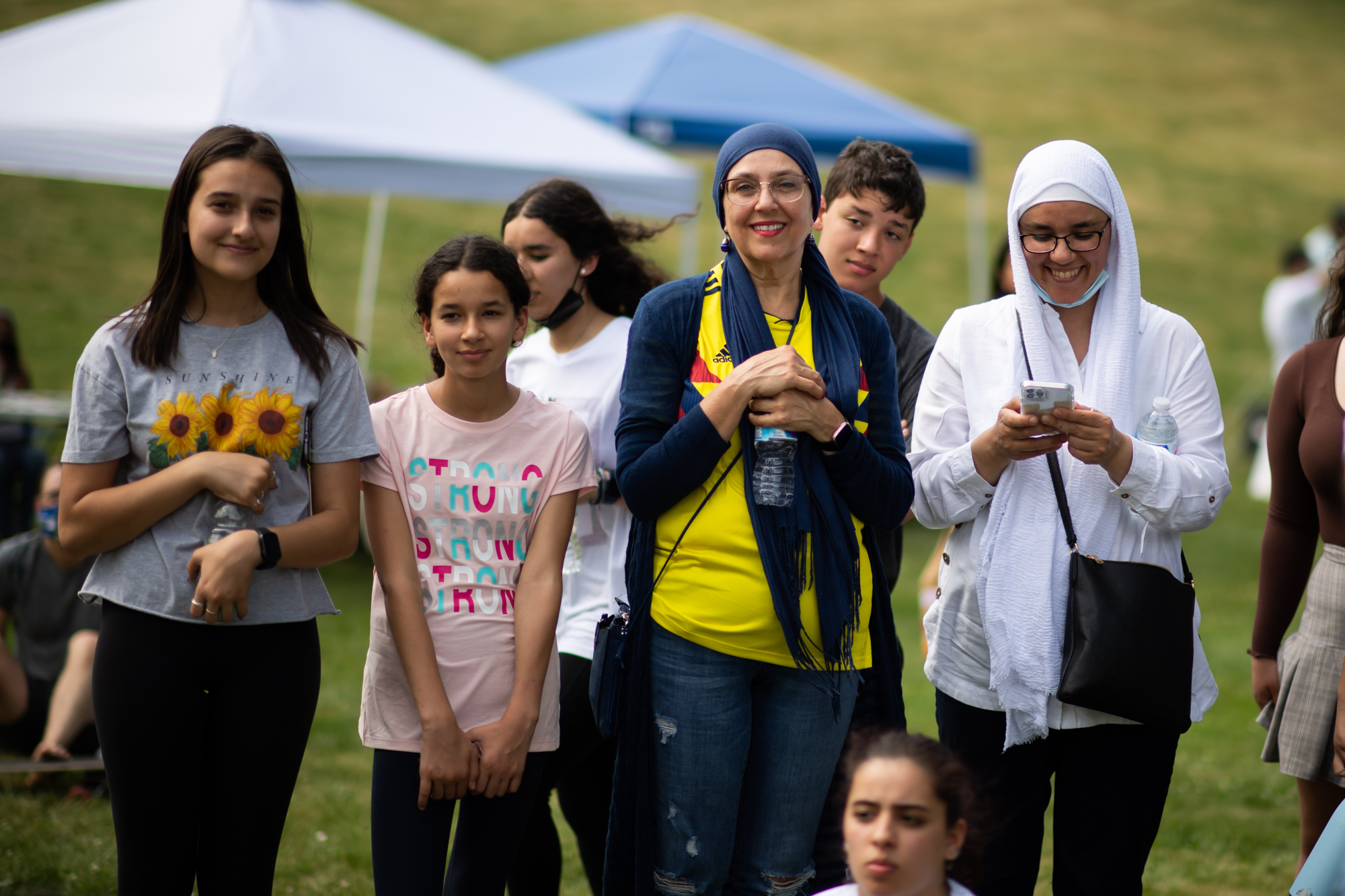 "There has definitely been a shift in the gap between the Latinx and Muslim community in terms of being able to identify each other and know who we all are," said Miguel Sanchez, 27, of Milwaukee. "It takes a village to really create change in making something bigger, so establishing those relationships is important moving forwards."
"We opened the door," Jaber said. "We are setting a precedent" by providing an example that regardless of differences, communities can collaborate to uplift one another.
"We have to build these bridges," he continued. "Milwaukee is very segregated and for us to bring these two groups together is just one step closer to creating change and unity."
Organizing is not new; collaboration is.
The existence of multiple Latinx organizations and Palestinian rights advocacy organizations in Milwaukee is nothing new.  First, second and third generation immigrants continued to fight for the human rights of their families back home even while in diaspora.
"The newer generation is making changes now because the foundation was put in place from the fruits of the labor of those immigrant families that came here to the United States," Valeria Cerda, 31, of Milwaukee stated. "The older generation needed to come to the U.S. to build roots. The newer generation now has a voice to speak on the issues our parents couldn't."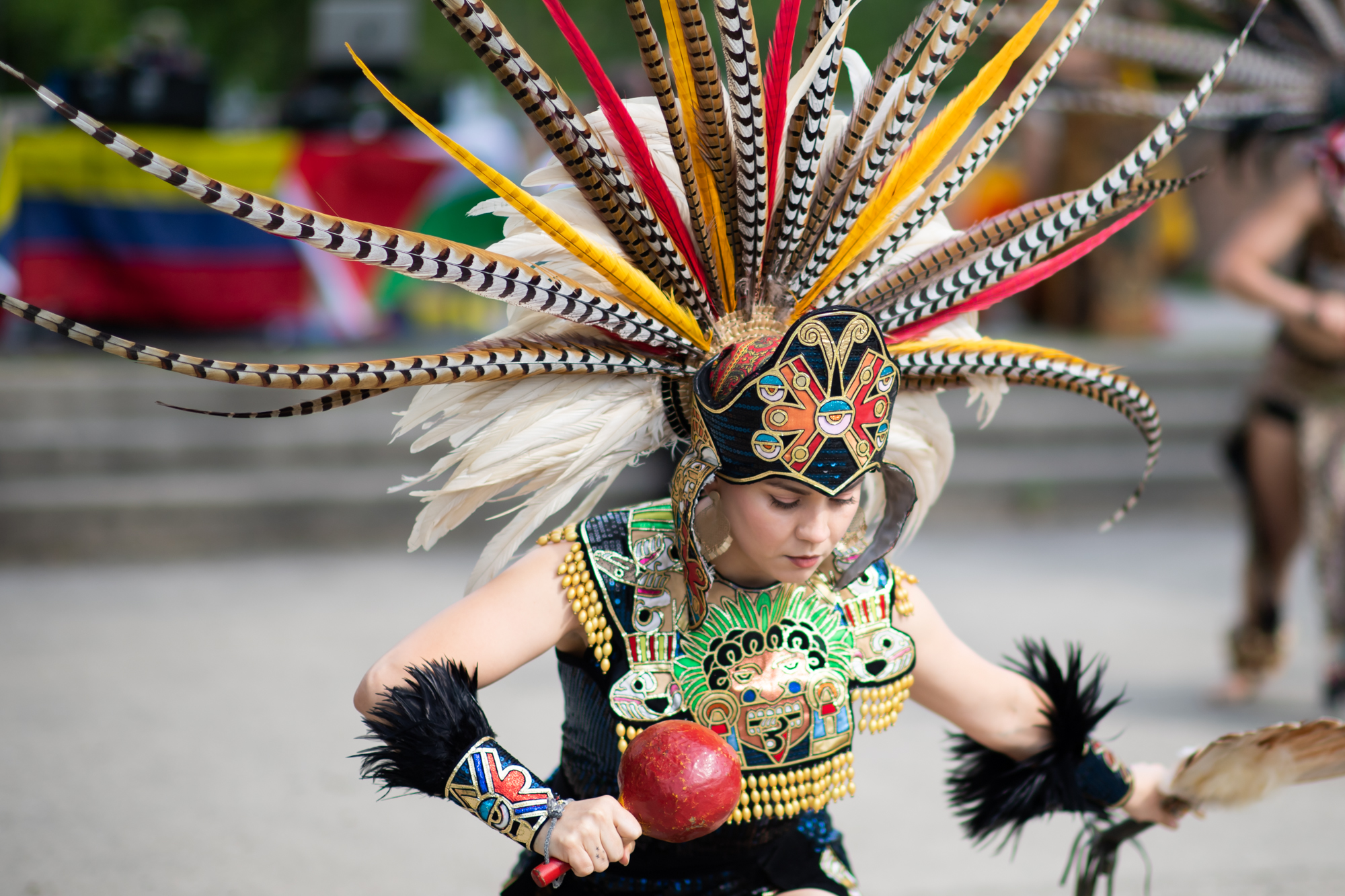 She explained that the Latinx community has been in solidarity with one another and, by including other groups, it broadens to the scale. "Unlike our parents and grandparents, we have the power of social media and we are using that to change the narrative of what is going on in our countries. I feel that is a game changer for all of this," Cerda said.
"What direction the new generation takes will influence this movement for social justice for all people," RCC's Kleppe-Montenegro said. "The new generation is moving us forward, setting new standards of solidarity."