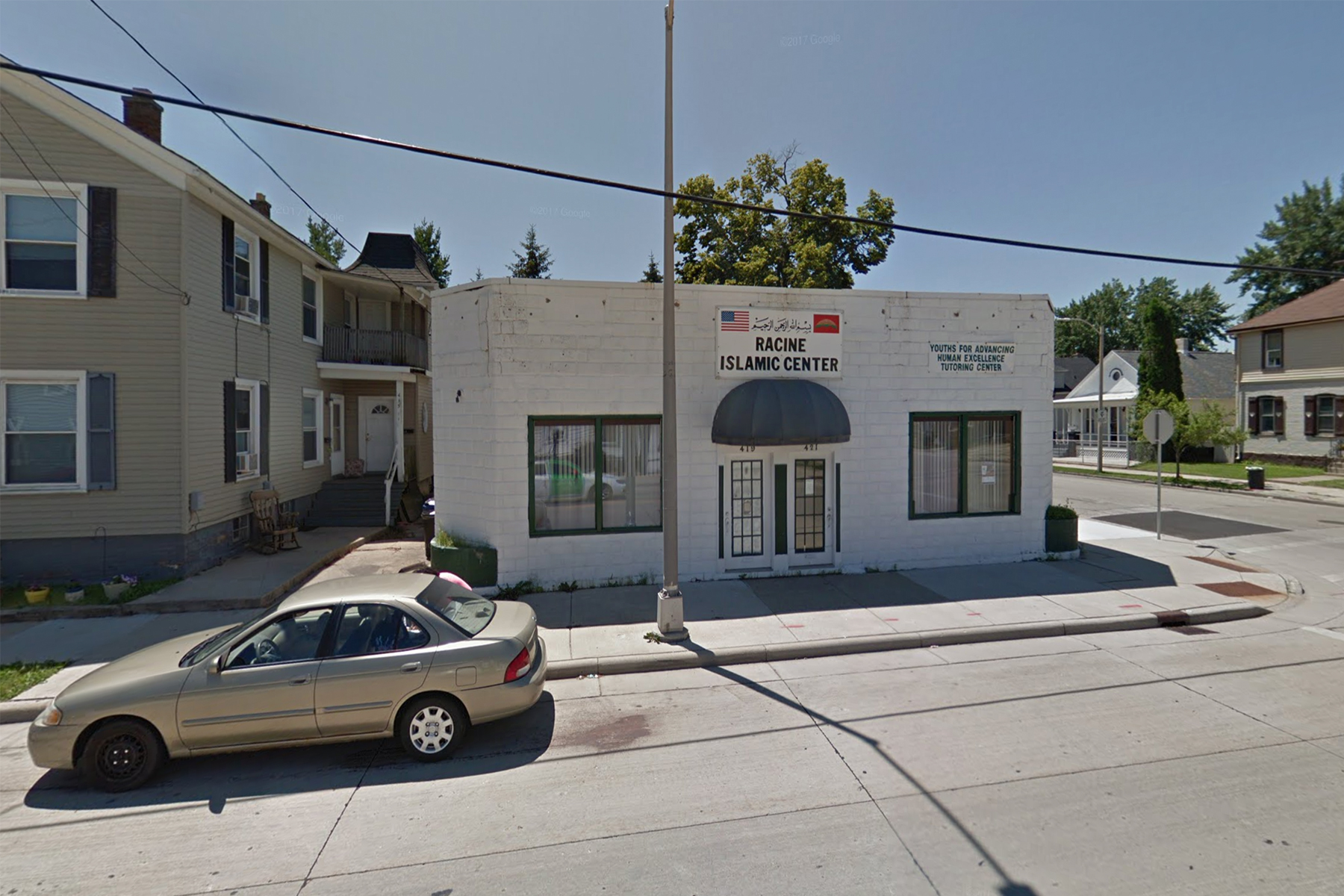 "As Moslems, we do not feel that we are a minority of any kind. We know instead that we are a part of the vast Moslem world."
Garrett A. Felber, "Those Who Say Don't Know and Those Who Know Don't Say": The Nation of Islam and the Politics of Black Nationalism, 1930-1975
Nabeeh El-Amin is just taking his camera equipment out of the trunk of his car as I arrive at the Racine Islamic Center on High Street, located in a quiet neighborhood with a patch of Lake Michigan visible a few blocks away.  Most people are familiar with the much larger American Albanian Islamic Center located about 10 miles away in Kenosha.
While setting up in the prayer hall, where he tapes the Imam's Friday sermon, Nabeeh tells me a little of his own history and the history of the Racine Islamic Center.
Nabeeh was born William Tolbert Manning in what he refers to as "the other third world country in North America called Mississippi," and was raised a Baptist. His father was a sharecropper who came to Racine to work in the factories when it was still a thriving industrial town.
Nabeeh, or William at the time, entered the army. While he was in the military, "one of my best friends had converted to Islam and we talked about it." He heard W.D. Mohammed preach, and he says that one of the first things he learned from Islam was that, "God wasn't white." Nabeeh has now been a Muslim for 40 years. "I always thought I was a good person," he says, "but by accepting the opportunity to become a member of the Islamic community, I thought I could be an even better person. And so far, I'm of the mind that that's true."
Like others who experience what is called the "reversion" to Islam (as opposed to "conversion"), Nabeeh had begun to question the things he had been taught as a Christian, but he felt that his questions were discouraged. "If you asked questions, you were dissed." The attitude, he says, was "Who are you to question God?"
Nabeeh explains the principle behind "reversion" as: "Everybody born is Muslim and their environment creates them as Hindus, Jews, Christians, whatever. We are all born to be submissive to God's will. Being Muslim means being one who submits their will to the will of God."
Nabeeh was setting up his camera in the prayer hall to record Imam Wali Shakoor Luqman's sermon for a community cable access show called "Words of Luqman."
Imam Luqman, who is 46, in some ways typifies a change that has occurred in black communities across the United States, where the separatism of the Nation of Islam has given way to participation in the mainstream Muslim community. The Nation of Islam began in the 1930s as a black separatist faith and had by the 1960s become a vital part of the black liberation movement. In the mid-70s, after the death of Elijah Muhammad, his son Warith Deen Mohammed opened the Nation of Islam to the mainstream Muslim world. While the Nation of Islam continues to exist and is particularly active in the prison system, most black American Muslims today are part of that mainstream Muslim world.
For many years, Racine's former Islamic center boasted a Sr. Clara Muhammad School, where Imam Luqman was educated and first learned Arabic. Called the American Muslim Mission Center and Sr. Clara Muhammad School, it was located in downtown Racine at Silver and State Streets and burned down in the late 1980s, Imam Luqman said.
Years of struggle followed, but Islam maintained a presence in Racine, where it is now taking root by merging the city's original, largely black Muslim community with newcomers to the city. Today, the Racine Islamic Center is small but growing. After Nabeeh recited the adhan, or call to prayer, fifteen men lined up for the Friday congregational prayer inside the prayer hall.
Following prayer, Imam Luqman said, "The prophet we receive guidance from is the last in the world. We accept that Mohammed is the seal."
In Islam, he said, "Peace is our way of living, enduring the test of this way of life, including the corruption of the world. We protect ourselves from being deviators from the straight path." Allah, he said, "created man in unity, not to be broken up . . . We see so much dead vegetation, so many dead people walking around, not knowing what they're created for. If you live the life God created you to have, you will live forever."
The name Mohammed means "one who gives praise." The Imam said that "everything [Mohammed] did was giving praise to the almighty God Allah." He emphasized that one way to give praise in daily life is through ethical behavior. "We don't come to cause chaos, find the problem, be agitators. Righteousness in everyday life is something we're supposed to strive for."
Following his talk, Imam Luqman announced that the center would henceforth be open for five daily prayers. "It's going to be a beautiful thing to see your faces," he said. "We strengthen each other. Without a doubt, we strengthen each other."