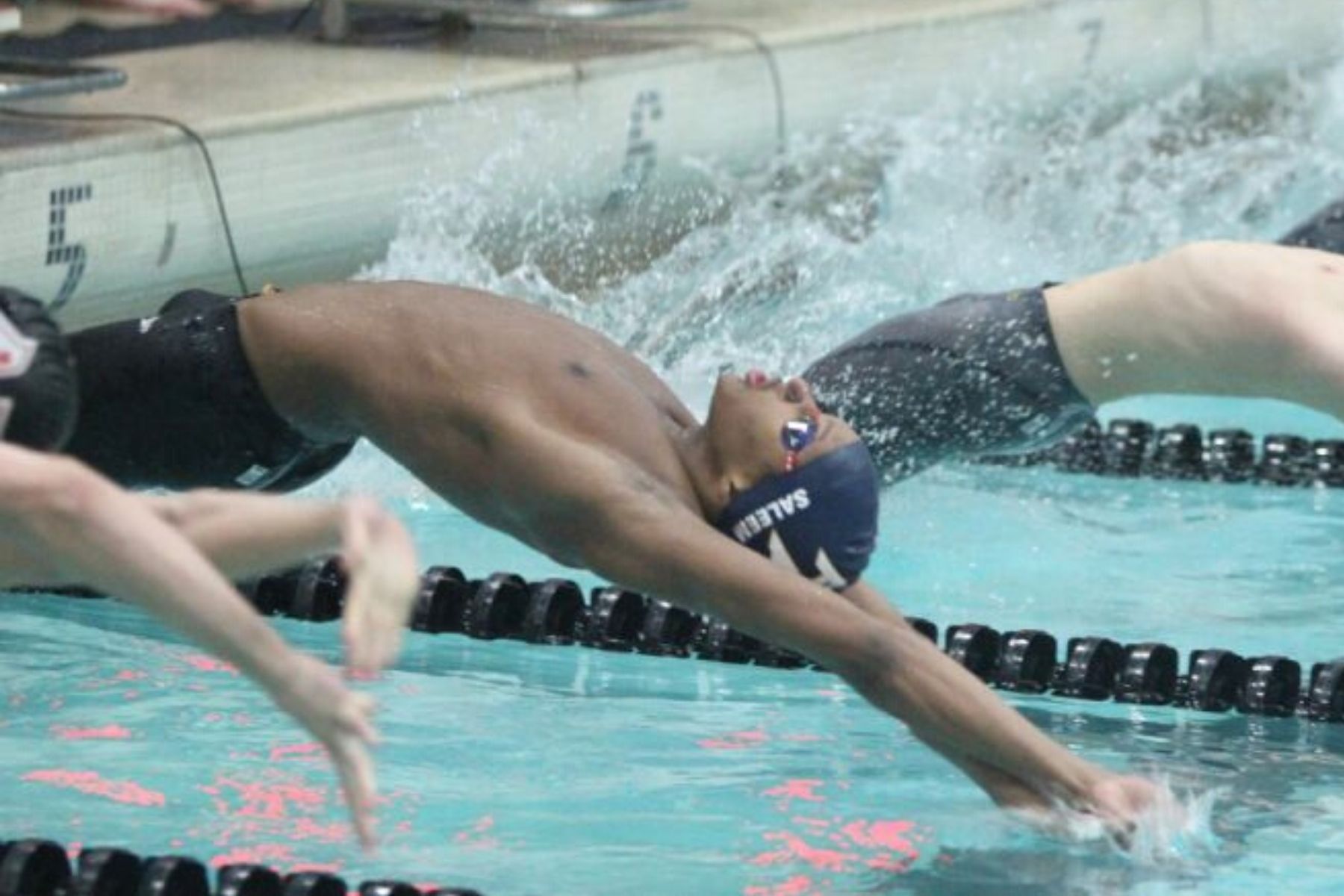 With only a day remaining before Governor Evers' "safer at home" order goes into effect, Ziyad Saleem, 17, a junior at King High School in Milwaukee, is grabbing what may be his last chance to swim training laps. 
At Walter Schroeder Aquatic Center in Brown Deer, his laps are being timed by his club team coach, David Anderson.
But you might say the pool is home to Ziyad Saleem.
Ziyad is a top swimming prospect in Wisconsin. And for now, he and a handful of other top-tier swimmers have managed to keep training at Walter Schroeder – one or two at a time. "I'll probably shut it down later today or tomorrow," Anderson, who is also the director of Walter Schroeder Aquatic Center, said on Monday morning.
Ziyad has continued to train because he has a chance to qualify for the Olympics this year. And because that's just the kind of athlete he is.
At King, Ziyad works with swim coach Peter Zenobi who says he is a "very hardworking young man. He puts in the time" practicing with both his high school and club teams.
All the hard work has been paying off for Ziyad this year. He took first place in the 100-yard backstroke at the WIAA Division 1 meet held at UW-Natatorium on February 22. Ziyad is the city of Milwaukee's first state swimming champ in 5 years.
Before that, he was the only qualifier from the City for two years running. At state this year, he finished "ahead of one of the state's elite competitors," said Milwaukee-Journal Sentinel sportswriter Mark Stewart.
"A lot of hard work has been put in for me to see these times drop," Ziyad told Stewart. "It's countless hours inside the pool and outside the pool that I've been working and it's showing now."
Besides his future Olympic hopes, Ziyad, who turns 17 today, has already earned a swimming scholarship to the University of Iowa. "I think in college Ziyad is gonna even mature more. Mentally he's there. But he hasn't grown into his body. I believe physically he's going to get a lot stronger and put on more weight and therefore be faster," Coach Zenobi said.
So even if the Olympics end up being postponed for one year, as now seems likely, it could work to Ziyad's advantage.
"In the world of Olympic sport, they're starting to get some momentum to delay a year," said Coach Anderson, though at this time the International Olympic Committee (IOC) is still officially saying, '"We'll make the call in 4 weeks, but we intend to hold the games.'"
Anderson said that "for an American athlete to swim in the Olympics, you have to achieve a time standard set by FINA," the international federation recognized by IOC for administering international competition in water sports.
FINA provides standards "that allow for a certain number of athletes to quality automatically," Anderson said. "Then there's the second set of time standards," called the FINA-V, and "that Ziyad is approaching," Anderson said. If the games are delayed a year, progressing at his current rate, Ziyad could qualify for the U.S. Olympic team.
However, there is a third option. Ziyad was born in Milwaukee to parents from Sudan. He holds dual U.S. and Sudanese citizenship and represented Sudan in the CANA Junior African Swimming Championships in 2019, where he won silver medals in the 50, 100 and 200 backstroke.
If the games are not delayed, Sudan could field a group of athletes in various sports, allowing Ziyad to compete in the backstroke events as an athlete for that country. "But because he's so young and developing so fast, by next year, I would forecast that the FINA-V would be within range," said Anderson.
"I've been Ziyad's primary coach for the last three years," Anderson said. "He grew up within our program" swimming at Walter Schroeder, which partners with the YMCA, and working with various coaches since age 6. As Ziyad says, he started young, "and just kept doing it."
Either way, in 2021 as part of the U.S. national team, or later this year swimming for Sudan, expect to see Ziyad Saleem as an Olympic competitor.