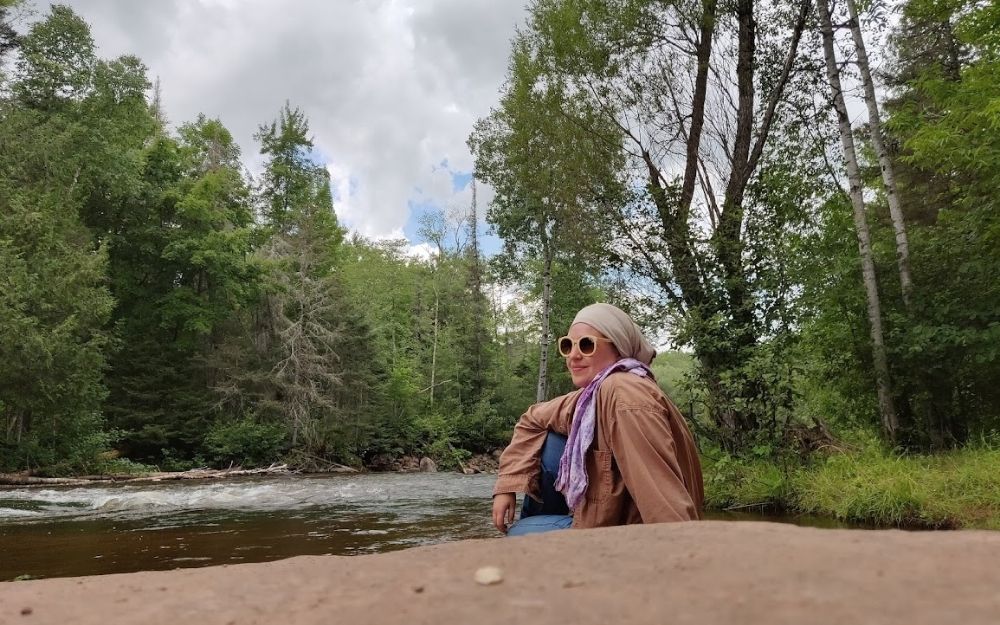 Producer Kelly Saran tells the stories of Wisconsinites for award-winning PBS Wisconsin's Wisconsin Life.
"I hope every Wisconsinite can see themselves in our work," said lead producer of Wisconsin Life, an award-winning news magazine program on Wisconsin Public Television. 
Kelly Saran, 32, of Deerfield, a small community near Madison, tells stories for a living on Wisconsin Life, a co-production of Wisconsin Public Radio and PBS Wisconsin that explores  what makes Wisconsin unique. She and her crew travel the state in search of stories that are  humorous, surprising, emotional, often thought-provoking and reflect the personality of Wisconsin. 
"It's not just beer and cheese," Saran said. "Sure, that's part of it, but it's something much  deeper. To be a Wisconsinite is very different from person to person." 
Her own story is certainly one of a kind, but she's not likely to tell it on her show. "I don't like to  be in front of the camera," she admitted in a recent interview with the Wisconsin Muslim  Journal. Saran may be the only Muslim anywhere whose father is a Catholic priest—well, except  for her sister. 
Becoming Muslim 
"People always ask me why I became a Muslim," said Saran, who converted at 19. "I think it  was one of those times when something big happened in your family, a moment when you're  facing life and death. Then you're asking yourself, 'Why am I here?'" 
Her moment came in 2009 when her stepmother died. Saran started searching for answers and "Islam rose to the top," she said. 
Saran grew up in Waukesha, and was raised Catholic in "a very loving and nurturing family." Her father, a pediatrician at the time, and her mother divorced, and her father remarried.  
"We were three girls and our mom in a very feminine environment, and we also had an  additional mom and dad," she said. Saran recalled fond memories of playing with her sisters and knowing she was loved. "I'm really blessed because my family's super supportive. We've  always been very close and loving." 
When Saran graduated from Waukesha South High School in 2007, she moved in with her  oldest sister, then a graduate student at the University of Wisconsin – Madison. Saran enrolled  in Madison Area Technical College where she met Muslims for the first time. 
"My sister and I were curious about Islam so we visited the mosque on the UW campus," she  explained. They continued studying Islam. 
In 2009, Saran transferred to the University of Wisconsin – Madison in its Life Science and Communications program. It combined her interest in videography with her passion for growing  food and gardening.  
When her stepmother died, "my sisters, father and I started moving on parallel spiritual paths. It was easy for us to get together and talk about things," Saran said.  
She and her oldest sister became Muslims; their father felt called to the Catholic priesthood. He is now the pastor of Saint Dominic Catholic Parish in Brookfield.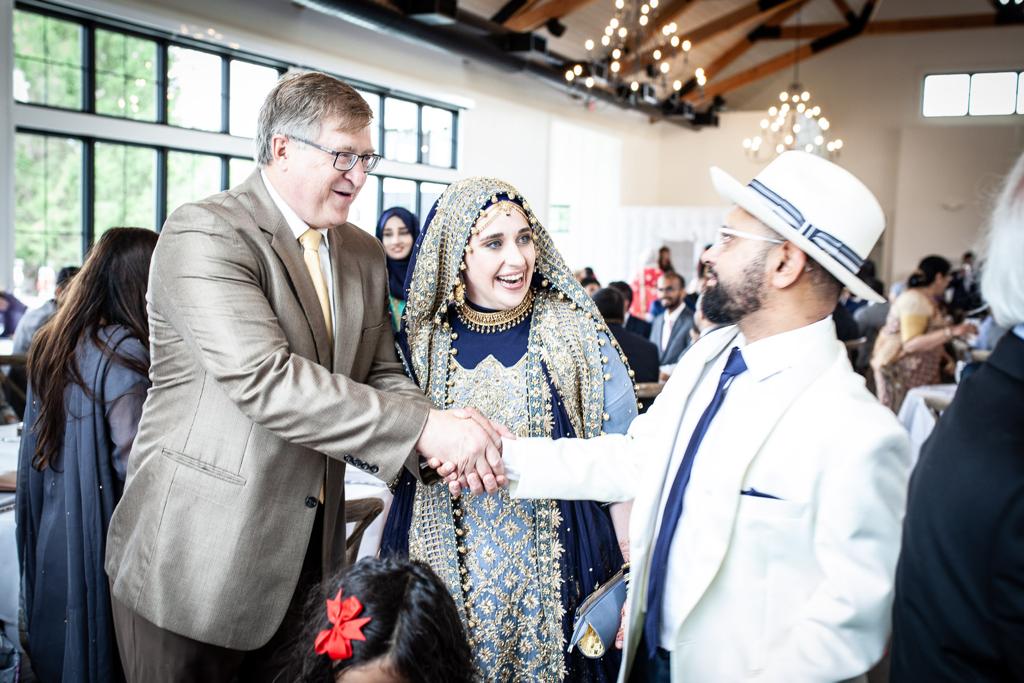 Father Dennis Saran (left), pastor of Saint Dominic Catholic Parish, congratulates his daughter Kelly and his new son-in law Ahmad Nafees at their wedding celebration.
Saran found "Islam very simple, the idea that there is one God," she said. "At the time, I  thought being Muslim is very different from what I'm used to, and it might be hard, but the  more you submit to what you believe, the easier life becomes." 
Support from her father also helped, she said. "We were learning these lessons together. Before (this spiritual journey), the only things we knew were the Islamophobic visions on TV  and in movies from the nineties where the Muslims are terrorists. To understand true Islam and  see the parallels to Christianity was a learning curve for all of us. 
"I feel good that he has become an advocate for us to people who don't know. He took it upon  himself to study Islam. We have an ally in him." 
Wearing hijab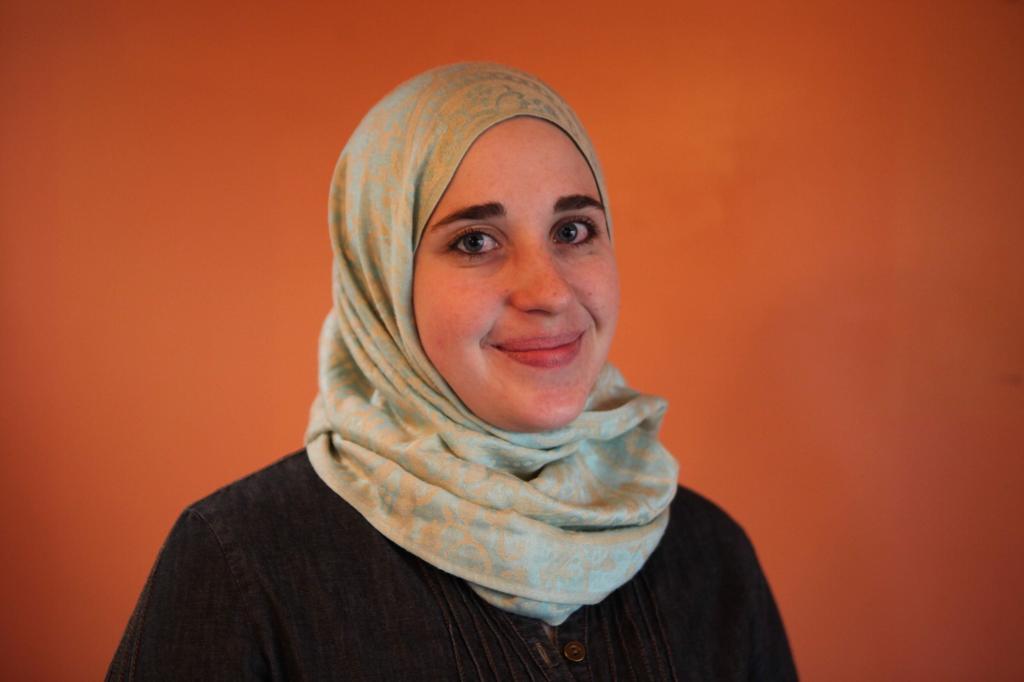 Kelly Saran of Deerfield, Wisconsin, sees wearing hijab as a reminder to live her faith.
About a year or so later, Saran decided to wear hijab, covering her hair in submission to God. "I  had thought I'd never wear hijab. Then I tried it one day and I thought, 'Wow, this is actually  empowering.' And I never took it off." 
Her middle sister, who did not become Muslim, wears hijab in solidarity with her sisters. The sisters wore hijabs to their father's ordination into the priesthood. 
"Kelly is loyal," said Father Saran at an interview in his parish office. "With Kelly's love for her  family, she's not going to let anything stop her from attending and her love for her faith means  she's going to demonstrate it openly. 
"She's also a glass-half-full person," he added. She didn't think about people who looked at her from a distance; she remembered the kindness of the bishop who was friendly, he said.
"What has impressed me most about Kelly in this whole change is that she is very courageous. She has accepted the faith fully and proudly wears hijab. Seeing her courageous expression of her faith makes me a better Catholic." 
The challenge of wearing hijab is "wearing of your Muslim identity at all times," Saran said. "Being outwardly Muslim, yet still new to the faith, people might ask you questions you don't know the answer to," she said. 
"Wearing the hijab is a responsibility. You have to control yourself and think about what you  are doing, how you are acting. You can't just flip off a guy who cuts you off in traffic," she joked.  On the other hand, the hijab is a blessing that helps women remember to think about how we act, she said. "Guys don't have the same experience." 
And the hijab helps Muslim women find each other, Saran added. At PBS Wisconsin in Madison, she saw a UW student interning at the station wearing hijab. "I just walked up and said,  'Hello.' Our friendship took off." 
Through this Muslim friend and her friend group, Saran met her husband, Ahmad Nafees. "We got married in  September of 2019, then came COVID, so we were both working from home. It was like a super  course in being married," she laughed. "And while I do cook, my husband is a really good cook,"  she said. "He makes dishes from his Pakistani origin, some of the best food anywhere. I'm living  it up!" 
The couple enjoy walking outdoors and camping, especially when there is a beautiful waterfall  to see. Saran's profile on PBS Wisconsin says she hopes to visit all of Wisconsin's waterfalls.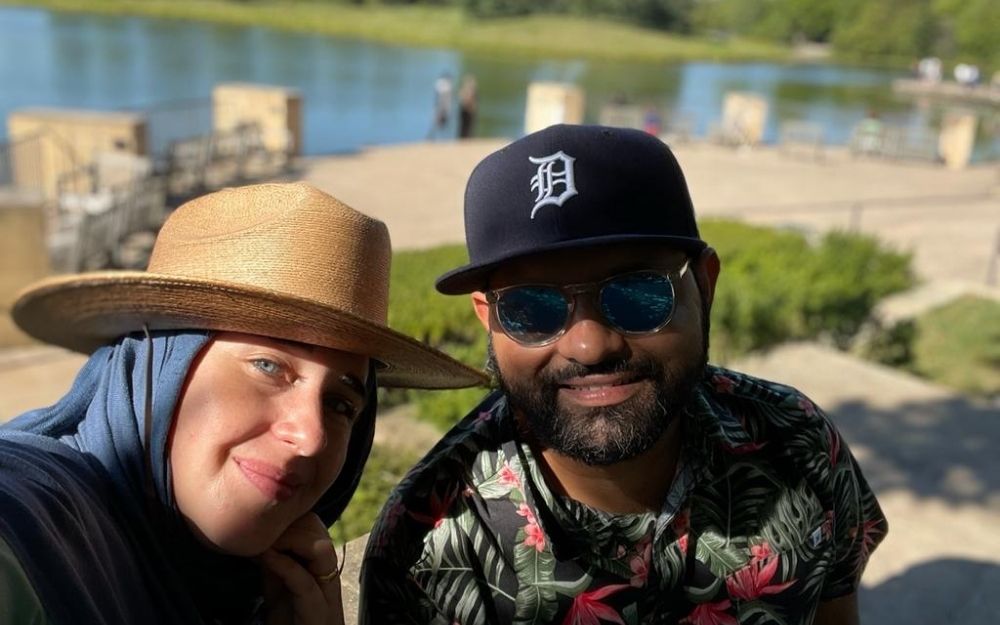 Kelly Saran and her husband Ahmad Nafees at the Chicago Botanical Gardens
.
Living her faith at her work

Editorial producer Maryann Lazarski recalled when she and Saran were hired the same day at  Milwaukee Public Broadcasting Station in 2013. "We were sitting in the HR department. They  handed us packets and told us we were both in TV production. We looked up and laughed. We  have been laughing together ever since." 
Lazarski was hired as a producer/director and Saran as an executive assistant to the general  manager. "Her personality is so infectious," Lazarski said about Saran. "She's just a delight to be  around, always upbeat. 
"We bonded over faith, although I'm Catholic and she's Muslim. We respect each other and we  both have God in our lives."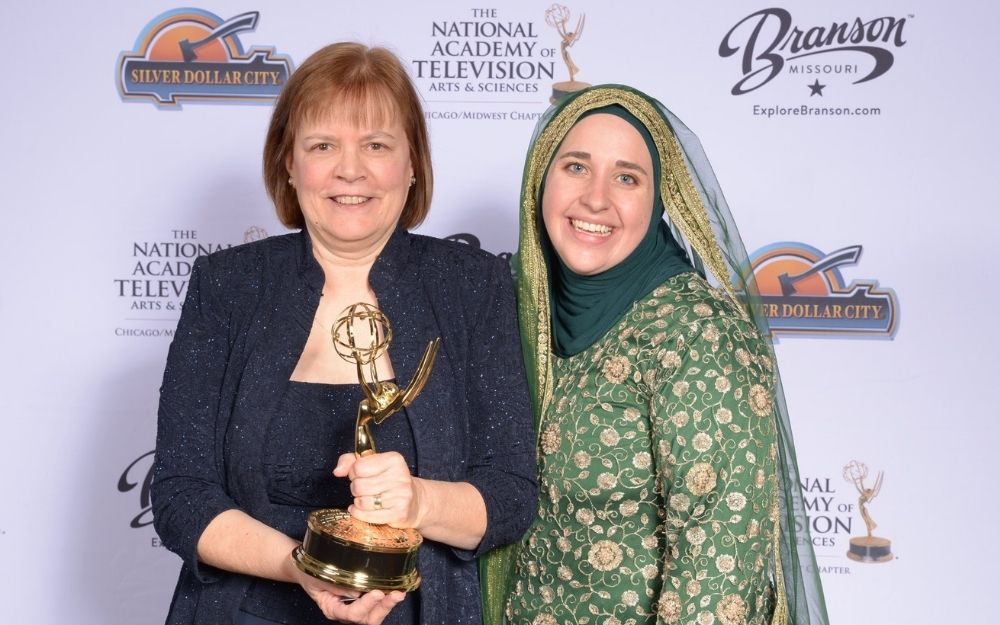 Kelly Saran (right) and her mentor Milwaukee PBS editorial producer Maryann Lazarski celebrate success at the Chicago/Midwest Emmy Awards.
Lazarski produced Outdoor Wisconsin. She knew Saran had a degree from UW-Madison and  aspired to be a producer. She spoke to her supervisor and said she could use some help with  the show. She brought Saran on board. 
"She is detail-oriented, very thorough, and did exactly what I asked. Crews loved going out with  her. She is very competent and knows how to tell a good story. 
"I saw something in her and thought she is going to blossom, and she's just fun. You think about  people you want to be around at work, she's one of them." 
Now at PBS Wisconsin, as Wisconsin Life enters its ninth season, Saran wants to help tell  stories of people around Wisconsin of all backgrounds. "I'm honored to share people's stories  and give a glimpse into their lives and what makes them special. It's a responsibility I don't take lightly. 
"We did a food tradition series and I was able to do a story about a Ho-Chunk chef. She shared a dish  she created to honor indigenous ingredients. I believe food is a gateway for people to get in the door  and know each other. There is a connection between faith and the things we do every day." 
Saran is collaborating with the Milwaukee Muslim Women's Coalition and other partners to develop  programming about Wisconsin's Muslims. "We do that already on Wisconsin Life but through a Building  Bridges grant, we are able to focus on it," she said. 
"I'm happy to work with the MMWC again," Saran. "I had worked there in 2012 when I was a new  Muslim. It was a great place to meet amazing women and there was an Islamic library right there where  I could check out books." 
Her goal—"to be the best Muslim I can be," Saran said. "I'd like to integrate everything I do with Allah,  remembering my faith. I'd like to give back to the community in the best way possible. And, perhaps  more selfishly, I'd love to own a little homestead so I could grow my own garden and raise animals."