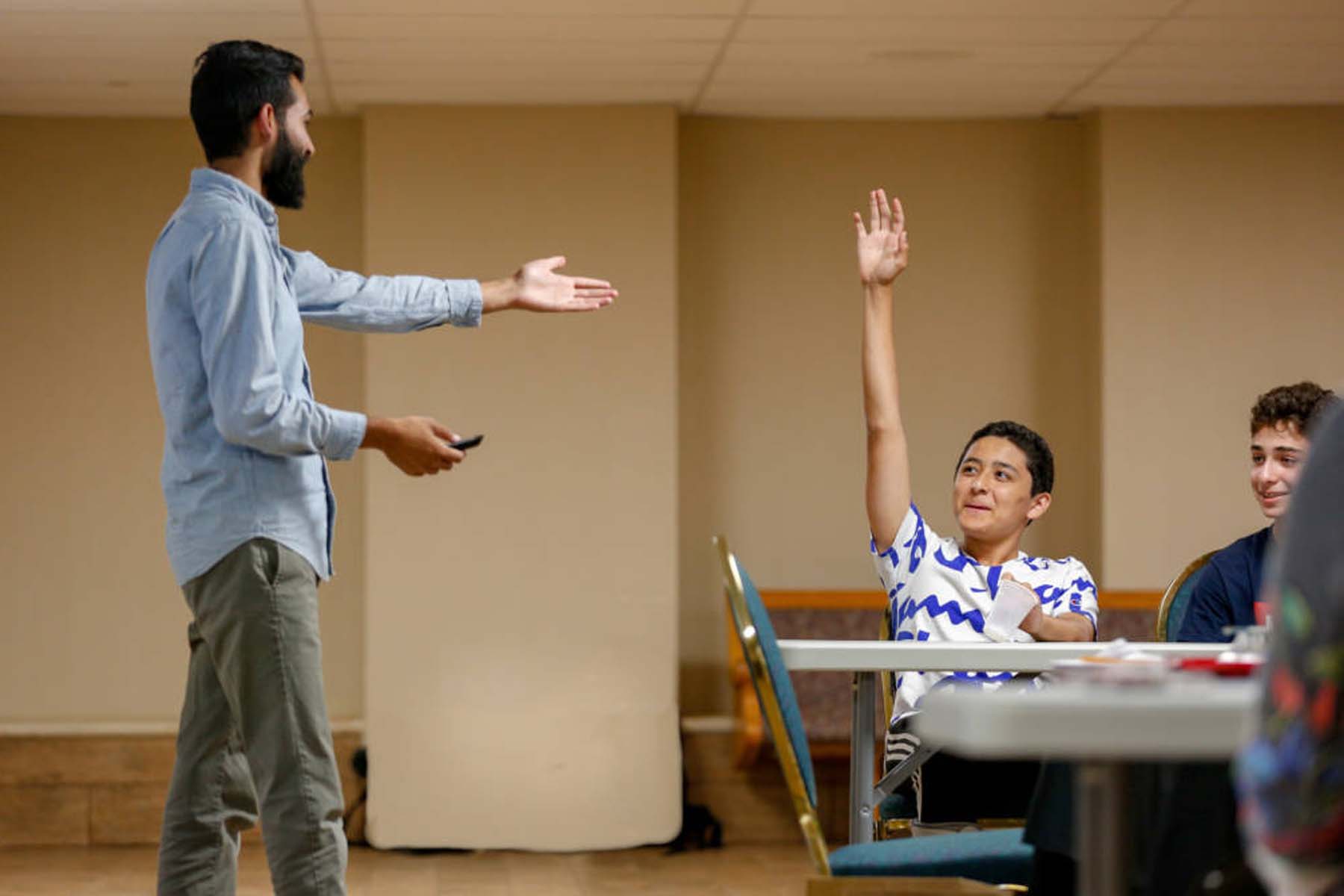 Farida Jhabvala Romero as "Supporting Muslim Teens in Face of Islamophobia – in Their Own Schools" for KQED News
Ryan Aridin, 14, learns about Muslim culture and how to counter Islamophobia in school during the Islamic Networks Group Youth Speakers training in San Jose on Sept. 13, 2019.  (Sruti Mamidanna/KQED)
"This girl told me I was going to hell because I'm Muslim," said high school senior Sara Shohoud about her first incident of Islamophobia. She was in first grade.
"I didn't know how to counter it. I was so young," the 18-year old said. "And now, I just keep quiet."
The Sunnyvale resident said she regrets staying silent and burying her frustration more recently, as classmates made offensive jokes about Muslims or equated them with being "terrorists."
"I've been in those situations, and I kind of wish I could relive them because I didn't handle it the best," she said.
Shohoud decided to enroll in a program to help Muslim youths handle harassment, inform peers about their faith and, in the process, create a more positive school environment. Since the Youth Speakers Training program launched three years ago, the nonprofit Islamic Networks Group now offers it in California and seven other states.
As anti-Muslim sentiment has grown in the U.S., data show Muslim kids experience bullying and harassment at a higher rate than other students.
The Council on American-Islamic Relations (CAIR) reports 53% of Muslim school-aged children in California said they have been "made fun of, verbally insulted or abused." Nationally, 42% of Muslim children reported being bullied, according to the Institute for Social Policy and Understanding. By comparison, the Centers for Disease Control and Prevention found 19% of all high school students say they have been bullied at school.
At a recent training session at the Evergreen Islamic Center in San Jose, Shohoud and about two dozen teens sat in folding chairs, sometimes fidgeting with plastic water bottles, as they opened up about bearing the brunt of "9/11 jokes" or being insulted for their religion.
"Some of the kids who were becoming freshmen (this year) at this school were throwing the terms Muslim and terrorist," Zayn Zaafran, 12, told the group, adding that he didn't want to disclose he was Muslim. "I just backed off."
Schools are reflecting a larger dynamic in America, where incidents of bias and violence against Muslims have increased in recent years, said Dr. Nadia Ansary, an associate professor at Rider University in New Jersey who studies discrimination and bullying of Muslim youth. She points to President Donald Trump's rhetoric and policies such as the travel ban as contributing to the problem.
Incidents of bias and violence against Muslims in the U.S. spiked in 2017, with 2,599 reports of violence, harassment and discrimination, according to a study by CAIR, which has been tracking the trend since 2014. About one-third of the incidents reported, including employment discrimination and denial of service, were in California.
"What happens in schools is a mirror image of what's happening in society because schools are a part of our community," said Ansary, adding that bullying puts children at greater risk for anxiety and depression.
During the Islamic Networks Group training in San Jose, students reviewed their rights at school and brainstormed how to respond to potentially thorny scenarios, such as what a Muslim student should do when jokingly asked, "Hey are you planning to bomb the school?"
Some students suggested doing nothing or telling an adult at the school. But Shohoud offered a different strategy.
"A really interesting response would be to ask, 'What makes you say that?' So they kind of have to admit that they are being Islamophobic, and nobody really wants to do that," she said.
Ishaq Pathan, the group's Bay Area director who leads the training, and the other students nodded in agreement.
"Yes, turn it back," said Pathan, 24. "That's a great response, because it puts the ball in their court and they have to come to terms with whatever they are saying."
In general, school districts have a legal obligation to address bullying and protect students. California and other states have taken measures to curb the intensive and often repetitive form of harassment.
This year, the California Department of Education developed anti-bullying guidelines that schools must make available to teachers and other staff members.
But those steps are not enough to fully tackle the magnitude of the problem, said Ansary.
"Everybody has a right to be educated in an environment where they're not abused. Everybody has a right to practice their faith traditions," she said. "The data suggest that that's not where we are."
If students intervene to confront bullies, start a conversation to counter negative stereotypes, or nip hurtful language or jokes in the bud, that helps create a better environment for everyone at school, Pathan told the students.
"None of this works if we just turn around and make fun of other people," said Pathan. "It's only going to work if we all reduce this thing together."
As part of the training, students also practice presenting fact-checked materials to their community about the history of Muslims in America and their faith. Those include a list of more than 110 frequently asked questions and answers.
Using all those those components to stem discrimination and empower students is what makes the program unique, said Ansary and Muslim leaders.
After Saman Ali, 17, finished the ING training two years ago, she gave presentations to hundreds of students at her high school about the basics of her religion.
"I wanted to show kids that Muslims are just like anybody else," said Ali, a senior at Monte Vista High School in Danville.
She said she realized most of her peers didn't know much about Islam. Classmates asked her if she fasted during Ramadan, why she doesn't wear a hijab and if she prays five times a day.
"They definitely wanted to know what do you do as a Muslim kid," she said. "I can understand why they were confused. So I was there to clarify."
Monte Vista High teacher Jill Seidenverg has repeatedly invited Ali to share her presentation in her AP world history class. Students are often more receptive to learning from a peer, said Seidenverg, and she's seen a positive impact.
"The more you know, the less afraid you are. And the less afraid you are, the less hateful or hurtful you can be as a human," said Seidenverg, who has taught for 29 years.
The experience also helps the youth speakers gain confidence, as they trade their feelings of being powerless or victimized to ones of realizing they can be agents of change.
Ali said she used to want to transfer to another, more diverse high school. But she felt differently after taking the training and giving her presentations.
"I felt more comfortable at my school, and I also think that the kids felt more comfortable with Muslims at school because we kind of understood each other a little bit better," she said.
Through another ING initiative, Ali is now collaborating with Jewish and Sikh students who also face high rates of bullying to raise awareness and tolerance at schools.