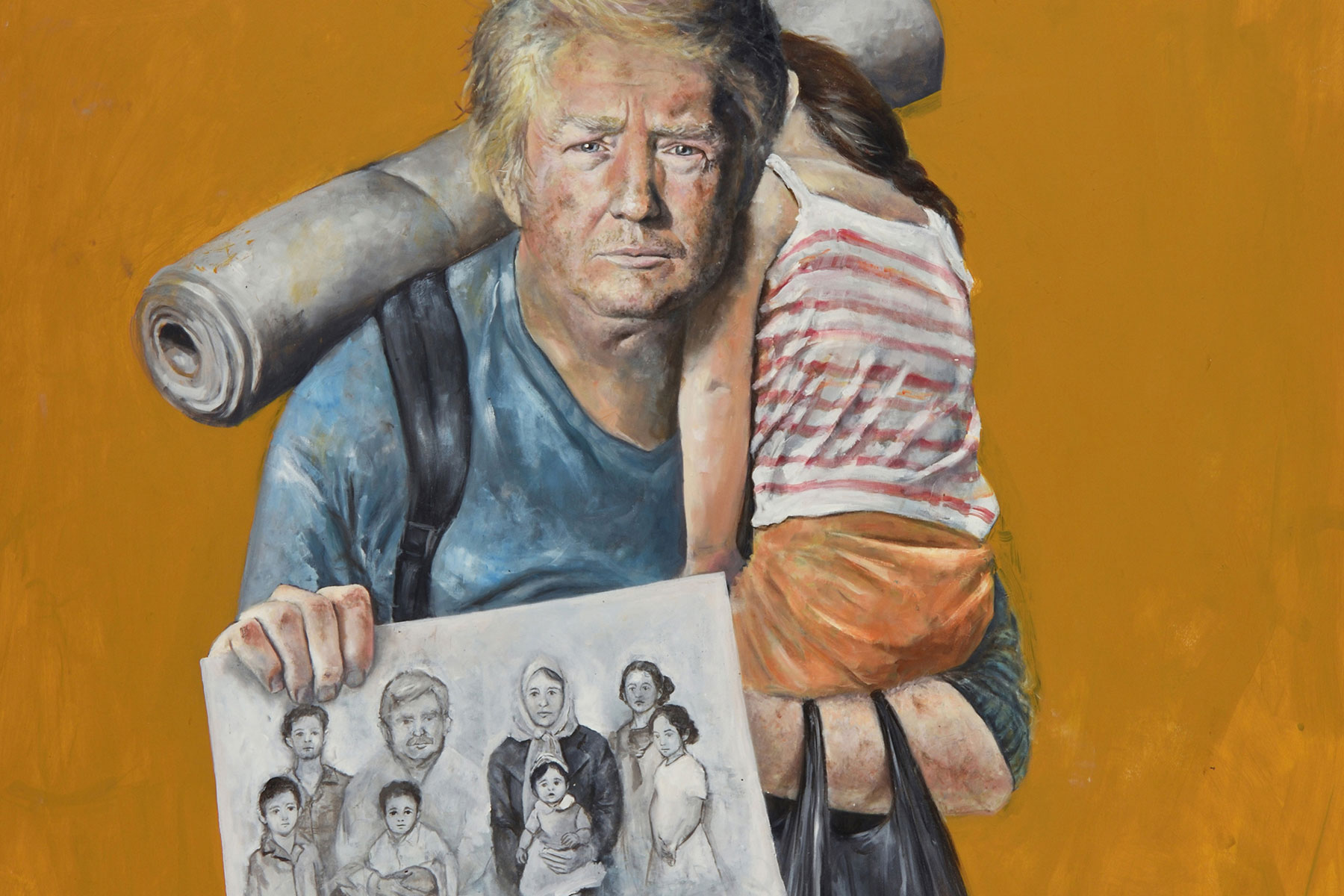 The United Nations Association – Greater Milwaukee hosted a presentation by Myron Eshowsky, MS, on February 10 at Redeemer Lutheran Church, about his work empowering refugees living in the Syrian displacement camps.
The local event highlighted Eshowsky's efforts in developing tools to manage and heal the post-traumatic stress of the Syrian Civil War, and brought the distant struggle home to residents of Milwaukee.
A co-developer and faculty member of the Common Bond Institute's Social Health Care (SHC) Program for Syrian Refugee Families and Children, Eshowsky has extensive experience providing in-person trauma services aimed at empowering refugees of the Syrian Civil War who are living in the Syrian resettlement areas in Jordan.
The program reflected the ongoing efforts to help an uninterested world focus on the human crisis happening in Syria. Another example of this communications approach includes the work of Brussels-based painter Abdalla Al Omari and his depiction of world leaders as refugees.
For his portraits in the "Vulnerability Series." Omari reimagine controversial world leaders as disenfranchised or displaced civilians. These fictionalized portraits are rendered with an affecting form of realism that although usually reserved for sympathetic characters also draws from political visual culture, particularly the use of propagandist images like political posters or billboards.
In place of showing veneration for his familiar protagonists, however, Omari eliminates all suggestions of strength, charisma, and righteousness. Setting aside the hallmarks of autocratic visuals, he depicts them in moments of despair. One of his most powerful statements shows President Trump as the literal immigrant descendant that he is.
"I wanted to take away their power not to serve me and my pain but to give those leaders back their humanity and the audience an insight into what the power of vulnerability can achieve. Even I felt sorry for my illustrated version of Assad. In this universe without gravity, all we can hold on to is our vulnerability," said Omari. "This invisible wind makes our chest heavy, yet, mysteriously propels us back on our feet again. I have convinced myself it is the strongest weapon humankind possesses, way more powerful than the trail of power games, bomb craters, and bullet holes in our collective memories. Vulnerability is a gift we should all celebrate."
Initially, the artist was driven by his own experiences of displacement, and the anger that consumed him as the situation in his native Syria escalated. Intrigued by 'the romantic idea of vulnerability and the impact it can generate' while depicting his subjects, Omari eventually arrived at the 'paradoxical nature' of empathy.
As he developed the series, his aim shifted from an expression of anger to a more vivid desire to disarm his figures, to picture them outside of their positions of power. In The Mediterranean, for example, Omari paints Bashar al-Assad, the Syrian president as a distraught refugee partially submerged in water, surrounded by a ravaging sea and an overcast sky. Bewildered, Assad stares into the distance, through the viewer, as though unable to fathom his circumstances.
If the initial reaction to such imagery is one of sympathy, the identity of Omari's subject complicates this encounter, prompting a number of critical questions. For the artist, a moment of vulnerability reminds us of our universal predicament, despite where our sympathies might lie.
Launching his career in Damascus shortly after the outbreak of the conflict in Syria, Abdalla Al Omari's recent paintings describe the experiences of civilians, particularly children, who are caught in the crossfires of war. Now based in Belgium, where he began the "Vulnerability series," he also works in video and performance art.