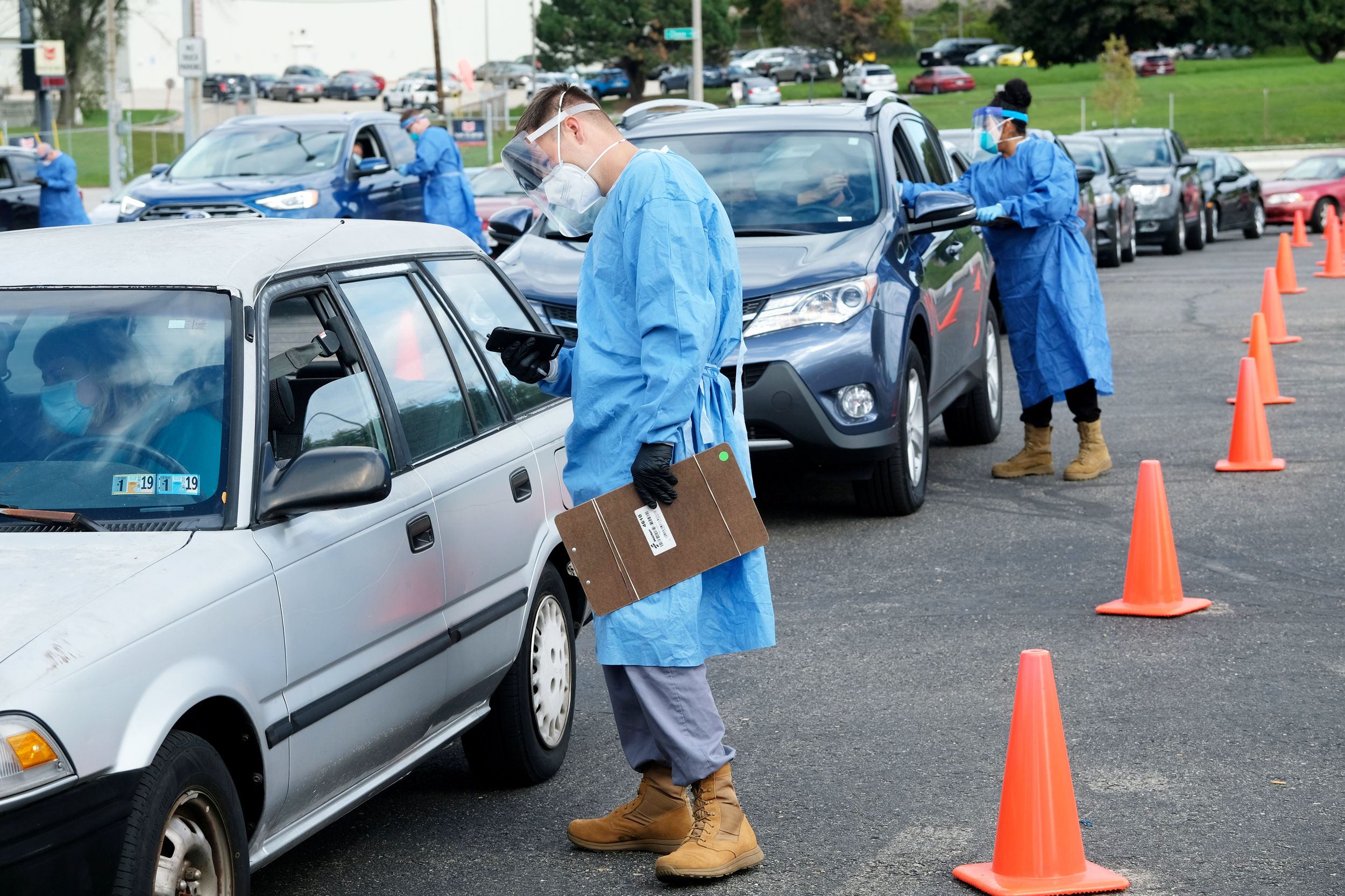 The grim statistics continue to pile up. The Trump administration's lackluster and sporadic response to the coronavirus crisis has resulted in a third wave of Covid-19 cases in the U.S. As of last Sunday, 11 million people had tested positive for coronavirus, and the daily average of cases increased by 80 percent in just two weeks. On that same day, 69, 000 people in the U.S. were hospitalized with Covid-19, the disease caused by a coronavirus. On average, 1,100 deaths are being reported nationwide each day.
As of November 15, 246,000 people in the United States have died of Covid-19 since the crisis began. One million new cases were reported in the U.S. in just the past week.
The Wisconsin Department of Health Services reports that over the weekend, 6,058 more residents tested positive for coronavirus, bringing the state's cumulative total to 312,369. Twelve more deaths were reported, bringing the death toll in Wisconsin to 2,637, with 2,034 people currently hospitalized, 435 of them in ICU.
In Wisconsin, hospital ICUs were at 90.6 of capacity statewide as of November 10. That same day, Governor Evers issued Executive Order #94 in an attempt to contain the spread. The order urges people to stay home and to wear face masks when they do need to leave the house. It also urges people to "avoid gatherings of any size between individuals who are not members of the same living unit or household."
Executive Order #94 states that "it took seven months for Wisconsin to reach its first 100,000 Covid-19 cases, but only five weeks to reach the second 100,000 cases." EO #94 goes on to say that "at the current rate of growth, we will reach the third 100,000 cases in only twenty days." And it reports that "Wisconsin consistently has more new cases of Covid-19 per day than the entire country of Canada has each day."
If you live in Milwaukee County and attend a gathering of 50 or more people, your chances of testing positive for coronavirus are 92 percent, according to the Covid Risk Assessment Planning Tool.
And Covid-19 remains a dangerous illness. "These patients are very sick," said pulmonary specialist Dr. Maqbool Arshad. "Once they get into the ICU, it takes them 2 to 3 weeks to get better. Respiratory therapists have to work very hard. These patients need high-flow oxygen. They have to be put in different body positions and periodically put in prone position [on their stomachs] to clear the lungs."
Dr. Arshad, who is affiliated with St. Francis hospital on Milwaukee's Southside, said that he's not aware of any current shortage of ICU beds. As an urban hospital, St. Francis has been busy with Covid-19 patients since the lockdown in March. However, Dr. Arshad also said that staffing could become an issue.
Nurses and doctors have been working since March, "and it is wearing them out," Dr. Arshad said.
Dr. Raed Hamed, the ICU director at a Milwaukee hospital, said, "We have not exceeded our capacity, but we are at capacity. The general floors are much busier, and they are really almost reaching capacity.
The hospital, Dr. Hamed said, has "adequate staffing. We are functioning exactly the same way that we functioned since last March when the pandemic started. We have not gotten into any shortage of anything. The supplies, the resources, the PPEs, and the staffing are all adequate."
However, the hospital staff is weary. "We need people to be a little more mindful of the stress that healthcare workers are going through," Dr. Hamed said. Hospital staff, he said, sometimes feel that the general public doesn't "care about the healthcare worker because they are not giving us time to catch our breath by social distancing and masking."
The fact that masks have become a political issue certainly isn't helping.
On Sunday, Serb Hall general manager Nick Alioto said he was pushed to the ground and kicked by Trump supporters who had staged a so-called "Defend Your Vote" rally there.
The Trump supporters became enraged when Alioto asked them to comply with the City of Milwaukee's public health order by donning masks and practicing social distancing.
However, there is some hope on the horizon. Two pharmaceutical companies, Moderna and Pfizer, are reporting successful tests with vaccines they have under development. Moderna says its vaccine has proved 94.5 percent effective in preliminary trials. Pfizer says its vaccine is 90 percent effective. At least 50 companies are competing in the global race to produce a vaccine, with 10 companies already in the third phase of testing.
Dr. Anthony Fauci, director of the National Institute of Allergy and Infectious Disease, said last week that a vaccine will likely be available to "most Americans" by the end of April 2021.