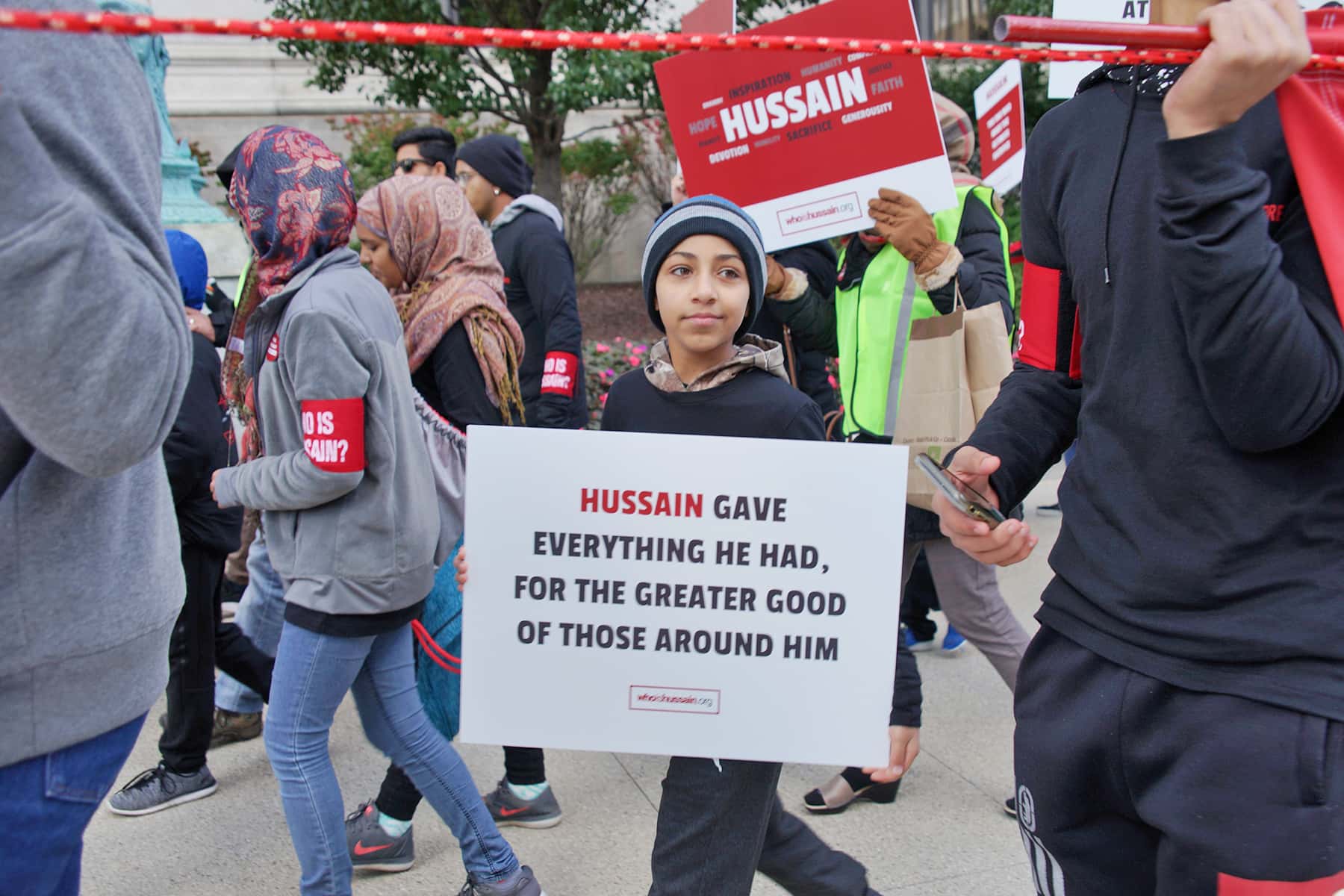 The Chicago chapter of Who is Hussain co-hosted a memorial march in downtown Milwaukee to inform the general public about Hussain Ibn Ali's (R) message of compassion, social justice, and equality on October 13.
Who is Hussain is an international movement present in cities across North America, Europe, Africa, Asia, and Australia. The non-political movement was inspired by the values and principles of the seventh century martyr, Hussain Ibn Ali (R).
"Imam Hussain Ibn Ali (R) presented an example of justice, equity, equality, and peace for us to follow. He represents a stand against oppression," said Imam Sayyid Sameer Ali. "This is a non-political and non-religious message which is universal, and appeals to people of all backgrounds and to those of us who are humanists."
Individuals and families from several countries, backgrounds, and faith traditions participated in the peaceful memorial march to honor the legacy of Hussain Ibn Ali (R) and his spiritual appeal.
Hussain lived less than a half century after the death of the Prophet Muhammad (P), when the Muslim Empire was sliding into corruption under a tyrant from the Ummayad dynasty, Yazid. Hussain (R) was a grandson of Prophet Muhammad (P). He is highly regarded by Shia Muslims for refusing to pledge allegiance to Yazid, the Umayyad caliph, because he considered the rule of the Umayyads unjust.
The annual memorial for Hussain (R) is the first month in the Islamic calendar, that is Muharram, and the day he was martyred is known as Ashura. The timing of the Imam's life and martyrdom were crucial, as they happened in one of the most challenging periods of the 7th century. During that time, the stand taken by the Imam and his followers became a symbol of resistance against oppressors.
Millions of people today pay homage to Imam Hussain (R), and annually mourn the tragic Battle of Karbala. Pilgrims from all walks of life visit the Imam Hussain shrine in the city of Karbala, Iraq to pay their respects.
Begun in 2012, "Who is Hussain" has rapidly grown into a global network with a mission to empower communities to organize charitable events for the common good. The organization aims to inspire individuals, through the timeless example of Imam Hussain (R) as a role-model and the principles he lived for. Regardless of gender, age, nationality, class or any other superficial factor that divides humanity. Hussain (R) cared more for the values that should unite people.
"Mahatma Gandhi was inspired by Hussain's teachings," said high school freshman Khadijah. "Hussain represents selflessness. On the plains of Karbala, when he was thirsty, he made sure that even the animals had water and no one was denied water. He believed in respecting others and serving them."