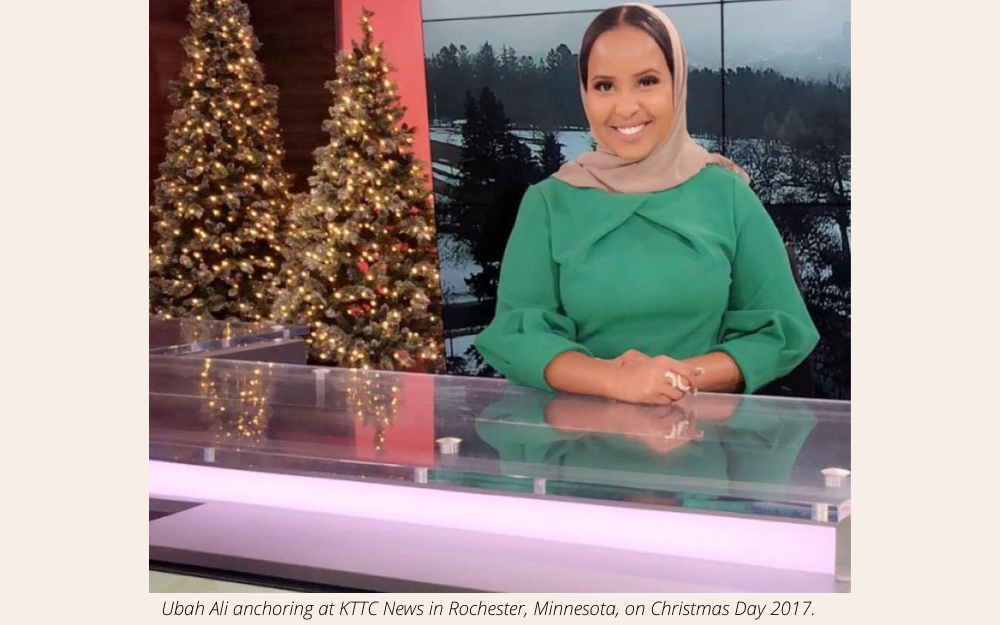 Ubah Ali, 25, Wisconsin's first and America's third reporter to wear the hijab on the air, joined TMJ4 as a reporter and multimedia journalist in March. In her first televised broadcast for TMJ4, she reported April 5 on Wisconsin's COVID vaccinations from a pop-up clinic at the landmark Milwaukee Public Market.
In an online interview last Friday from her new apartment in Old World Milwaukee, Ali, in a black hijab and dark blue TMJ4 windbreaker, spoke enthusiastically about the opportunity to report in Milwaukee. Her eyes widened and her smile flashed as she expressed gratitude for mentors, colleagues and family members who have supported her career.
Breaking ground as Wisconsin's first hijab-wearing on-air reporter is "not top-of-mind," Ali said. "It's just who I am."
TMJ4 is Ali's second station. She came to Milwaukee from Rochester, Minnesota, where she reported for KTTC since February 2019 after graduating from St. Cloud State University in St. Cloud, Minnesota. "I am thankful and grateful my news director Tim Vetscher saw potential and took a chance on me."
Hiring Ubah
"I was very impressed after watching her reel," TMJ4 News Director Tim Vetscher told WMJ. In video examples of her reporting, he saw "Ubah asking tough questions of Vice President Mike Pence during a trip to Minnesota." He also saw examples of her covering the unrest in Minneapolis following the death of George Floyd.
Ubah Ali was one of 13 St. Cloud State University students honored in 2017 by the Upper Midwest Emmy® Chapter of the National Academy of Television Arts & Sciences. Ali won top honors in the "Serious News, General Assignment" category. Photo ©: St. Cloud State University
"Ubah's reporting abilities really stood out to me during those stories. Ubah exhibited a lot of poise and a real sense of confidence in her grasp of the material she was reporting on, a characteristic you don't always see in reporters just starting out in their careers."
Vetscher added: "We have a commitment to make sure our on-air staff reflects the community we serve. Milwaukee has a sizeable Muslim population. It's important TMJ4 is representative of all our viewers in southeast Wisconsin through both our journalism and our staff.
"I know we have viewers who wear a hijab in their everyday lives. It's a good feeling to know they now see someone on TMJ4 who also wears a hijab."
Empowering Muslim women
"Honestly, I didn't give it much thought," Ali said about being a trailblazer for visibly Muslim women. But when young, hijab-wearing women reached out to her about pursuing careers in the news industry she realized her presence gave them courage.
Ali remembered what Tahera Rahman's breakthrough in 2018 as the first hijab-wearing on-air reporter in America had meant to her.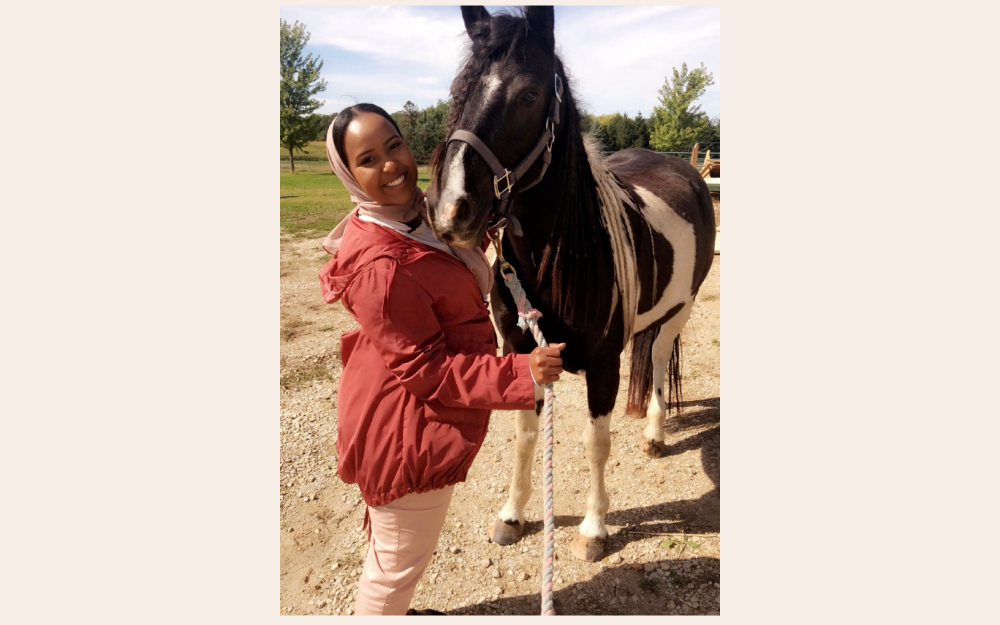 Ubah Ali reported for KTTC in Rochester, Minnesota, about the collapse of a barn full of horses. None of the horses were hurt, she said.
After what Ali called a "stellar" experience at St. Cloud State University, participating in its award-winning, student-run broadcast station and having valuable internships at two Minnesota broadcast stations, Ali said she "knew journalism was for me. I had no doubt in my mind."
Her mother sighed, looked at her and said, "You wear a hijab. There are not a lot of people in this industry who look like you. Are you sure you want to go down this path?" Ali remembered.
"And I said, 'Yes!'" Ali said, slapping the back of her hand for emphasis. "I have always been strong willed and I don't like nos. I said, 'I'm going to do this.'"
She graduated and immediately applied everywhere. Eight months passed and nothing materialized.
"I was devastated. I thought maybe Mom was right. Then, just when I started to second guess myself, Tahera Rahman made her break on TV news in Rockford. That told me, okay, you'll get there. It will just take time.
"Then I got an email from my younger brother's principal. He said, 'Anes really adores you and tells me you are a reporter and you are looking for a job. There is a parent who works at KTTC. Is it ok if I pass your reel and information to her?'
"I got a call from the news director Noel Sederstrom who asked me to meet him for coffee. At the interview, I remember when he said, 'You've got the job.' To finally hear a yes – it was the best feeling in the world."
Now it appears Ali is one of three women wearing hijab in American broadcast television: Tahera Rahman now in Austin, Texas;  Ayah Galal in New Haven, Connecticut; and Ali in Milwaukee.
"At the end of February, we started our little support group on Facebook and we meet on Zoom," Ali said. "We talk about our struggles and accomplishments, maybe about what kind of hijab to wear."
Deciding on her "look"
During an internship at a news station when she was 19, Ali made the decision to wear her hijab consistently. "My parents weren't strict about it. I would wear it when I wanted to." Then a mentor told her she couldn't wear hijab on the air one day and not wear it the next. She needed to decide on her "look."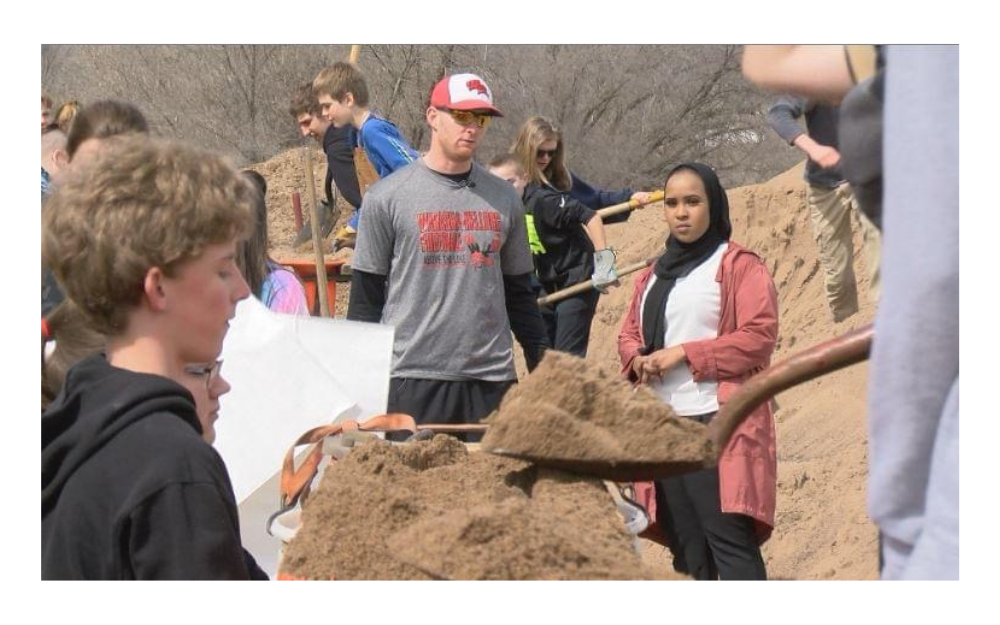 Ubah Ali reports in 2018 on heavy flooding in the Rochester suburbs as high school student volunteers prepare sandbags.
"I knew down the line, I would wear it 24/7, so why not start now?" Ali asked herself. "It is how I see myself. It is who I am. It is effortless. The only time it is difficult is when I'm trying to find the perfect color to go with a shirt.
"For me, wearing the hijab is a sisterhood, a camaraderie. If I see someone in a nice hijab, I can say, 'Hey where did you get that from?' and start a conversation.
"It represents my religion. Anyone who sees me wearing hijab will know I am Muslim. It keeps me grounded."
A first-generation immigrant "makes it"
When Ali moved to Milwaukee in March, her younger sister Ayan, 18, a junior at the University of Wisconsin – Milwaukee, became her roommate.
"Living with Ubah is having a piece of home," Ayan said yesterday in a telephone interview. "Ubah was a mother to me."
Ali is the second of eight siblings from 26 to 9 years old. "Mom always traveled for business, often for long periods. Ubah always took care of us," Ayan said.
Their parents, of Somali descent, immigrated to the United States from Kenya when they had two children, Ubah, who was 1 1/2 and her brother, who was a year older. They started in Boston but ended up in Rochester, Minnesota, where Ubah remembers being surrounded by extended family that all played a part in raising the children.
They went to public schools and on Saturdays and Sundays to classes at the mosque to learn the Quran and Arabic. Afterwards they would hang out with friends from those classes at the family's store. Sometimes, they accompanied their father to Friday prayers.
"Ubah loves taking care of everybody else before herself," Ayan said. "I'm writing a term paper right now and I came home exhausted. Ubah said, 'I know you are tired, but I'll make dinner for you. Go ahead and work on your term paper.'"
As a college student, "Ubah was juggling 21 credits, and she was still on top of everyone's homework. We all know Ubah is going to text us and ask for our grades, and they have to be above Bs.
"For first generation students, our parents don't understand the ins and outs of it of American schools," Ayan added. "Ubah had been through it and could guide us.
"She is an amazing mentor. As first-generation immigrants in a Western country, she gave us grounding, striking the right balance that I admire."
And while making sure her siblings keep up, "Ubah is still driven, going for it," Ayan said. "She doesn't let anything stop her."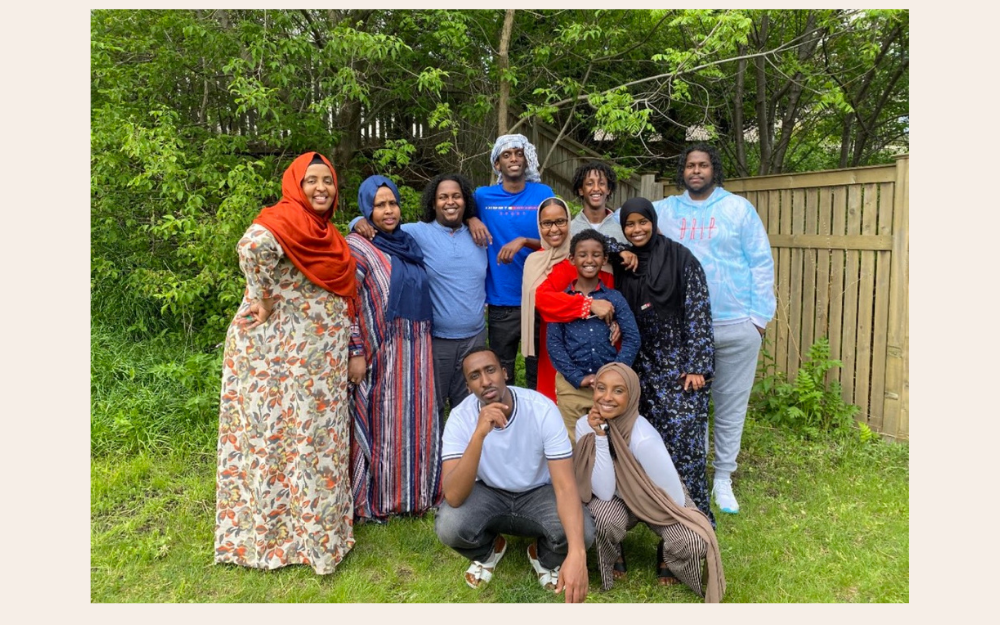 Ubah Ali "wearing red " celebrates Eid with her extended family in Rochester, Minnesota.
Where she is headed
When Ali was in high school, she watched CNN chief international correspondent Christiane Amanpour and Anderson Cooper, anchor of CNN's global newscast, Anderson Cooper 360. "I thought to myself, what they are doing is so cool, traveling back and forth, reporting. I think I like this.
"I love being a local reporter but my aspirations are to one day be an international news reporter, to travel and to give opportunities to people from different countries to be heard," Ali said. "To do that, I want to be a veteran reporter, confident enough in my capabilities to be able to do what an international reporter has to do."
For Ali, that means adding a few years to the two she has under her belt and moving up into bigger markets. She called Milwaukee "an amazing step" and hopes it will be one that eventually takes her to Chicago.
She is glad she took a minor in international relations and has a second language (she speaks English and Somali). She wants to work on her French and Arabic. She can read the Quran but not converse in Arabic, she said.
"My love of travel came from my mom," Ali said. Her mother moved to Rochester and established a store. She sold it and traveled to South Africa, where she embarked on a new business venture and has traveled back and forth between Cape Town and Rochester. She also started a home healthcare service and a medical transportation service in Rochester. Her father helps run these businesses.
"Seeing her being a business woman and just going places inspires me," Ali said.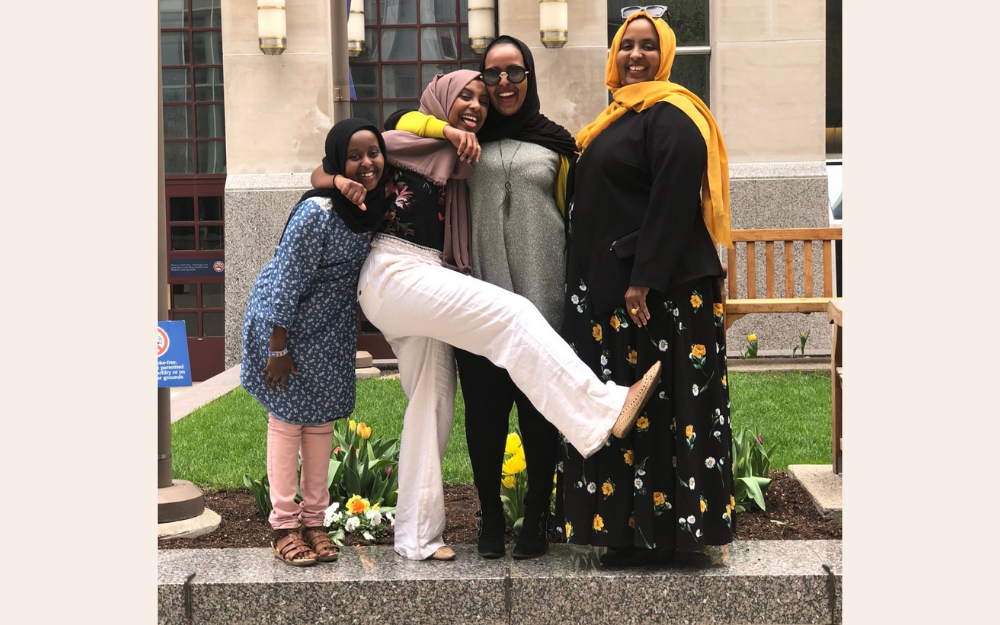 Afnan, Ayan and Ubah Ali celebrate Mother's Day 2018 with their mother Hawa.