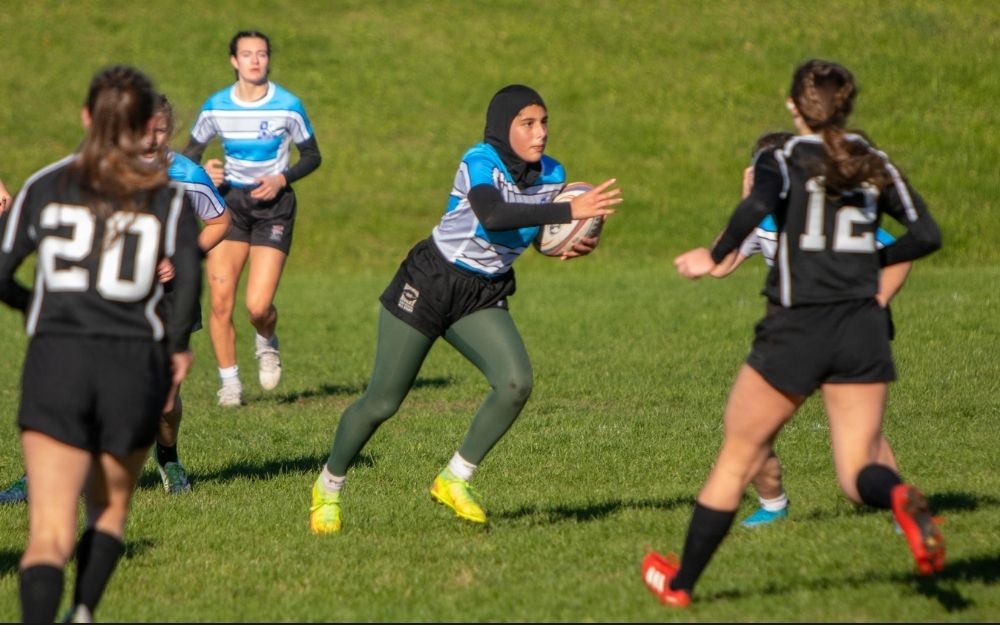 On World Hijab Day, Feb. 1, Wisconsin Muslim Journal asked high school athletes who wear hijab about their experiences. Pictured above is Maria Hassanein, 17, competing for Brookfield Central High School in rugby. She has also represented BCHS in diving, gymnastics and track.
Today, the 10th annual World Hijab Day is celebrated in 190 countries. It invites non-Muslims and Muslims who do not wear hijab to don it for one day in solidarity with hijabis to foster religious tolerance and understanding.
World Hijab Days was initiated on Feb. 1, 2013, by New York resident Nazma Khan, a social activist. At 11 years old, she immigrated with her parents from Bangladesh and became the only hijabi in her middle school. In a speech explaining her motivation for launching World Hijab Day, Khan described discrimination, both verbal and physical, she experienced as a teen, which only intensified after 9/11, when she was a university student in New York City.
Controversy about the hijab today often centers around athletics. The French Senate voted last week to ban religious symbols, including hijabs for female athletes, during events and competitions organized by sports federations. French Muslim athletes and their allies are protesting what they consider their exclusion from the sport. The measure must now be voted on in France's lower house. President Emmanuel Macron and his party oppose the ban.
In the United States, NCAA basketball star Bilquis Abdul-Qaadir, became the first woman to wear hijab in NCAA Division 1 basketball in 2010, playing at the University of Memphis in Tennessee and later at Indiana State University. In high school, she wore hijab while becoming the top scorer in Massachusetts among both male and female basketball players.
She planned to play professionally in Europe but the International Basketball Federation (FIBA) banned religious head coverings on the court. Refusing to choose between her faith and her passion for basketball, she took on a four-year legal battle against the ban. In 2017, she won, but missed her opportunity to play professionally. She said she saw it as a way of making the game more accessible to players of other faiths.
What's it like for high school athletes wearing hijab today? Three hijabi athletes in Brookfield tell Wisconsin Muslim Journal about their experiences.
Teammates "have my back"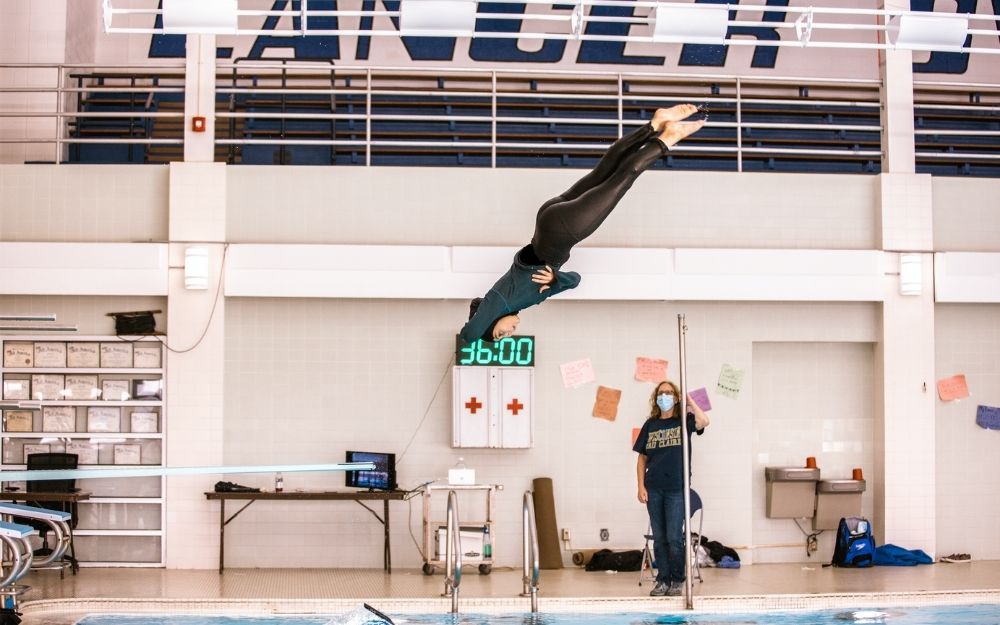 Maria Hassanein's coach had a long-sleeved black meet shirt with a team logo created for her. It "made me feel I am really representing Brookfield Central," she said.
Maria Hassanein, 17, a junior at Brookfield Central High School, started wearing hijab in sixth grade because she "wanted to be more modest, understand my culture more and get closer to Allah." 
Having already finished the credits she needs to graduate, Hassanein is participating in a BCH program that allows her to attend Waukesha Area Technical College to study real estate. 
"By the time I graduate high school, I'll have my real estate license," she said. She plans to continue studying business in college and hopes to continue rugby on an athletic scholarship.
Q: How long have you been participating in sports?
A: Growing up, I have always been doing sports—gymnastics, swimming, basketball, tennis—I tried everything. My parents really liked me being physically active. I have never stopped. At Wisconsin Hills Middle School, I was in track and basketball all three years. I took swimming lessons in the summer. 
In high school, I've had a passion for diving and gymnastics. I hadn't done gymnastics since I was 8. It was a real challenge, learning all the skills again, trying and retrying. Freshman year, I did diving, gymnastics and track. In fall of my sophomore year, I started playing rugby. From the first game, I really loved it.
Q: What do you like about sports?
A: I like practice, teammates, how it feels during the games, especially with rugby. I like the sportsmanship, how your teammates are always there for you. 
Q: Are there others wearing hijabs on your teams or opponents' teams?
A: I'm the only one in the sports I'm doing now, diving and rugby.
Q: What do you wear for diving?
A: I wear leggings and my swimming coach had a long-sleeved meet shirt with the team logo on it made for me. I had been wearing a simple, black long-sleeve shirt. The one with the logo made me feel I am really representing Brookfield Central.
Q: Are other coaches also supportive of your hijab?
A: Every single coach has been very supportive of me. When I came to the first practice, they would be confused because not all people know how the hijab works. They would ask questions and I don't mind answering them. As the season goes on, they are impressed with my physical ability, especially in Ramadan. I always prepared myself for competition and they would be shocked at how I would do it.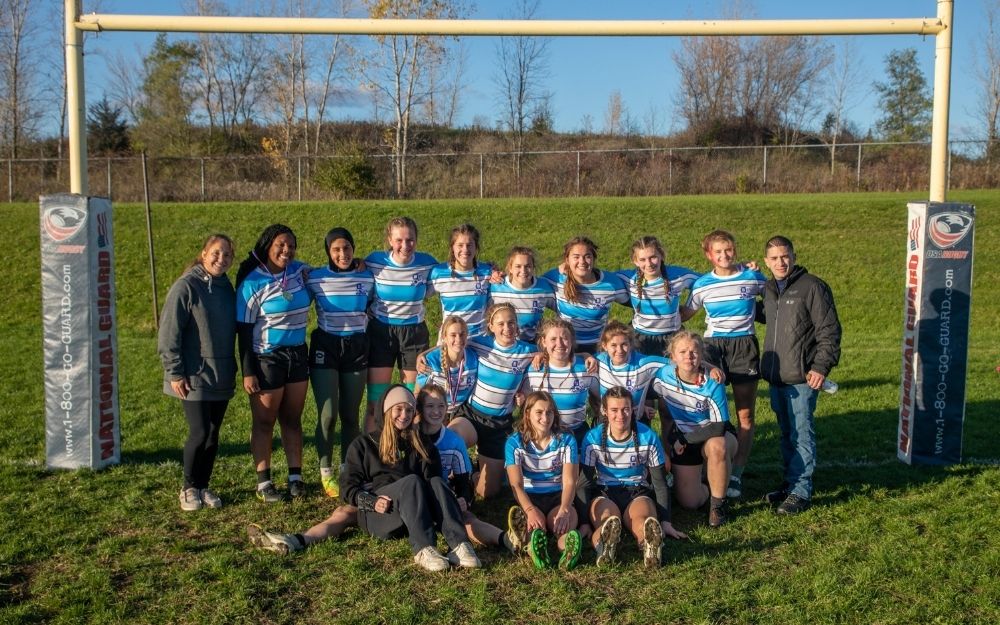 Maria Hassanein (third from the left) is the only hijabi on the Brookfield Central High School rugby team. She has not seen any players on other teams wearing hijab.
Q: How about your teammates?
A: My teammates are my friends. They are all respectful and supportive. When new people come in, they seem surprised by my hijab. Someone who recently joined asked me what I wanted her to do if my hijab fell off. I appreciated her and others asking me. Rugby is a very close contact sport and anything could happen. I told them, if my hijab falls off, please grab it for me and cover me. It hasn't happened but I know if it did, my teammates have my back.
Q: Has anything happened, good or bad, because you are wearing hijab?
A: For the good part, I always receive compliments at games and tournaments, with girls telling me I played well and look pretty in it. It makes me feel so good.
Once there was a girl tugging on my hijab the whole tournament. My teammates saw it, took pictures and went up to her and showed her. They told her to cut it out. She came up to me afterwards and apologized. 
Q: What advice would you give to younger female athletes who wear hijab?
A: I have a younger sister. I would advise her to keep the hijab as part of her identity, and because you really believe in it and want to wear it. Then, no matter what happens, bad or good, you wouldn't lose confidence in wearing it.
My hijab motivates me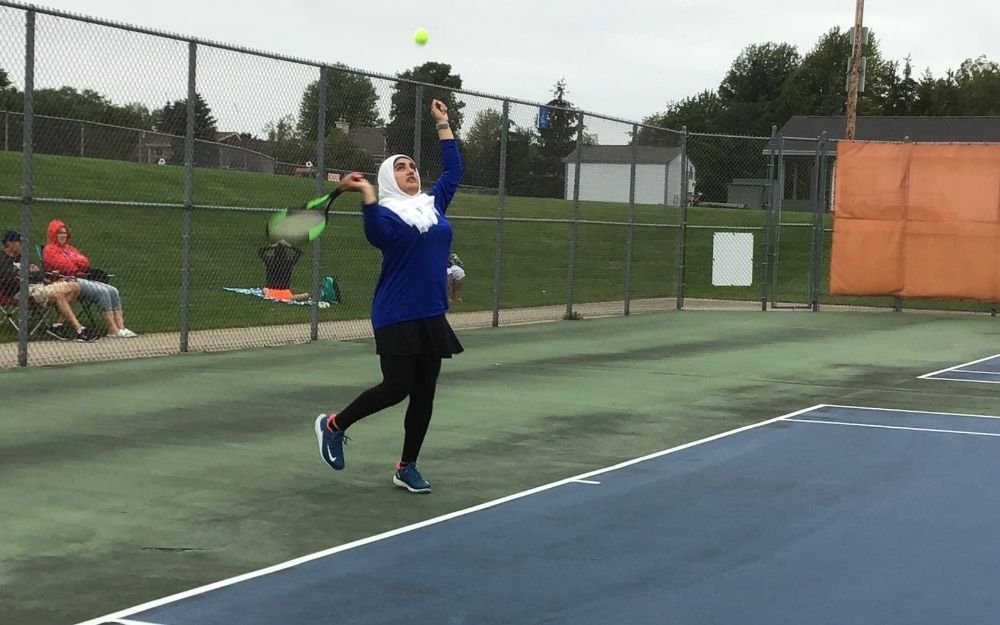 Nura Hassan, 16, a member of the Brookfield Central High School JV Tennis Team, said, "Wearing hijab motivates me to be a better person since I am always representing Islam no matter where I go."
Nura Hassan, 16, a junior at Brookfield Central High School, plays on the junior varsity tennis team. She has been wearing hijab since the beginning of seventh grade, when she was 12.
"I had started memorizing the Qur'an so I felt wearing the hijab as I advanced in my religious studies was appropriate," she said. 
"I wear the hijab for the sake of Allah and I believe that dressing modestly is the best way for me to present myself as a Muslim woman. I also think wearing hijab motivates me to be a better person since I am always representing Islam no matter where I go.
Hassan has been playing tennis her whole life. Her parents put her in classes when she was young.
Q: Why did you decide to join the tennis team?
A: At Brookfield Central, the environment for tennis is fun. It is a huge program and all the girls in it are super sweet. My older sister had played tennis and a few of my friends were going to join. Also, the tennis season starts in August so it is a way for freshmen to slowly get into the school social stuff. I also like how practices and matches are right after school every day and the season ends in October so I can focus on academics. I'm taking advanced classes in all subjects and there are a lot of APs (advanced placement college courses) thrown in.
Q: Are there other girls wearing hijab on your team?
A: Not on my team but I think there may be on one of the other teams.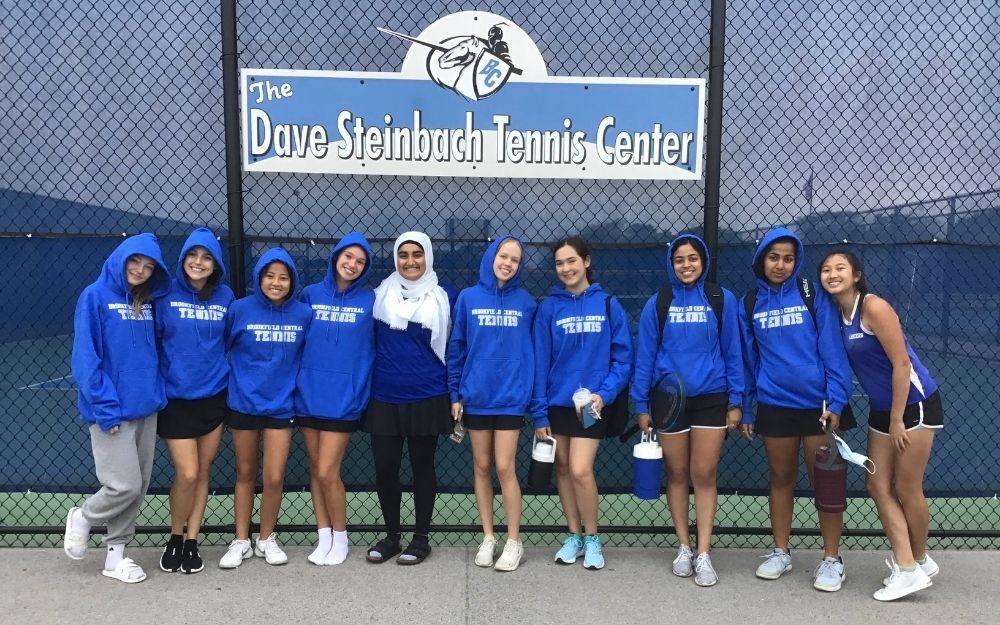 Brookfield Central High School junior Nura Hassan says participating in her school's tennis program is a great way to meet people.
Q: Have you had any experiences, good or bad, related to being an athlete who wears hijab?
A: Well, playing tennis in August, I definitely get pretty hot but I have not felt discrimination. Brookfield Central has a lot of Muslims so others are familiar with the idea of hijabis in sports. Even in gym class, there are people wearing hijab. Everybody is aware it is something you have to work around. 
On the positive side, I have met a lot of people I wouldn't have if I didn't play on the team. 
Q: What advice would you give to others who want to play competitive sports in high school and wear hijab?
A: As a hijabi, I would say you are the one who is thinking about yourself the most. Other people are thinking about what they look like and are not that worried about you.
If wearing the hijab is something you want to do, and if you are doing it with the right intentions, you are doing it for the sake of Allah, I would say just do it. Other people are a lot nicer than you might think they'll be. You'll get through it. 
Just show up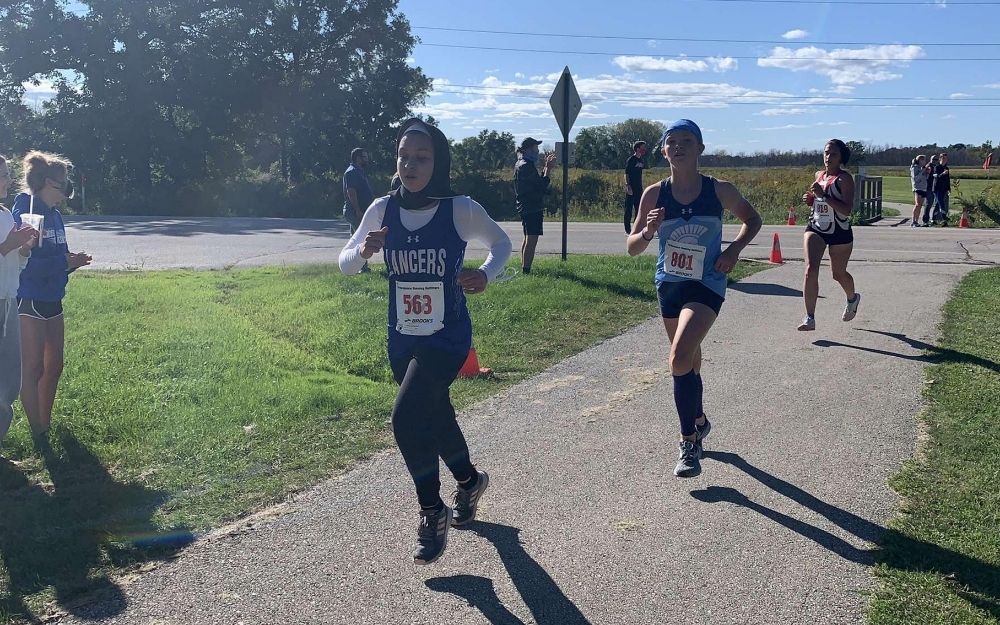 Salma Ibrahim, 15, has recruited friends who wear hijab to join Brookfield Central High School's track and cross country teams.
Salma Ibrahim, 15, a Brookfield Central High School sophomore, runs track and cross country. She started in cross country in eighth grade and joined the high school track team her freshman year.
Ibrahim started wearing hijab in sixth grade, when she moved from Pewaukee to Brookfield. She planned to wear it and "felt it would be easier" to start in a new school, she said.
"I was the first hijabi in our grade. It was awkward at first because some people didn't understand why I was wearing it. There were other Muslims in our grade but since they are not hijabi, no one would know about them. As I went through middle school, other people became more knowledgeable about it." 
Now there is one other hijabi in her sophomore class, but many others in the high school, she said. Sometimes she has been the only team member wearing hijab.
"I don't really think about it," she said. "I just show up."
Q: Why did you start running competitively?
A: The people in these sports are really nice people to be around. I started for fun in eighth grade and really liked it. My freshman year, I grew a lot and was able to get under a six-minute mile with one of my friends, which was fun.
I get to know good people and to challenge myself. And we all get to bond together because we are all going through the same thing. 
Q: Do you see others in hijab at the meets?
A: I was the only team member wearing hijab my freshman year and then I got two other hijabis to join the team. I haven't seen others wearing hijab now that I think about it. I didn't think about it before.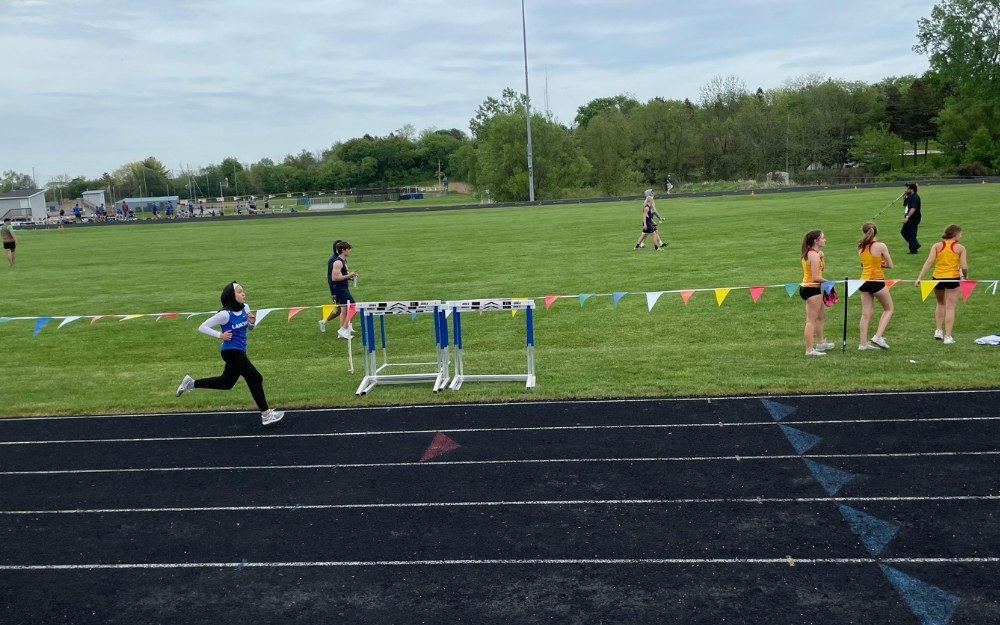 Salma Ibrahim, 15, of Brookfield said being on her school's teams gives her the chance to know other students well. "We all bond together because we are all going through the same thing."
Q: Has being a hijabi athlete been a good or bad experience?
A: I haven't faced any discrimination; that might happen more in other sports. I have an older sister who is in college. When she was a freshman in high school in Michigan, she played volleyball. I remember her talking about when a ref told her coach she couldn't play because her hijab was a safety hazard. I think they have fixed that by now.
And, although other runners might be wearing spandex and a sports bra and I'm in full coverage, when we have to run and it is 90 degrees, we all get hot.
But you do stand out compared to other people. When you finish a race and do well, people can recognize you easily. I'll have more people coming up and saying good things to me than even friends who did better.
Q: What impact do you think having a hijabi athlete on your teams has?
A: I think it is a good thing. They think, 'If she can run in full coverage, I can finish my workout.'
My parents think it is good I am getting involved, able to do things as a hijabi and have other people see it as a good thing.
Q: What advice do you have for other girls who wear hijabs and have a passion for sports? 
A: I'd say don't be afraid of what other people think of you. Be confident in your personality and what you stand for. It will help you get through it.