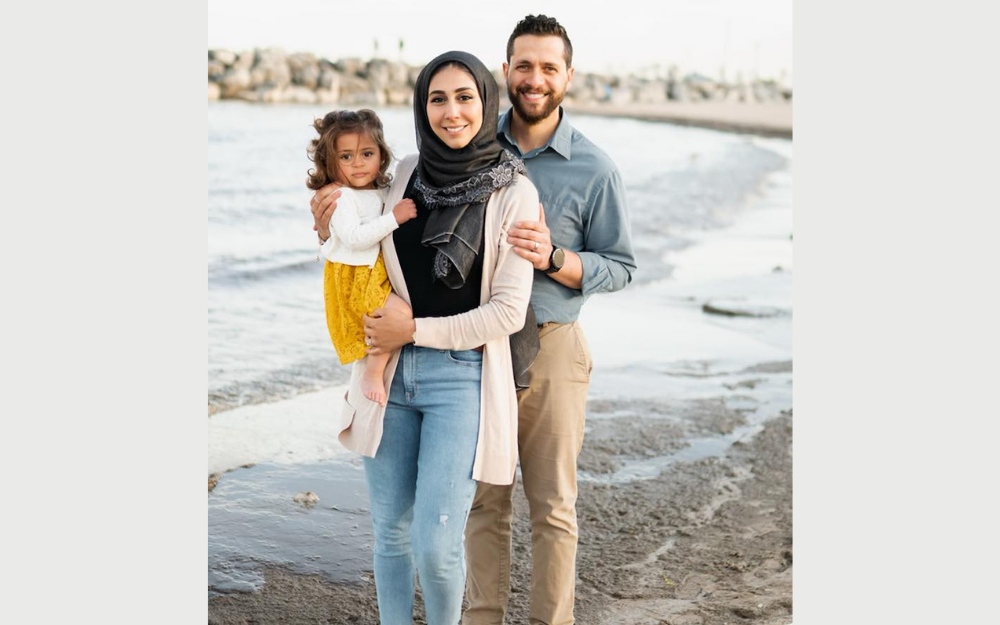 Afnan Musaitif, Hasan AbuLughod and their daughter Mariam of New Berlin enjoy living a "hands-on" life.
We all stayed home during the height of the COVID-19 pandemic and home remodeling projects took off. It seems everyone has been painting the house, landscaping, gardening or remodeling kitchens and bathrooms since the shutdown. 
And leading the way are millennial homeowners (born between 1980 and 1996). According to one poll, 81% of them tackled a home improvement project during or since the lockdown, more than half of them DIY (Do-it-yourself) jobs. 
For one New Berlin family, DIY is nothing new. Hasan AbuLughod, 33, and Afnan Musaitif, 33, busy professionals and parents to two-and-a-half-year-old Mariam, have created a hands-on lifestyle they say enriches their lives.
Born in the age of the internet, growing up in an era of rapid high-tech advances, from self-driving cars to AI-powered home systems and voice assistants, and a service industry that offers meals, groceries—you name it—delivered to your door, AbuLughod and Musaitif prefer to take a hands-on approach on the home front. They do their own remodeling and painting, grow vegetables and herbs, raise chickens and pick up fresh eggs from the coop every morning.
Both have demanding professional lives. AbuLughod is a project manager in the major projects division at WE Energies, managing large dollar and large steal pipeline projects in Southeastern Wisconsin. Dr. Musaitif works full-time as a psychologist in the Milwaukee Veterans Administration Medical Center and teaches as an adjunct faculty member at Marquette University in Milwaukee and Cardinal Stritch University in Fox Point and Glendale. She also has a side job, creating customized home décor and personalized art.
In an interview with the Wisconsin Muslim Journal, the couple talked about the DIY lifestyle they have created and what it means to them.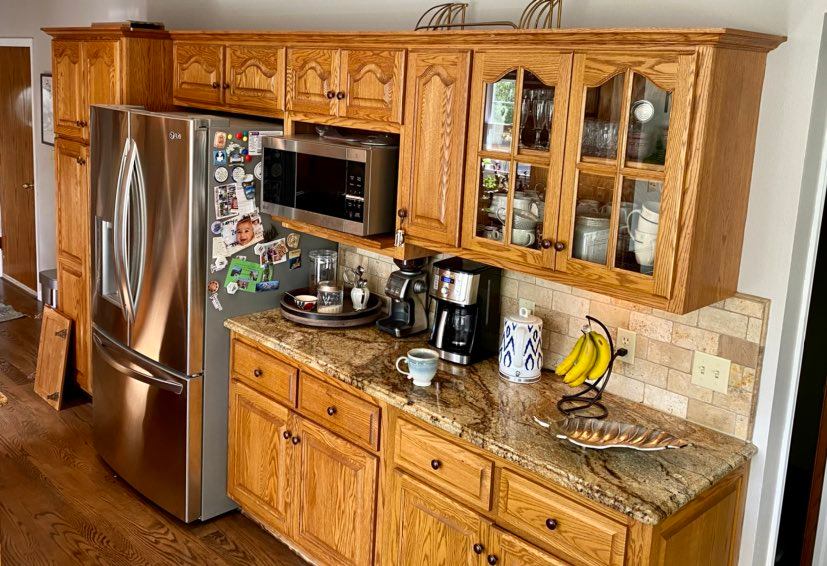 Hasan and Afnan described their kitchen before the remodel as "a bit dated."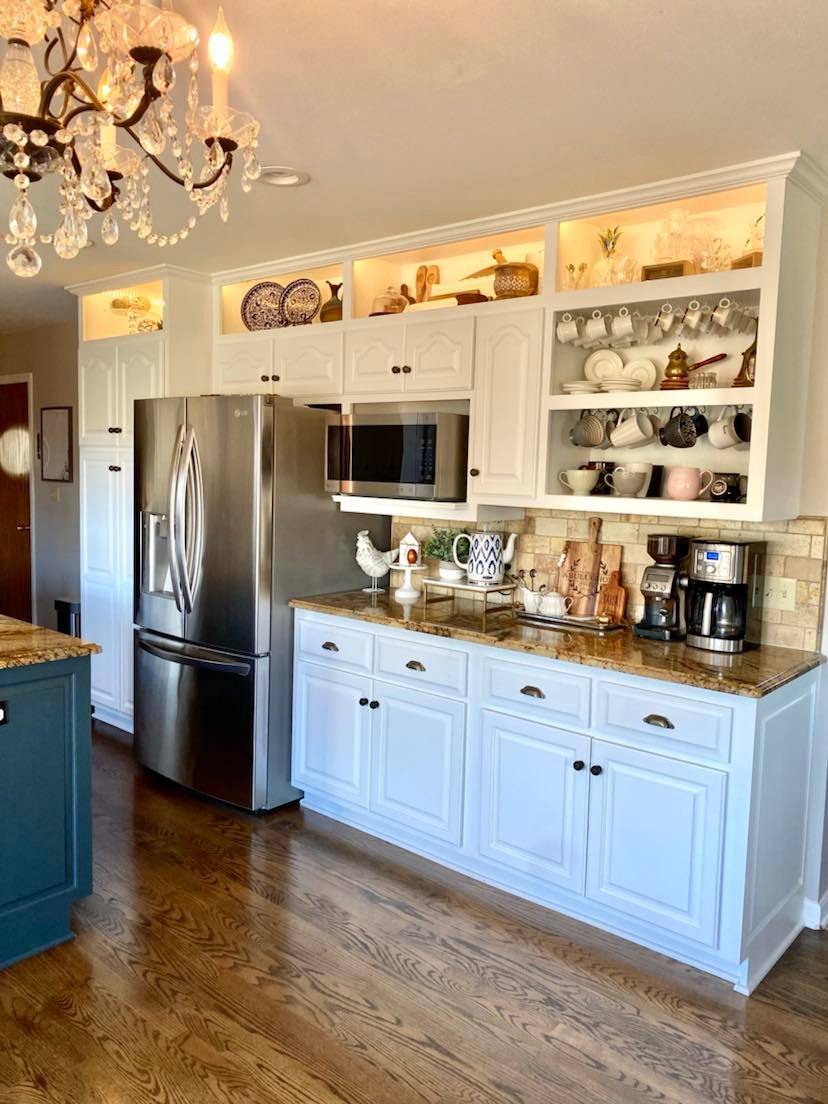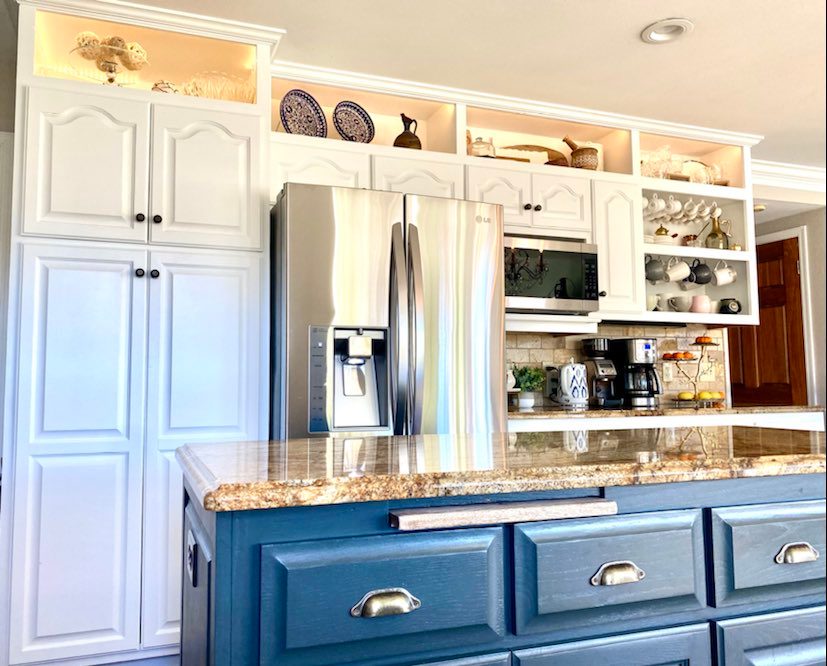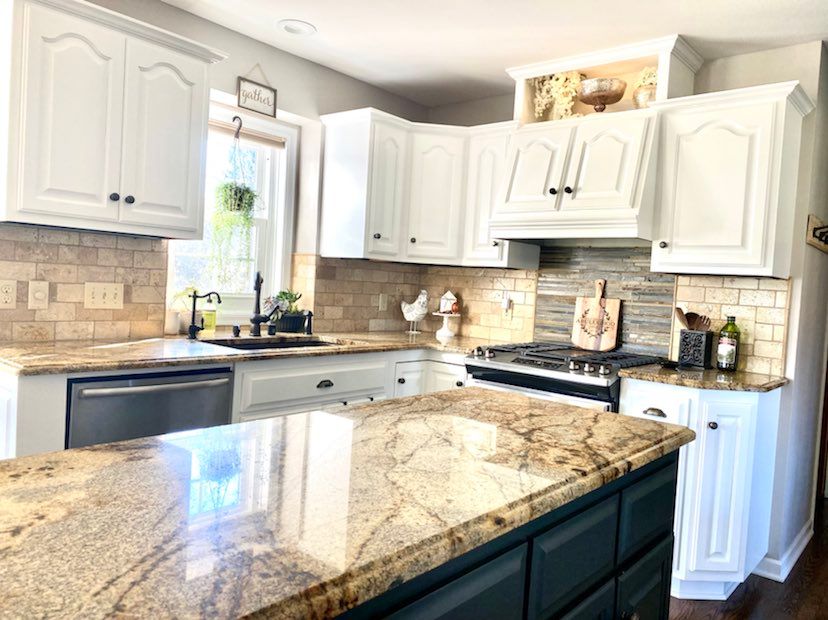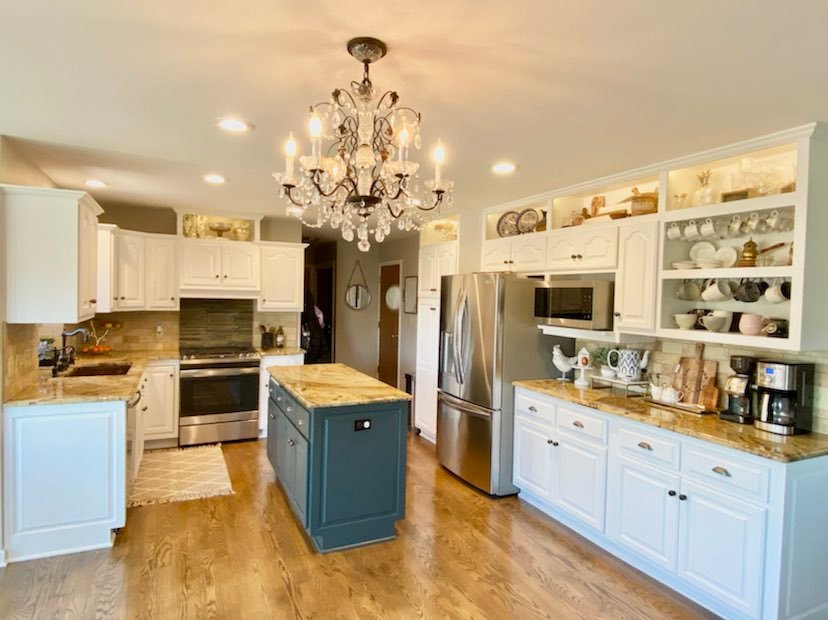 Hasan and Afnan love coffee. In their remodeled kitchen, they created a coffee section.
Hands-on home improvement
After doing extensive work on their first home, where they lived for three years, the couple bought their second home during the pandemic and moved in last October.
In the past year, they painted the interior, redesigned the staircase, stained the floors, made changes to the kitchen cabinets, built a raised garden, put up a hen house and planted flowers. 
WMJ: Your new house was move-in ready. Why did you do so much work on it? 
Hasan: Nothing was necessary for living but we wanted to bring the house into the 2020s.
Afnan: We feel better with white, so we painted the cabinets and walls white. And we could not resist. We love working with our hands. 
There are certain functional things, like coffee, that is important to us. We wanted to make sure we had a space for our coffee, where it is all accessible. To create pretty and functional spaces, being intentional about it, has always been important to me.
WMJ: Why did you move to a new house?
Hasan: We weren't even thinking about moving. We had just put a lot of work into our house—tore down walls and ripped up the flooring. And not just the interior stuff but also the landscaping. 
We started seeing the housing market skyrocket, especially in the price point for first-time homebuyers, which is right where our house was. We thought we should at least talk to our realtor. Let's just see where our house sits in this crazy market. 
We assessed it and, if we could find a new house for the right price, it seemed like a good opportunity to make the jump. 
Afnan: It was an upgrade, more space for us and more space for Mariam to grow into. Hasan and I are busybodies. We do a lot. I craft and Hasan has helped me build a crafting business on the side. 
During COVID, we were both working from home more often. Having offices and spaces where we can do our own thing became more important. 
WMJ: Why do so much work when you could pay someone else to do it?
Hasan: It is exciting to see something being built and going through the trial and error of doing it yourself. I like going to YouTube videos to figure out how others have done it. Then you make it your own and see how it all comes together with the resources you have. 
Afnan: Even though Hasan is an engineer, his job is actually to manage people, personalities and projects, big picture things. For me also, being a psychologist and an adjunct instructor, I also manage people. That part of our brains is on all the time. At the end of each workday, we are exhausted. To work with our hands and problem-solve something different, something concrete, something predictable is revitalizing. 
Hasan and I love the feeling of generativity – generating things, making things and feeling productive, engaging in our environment and our spaces. 
Hasan: Still, sometimes you need to pump the breaks. We learned from the first house to take things in smaller bites. In our first house, we gutted the bathroom and the kitchen and put up a wall all at the same time. 
Crafting a business
Afnan is creating personalized, customized home décor. She carves and stains wooden signs—large and small—with family names and floral arrangements on them. She makes wedding signs, holiday decorations and Islamic calendar block sets.
Lately, she has given her art a cultural twist, adding tatreez, traditional Palestinian embroidery that has been passed down from mother to daughter for centuries.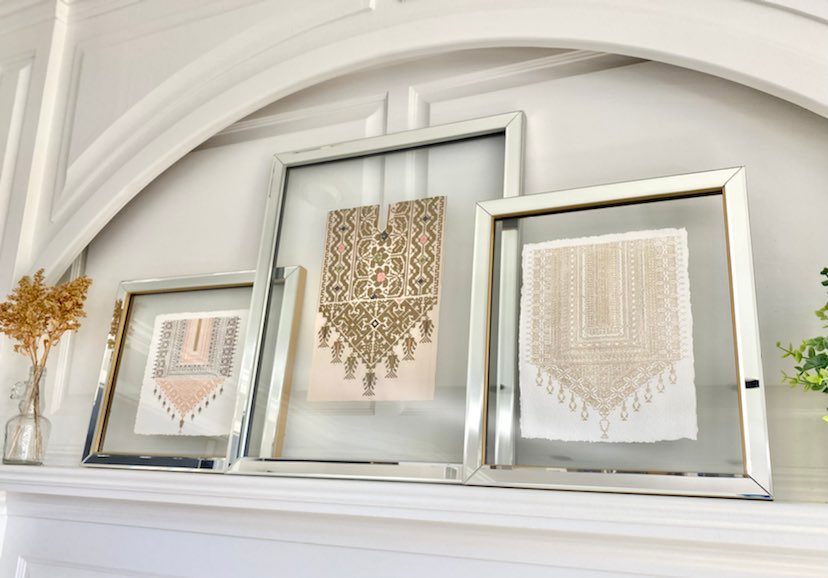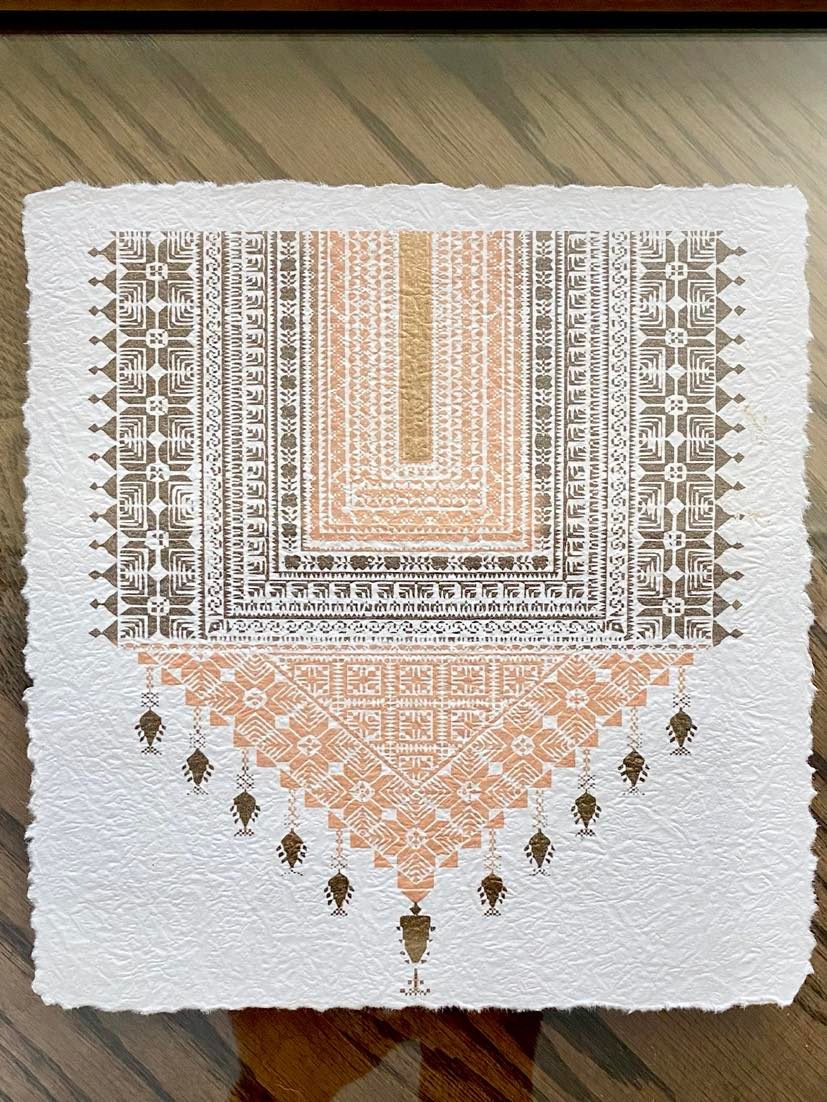 Afnan is adding a cultural twist to her art with Palestinian tatreez, embroidery patterns passed down from mother to daughter for generations.
WMJ: What are your most popular pieces?
Afnan: Wooden blocks to count down to the Eid were a big hit last year. Then I decided to change it and create a set that is actually a calendar. I want to celebrate each day of Ramadan, to emphasize living in the moment. 
People really liked it and asked for the other months of the Islamic calendar. I made all the other months and sell those as extra pieces in addition to the Ramadan sets.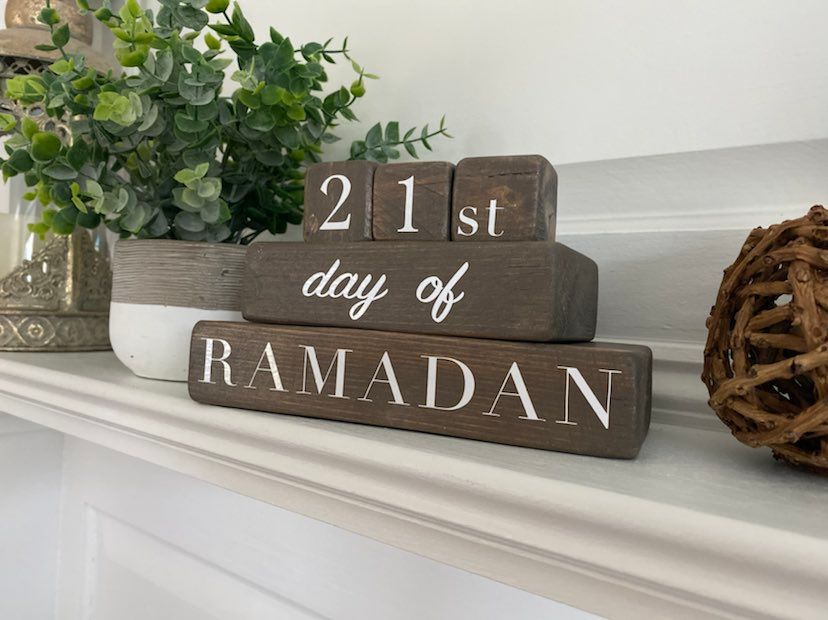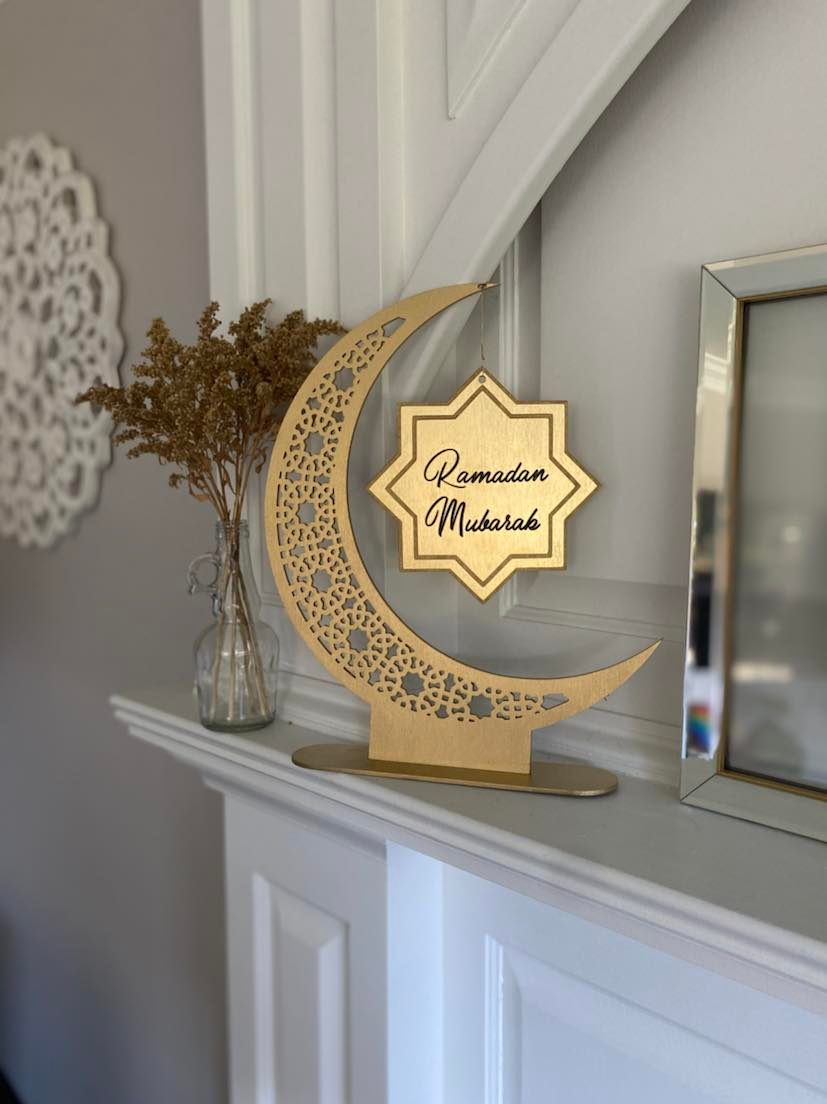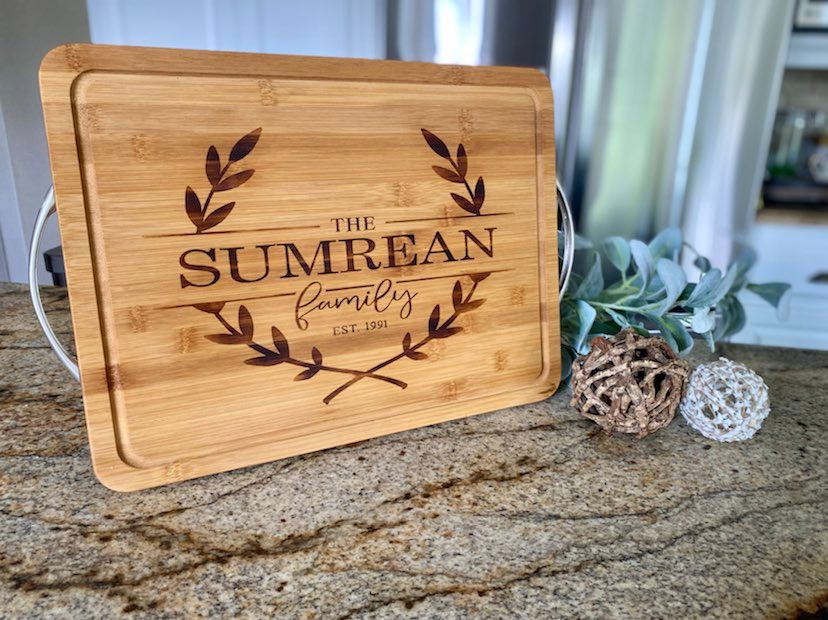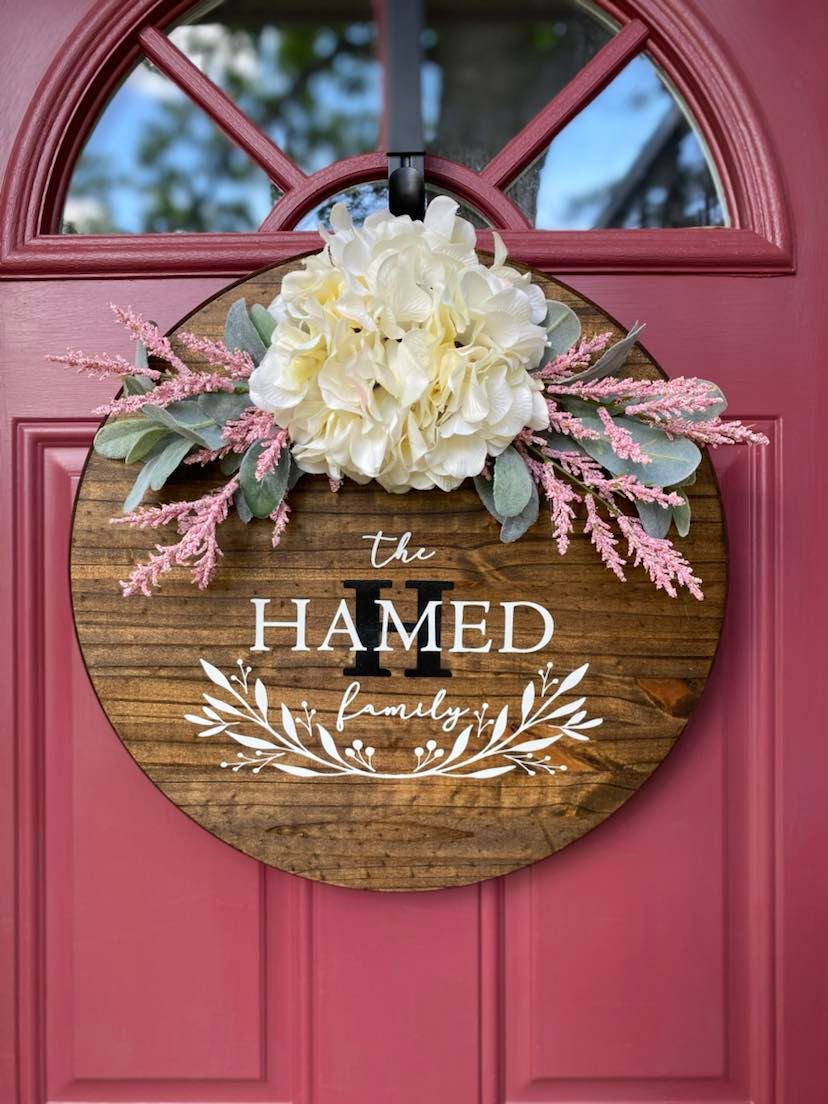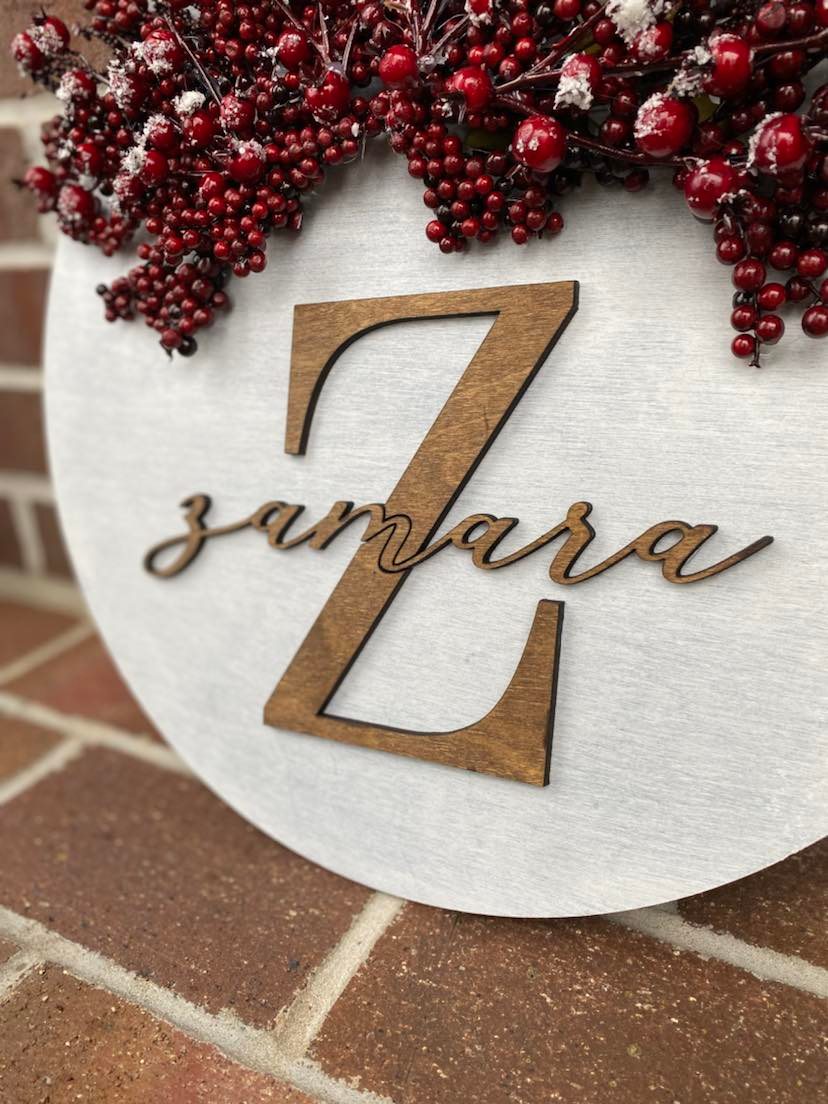 With Hasan's support, Afnan recently started a customized, personalized home decor business.
WMJ: Where did your love for design come from?
Afnan: My mom. She always loved decorating. She would change the décor in the house with the seasons. 
From an early age, I had the idea I have to go out there and change the environment to make it more comfortable and appealing. We are a first-generation immigrant family. We struggled those first few years of my life when they were starting from the ground up. We lived in a flat above the grocery store on Milwaukee's Northside my dad owned. Things weren't pretty there at all. I always felt the need to improve the environment.
Garden-to-table eating
Hasan's and Afnan's garden and hen house supplement their grocery shopping. Mariam enjoys picking vegetables and collecting eggs, they say. 
WMJ: Tell us about creating your garden.
Afnan: We watched the sun to find the best place. Then we found corner blocks at Home Depot for about $2 each. We got lumber. Hasan designed it and we built it in April. Near the end of May, we started putting the plants in and we've been putzing around outside ever since.
We've had all kinds of beautiful tomatoes, a strawberry patch, kale and herbs, cucumbers and all sorts of things. We also have hens and get eggs from them every day. We haven't bought eggs in several years.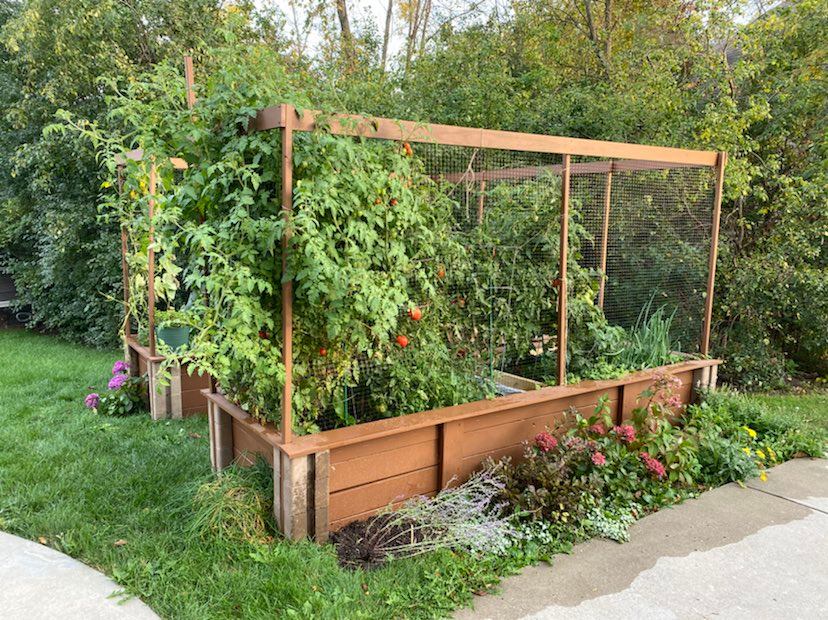 Hasan and Afnan built a raised vegetable garden this year.
WMJ: Growing your own food is a lot of work. What motivates you?
Afnan: There is something really disconnected and flat about buying everything from the store. We get our eggs from hens we feed intentionally. 
Our kitchen scraps from cooking or something about to go bad in the fridge go into a bin right here on the counter we call our "chicken garbage."  It is reducing our waste. What we are putting out for the trash truck to pick up each week is very little thankfully, and that feels really good.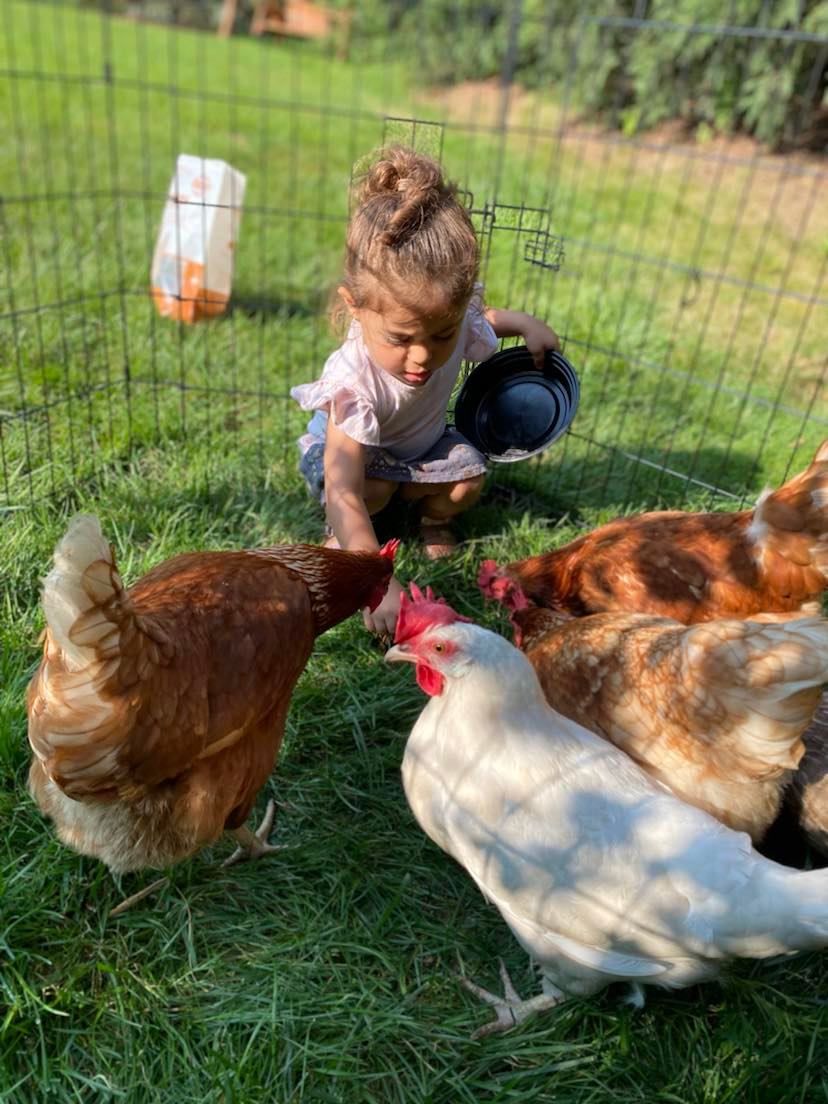 "There is something disconnected about getting everything from a store," says Afnan. "We haven't bought eggs in several years."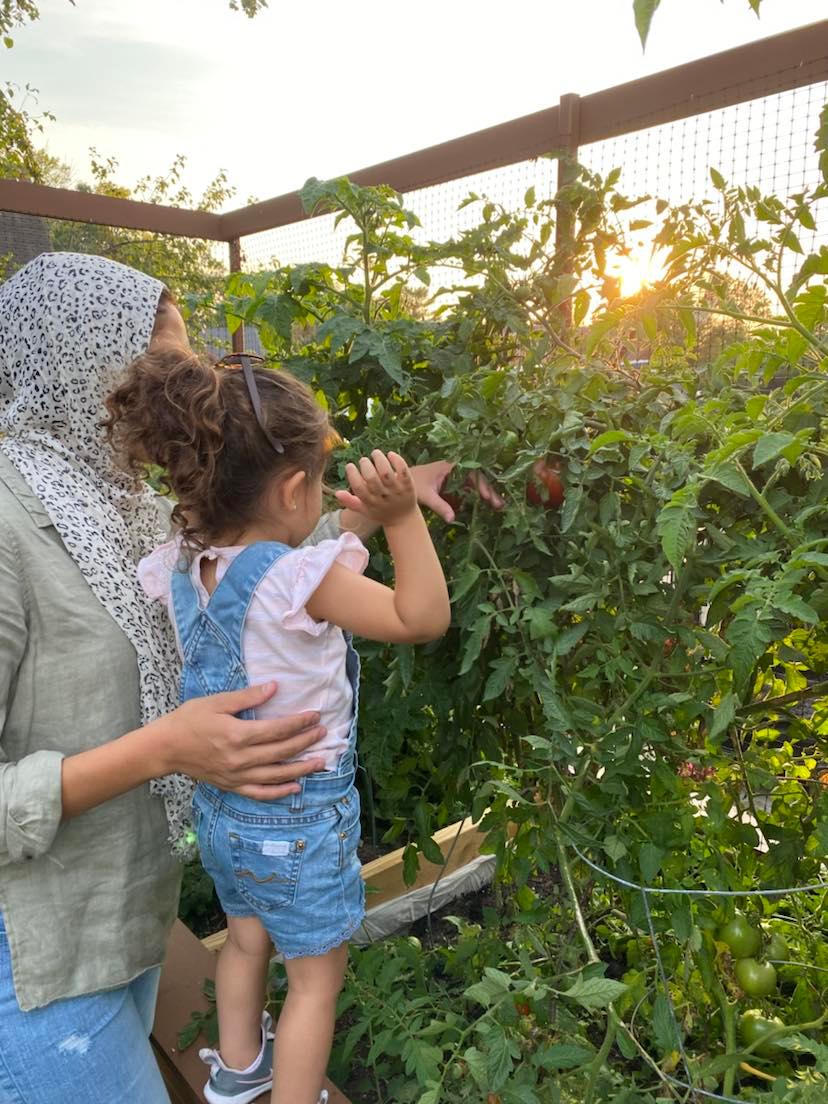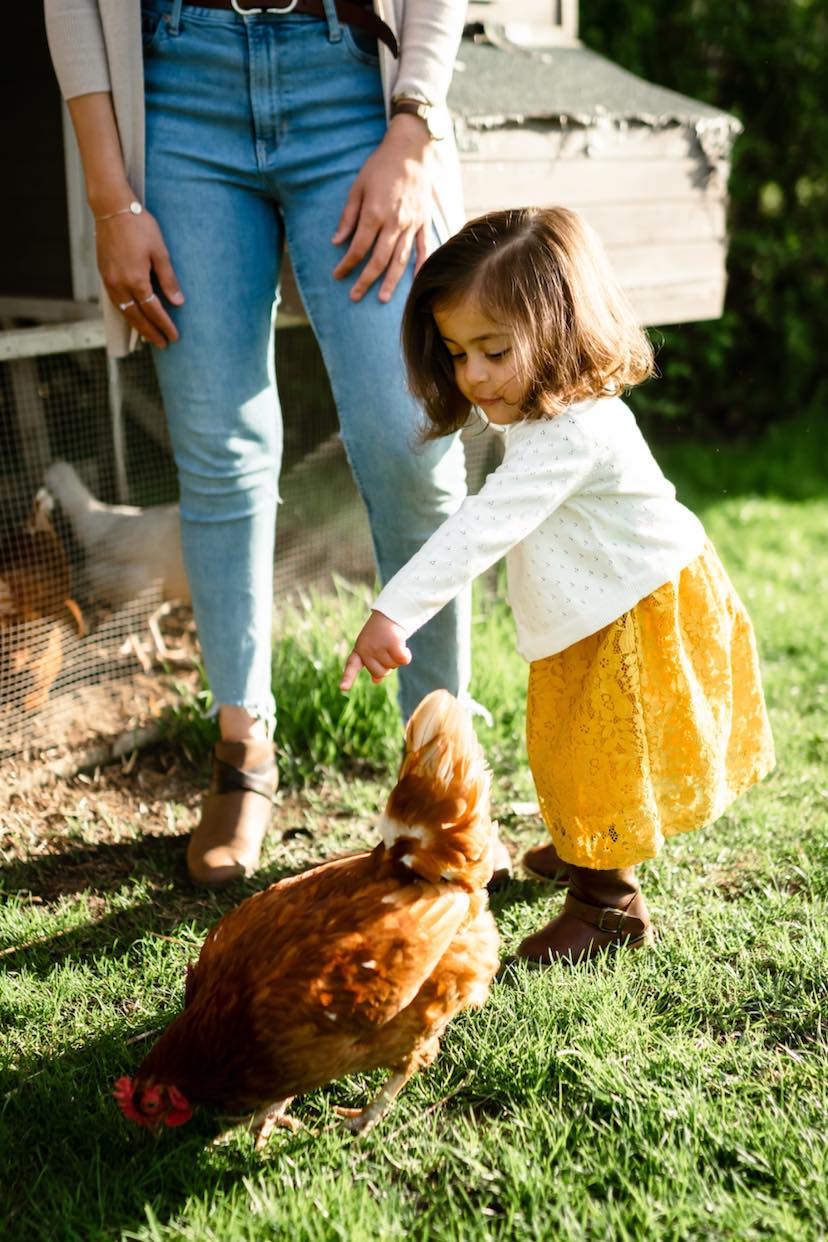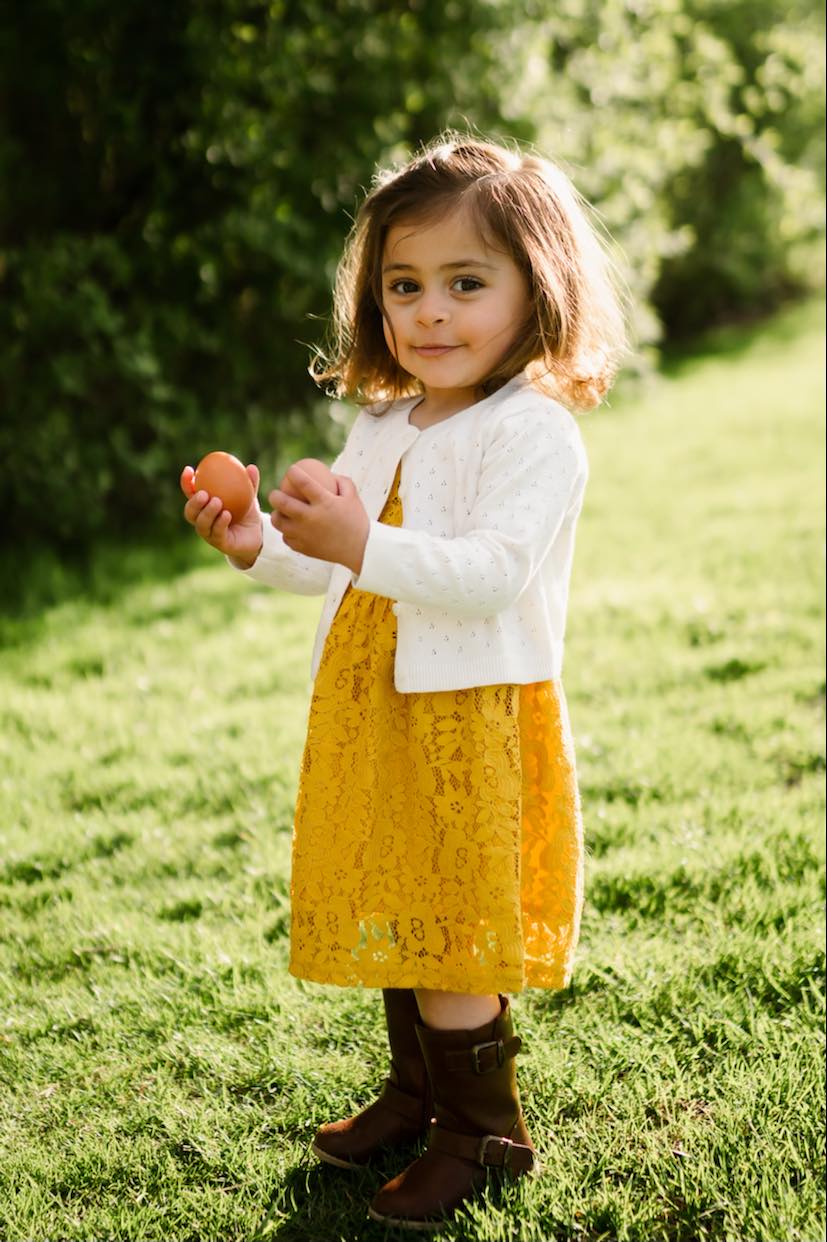 WMJ: What other impacts do you see?
Afnan: I love chamomile tea. This year I grew chamomile flowers and harvested them for tea. The work it took to grow and harvest the flowers, popping and drying them, was tremendous and I probably only have three cups of tea. It showed me the work behind the food we buy.
You get a much deeper appreciation, but what does that mean? For me and Hasan, it is to live more mindfully. Now, when I am eating, I am in the moment. I am loving, enjoying and feeling gratitude for the food I am eating.
We are in a culture where we are all recognizing the importance of mindfulness and self-care but I think there is a gap in how you actually get there. One way we have found we can get there is slowing down to take care of our chickens, tend to our gardens and take care of our landscape. 
You have a lot more gratitude for it. Hard work pays off and not in a financial way at all. For us, it is very psychological and spiritual. 
WMJ: How did you learn all these skills?
Afnan: Growing up, I loved my mom's flower and vegetable gardens. I tried it and basically killed everything. I did not have a green thumb. I felt defeated but we kept trying. 
Hasan's mom, being a master gardener, was extremely supportive. And my mom, too. Both sides of my family are farmers and Hasan comes from farmers on his mom's side. 
We started with tiny pots on a little balcony that was 4 feet by 4 feet. My mom said, "Forget about flowers; just grow mint. It is so hearty."
I started with mint and I didn't kill it. It gave me the feeling that I can do this. We moved to Bay View. It was a rental but the nice thing was it already had built-in, raised beds.  My mom helped me put in vegetables and Kathleen, Hasan's mom, taught me how to take care of them. 
We bought our first place in 2017. It was half an acre but shaded and overgrown, not touched in over a decade. We spent the first year just clearing it out. We had more than two years there to spruce it up and bring it back to life. That was like being thrown in the deep end.
A team approach
Hasan and Afnan have been married for 11 years. During that time, together they have remodeled two homes, one extensively, as well as garden, landscape and raise chickens.  These experiences have deepened their connection to each other, they say.
WMJ: How do you do all this work together without getting on each other's nerves?
Hasan: We see it as a team effort. It's not like, "I'm doing this for you because you want it."  We go into each project deciding to do it together.
Afnan: We complement each other. I really care about design and aesthetics. Hasan cares a lot about functionality. We recognize each other's strengths. I'll give Hasan my ideas and mashallah he'll figure out how to make it work.
Hasan: Or I will tell her it is not possible.
Afnan: He rarely does that. It is more like financially how can we make it work? He finds creative ways to make things work. We do a lot of negotiating and compromising but, in the end, we have a beautiful product that we envisioned.
WMJ: So, DIY is a good thing for a marriage?
Afnan: Oh yes, I think so!
Hasan: With the key being going into it together, yes, it is very good for our marriage. It builds us as a team.
Afnan: Because we are working together on a whole other level, I think it makes us better parents, too. We were parenting our house, our property and our things, and learning how to communicate, problem-solve and troubleshoot together.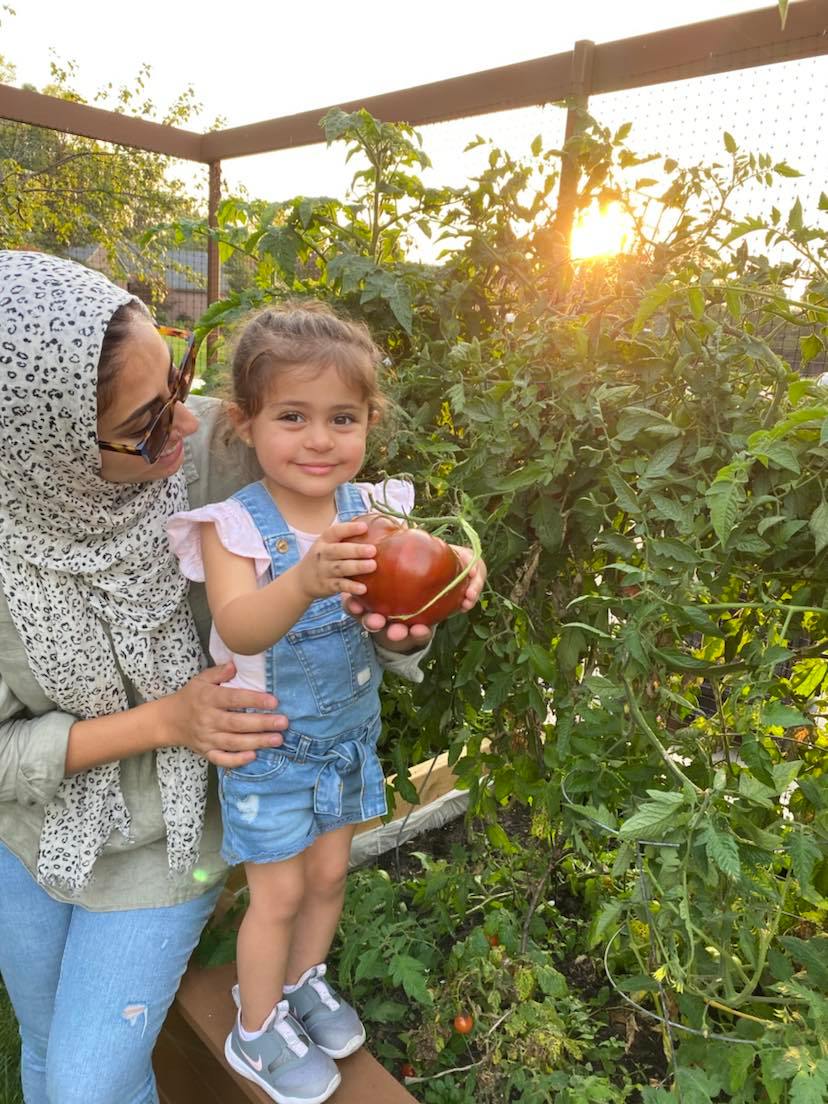 Mariam helps pick fruits and vegetables from the garden, including tomatoes, strawberries, kale, herbs and cucumbers.