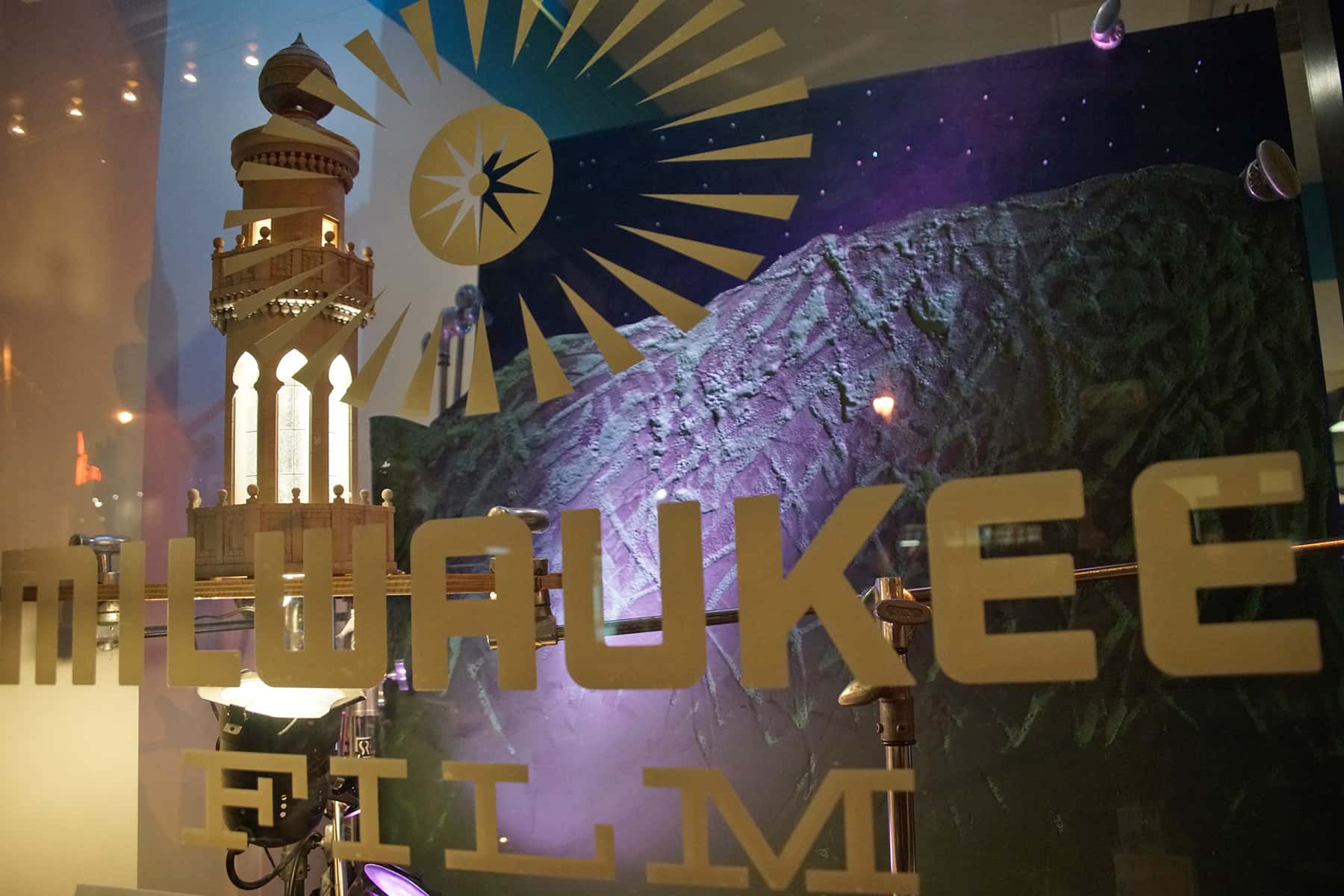 The Milwaukee Muslim Women's Coalition (MMWC) recently announced its 5th Annual Milwaukee Muslim Film Festival in partnership with Milwaukee Film to be held April 25 through April 28 at the Oriental Theatre.
The event is one of America's leading International Muslim Film Festivals, with the 2019 lineup screening 7 single showings of 7 films at the world-famous Oriental Theatre. This festival is possible due to the generous support of the presenting sponsors, the Greater Milwaukee Foundation's Mary L. Nohl Fund and Black Lens, part of Milwaukee Film. Supporting sponsors this year include the Islamic Society of Milwaukee, Shawarma House, AA Baker Realtors, Aladdin's, Muslim American Society, and Hayat Pharmacy, the festival returns this year with an array of films that highlight the Muslim experience.
For the first time, the Milwaukee Muslim Women's Coalition is partnering with Milwaukee Film, one of the largest film festivals in the country, to present the 5th annual festival. Started in 2008 under a now defunct name, Milwaukee Film returned with a vengeance in 2009 with the goal of putting on a world-class film festival to rival the world's largest. The team also had a vision of strengthening the film industry in Milwaukee, a city not known for its film culture but one that had a long and vibrant yet little-known film scene and slews of film buffs.
During its inaugural run, the Milwaukee Film Festival screened more than 100 films at three venues. In 2017, more than 300 festival-quality films were screened across five Milwaukee venues. Festival attendance increased every year since its inception; in 2017, attendance hovered around 84,000, and about 4,000 of those became MKE Film members.
In addition to the annual Milwaukee Film Festival, MKE Film organizes year-round educational and community programming, helps manage the Milwaukee Filmmaker Alliance, and operates the historic Oriental Theatre. They also produce a weekly film-related newsletter, host forums and other events, and mentor local youths in film and film studies.
Milwaukee Film's team of film lovers, scholars, and professionals who believe film and the filmgoing experience are powerful vehicles for social change and personal introspection are teaming up with the Milwaukee Muslim Women's Coalition to present the 5th Annual Milwaukee Muslim Film Festival.
The intention of the festival has been to use film as a way to open conversations on topics that are relevant to matters occurring in the world today, and developing an informed dialogue regarding Muslims and the Islamic world. Through cinematic experiences and meaningful discussions, both organizations hope to cultivate the local filmmaking industry and their communities.
The Milwaukee Muslim Film Festival has paved a way for award-winning motion pictures to be discovered by a local audience, while offering creative filmmakers the attention they deserve. Unique this year, the entire festival will be held at the Oriental Theatre. In July 2018, Milwaukee Film—the local nonprofit that runs the festival and offers year-round film education and programming—took over operations at the Oriental Theatre via a 31-year lease.
By operating the Oriental Theatre, MKE Film, the area's most venerable film organization, seeks to further its mission of entertaining, educating, and engaging the community through cinematic experiences. Restoring the theater's architectural infrastructure, improving its cinema technologies, and screening festival-quality films year-round. This helps further its mission and helps cement Milwaukee as an economic, industrial, and creative pillar of global film culture.
Featured highlights this year range in topics, from the intimate portrait of Syrian refugees arriving to America in "This is Home" to the story of Bilquis Abdul-Qaadir, a standout athlete who broke records and barriers on her way to become the first Division I athlete to play basketball while wearing hijab in "Life Without Basketball".
The highly anticipated festival opens at 7:00 p.m. on Thursday, April 25th in the Oriental Main House with "Same God". The talkback will feature Dr. Larycia Hawkins and film director and Wheaton alumni, Linda Midgett. Dr. Hawkins became the subject of national discussion when as a devout Christian and the first African American tenured professor in Wheaton College's history, she donned a hijab in solidarity with Muslims being targeted. The rift eventually ended her tenure with the university.
Films were selected from across the globe and transcend countries, languages, and cultures while highlighting the common humanity among people of all races, ethnicities, and religious beliefs.
In December 2015, the political rhetoric against Muslims was escalating. Dr. Larycia Hawkins, an African-American political science professor at Wheaton College—a prestigious evangelical school outside of Chicago—wanted to show support for Muslim women. She posted a photo of herself in a hijab on Facebook. "I love my Muslim neighbor," she wrote, "because s/he deserves love by virtue of her/his human dignity….we worship the Same God."
Within days, Wheaton's Provost suspended Dr. Hawkins, eventually moving to terminate her tenure. Were the school's actions a move to protect its Christian theological purity, as it insisted? Or was it, as some suggested, the result of racism and Islamophobia? Same God, directed by Wheaton alumna Linda Midgett, follows the journey of Dr. Hawkins while exploring the polarization taking place within the evangelical community over issues of race, Islam, religious freedom…and Donald Trump.
Showtimes
4/25 @ 7:00pm – Oriental Main House
In 2015, after Hassan Fazili's documentary Peace in Afghanistan aired on Afghan national television, the Taliban assassinated the film's main subject and put a price on Fazili's head. Fearing for their survival, the Fazili family fled Kabul for Tajikistan. Yet after 14 months spent submitting asylum applications that were rejected again and again, they were deported back to Afghanistan. It was at this juncture that Fazili picked up his cell phone and hit the record button.
Chronicling every step from inside the action, Fazili, his filmmaker wife, and their young daughters trek across Iran, Turkey, Bulgaria, and Serbia—scurrying through perilous landscapes, huddling in freezing forests, cramming into rattling vehicles. As they endure smugglers, gangs, and refugee camps, the camera witnesses not only the danger and desperation but also the exuberance and tenderness of this irresistible, loving family.
Showtimes
4/26 @ 7:00pm – Oriental West House
This Is Home is an intimate portrait of four Syrian refugee families arriving in America and struggling to find their footing. Displaced from their homes and separated from loved ones, they are given eight months of assistance from the International Rescue Committee to become self-sufficient. As they learn to adapt to challenges, including the newly imposed travel ban, their strength and resilience are tested. It is a universal story, highlighted by humor and heartbreak, about what it's like to start over, no matter the obstacles.
Showtimes
4/27 @ 12:30pm – Oriental West House
Director Raed Andoni places a newspaper advertisement in Ramallah. He is looking for former inmates of the Moskobiya interrogation centre in Jerusalem. In his ad he asks that the men should also have experience as craftsmen, architects or actors. After a casting process that almost feels like role play, he arranges for a replica of the centre's interrogation rooms and cells to be built to scale inside a hall – under close supervision from the former inmates and based on their memories. In this realistic setting the men subsequently re-enact their interrogations, discuss details about the prison, and express the humiliation they experienced during their detention. Using techniques that are reminiscent of the so-called 'theatre of the oppressed' they work together to dramatise their real-life experiences. Their reconstruction brings long repressed emotions and undealt with trauma to the fore. Working on the film takes its toll on the men – both physically and mentally.
Showtimes
4/27 @ 4:00pm – Oriental West House
Bilqis Abdul-Qaadir broke records and barriers on her way to become the first Division I athlete to play basketball while wearing hijab. When a controversial ruling ends her chances at playing professionally, she re-examines her faith and identity as a Muslim American.
Showtimes
5/04/18 @ 6:00pm – Marquette University
4/25/18 @ 7:00pm – Cardinal Stritch University
5/06/18 @ 2:00pm – UW-Milwaukee Union Cinema
Soufra follows the inspirational story of intrepid social entrepreneur, Mariam Shaar – a refugee who has spent her entire life in the Burl El Barajneh refugee camp south of Beirut, Lebanon. The film follows Mariam and a diverse team of fellow refugee women as they set out to change their fate by launching a catering company, "Soufra," and then expand its reach outside the camp with a food truck business. Together, they heal the wounds of war through the unifying power of food while taking their future into their own hands.
Showtimes
4/28 @ 12:30pm – Oriental West House
Wajd: Songs of Separation
Shot initially in Syria prior to the civil war, Wajd offers a window into the lives of three Syrian musicians turned refugees. Forced to rebuild their lives in exile, they turn to their love of Sufi music to find meaning in the aftermath of destruction and atrocity.
Showtimes
4/28 @ 7:00pm – Oriental West House