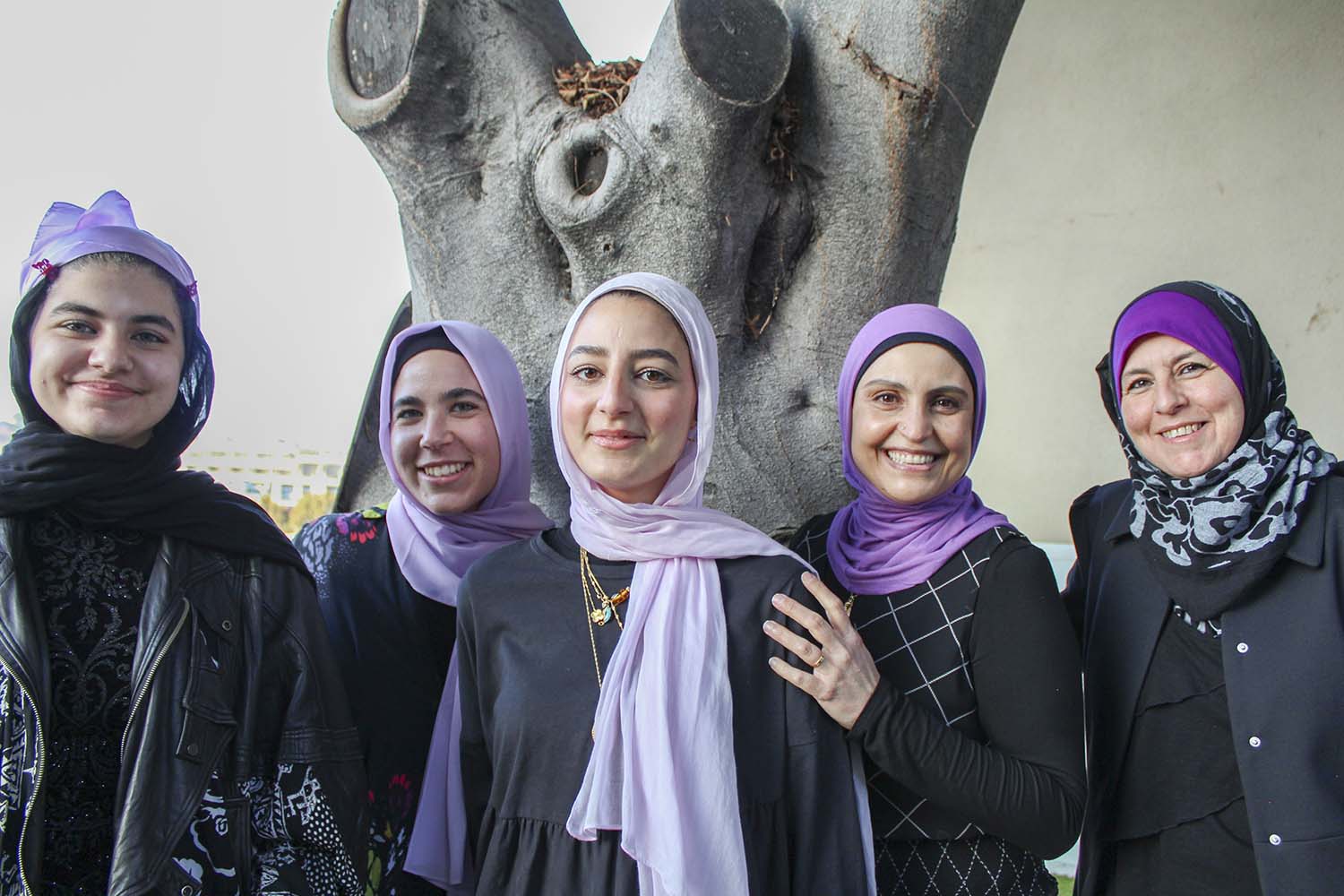 SAN MARCOS — As a marriage and family therapy graduate student, hosting a podcast was the last thing on Sarah Kouzi's mind. The 23-year-old San Marcos resident was already juggling classes at San Diego State University and had never produced any kind of audio before, she said.
Today, Kouzi and her co-hosts  — Doaa Abulebbeh, Sara Suleiman, Ro'aa Alkhawaja — are already twelve episodes into their show, "Caught in The Middle."
The podcast operates on a simple premise. As their blurb on Apple Podcasts states, it's a series of episodic mullings on critical issues they believe Muslim youth face in the United States. Kouzi and her co-hosts have spent the last year conversing about Islamic spirituality, finding an identity and recent discussions about the hardships of COVID-19.
"I was a little bit anxious," said Kouzi, recalling their early production days. "It felt also like a big responsibility, that what I could say could impact other people."
They're joining a league of Muslim voices — several of whom are also all-female productions — on one of the most innovative and fastest-growing media platforms.
Over 50% of the U.S. population above the age of twelve listened to podcasts in 2020, according to data from Infinite Dial, an annual digital media survey conducted by Edison Research and Triton Digital. Podcasts on various streaming platforms drew in over 100 million listeners a month, the survey reported.
"It's the simplicity of the form that encouraged us, you're just talking and connecting with an audience," said Abulebbeh.
The show's introductory episode sets a clear path: the team is intent on providing a "safe space," to explore issues like gender inequality, culture and finding a sense of comfort in both their Muslim and American identities.
Muslim-Americans still face higher levels of discrimination than other faith groups at jobs, airports and health-care services, data from the Institute for Social Policy and Understanding revealed. Voicing these concerns and unmasking stereotypes could still be a daily struggle, the team said.
"It's been a way to say that we exist, we're here (as Muslims) and there are certain struggles that are unique to us," said Kouzi.
The idea to launch a show focused on Muslim-centered issues was inspired by two acquaintances of the team: Arwa Alkhawaja, who leads a non-profit focused on mental health and Dr. Rola Abushaban, who runs a private acupuncture practice in Mission Valley.
The concept had been brimming in their minds for a while, Abushaban said, spending weeks trying to decide who would be best to bring the potential show alive.
"This is the generation that learns from podcasts," said Abushaban. "So I thought, 'Let's get with it.'"
While topics were quickly pitched and discussed, the actual process of podcasting was not without its challenges. None of them had any previous technical experience, Arwa Alkhawaja said, picking up skills as they went along.
"We started off recording with a microphone clipped to a straw," she said. "We had to get creative, learning things like how to fix the sound quality."
Production has since taken on a less improvisational approach, they said, with Ro'aa Alkhawaja and Abulebbeh editing and the rest researching, brainstorming and deciding what issues needed the most attention.
Sometimes, it's as simple as exploring the idea of gratitude or finding hope in the midst of the pandemic. Episodes like, "The Why Behind The What," delve into more personal aspects, like Ro'aa Alkhawaja's experiences wearing the hijab, a veil worn by Muslim women to maintain modesty.
At the start, it was a decision that "never really clicked," she says in the episode. "It was never really something that I thought about, I just put it on."
The ensuing conversation tracks how wearing the veil became more than just a piece of clothing, but the symbol of an identity she held important. It's a piece they received positive feedback on and remains one of her proudest episodes, she added.
The issues they've documented have long been a part of Muslim-American discourse, from comedian Hasan Minhaj's story on growing up Muslim in a post-9/11 world, seen on Netflix's Homecoming King, to more contemporary portrayals found in shows like Hulu's Ramy. Focusing on issues like identity and belonging hasn't always come easy, but it's also been empowering, they said.
"Sometimes explaining ourselves takes so much energy, as a minority in America," said Kouzi. "But I think in our episodes, it doesn't feel like a burden. It feels like I'm having this conversation with others who can relate to me. It actually feels more like a relief…it's almost therapeutic in a sense."
As they continue to conceptualize the future of the show, they hope to bring a diverse cast of guests in upcoming episodes.
"There are Muslim women in fields that are extremely difficult, like astrophysics, medicine and politics," said Arwa Alkhawaja. "And they dare to conquer them. We'd love to have their voices on the show soon"