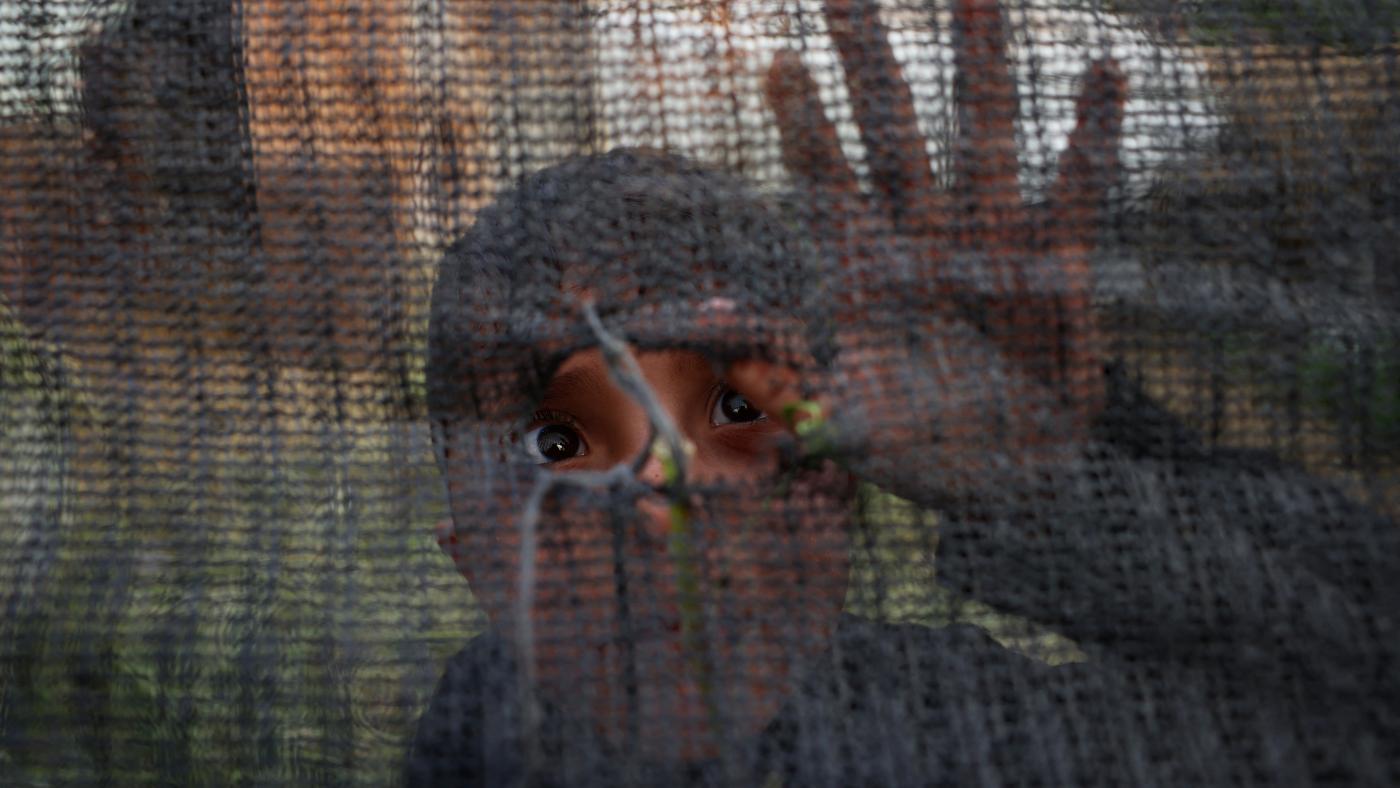 A Palestinian boy peeks out from a hole in a fence near al-Bureij in the Gaza Strip on 7 April 2022 (AFP)
On the fourth day of Israel's 2021 assault on Palestinians in Gaza, the bombardment was intense.
Hoping to distract her children from the constant sound of shelling, Sarah Ali* put them to bed early. But for seven-year-old Samer*, the damage was already done.
"Two hours later, he woke up and came to me crying," Sarah told Middle East Eye. "He had wet his bed."
Born in 2016, Samer's short life has been shaped by the Israeli blockade and repeated bombing.
But the 11-day assault in May 2021 by far had the most profound effect on his psychological well-being.
For two years, he has been regularly bedwetting due to anxiety and fear of loss.
And just as his mother thought they were making progress in helping him overcome his anxiety, Israel launched another bombing campaign last month.
"We had managed to tackle the issue a bit before the latest offensive, but during this attack, the problem recurred," said Sarah, adding that his condition has exacerbated following the six-day attack.
Samer is one of hundreds of thousands of Palestinian children in Gaza who suffer "ongoing trauma," according to health officials. 
The strip, which has been under an Israeli-led blockade since 2006, is home to more than two million people, half of whom are children.
In less than 18 years, Israel has launched some 15 military operations in the enclave, killing thousands of people. 
The blockade and the attacks devastated infrastructure and the economy, leading to an "acute mental health crisis," which is affecting the overwhelming majority of children.
Recurring trauma
Sarah says her son has lost confidence after he started bedwetting in 2021, which has caused him to feel shame and guilt every time the issue recurs. 
"I always try to reassure and comfort him saying that this is completely normal and that I am not upset with him, [yet] he still feels sad and apologises repeatedly, as if it was his fault," she told MEE.
"I know it is not his fault, and I am aware that this is a result of the trauma he suffers."
Samer's parents took him to a psychologist a few months following the 2021 attack, and are considering revisiting him soon.
Nearly 80 percent of caregivers in Gaza reported an increase in bedwetting among their children, according to research by Save the Children published in 2022. 
A further 78 percent reported that their children rarely completed tasks, and 59 percent said their children faced difficulties in speech, language, and communication.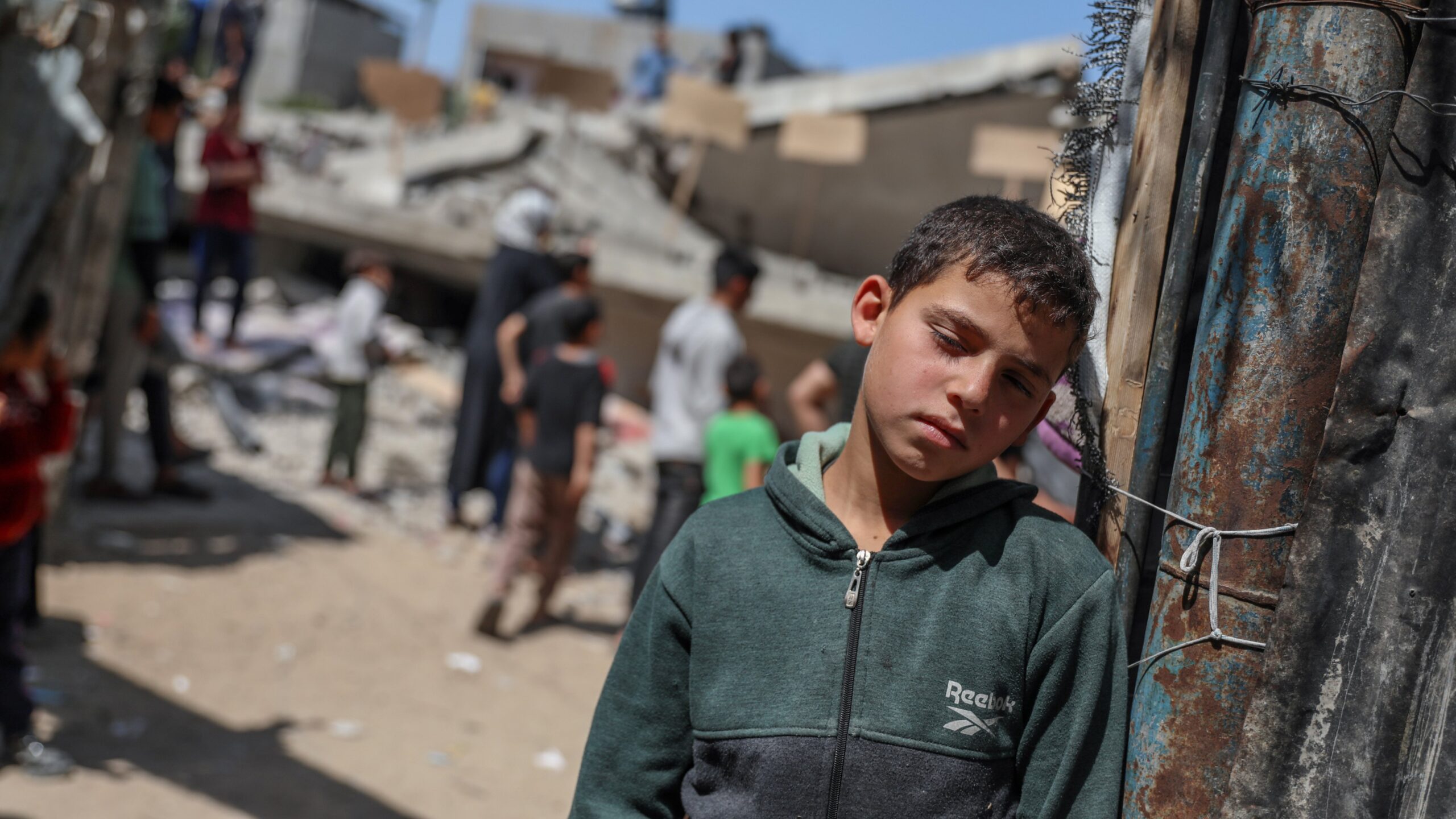 Palestinian child reacts after an Israeli air strike in Gaza in May 2023 (MEE/Mohammed al-Hajjar)
It found that the mental health of children, young people, and caregivers deteriorated dramatically, with the number of children reporting emotional distress rising from 55 percent to 80 percent.
"What children in Gaza are suffering from exceeds PTSD," Ayed Abu Eqtaish, accountability programme director at Defence for Children International, told MEE, referring to post-traumatic stress disorder.
He added that children's ability to enjoy life has been affected by the repeated Israeli attacks, the blockade, and the violent crackdown on the peaceful 2018 "march of return" protests.
"It affects their right to health, education, adequate standard of living and most importantly their right to be free from fear." 
During the 2021 assault, Israel killed 256 Palestinians, including 66 children. Palestinian rockets killed 13 people in Israel, including two children. 
Among the Palestinians killed were 11 children aged between five and 15 who were receiving treatment for trauma from the Norwegian Refugee Council before the military campaign.
Another round bombing in August 2022 left 49 Palestinians killed, including 17 children, the youngest being a four-year-old. 
About eight months later, another offensive was launched, killing 33 Palestinians, including seven children. Palestinian rockets killed one Israeli.
During the 2021 attack, UN Secretary-General Antonio Guterres described life for Palestinian children in Gaza as "hell on earth".
'I don't want to hear the word war'
Fifth-grader Joudi al-Samna, who suffers from PTSD, manages her emotions well until she hears the word "war". 
When it's uttered around her by a parent or an uncle discussing the news, she immediately stops listening.
"I cover my ears with my hands and beg them to stop talking," said the 11-year-old resident of Gaza City.
"I say 'please change the topic, please, mum make them change the topic, there is no war," she added.
"It does not matter if it is during the war or following it, I do not want to hear the word war, I hate it."
Samna panics when she hears loud bangs, and consistently makes sure to stay close to her parents and siblings.
"During the last war on Gaza, I stayed beside my mum and dad almost all the time. My two siblings and cousins went to play in our garden every day, but I refused to go with them," she told MEE.
"But when my parents went downstairs, I went with them. I am always afraid bombing would occur while I am away from them."
During Israel's 51-day attack on Gaza in July and August 2014, Samna was two years old. 
But her mother, Wejdan Ghannam, says her daughter's trauma started during the 2021 attack.
Although she was only nine years old at the time, Ghannam said she was well aware of what was happening and "profoundly" feared for her life and her family. 
"I do my best during offensives to distract my children's attention to the sounds of the bombing. Whenever an attack begins, I bring them colouring books and toys. I almost do whatever they want to keep them busy," Ghannam explained.
"But when the bombing is near, this does not work. They just leave everything and come crying. Joudi sometimes curls up in my lap until she sleeps.
"In all times, whatever happens, the rule in our home is to never mention the words war, aggression, or bombing."
Safety 'nonexistent'
The extent of the mental toll Gaza's children feel is felt most during Israeli attacks.
During the assault last month, parents and teachers in Gaza shared drawings and conversations with their children and students expressing their shock and distress as the Israeli bombs were raining down. 
Maram Azzam posted a drawing by her daughter Sham on a chalkboard, featuring a girl with scribbles over her head.
"Sham drew this and told me: 'This is how my head [feels like] due to the sounds of aircraft," Azzam captioned the photo on Twitter.
Eman Basher, an English teacher at a United Nations Relief and Works Agency (UNRWA) school in Gaza, shared screenshots of conversations with her students expressing their fear of the bombing.
"We do not sleep at night because of fear, and if we sleep, there is a possibility that we do not wake up again," one student wrote. "[I am] not ok. The bombing was near our home. We could not flee," another said.
In a different conversation, Basher asks her student: "Who is bleeding?", the girl answers: "The brother of Malak, my classmate. Their home is filled with smoke due to the missile."
Another tweet by Yaser Abu Odeh on the first day of the May attack, read: "My ten-year-old child is wearing Eid clothes and repeating 'let's enjoy them before we are martyred'. My daughter who is twelve years old is trying to spend all her money, she says 'we will be martyred, to whom should we leave them?'"
According to Gaza psychiatrist Sami Oweida, trauma is caused by an unexpected event that is beyond the person's experience and that threatens one's life.
Once caused, it can lead to emotional, cognitive, and behavioural imbalances. 
But for children in Gaza, what they suffer "is not PTSD, but an ongoing trauma," he said.
"We have continuous shocks that exhaust the defensive capabilities of any human being."
Most child patients that come to his clinic visit after the Israeli attacks, Oweida told MEE, with some coming months later and others waiting as long as two years.
The time frame depends on each child's ability to adapt and resist the symptoms in the aftermath of each attack
"Those who fail at the end, visit us," the consultant on child and adolescent psychiatry said.
"Most children start showing abnormal reactions, including bedwetting, phonophobia [fear of sound], fear of darkness, fear of loss, isolation, insomnia, anorexia, crying during sleep, among others," he added. 
"Such shocks can affect children emotionally, psychologically, and biologically, and hinder their natural development."
Oweida said that there is no specific age range of children who visit his clinic as a result of war-related traumas, but schoolchildren in general are more likely to suffer from trauma due to their awareness of the concept of bombing and death.
"The basic need for any child after food and water is to feel safe," he explained. "Safety in Gaza is nonexistent." 
*Names changed to protect the privacy of the families