On a sunny Saturday in June, the mural on the south side of the building at the corner Holton and Locust in Milwaukee seems to glow. The late Breonna Taylor's pretty face is surrounded by pink roses. Underneath her name are words painted in tall yellow letters: "Say her name!!!"
Painted in the righthand corner of the mural is Handala, a simple, round-headed figure with his hands behind his back, a symbol of resistance originally created by Palestinian cartoonist Naji Al-Ali.
Passersby stop to admire the mural by Milwaukee artists Chris Burke and Ruben Alcantar, but on June 13, the action is around the other side of the building, where a team of artists is painting a Civil Rights mural featuring local and nationally known activists, organizers, and political figures who played key roles in the movement.
The scene in the narrow alleyway between two buildings has the atmosphere of a street fair. Chris Burke bustles around assigning artists space on the building's brick wall. A photographer takes pictures, friends greet each other, Riverwest residents and veterans of fifteen days of continuous marching in Milwaukee sit in chairs, watching the artists at work. The smell of spray paint hangs in the air.
Milwaukee protest leader Frank Nitty stops by to chat with an artist who is spray painting Nipsey Hussle's image on his section of the wall. Fifteen year old Brandon, who came with his mom, an art and special education teacher, gets his own section of wall. "I like to help out," he says. "I want to do something, be inspired by something." Artist Janine Katbeh paints George Floyd's face beneath the American flag, along with the now infamous words, "I can't breathe." Mario Hamilton, a young artist cross-registered at Marquette and MIAD, paints Angela Davis. Former Milwaukee alderwoman Vel Phillips and Supreme Court Justice Thurgood Marshall gradually emerge on the wall
WrapAround Milwaukee, an agency funded by Milwaukee County that provides resources to youth between the ages of 5 and 23, has a table at the entrance to the alleyway, where a mom and her kids are drawing with chalk on the sidewalk. At the table, WrapAround Milwaukee staffers are distributing snacks, water, and informational brochures to artists and visitors.
All of this "started, obviously, with the tragedy of George Floyd," said Milwaukee businessman Ihsan Atta, the owner of the building where a community of artists is hard at work expressing their support for the protests against police brutality that began with Floyd's murder. Atta, whose family is from Palestine, said he had seen images of Floyd's murder on social media next to photos of the same tactic being used on Palestinians by the IDF (Israeli Defense Force). Atta was also distressed by the use of tear gas and rubber bullets to quell some of the demonstrations in Milwaukee. Police forces from all over the United States have been trained in Israel in the use of these tactics, Atta said. "It was just difficult to watch. So I thought, what could I do besides going out to protest, and [at the same time] bring the community together."
Atta posted on the Riverwest Facebook page, asking if any artists were interested in painting murals on his buildings. "There's enough talk going on. We need action," Atta said. Saturday's mural painting, he said, was for "for people to get out of their comfort zones and get to know each other."
Sunday saw more artists at work on an Atta property a few blocks south at North Avenue and Holton. Janine Katbeh returned to join a group of artists working in acrylic paint on plywood boards to create art to hang along the fence there. A George Floyd mural already decorated a small building on the property.
The arts organization Fanana Banana brought the group together for Sunday's event. Katbeh's work was also featured in the Fanana Banana show last November at the Walker's Point Center for the Arts.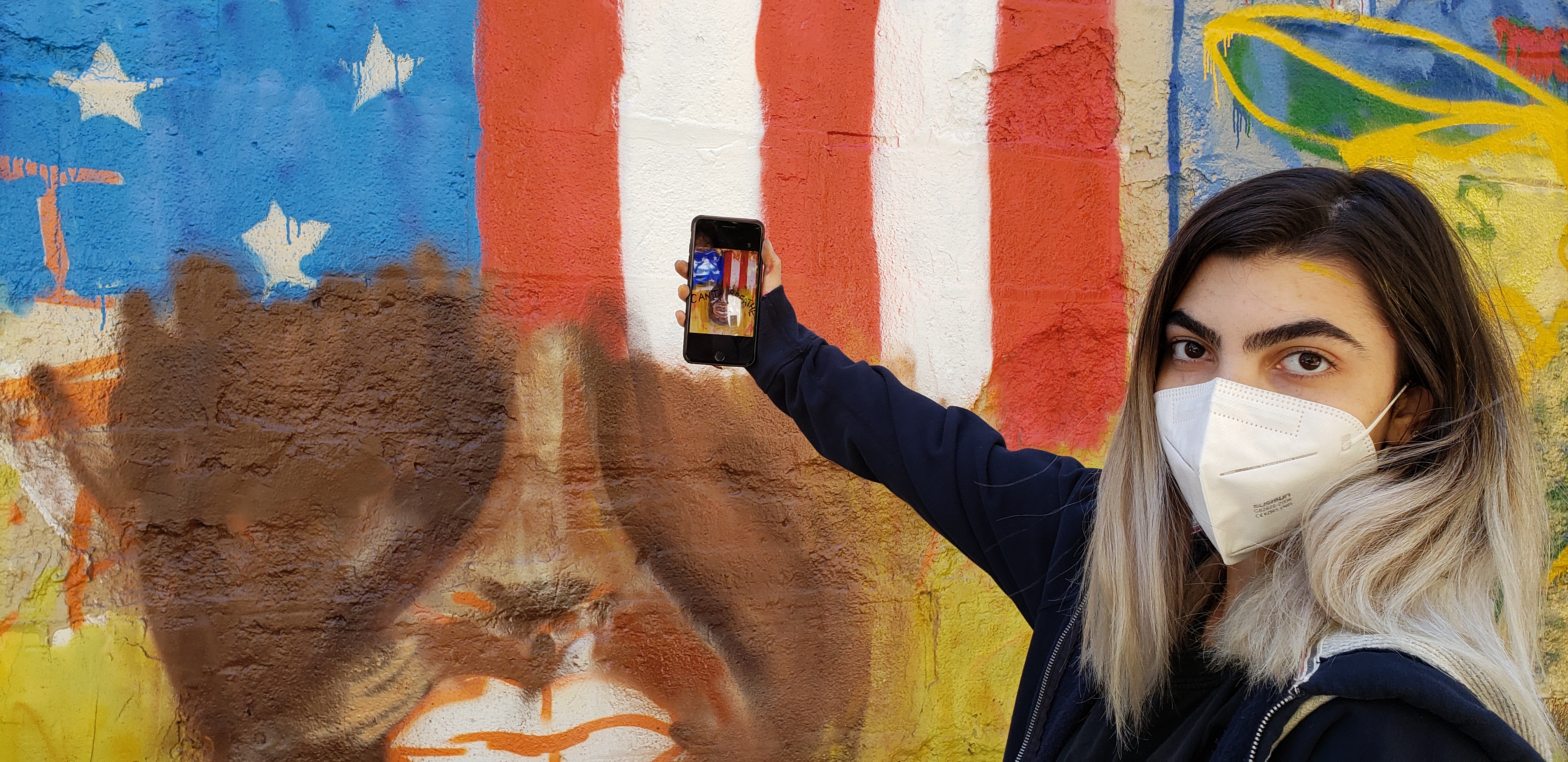 Amal Azzam is the co-founder, with Nayfa Naji, of Fanana Banana, which provides a platform, through shows and other events, for the work of young Muslim artists. Azzam said all the artists on Sunday had been in Fanana Banana shows. Sunday's event was a chance for the Fanana Banana artists to get together, be outside, and see each other again. The organization would have celebrated its one-year anniversary in April, but for the pandemic lockdown.
But the event on Sunday wasn't merely a get-together, but a chance to "show support" for the demonstrations against police brutality that have taken place in Milwaukee and many other cities. And, Azzam said, "Ihsan was kind enough to pay for the supplies for this to happen."
The art created over the weekend demonstrates a community coming together and shows off a neighborhood that is already in the process of being revitalized, perhaps the best sign yet that, this time, real change is about to occur.