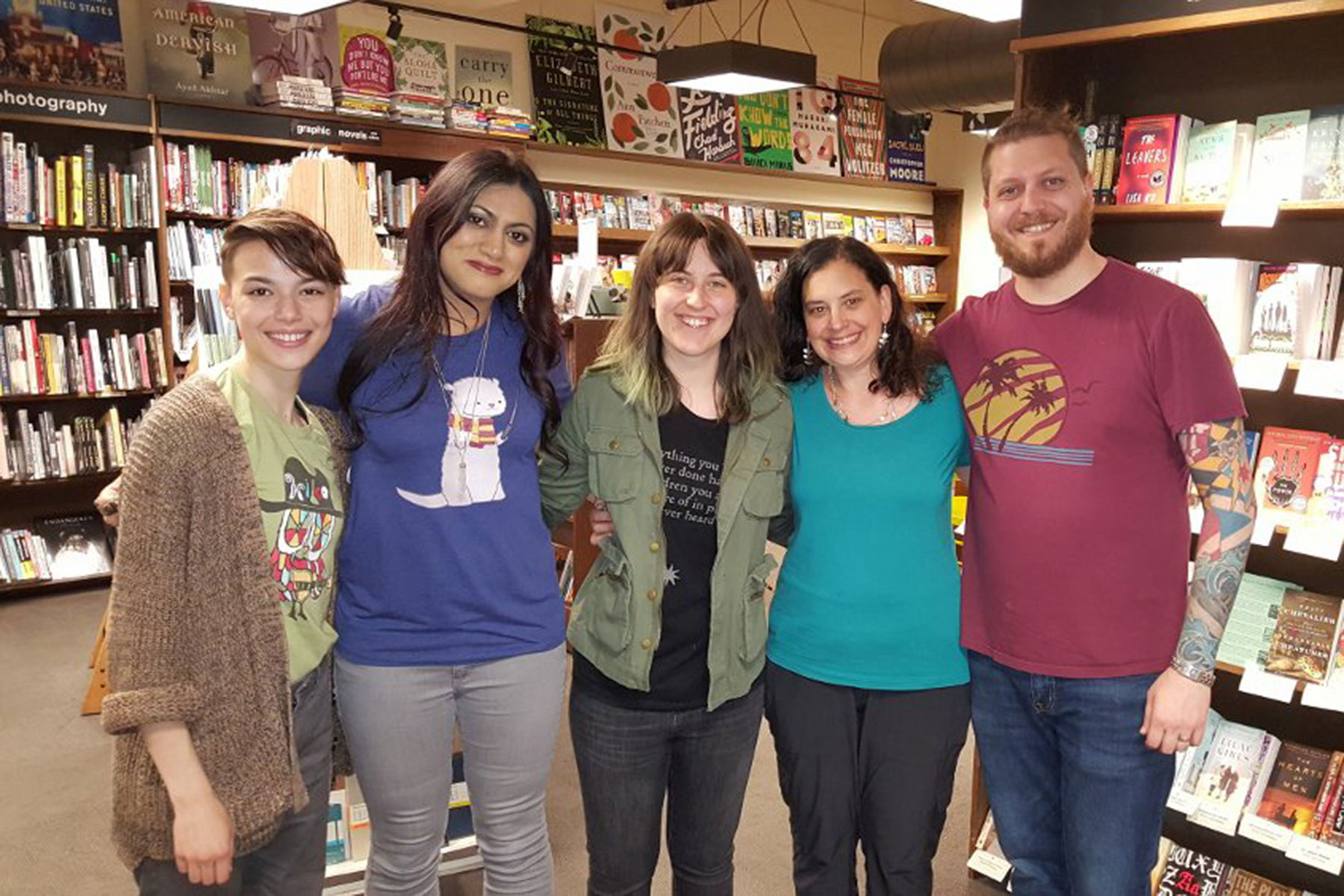 "I am an American-raised, Pakistani-descended, British-born, Brown Muslim Immigrant Woman. And I have a NYT bestselling fantasy series. Because of you. Thank you."
– Sabaa Tahir, a recent Tweet to fans
As part of her national book tour for A Reaper at the Gates, the third volume of the planned quartet in the An Ember in the Ashes Series, Sabaa Tahir spoke at the Boswell Book Company on Milwaukee's East Side on June 22.
"Milwaukee is really great. I didn't know what to expect, because I've never been here. And when I asked people on Twitter what to do, they said go buy cheese and custard," Tahir said in opening remarks at Boswell.
Tahir is the #1 New York Times bestselling young-adult author of An Ember in the Ashes and its sequel, A Torch Against the Night. Paramount Pictures bought the movie rights before it was even published, and critics compared it to The Hunger Games and Game of Thrones.
She spent her youth devouring fantasy novels, raiding her brothers comic book stash, and 'playing guitar badly.' Tahir began writing An Ember in the Ashes while working nights as a newspaper editor for The Washington Post.
She grew up in California's Mojave Desert at an eighteen-room motel owned by her family. Those motel guests formed the fantastical characters in Tahir's books. Another source of inspiration were the folktales her mother told her about jinns, supernatural beings that are common to Muslim mythology in South Asia and the Middle East.
The highly anticipated third installment takes fans deeper into an epic tale of resistance against the Martial Empire. The story takes place in an ancient fantasy world where a teenage girl is fighting to save her brother from prison, and a soldier battles to free himself from the regime.
Her high-fantasy world was inspired by the history of ancient Rome. The expansive and action-packed plot surrounds her characters, like ordinary citizens like Helene, Laia, and Elias, with war-mongering tyrants.
Boswell's Jenny Chou interviewed Tahir at the Milwaukee event, asking questions about the new book, the plot arc for the whole series, and answering fan questions. She was not able to comment about the motion picture option.
Tahir also gave her publisher, Penguin Random House, credit for allowing her to put a person of color on her book covers. There was some pushback from racist elements of the public, but overwhelming support from her fans who appreciated the ability to identify with someone who looked like them.
This audio of Tahir's talk was recorded live at the Boswell Book Company event, and covers a range of topics that express how her Pakistani and Muslim heritage influenced her writing.
© Photo
Boswell Book Company and Sabaa Tahir