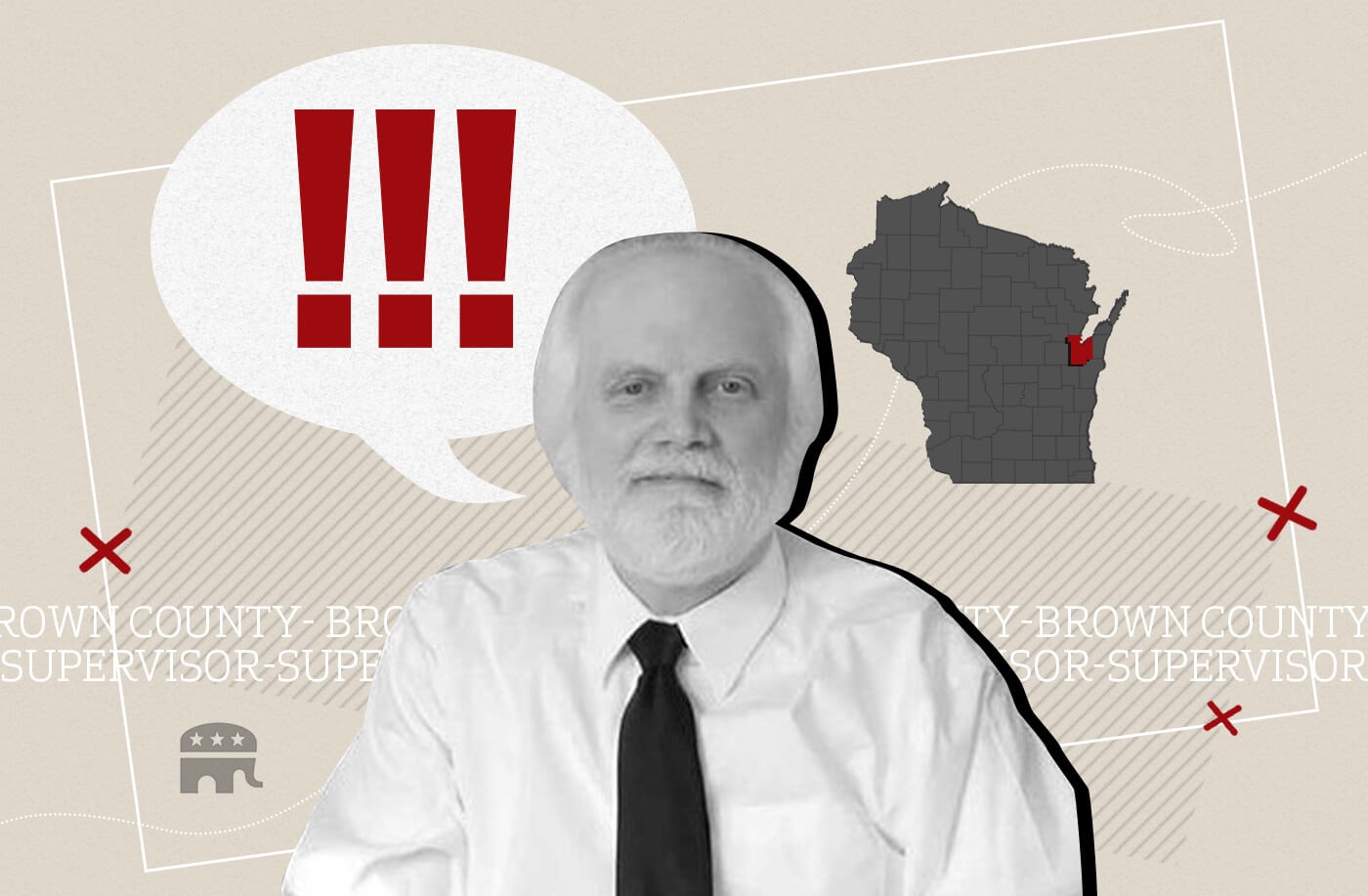 The Council on American-Islamic Relations (CAIR), the nation's largest Muslim civil rights and advocacy organization, called last week for the resignation or removal of Brown County Supervisor James Murphy following an investigative report published in an independent, nonprofit news magazine that said he has been posting Islamophobic comments.
In an Aug. 4 press release, CAIR Deputy Director Edward Ahmed Mitchell is quoted saying, "Anti-Muslim bigots have no business serving as public officials who must represent diverse societies without bias and equally apply the laws to everyone, regardless of their faith."
Supervisor Murphy, 73, represents parts of Allouez and Bellevue, Wisconsin, on the Brown County Board of Supervisors. The city of Green Bay is the seat of Brown County and home to a growing refugee population that includes Muslim Somalian people, among others.
The press release cites a report in In These Times that says the news outlet "obtained screenshots and cached posts featuring violent Islamophobic rhetoric from personal blogger 'J. Morris' and MyMilitia account user 'J. Morris' – which appear to be penned by Supervisor Murphy."
In a 2018 blog post, "J. Morris" wrote: "Let me put the record straight about Islam. It is NOT a religion. It is and always has been a Geopolitical fascist movement."
In These Times also cites an Aug. 11, 2020, post by the MyMilitia user under the same name that said, if "Communism, Socialism, Marxism, Islam and others are well known as foreign enemies … [would] a person who claims to be one and lives here or promotes their agenda not be a domestic enemy?"
CAIR's Mitchell stated, "If Supervisor Murphy is indeed responsible for espousing these hateful and extremist views, he should step down from his post and meet with local Muslim leaders to educate himself about his neighbors."
Mitchell further stated the American Muslim community and CAIR stand in solidarity with all those challenging anti-Black racism, xenophobia, Islamophobia, anti-Semitism, white supremacy and all other forms of bigotry. CAIR's mission is to enhance understanding of Islam, protect civil rights, promote justice and empower American Muslims.
Othman Atta, vice president of the Wisconsin Muslim Civic Alliance, also condemned the Islamophobic statements in remarks in March to In These Times. "Anyone who has such extreme views should not be a public representative who is required to represent and serve all of their constituents."
Green Bay-based freelance journalist John McCracken wrote the investigative feature story about Murphy, headlined, "What a Right Wing Militant in Wisconsin County Politics Reveals about Extremism." In it, he described Murphy as a "staunchly conservative county official from Green Bay" who "doubles as a right wing militia member." McCracken reports that Murphy was identified as the leader of the Wisconsin chapter of an armed Christian Tea Party affiliate called "the Black Robe Regiment." McCracken wrote: "The (Jan. 6) insurrection called attention to the presence of right wing extremism in government."
In his report, McCracken explained: "'J. Morris' has advertised Supervisor Murphy's web-design business, bragged on MyMilitia about having 'run for the county board as a Christian Conservative and Won!' and made reference in another post to the chapter of the Black Robe Regiment that Murphy leads, promising to update the website."
McCracken also interviewed Awais Khaleel, secretary of the Wisconsin Muslim Civic Alliance and Dane County assistant district attorney. Khaleel estimates that Brown County is among the three most populous Muslim counties in the state. Wisconsin has roughly 50,000 Muslims, he said.
He attempted to interview the supervisor but reported that Murphy did not respond to repeated requests for comment about the posts.
McCracken also noted that Murphy moved the social media for his chapter of the Black Robe Regiment off Facebook after users faced sweeping bans for promoting false information about the presidential election. "Murphy is now active on MeWe, an alternative social media platform with a history of propagating conspiracy theories," he wrote.
McCracken's article was published in March as part of "The Wisconsin Idea," an investigative reporting initiative focused on rural Wisconsin by In These Times and two nonprofit political action organizations, People's Action Institute, whose mission is "reverse growing economic inequality," and Citizen Action of Wisconsin, "a coalition of individuals and organizations committed to achieving social, racial, economic and environmental justice."