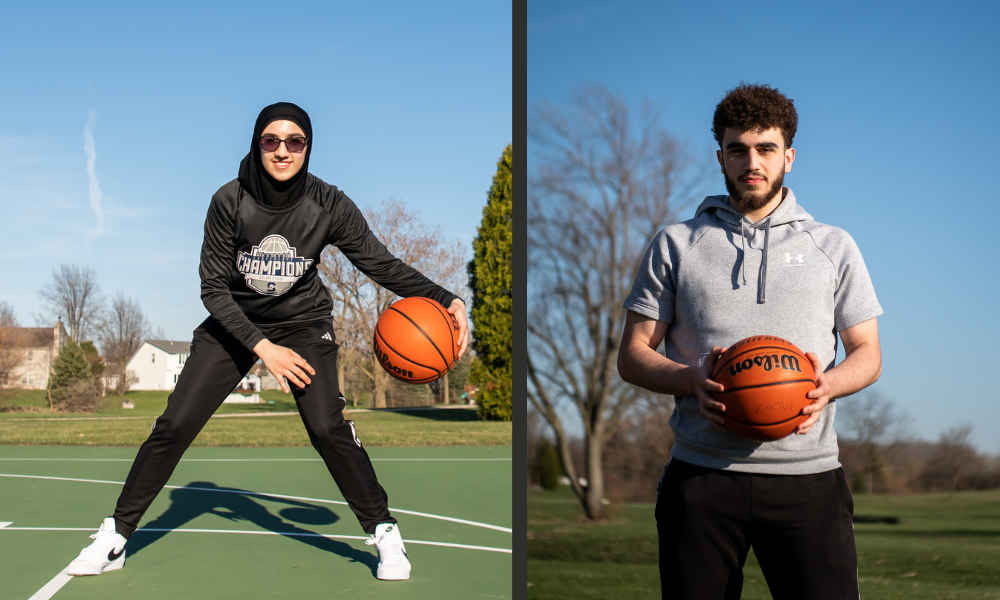 Photos by Mouna Photography
(From left to right) Salam High School basketball standouts Sana Abubaker and Ahmad Badwan join champion ranks.
Salam High School Varsity Basketball Programs produced champions this year, both as teams and individuals. The Wisconsin Muslim Journal celebrates their impressive accomplishments in a two-part series that begins today and continues Tuesday.
Salam High School's Boys and Girls Basketball Programs have broken into the ranks of champions this year, with conference team and individual honors. Salam Girls and Boys Basketball Teams won the 2023 Lake City Conference championships. 
Two Salam varsity basketball players, Sana Abubaker and Ahmad Badwan, were named Lake City Conference Player of the Year for Girls and Boys Basketball respectively. In addition, Abubaker was one of 16 winners of the Wisconsin Basketball Coaches Association's prestigious Elite Individual Academic All-State Awards.
During a recent ceremony in the school gym after Friday prayer to unveil the Girls Team's and the Boys Team's championship banners, Salam School Athletic Director David Petrick felt "like a proud father," he said. 
"When I showed up 20 years ago and began working on the basketball program, there was no floor in the gym, no teams, no equipment," he recalled. 
A decade ago, when now Salam School's Boys Basketball Team's head coach Abdallah Badwan played on the varsity basketball team, almost no one came to the games, he said, especially parents who didn't see the point of their children spending a couple of hours each day dribbling and shooting when they could be studying.
"Wow! We've come a long way!" Petrick exclaimed.
"Once you start winning, people start paying attention," Badwan said. 
A year of firsts for Girls Varsity Basketball
Salam School Girls Varsity Basketball Team "went 12 and 0," said Head Girls Basketball Coach and Assistant Athletic Director Kassidi Macak about the 2023 season. "They beat every team in the conference twice" and became the 2023 Lake City Conference Champions.
Team captain, senior Sana Abubaker, 18, of Franklin also had a remarkable season. She averaged almost 20 points a game. When she scored 34 points against Faith Christian, she broke the Salam Girls Varsity Basketball Program's record for most points in one game. She led the state all season in steals per game.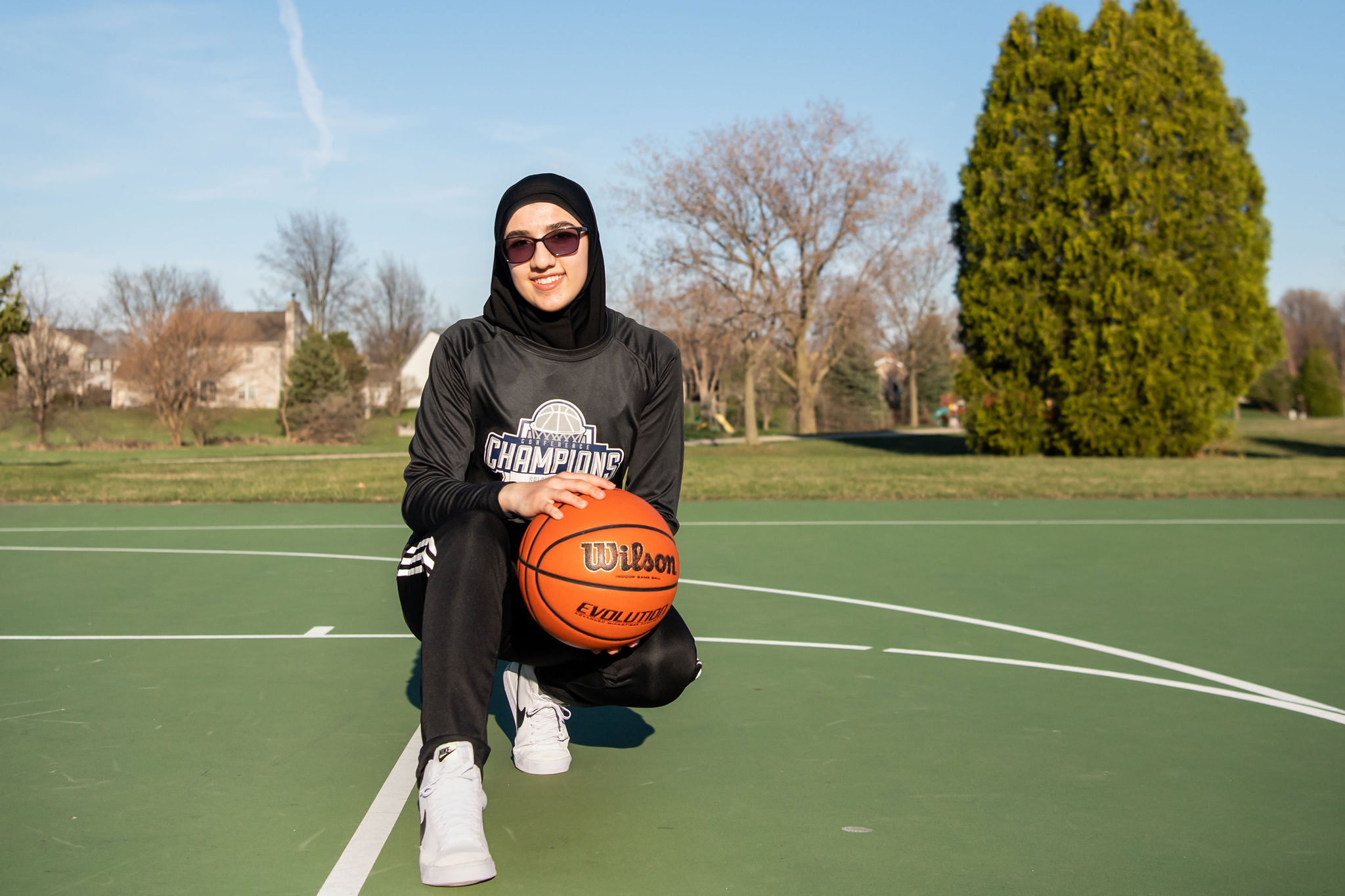 Perhaps her most impressive stat is her 10 double doubles this season, said Petrick. That means she had 10 games with double-digit points along with double-digit steals, rebounds or assists. 
Although Abubaker scores in the double-digits, she is not a "ball hog," Coach Macak said. "She never limited her teammates in any way; she made them better. She'd pass them the ball when they got open. She's a real team player, not the only star on the team."
Lake City Conference basketball coaches voted her the 2023 Conference Player of the Year, an honor also achieved by Salam School Boys Varsity Basketball Team player Ahmad Badwan—each a first for Salam High School basketball players.
Abubaker combines her athletic achievement with exceptional academic performance. The tri-sport athlete who excels in basketball, volleyball and soccer is the top-ranked student in her class. She's on all-conference teams in all three sports while maintaining a grade point average above a 4.0. She received Salam High School's Scholar-Athlete Award her junior and senior years, and has recently been name valedictorian of Salam High School's Class of 2023.
Abubaker's impressive grades and athletic statistics led Coach Macak to nominate her for WBCA's Academic All-State Team. When the 2023 Girls Basketball Academic All-State Team was announced March 1, Abubaker was among the 1,247 honorees statewide. The Girl's Basketball Academic All-State Team is made up of high school girls basketball players of all grade levels who maintain a 3.5 grade-point average or above and excel in basketball.
Then Macak nominated her for WBCA's Elite Individual Academic All-State Awards. "This is the best of the best, combining all aspects of what it means to be a student-athlete," WBCA website notes. The WBCA Executive Committee reviewed nominated players' basketball statistics and academic scores, then selected 16 senior girl varsity basketball players statewide to be recognized this year. Winners were announced March 16. Abubaker made the cut.
"It is quite prestigious," Petrick said. "Just a wonderful honor. And a first for Salam School.
"There were quite a few firsts this year," Petrick noted. "It was the first time we won a conference basketball championship, the first time a Salam School kid got Player of the Year in our conference and the first time to have one of our players win an Elite Individual Academic All-State Award.
"We also hosted a regional game. We have never done that. We did not win it but we played a really great game. We are making tremendous strides with our Girls Basketball Program.
"A lot of credit goes to Coach Kass (Macak). She's really building the Girls Basketball Program from the ground up. For the first time, we have teams in fifth, sixth, seventh and eighth grade teams for the girls. It feels pretty good when you get in a spot where you know we are doing it the right way. Now we are starting to get quite a bit of success because of that."
A place at the table
WBCA held its annual statewide basketball banquet April 2. A hall in Wisconsin Dells filled with Wisconsin's elite basketball stars, both boys and girls, and outstanding scholar athletes. 
Among them was Sana Abubaker, her mother Ream Bahhur (a teacher at Salam School and a Milwaukee Muslim Women's Coalition board member), Sana's younger sister, who is just beginning her own experience with high school sports and Salam School Girls Basketball Coach Kassidi Macak.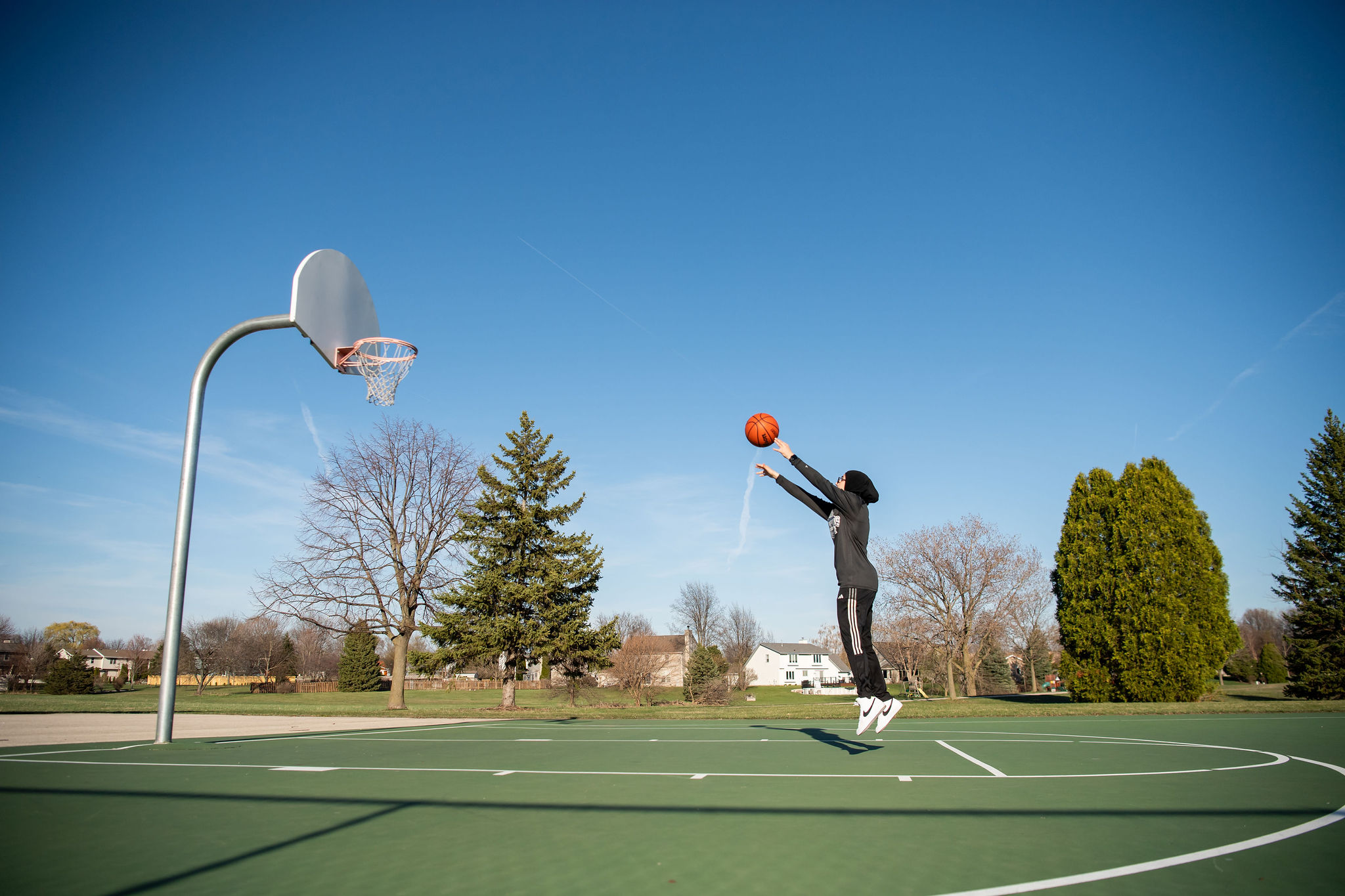 Sana, her sister and mother were the only three hijabis in the hall, Bahhur noted. When Abubaker went up to receive her award, her mother felt proud, Bahhur said. "A slideshow featured her photo and her stats, the story of her basketball journey.
"It was a moment of pride to see someone from our family and our community make it up there, sitting in greatness with everybody else."
Being a top athlete and top scholar
At the top of her game and first in her class, Abubaker said participating in sports has helped her succeed.
"To be honest, being in sports has helped me manage my time," Abubaker said in an interview with Wisconsin Muslim Journal. "If I'm managing between the practices and the games, I know I need to get enough sleep and eat right. It helps me do better in school overall. I am more motivated to succeed."
Macak, who has coached Abubaker since she was a freshman, said Abubaker shows Salam School parents the value of sports. "We had parent-teacher conferences right after she won that award. A lot of parents would tell me, 'I just want my kid to focus on their grades.' And I'd tell them I just presented an elite academic award to a senior athlete who has played three sports every year her whole high school career. Participating in sports is a great way for them to learn prioritization and time management. She's valedictorian. It can be done. She's the perfect example." 
Being on teams also helps her mental health, Abubaker said. "My teammates literally become like a second family to us. We work together. We motivate each other in school and in sports. We work towards our goals, not only in the games but in life."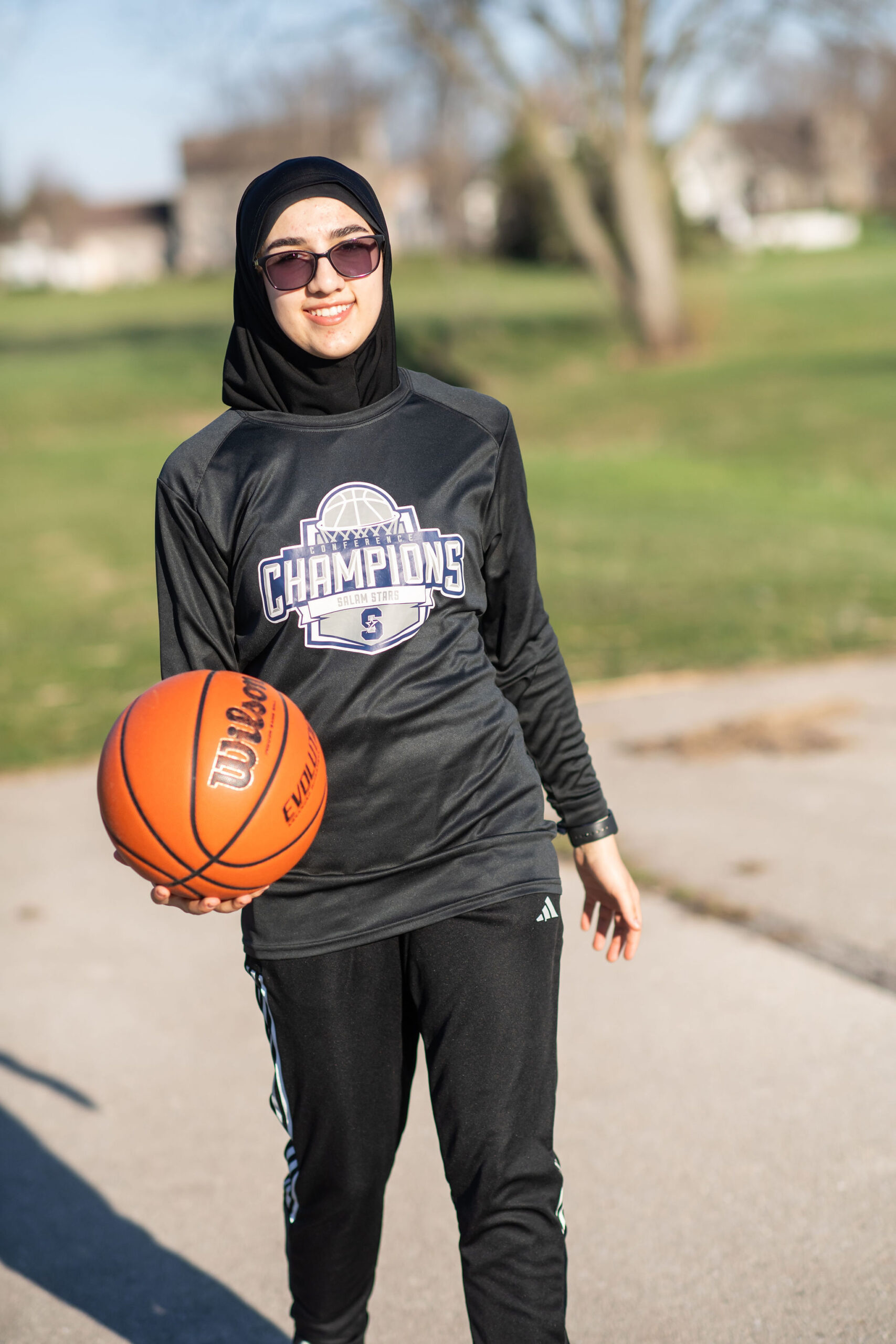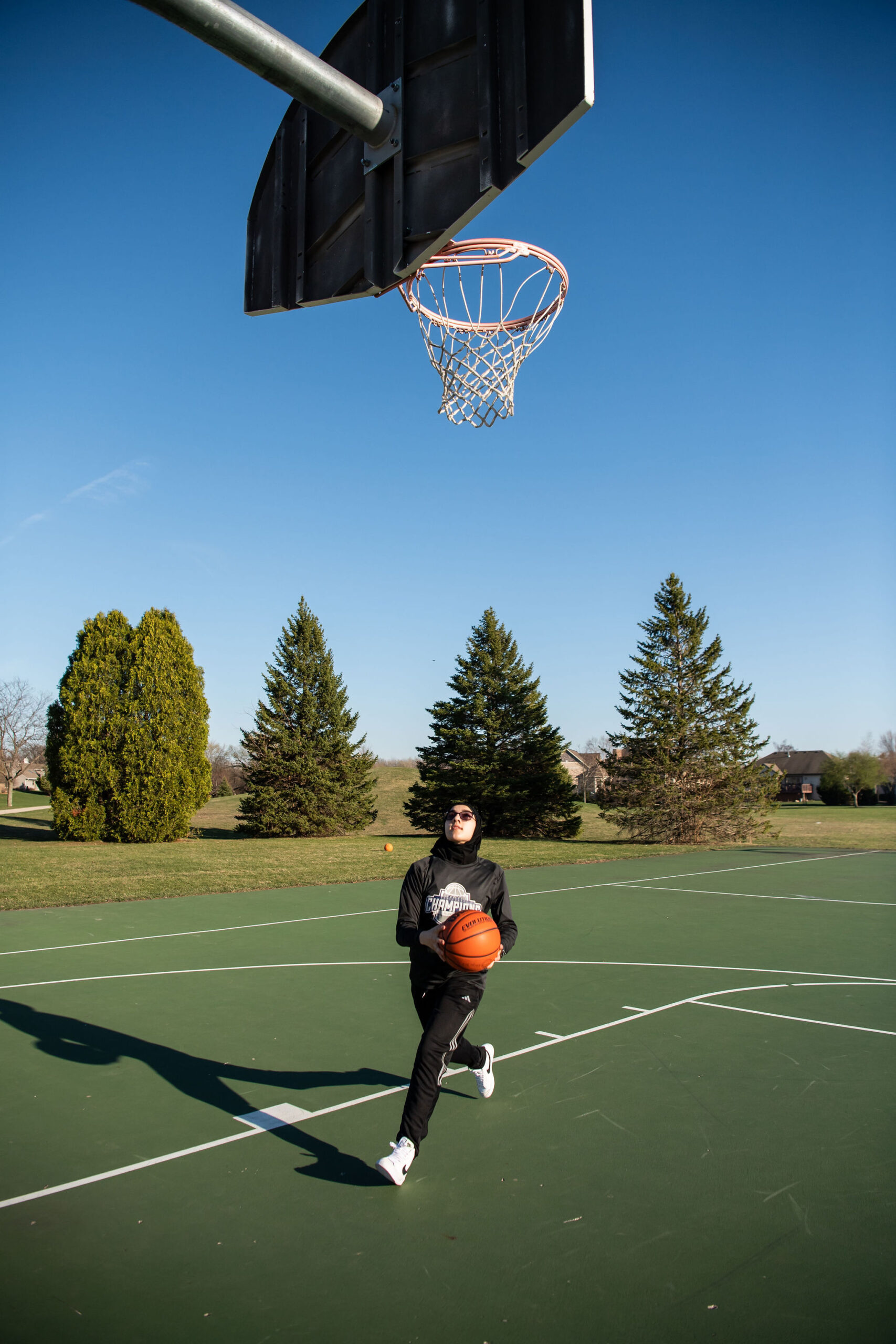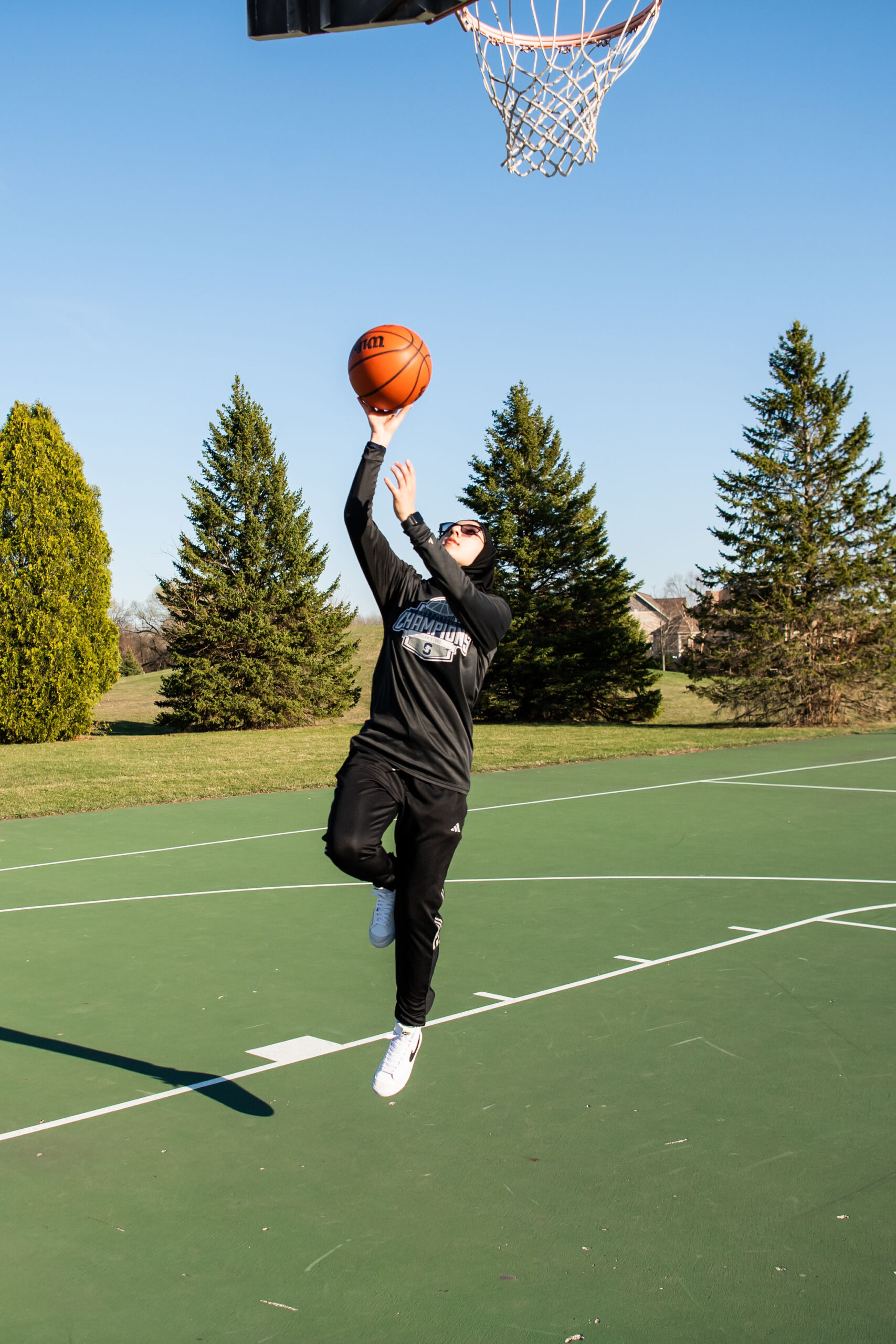 Another ingredient is her character, Abubaker's mother said. "Sana likes being the best she can be," Bahhur explained. "She likes to see her name on top. She likes bringing attention to the school. She likes putting the whole idea of a Muslim athlete out there, to show you can be female and wear the hijab and do these things, too."
In addition, the support of her family and community is key, Abubaker said. Bahhur has dedicated much of her time to supporting her daughter's love of sports, arranging family schedules around practices and games. She is at every game and sometimes sits in on practice. Attending such a special occasion as the WBCA banquet was a must, she said, even though it was held in the Dells and began before iftar in the midst of Ramadan.
"Sometimes games are an hour and a half away," Bahhur said. "We plan our whole life – dinner, sleep, our laundry schedule—around practice and games so the girls have the opportunity to compete in organized sports."
At the same time, she insists on prioritizing academics, she said. "My condition is if your grades drop, you're benched. Sana took that and ran with it. So did her sister. They know this is non-negotiable so they take care of both (academics and athletics) so they won't have to choose.
"I tell friends who are hesitant about letting their children play on a team that I'm a big fan. I see how much they love it. I tell parents, you won't regret it. It keeps them in shape. It keeps their morale high."
Some of her most valuable times with her daughters and niece are on the way home from a game. They analyze the game together to see what worked and what didn't work. She knows her daughters feel her engagement in their lives. It keeps the lines of communication open between them, she said.
Having coaches who genuinely care about the players is another key factor in the athletes' success, Bahhur said. "I thought it was huge that Coach Kass drove two hours each way to see Sana win her award. She puts her all in. She doesn't just manage practices. She takes them on trips to watch college-level women's basketball games. They go out to eat; they go rock climbing because she knows it's important for the teammates to bond off the court. 
"She'll stop a girl in the hall and say, 'Hey I saw your grades. Do you know why this slipped?' It's so nice to have someone who really cares. Mr. Petrick is the same way. He wants to see them succeed."
Bahhur would like to see more people from Milwaukee's Muslim community in the stands, she said. We all take pride in Salam School's Basketball Programs' success; we should cheer for them along the way.