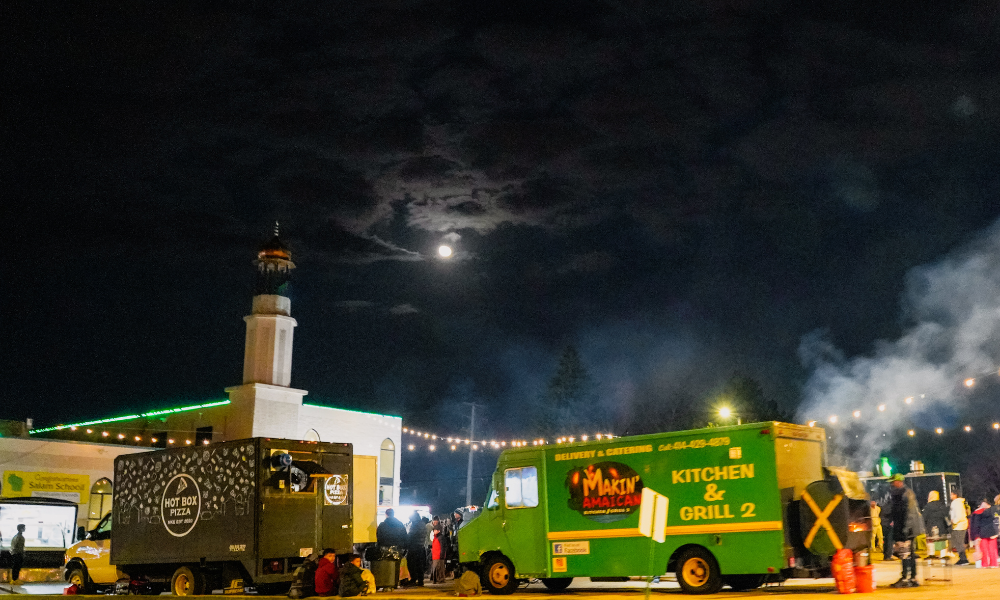 Photos by Kamal Shkoukani
The Suhoor Food Truck Fest in Milwaukee brought families and friends together to celebrate Ramadan in the ample parking lot of the Islamic Society of Milwaukee.
Eat Halal Milwaukee created the first ever "Ramadan Addition" Suhoor Food Truck Fest held at 4707 South 13th Street, Milwaukee, WI 53221. The nighttime fest kicked off at 10:30 pm on Friday, April 7th and was open until 2 am for suhoor, the meal eaten at night during Ramadan before the sun comes up and fasting resumes. 
Main sponsor Islamic Society of Milwaukee, community sponsor Hayat Pharmacy, event organizer Bushra Zaibak and volunteers from the Salam School student council made the night a huge success.
Under the glow of the ISM mosque, the cool evening did not curb over one thousand Muslims and non-Muslims from Milwaukee, Chicago and Madison from attending the family friendly event.
We sent our Wisconsin Muslim Journal photojournalists to capture one of the biggest community celebrations during the holy month of Ramadan.
Delicious halal food, face painting, henna, a bonfire and prizes were part of the inaugural event.  The Suhoor Food Truck Fest vendors included: