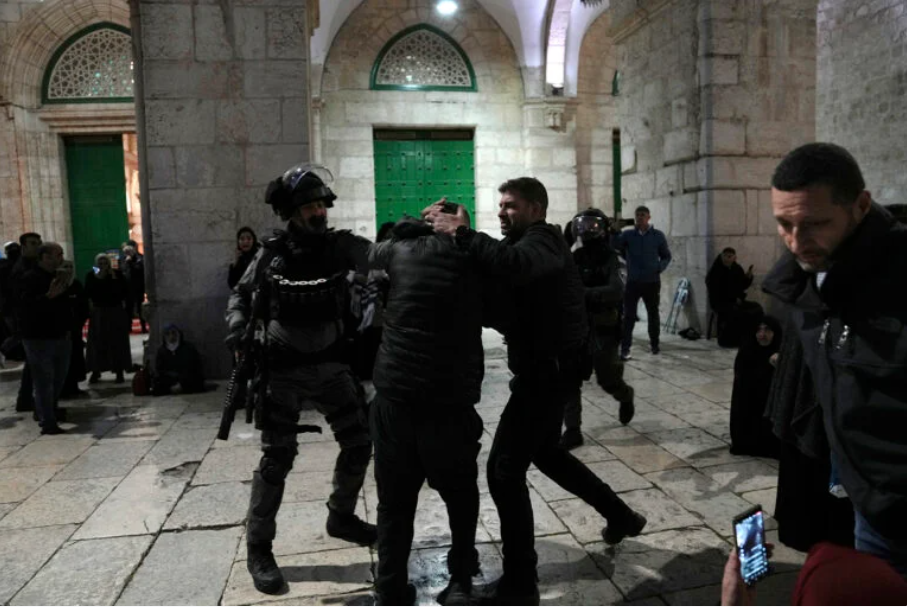 Israeli police arrest a Palestinian worshipper at the Al-Aqsa Mosque compound in the Old City of Jerusalem during the Muslim holy month of Ramadan, April 4, 2023. Palestinian media reported police attacked Palestinian worshippers, raising fears of wider tension as Islamic and Jewish holidays overlap. (AP Photo/Mahmoud Illean)
(RNS) — In what is becoming a Ramadan tradition in Jerusalem, Israeli troops stormed the Al-Aqsa Mosque on Tuesday (April 4) and brutally assaulted Palestinian worshippers inside, arresting hundreds. This is the modus operandi of the Israeli occupation, not to quell violence or keep people safe, but to taint the celebrations of the holiest month of the Islamic calendar and break the will of the Palestinian people.
As another Ramadan is disrupted by tear gas and stun grenades, it's clear that there's only one way to end this unsustainable and vile injustice: End the Israeli occupation.
The politics of the Israeli government have captivated the world over recent months as Naftali Bennett's "good will" coalition fell and Benjamin Netanyahu became prime minister for a third time even as he faced a number of corruption charges. Netanyahu then promptly forwarded a plan to disempower Israel's judiciary by giving the Knesset, Israel's parliament, the ability to override court decisions. Hundreds of thousands of Israelis erupted in protest, and last week, Netanyahu announced he would delay his plan. 
But as we watch the pendulum of Israeli politics swing between ultraconservative and liberal political actors, all of them maintain the occupational status quo. Little takes place in the Knesset to alter a decades-long occupation of the Palestinian people and their lands. While many Israelis seem to have been demonstrating against an Israel unrecognizable to them, Palestinians are stuck with an Israel that is utterly consistent in its treatment of them.
At the core of the occupation is a dehumanization of the Palestinian, an othering that deems the Palestinian a natural casualty of necessary measures. This attitude has guided the Western media's approach to the occupation as well. The American press often refers to the Israeli-Palestinian conflict as one between two equally violent warring sides and the occupation as a complex historical dispute between "cousins." In fact, a nuclear power is wielding immense control over an increasingly disparaged and scattered Palestinian people. 
Even more damaging is the framing of the conflict as an essentially religious one, as if it were the Israelis' Judaism and the Palestinians' Islam that put them at odds. Hence the cleverly named Abraham Accords purported to make peace among three faiths while ironically cementing new arms deals between nations that were never even at war. But the agreement only further disenfranchised Palestinians — Christian and Muslim — and subjected them to violence in the name of a blessed prophet.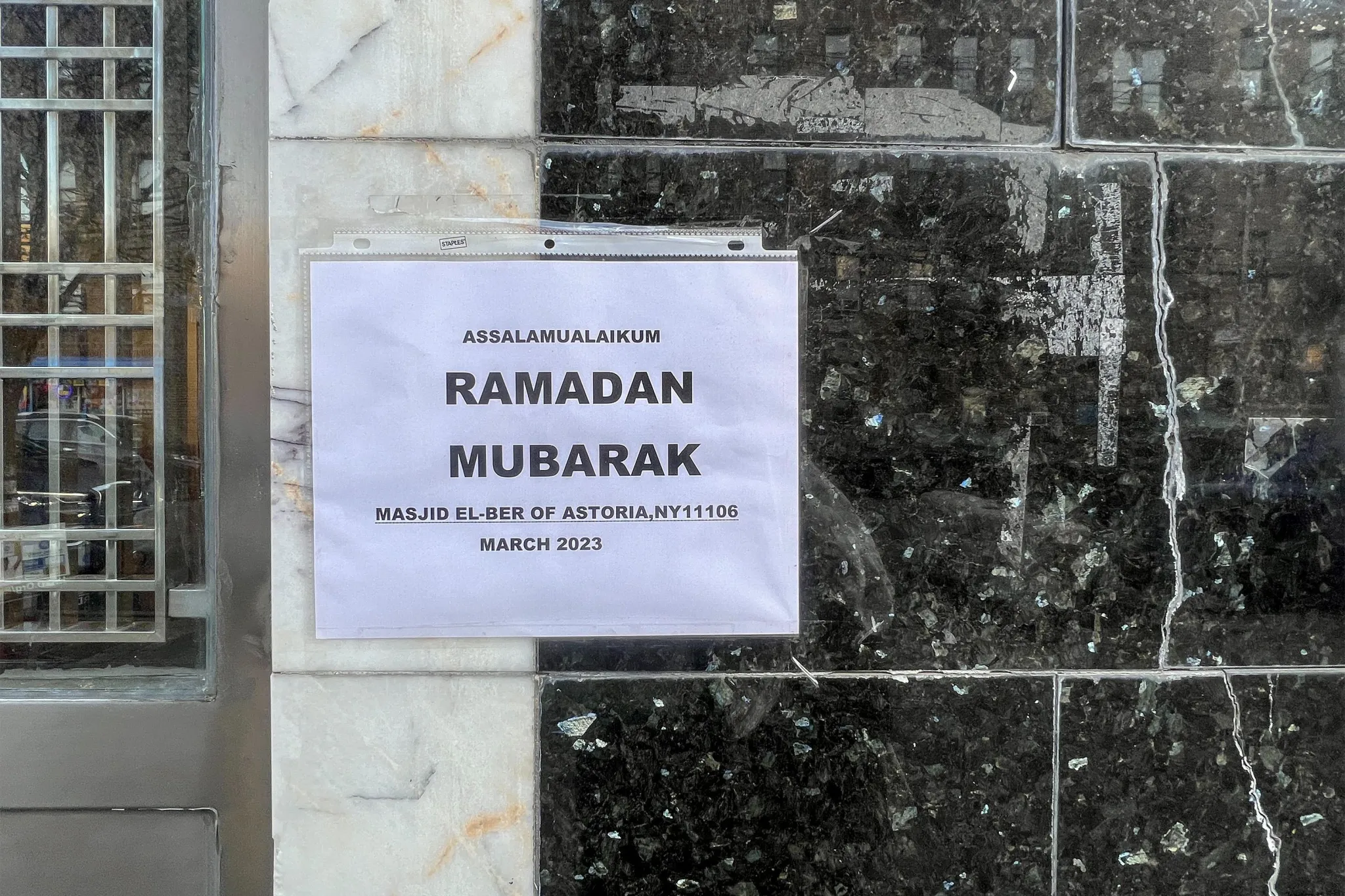 A sign outside of the Masjid El-Ber mosque. Haidee Chu/THE CITY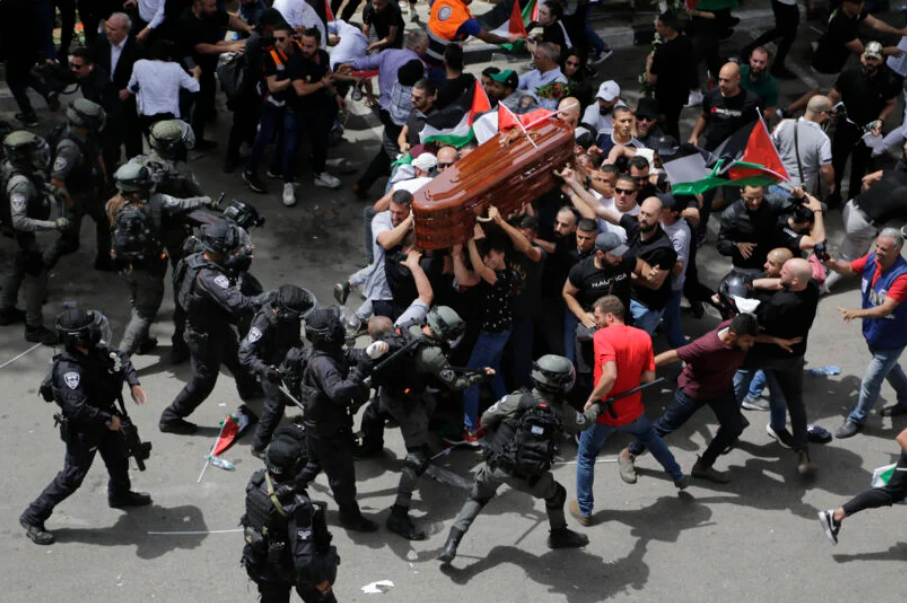 Israeli police confront mourners as they carry the casket of slain Al Jazeera veteran journalist Shireen Abu Akleh during her funeral in east Jerusalem, May 13, 2022. Abu Akleh, a Palestinian American reporter who covered the Mideast conflict for more than 25 years, was killed during an Israeli military raid in the West Bank town of Jenin. (AP Photo/Maya Levin)
In 2022, Al Jazeera journalist Shireen Abu Akleh was killed by an Israeli soldier while covering events in the West Bank. Her murder wasn't enough, as mourners in her funeral procession were terrorized by Israeli forces. Abu Akleh's death was not the result of a clash of faiths — she was a a Palestinian American and a Christian, covering repression by an occupier.
By routinely victimizing Palestinian Muslims in their holy season, Israeli governments continue to prop up the fiction that the conflict is fueled by ancient religious antipathy. In fact there is nothing sacred about the brutality toward Palestinian Muslims in one of Islam's holiest sites during Ramadan. The burden is far too heavy to bear, even if it has become routine.
This Ramadan we are praying not only for peace in the Holy Land during a holy month, but justice for a people who have been systematically stripped of their human dignity all year long.