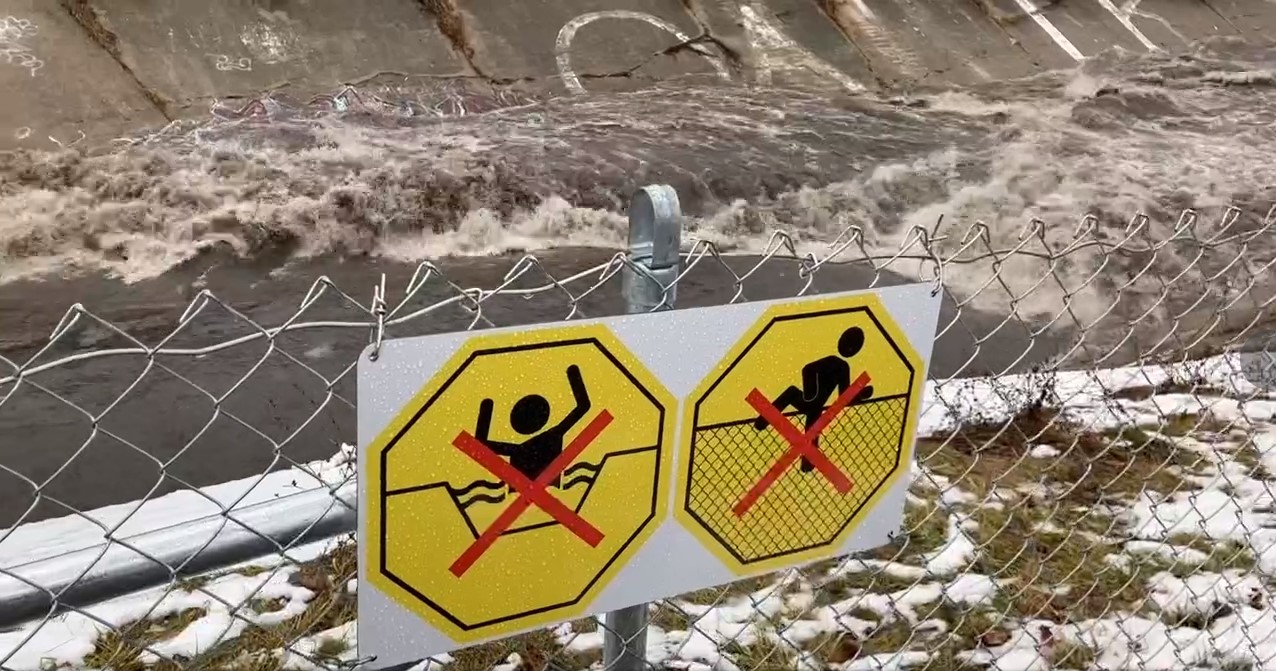 Photo courtesy of MMSD
Milwaukee Metropolitan Sewerage District placed warning signs where three Rohingya refugees lost their lives last summer.
Almost a year ago, the accidental death of a young boy, his father and a family friend shocked Milwaukee's Muslims and the greater Milwaukee community. 
Chasing his soccer ball, 10-year-old Muhammad Arman Bin Rashidullah fell into a concrete drainage ditch near his home in the 3800 block of South 25th Street and was pulled by the rushing water. His father, Rashidullah Bin Abdul Hashim, 34, jumped in to save his son, followed by neighbor and friend Zakaria Bin Gonumeah, 37. 
All three victims were refugees from Rohingya, a Muslim ethnic minority in Myanmar who have suffered repression and genocide. Milwaukee has the largest Rohingya community in the United States, estimated in 2021 to be between 2,300 and 4,000. 
Thousands attended the funeral services held at the Islamic Center of Milwaukee and at the burial at Arlington Cemetery. Milwaukee's Rohingya and Muslim communities, Muhammad's classmates and teachers, friends and co-workers of Rashidullah and Zakaria, local elected officials and a large contingency of journalists attended.
But this story doesn't end there.
Milwaukee Metropolitan Sewerage District has a long-term plan to remove the concrete channels installed in the 1960s to help control flooding in the Kinnickinnic River watershed in Milwaukee County. Their impermeable surfaces result in flash floods in the channels which have caused several drownings since they were built.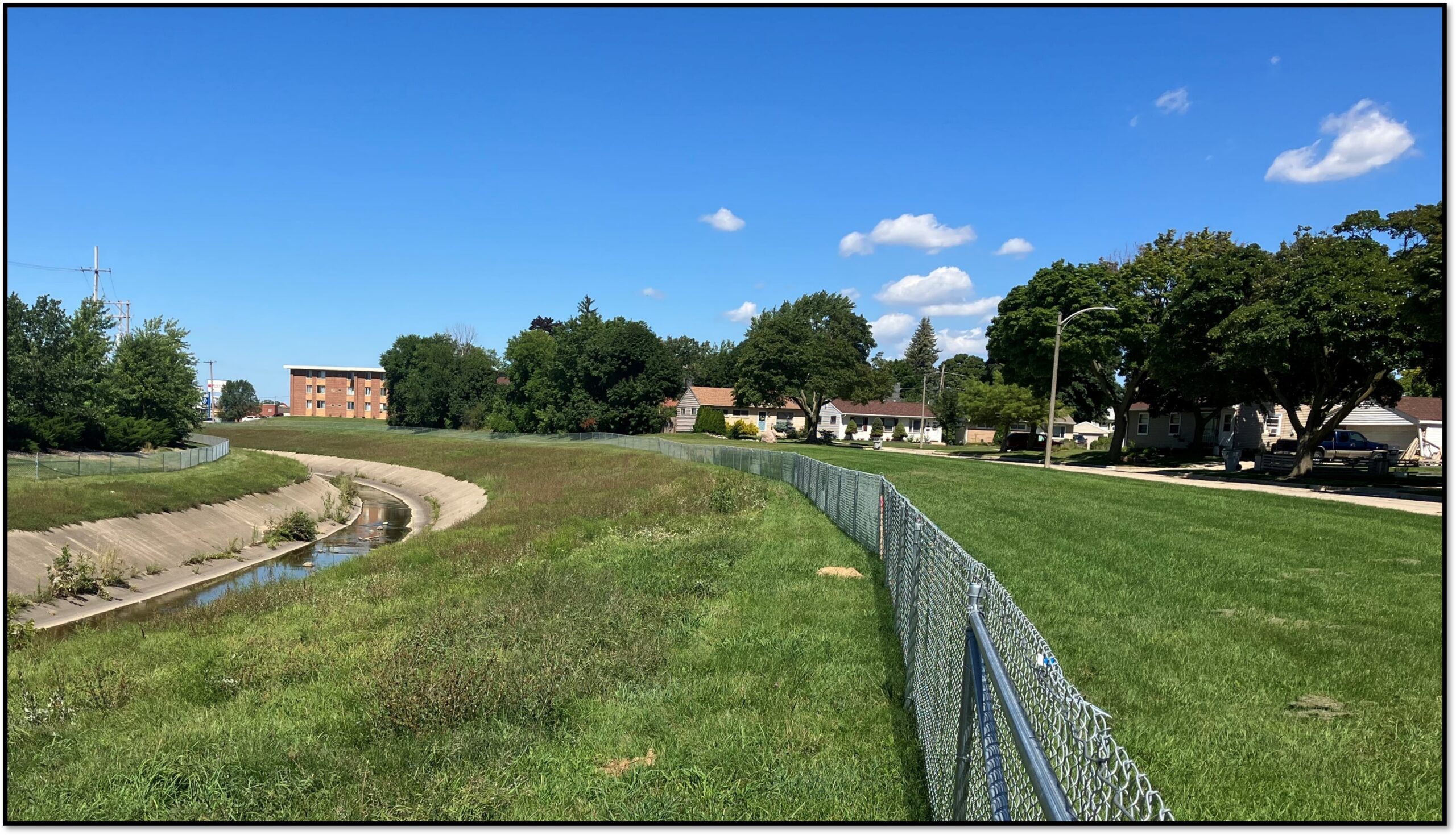 Courtesy of MMSD
MMSD installed fencing along concrete channels in Milwaukee as Step One in its Kinnickinnic River Safety Plan.
However, replacing the concrete channels with a safe and environmentally sound solution—removing the concrete, widening the channels and renaturalizing the areas—will take more than a decade and hundreds of millions of dollars, according to MMSD.
 MMSD wanted a quick solution before others lost their lives.
Gathering valuable community input
Almost immediately after the tragedy, MMSD's Public Engagement Manager Christina Taddy reached out to leaders in Milwaukee's Muslim community, the community school coordinator at Zablocki Elementary School where Muhammad was a student, District 13 Alderman Scott Spiker, public safety officers and others. She called them together for a Kinnickinnic River Safety Meeting.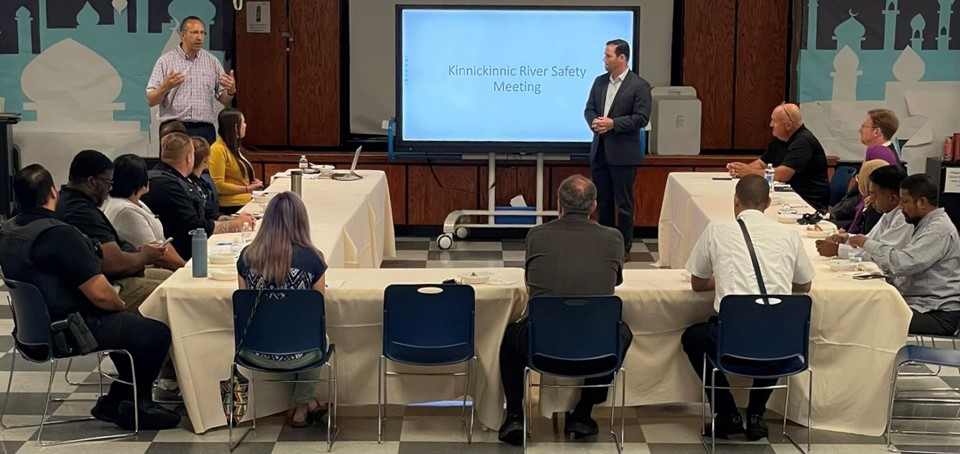 Courtesy of MMSD
Islamic Society of Milwaukee executive director Othman Atta addresses the Kinnikinnic River Safety Committee at a meeting held at ISM.
In a recent interview with Wisconsin Muslim Journal, Taddy explained, "After the tragic loss of life of these three individuals, MMSD, the Milwaukee Fire Department and the Milwaukee Police Department began working together. One of the first things we did was MMSD put up fencing along the concrete-lined waterways on parts of the Wilson Park Creek and the Kinnickinnic River." The installation of fencing began in August 2022 and continued into November. 
"But that was just Step One. Step Two was having the Islamic Society of Milwaukee as a key partner to get input from the community. They called a meeting that was attended by 15-20 individuals from a variety of groups who were affected by the drownings."
"We were very happy with MMSD's willingness to address this issue," said Othman Atta, executive director of the Islamic Society of Milwaukee, Wisconsin's largest Islamic organization. 
"MMSD put together a community advisory team and invited us to join. We offered our resources for translation services and advice on the best approach to reach this community."
Along with Atta, ISM president Saleh Sarsour and Milwaukee Muslim Women's Coalition president Janan Najeeb served on the Kinnickinnic River Safety Advisory Committee. Atta reached out to Shaukat Ali, the leader of the Rohingya America Society, who joined the committee. It also included District 13 Alderman Scott Spiker and representatives from Zablocki Elementary School, the Milwaukee Fire and Police Departments and Sixteenth Street Community Health Centers.
"We met last summer to talk through what we could do in the near term to prevent this from happening again," Taddy said. "From that meeting, lots of ideas came up about providing more education and increased awareness." 
The group worked on options for signage and a communication campaign. Since the watershed is in a very diverse area, "we wanted to make sure that no matter what language you speak, you will get the message," she said. 
MMSD developed mock signage and imagery aimed to communicate three main points: don't climb the fence, the channel is dangerous and call 911 if you see someone in danger. The advisory committee took the signs back to their communities for feedback.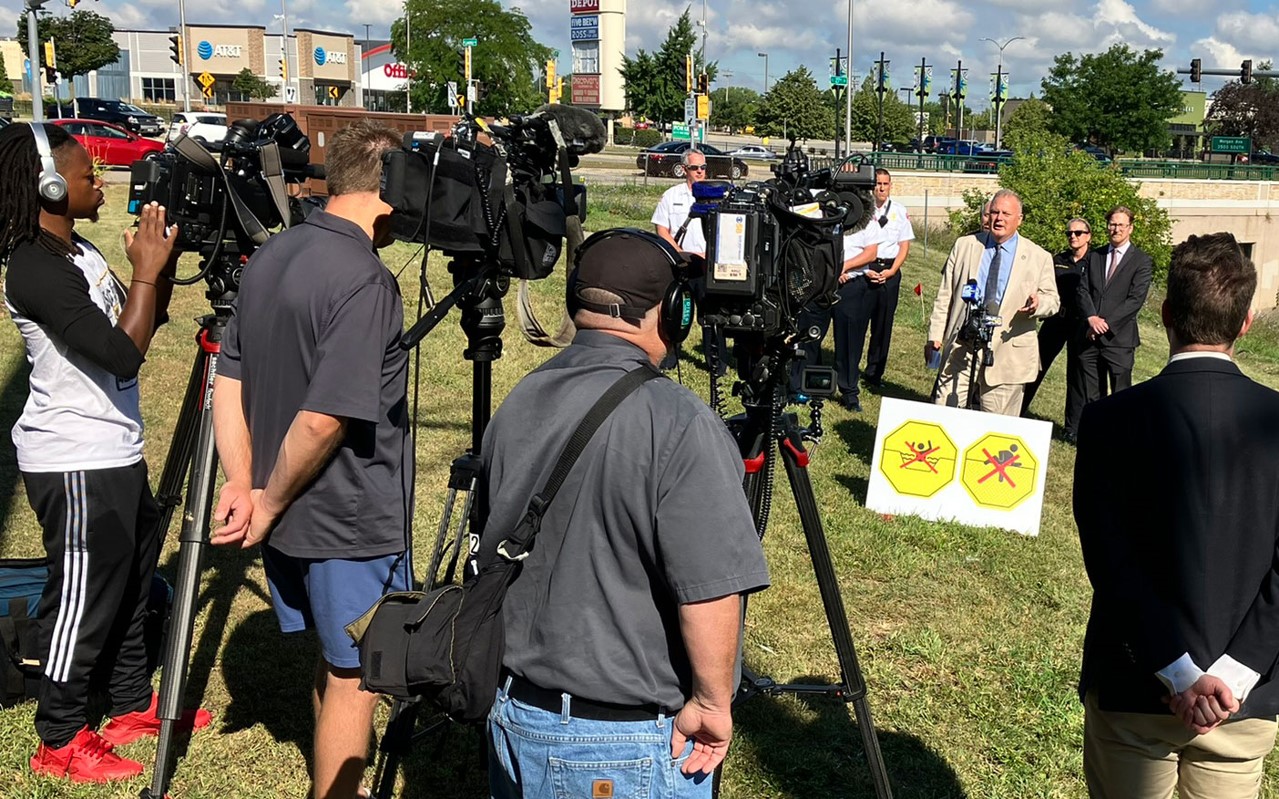 Photo by Ludys Ebratt
Representatives of MMSD, Milwaukee Police Department and Milwaukee Fire Department announce new signage along concrete channels in Milwaukee.
"We didn't want language to be a barrier so we also created signs with drawings and symbols. We also wanted to know what colors were best to use," Taddy explained. "The Milwaukee Muslim Women's Coalition hosted an event, asked people what they understood the signs to mean and gave us feedback. Zablocki Elementary School engaged a group of students to provide feedback.
The ISM, Ald. Spiker and others got it out into the community and brought feedback, she said. "That input helped us refine the signage."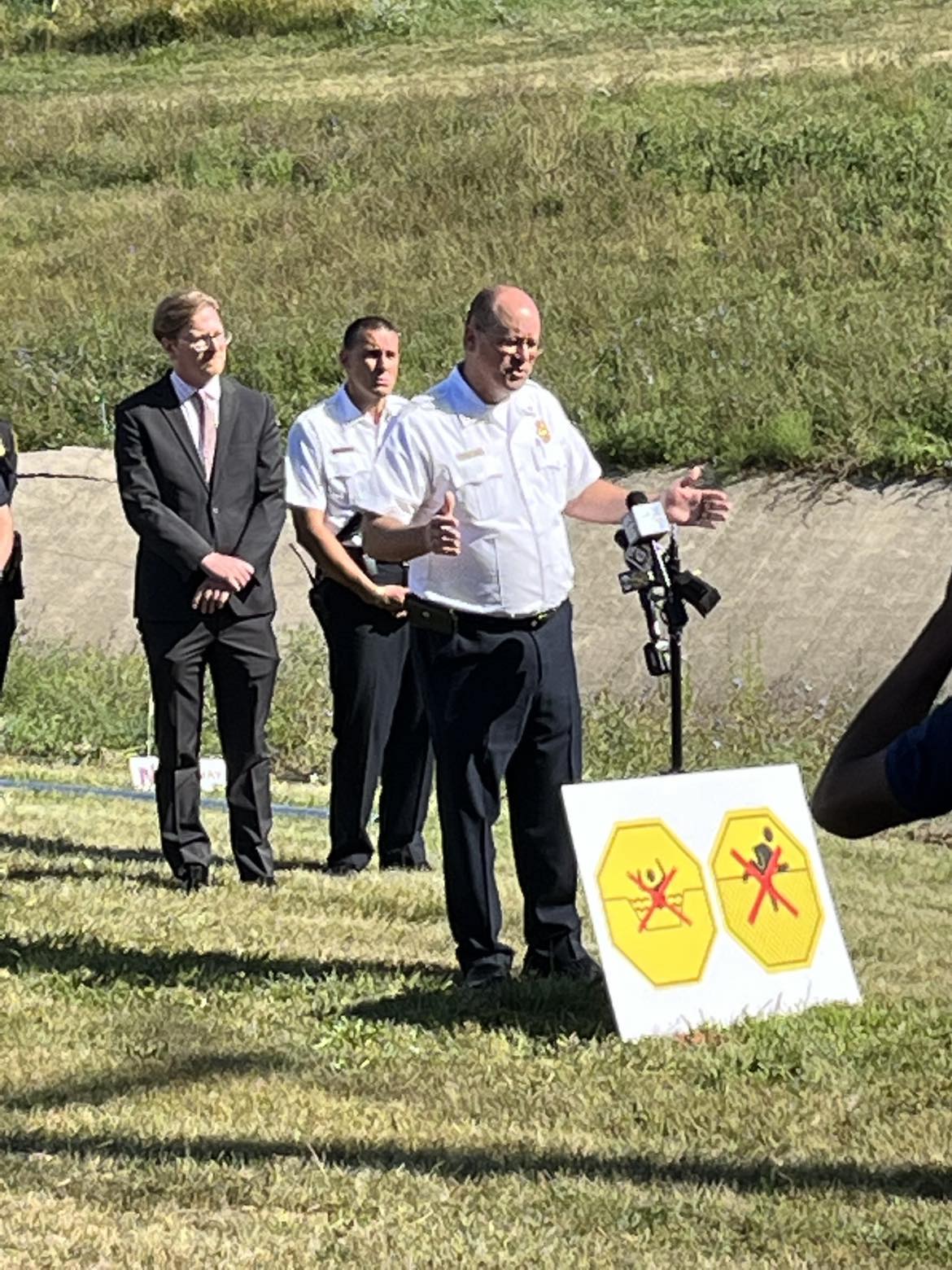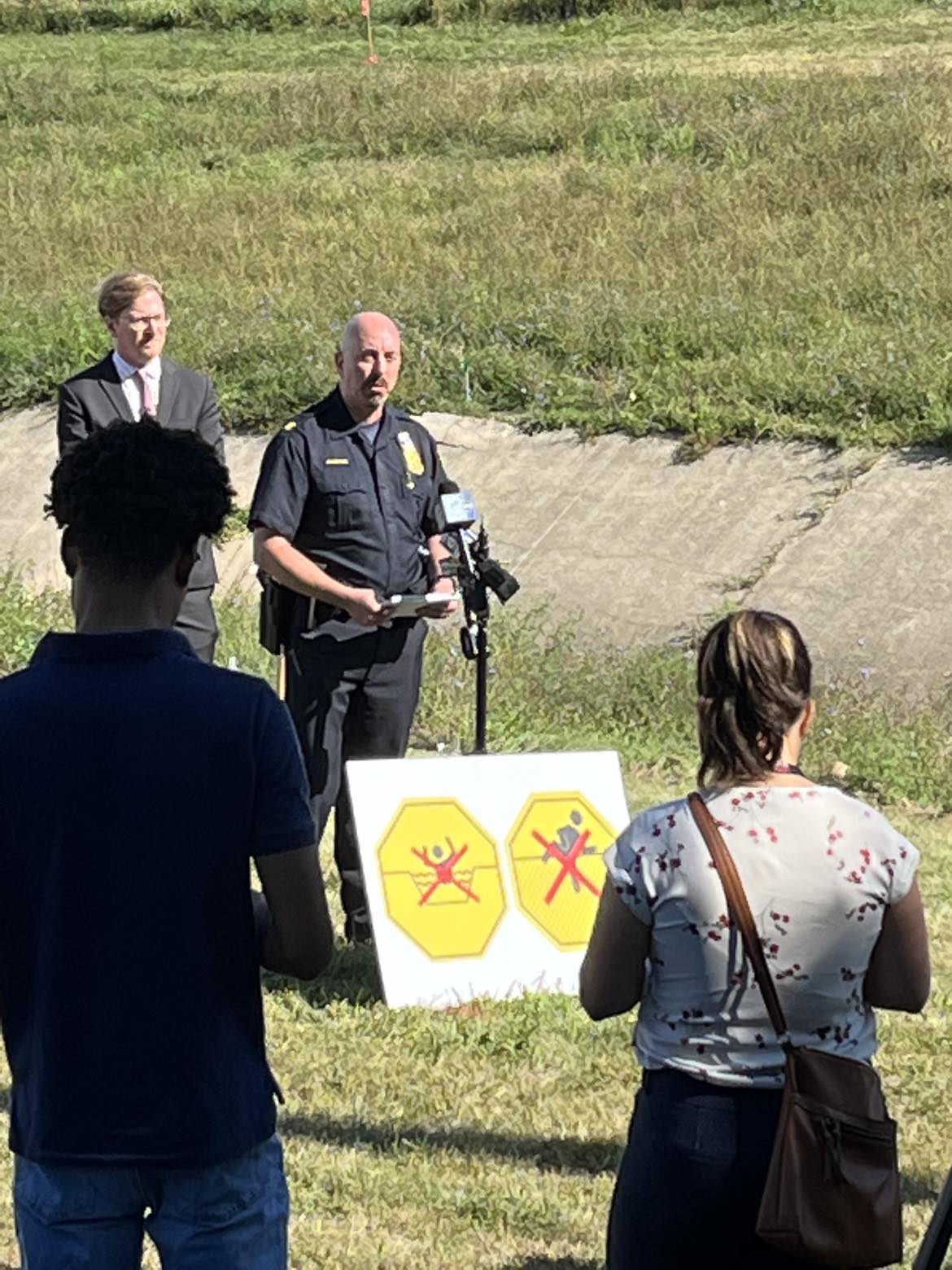 Photos by Ludys Ebratt
Chief Aaron Lipski of the Milwaukee Fire Department.                     Milwaukee Police Department District 6 Captain Eric Pfeiffer
"We even talked about the way they cut the grass," Atta said. "It was decided to let it stay long close to the concrete channel to stop balls from rolling down the slope. This concrete is a big challenge, especially for children."
Zablocki Elementary School students provided a kid's view
"We got involved because, sadly, the student who drowned was one of our students. He was a fifth grader and had just graduated," said Ludys Ebratt, Zablocki Elementary School's community school coordinator. "His father drowned. And the neighbor who drowned was the father of a previous student. We were directly impacted by the loss of the three individuals.
"We have students who live in that area where the canals run. It was important to us to be part of those conversations."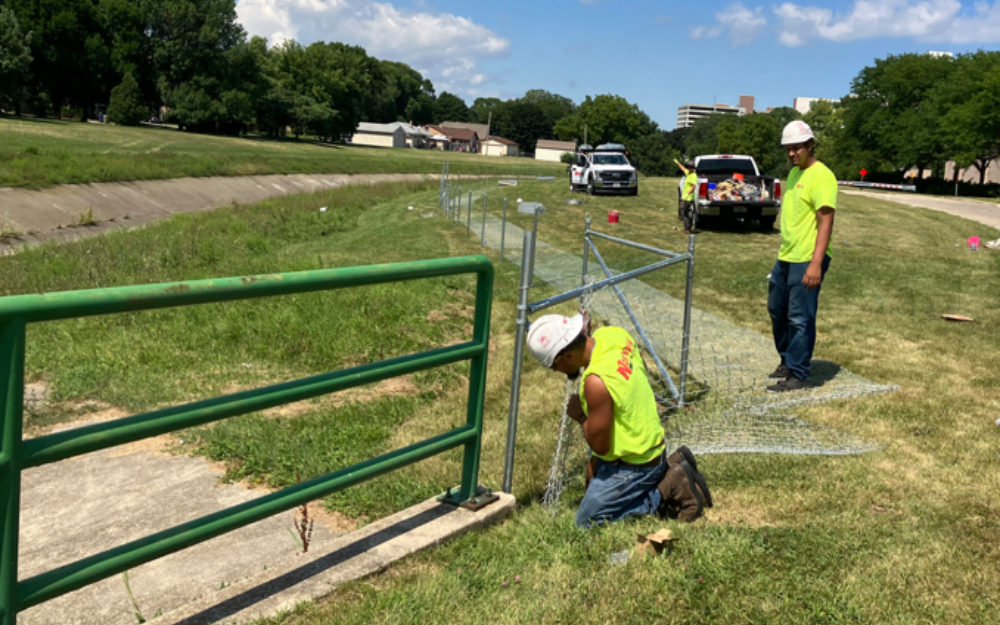 Courtesy of MMSD
Milwaukee Metropolitan Sewerage District installs fencing along concrete channels in Milwaukee.
Zablocki is one of 16 schools in the Milwaukee Community School Partnership, schools that incorporate "a transformational approach based on three pillars: shared leadership, equity and cultural relevance," Ebratt explained in an interview with WMJ. This approach develops a "broader lens" by engaging all stakeholders—parents, students, teachers and administrators—in leadership, she said.
"We focus on developing youth leaders so they understand that even though they are students, their voices carry weight. We want them to understand they have the ability to change their school and their community."
Consequently, when it came to the Kinnickinnic River Safety Project, Ebratt wanted the students' perspective included. "I've come to realize after working with children that what I understand a sign to mean is not necessarily what a kid will understand," she said. "We needed to create something the kids themselves would understand and interpret without having an adult there to say what it means."
She let the committee know she wanted to participate and suggested engaging the students.
Ebratt reached out to parents of Zablocki Elementary's youth leaders to ask if their children could be a focus group that provided input on the proposed signage. The response from all was "Yes, absolutely," she said.
When the students met, they had a conversation about the loss of a fellow student and how everyone felt about it. "They all knew Muhammad or knew of him. They understood the importance of the work we were going to do that day," she said. 
Ebratt showed the students signage options that had been developed. She asked them if anything was missing from each sign. "The kids were saying the signs needed to be bigger and bolder colors. They said not to include words because some kids don't read English. One of the kids also suggested there be a sign to say, 'Call 911.' I also asked them to vote on the sign with the clearest messaging.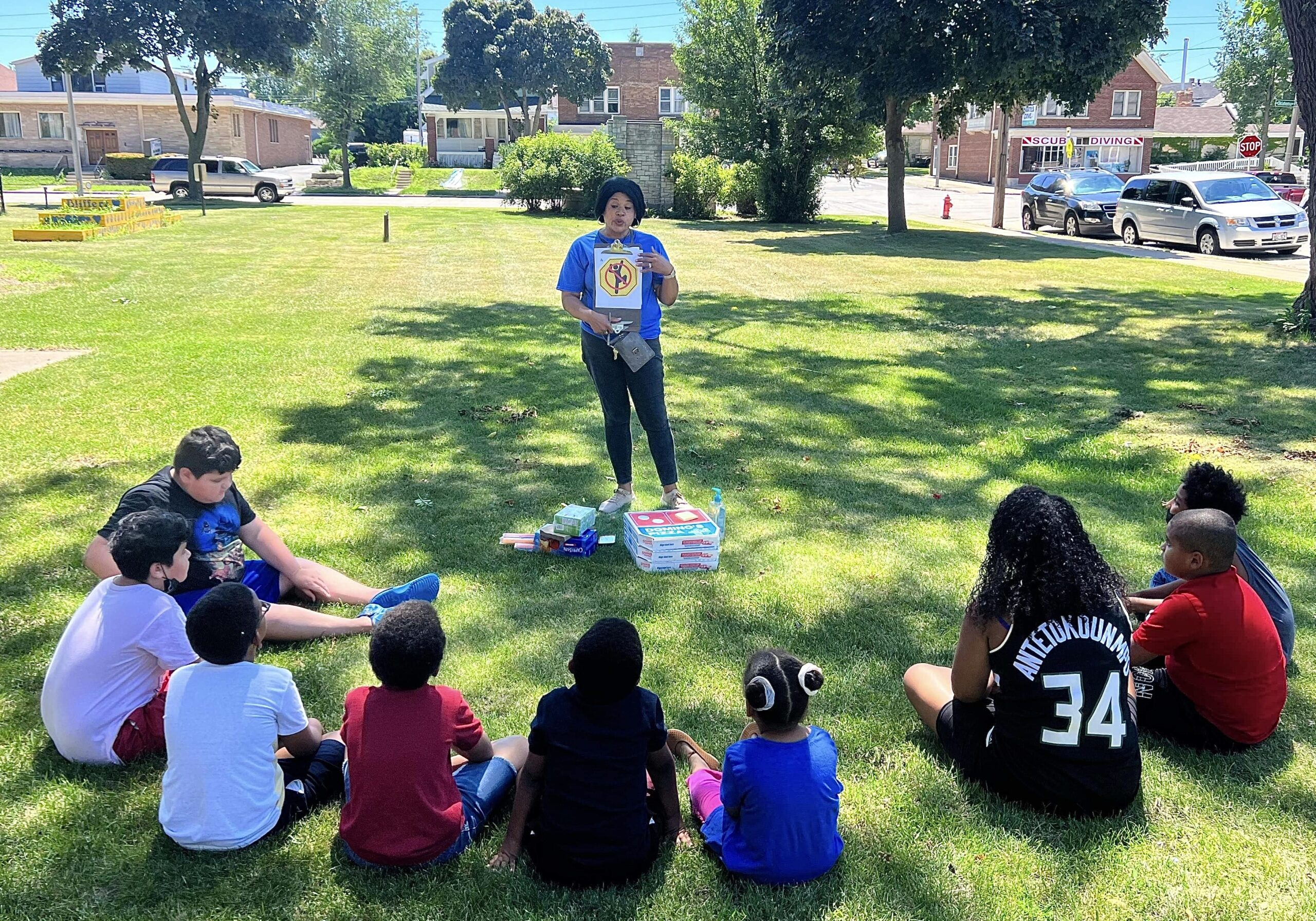 Courtesy of  Ludys Ebratt
Zablocki Elementary School's community school coordinator Ludys Ebratt led a focus group of students who provided feedback on MMSD signage.
"I remember one of the A-ha moments when I started to look through the eyes of the students, or even remember myself as a child. One particular sign that intended to show the slope was slippery looked like it was inviting me to slide down and swim."
Ebratt wrote down their responses and shared them with the committee. "I wrote down verbatim everything they said. 
When the students were done, she encouraged reflection. "How do you feel about what we just did today?" she asked.
"All of them said they felt good because they felt like they were doing something important so no one else would drown. A couple said Muhammad was their friend and 'when I walk by the canal, I know I did something to prevent it from happening to someone else'. Another said it was a way to honor their friend.
"I really appreciate MMSD and everyone on this project for taking the time to listen to the kids," Ebratt added. "Without doing that, we might come up with solutions that were not exactly what kids needed at that moment."
Spreading the word
In addition to signage near the channels, the team developed door hangers, social media posts and fliers for educational outreach. The advisory committee reviewed and helped finalize the outreach materials, and assisted with translation.
The communication campaign launched this spring, Taddy said. Educational material about the concrete channels and safety were added to the MMSD website. Taddy emailed a toolkit to committee members in April and asked them to share it, the educational material and messaging in their communities. She also offered to have materials printed.
"Our goal was to provide all these partners who have those community connections and talk with people every day with resources to help get the word out," she said. 
ISM volunteers helped distribute information through door hangers and fliers. MMWC also shared information with its many contacts in the Muslim community. Milwaukee police officers went door-to-door to share information, she said.
"The community partners really did the heavy lifting," said Taddy, who described herself as a facilitator in the process. "They talked with the community, brought us feedback, helped spread the word. 
"We couldn't have done any of this without these partners, especially the Milwaukee Muslim Women's Coalition and the Islamic Society of Milwaukee. They were instrumental in making this successful and being a conduit to the community members."