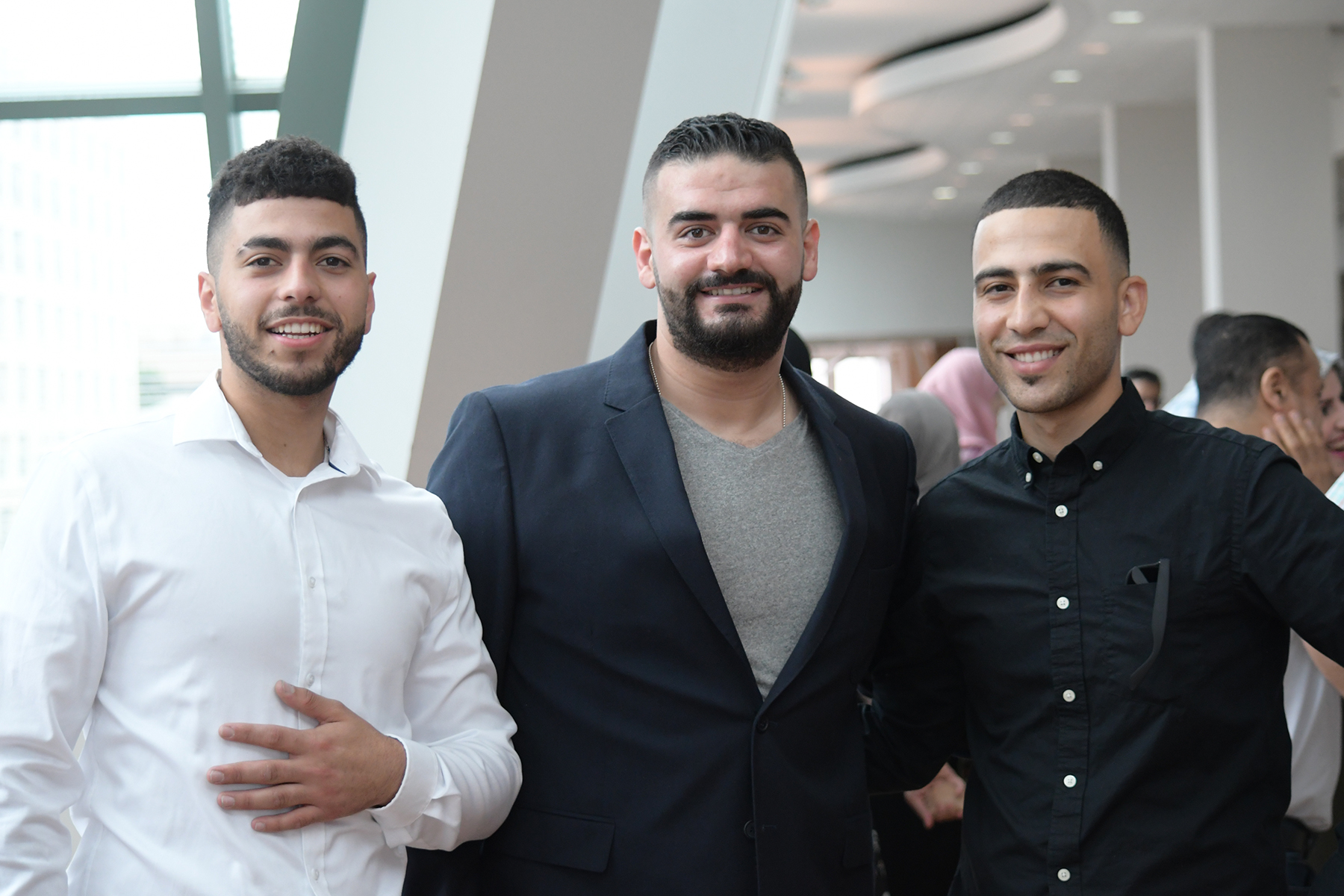 © Photo
Lila Aryan Photography for the Wisconsin Muslim Journal
A week of somber news reports could not stem the feeling of joy last Sunday as thousands of Milwaukee-area Muslims gathered to celebrate Eid al-Adha at the Wisconsin Center downtown and at mosques around the city. Eid al-Adha coincides with the annual Hajj, where millions from around the world were gathered for pilgrimage and prayer in Mecca, Saudi Arabia.
"It's really nice to see the community all together and to have a support system of brothers and sisters who believe as I do," Heather Gilvary-Hamad, who has been Muslim for six years, said at the Wisconsin Center.
Imam Ziad Hamdan spoke of this inclusiveness in his sermon following community prayer. Membership in the Muslim community, he said, "is not something you are entitled to because you were born Muslim." It is not based on being of "a certain race, color, or ethnicity, but on certain principles, morals, manners, and conditions."
The Imam emphasized this truth in contrast to the racially motivated violence that took place in El Paso the weekend prior and the religiously motivated oppression of Muslims occurring in Kashmir. In Islam, he said, "the preference is given to those who truly believe in Allah and are beneficial to others and beneficial to the community."
The Iman went on to describe the conditions that are necessary for inclusion in the Muslim community. The first condition, Imam Hamdan said, is "that we must believe in Allah" and have "love of God, love of his creation, love for all humanity."
The second condition, the Imam said, is "to enjoin what is right." This must be "embedded in our daily life."
And the third, he said, is "that we must forbid what is evil around us." He emphasized that those who "commit all kinds of crimes against humanity, they are for sure wrong and they are losers."
Imam Hamdan did not shirk from directly discussing the political challenges for Muslims. "There is a lot of evil, injustice, and corruption today," he said. "As Muslims today, we need to realize . . . in order to qualify for the preference of being members of this faith community, we must not misrepresent our faith. As Muslims today we must always be one community, united insha'Allah." And that means, he said, "In this free society, we need to mobilize ourselves and stand with our brothers and sisters who are suffering around the world."
Muslims must care about "the affairs of other Muslims," those who "are suffering day and night at the hands of the hypocrites, the dictators," said Imam Hamdan. "We need to stand with our brothers and sisters in Iran, Afghanistan, Syria, Yemen, and Palestine. This is our duty. Enjoin what is right and forbid what is evil."
Following the sermon, Naheed Arshad said, "I think most of us here are very conscious of what is going on in Kashmir. We have so much to be grateful for that we can go to a prayer service . . . [Kashmiris] were allowed out just today. . . It is a very sad time . . . our hearts are with them."
Last Monday, India's Hindu nationalist government made a unilateral decision to revoke Kashmir's autonomy. The revocation was enforced by an influx of troops, sparking protests and violent clashes. People in the majority Muslim region were trapped in their homes and harassed by soldiers when they tried to leave them, unable to prepare for the Eid al-Adha celebration or even to buy food for themselves and their families.
"The Kashmir situation is really bad," said Dr. Shakab Razzaq, adding that India's prime minister Narendra Modi "is a fascist now. The main party," the ultra-nationalist BJP, "is a terrorist organization."
Rights groups allege that since Modi's ascension to power in 2014, the BJP has stoked anti-Muslim violence while the government has failed to protect Muslims from angry Hindu mobs.
And yet, as Naheed Arshad said at the Wisconsin Center, "Celebrating this day is important from a religious point of view, and it also gives us a sense of community. To see everyone in the same place at the same time is a unique opportunity."
"I feel very happy," said Mohamed Montasir. "This is the biggest day of the Muslim year for people now in Mecca doing Hajj and for us."
Three little girls holding hands with their mother wore rainbow-colored ballet skirts. After prayer, children chased each other through the hall and played with the red string defining sections of the floor. Women posed for photos in beautiful dresses bought the day before on Devon Avenue in Chicago. "Happiness, colors, celebration," said a young woman named Nisreen when asked what Eid meant to her.
Imam Hamdan concluded his sermon by wishing everyone a blessed Eid, "Eid Mubarak!"
© PHOTO NOTE: All the editorial images published here have been posted to the Wisconsin Muslim Journal's Facebook Page. That collection of photos contains the WMJ watermark for attribution, and may be used for private social media sharing.