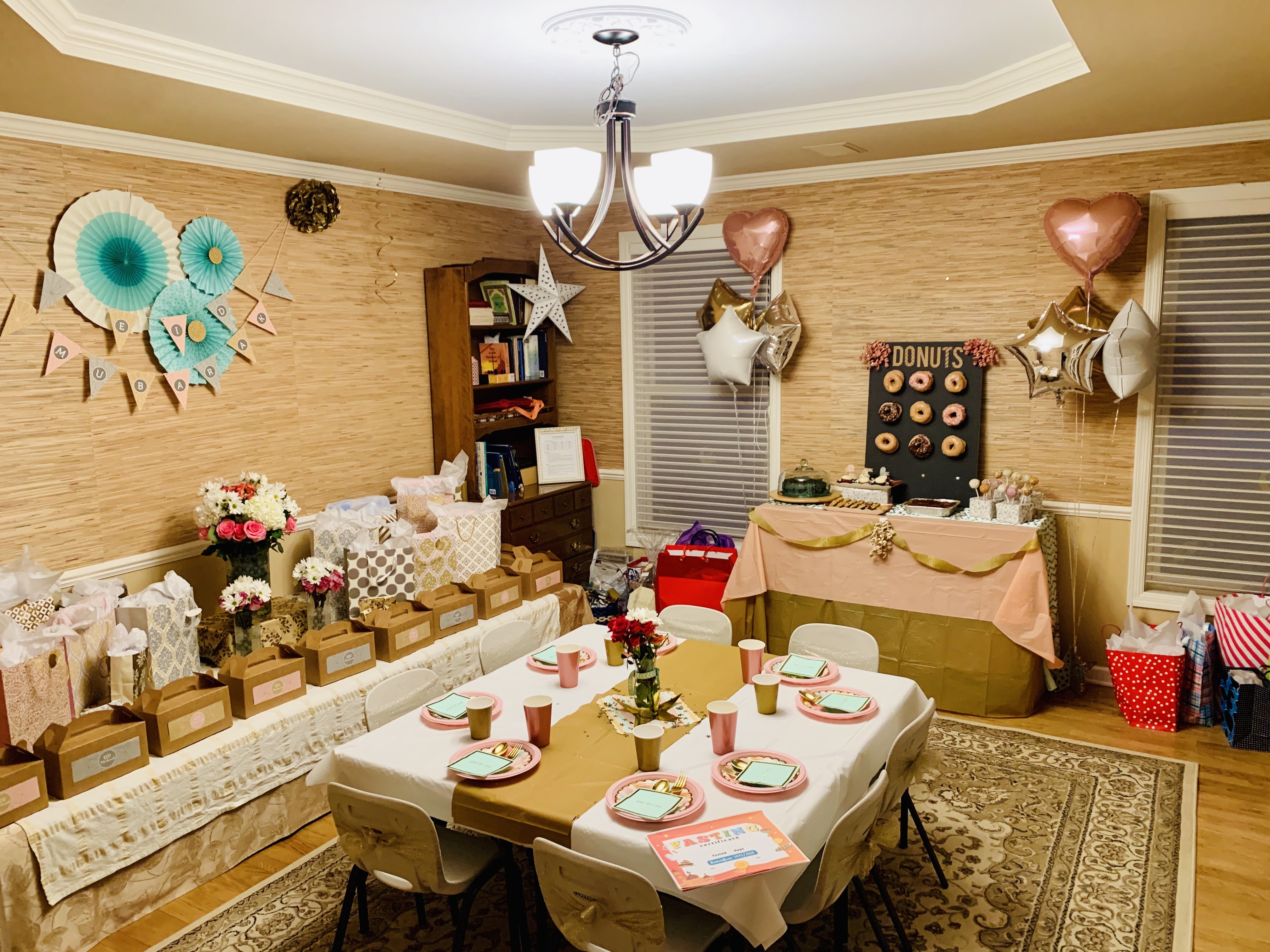 With Eid al-Adha community events and gatherings limited by the COVID-19 crisis, Wisconsin Muslim families are ramping up their family traditions to create a holiday spirit for their children.
Make it fun
The day of Eid al-Adha is to be celebrated, said Shaykh Noman Hussain, imam of the Islamic Society of Milwaukee – West's Masjid Al-Noor. "We will do a lot of different fun activities for the kids because we want them to connect the day of the Eid to joy, happiness and excitement.
"In our society, where a lot of the holidays are really celebrated, commercialized and everybody sees it, sometimes Muslim kids may feel left out, especially during Christmas time. I tell parents all the time, there is nothing wrong with celebrating. There is nothing wrong with decorating. It is something we should take advantage of.
"When it comes to the Eids, Muslim families should go all out. Let our kids feel they have special days they can look forward to all year long. We should do what we can to create love in our kids' hearts for our religious traditions and holidays," he said.
"There are certain things we should be doing, as the prophet says." We should be eating and celebrating. Make sure you have a lot of good food and sweets. Buy new clothes for yourself and your children, if you are able.
Muslims should express their faith, making tahleel, takbeer, and tahmeed, he said.  While driving in the car together, families can loudly recite: "Allahu Akbar, Allahu Akbar, Allahu Akbar, La Ilaha Ilallah, Allahu Akbar, Allahu Akbar, Allahu Akbar, Wa Lillahil Hamd" (Allah is Great, Allah is Great, Allah is Great. There is no God but Allah.  Allah is Great, Allah is Great, Allah is Great and all praises are for Allah.) It will be fun, will help your children memorize it and make even the car ride a special memory for them, he said.

Eid al-Adha is a celebration for Muslims everywhere, even though most could not go to the Hajj this year, Shaykh Noman explained. "It commemorates the beautiful story of Prophet Ibrahim (PBUH), who was willing to sacrifice his son Ishmael (PBUH) at the command of God. Then a ram was sent to replace Ishmael and to show that Ibrahim's sacrifice was accepted." The Eid al-Adha presents an opportunity to share stories of Prophet Ibrahim with your children, he said.
Celebrating with bouncy castles, decorations and sweets
This year the adults in the Shaykh Noman Hussain's family will feel more somber than usual, but they still intend to "hype it up for the kids," he said.
This Eid al-Adha will be the Brookfield family's first without Shaykh Noman's father, who died about a month ago.
Shaykh Noman is also disappointed he was not able to go to Hajj this year. "Because of the lockdown, this is one of the rare Eids I'm home," he said. He has been leading hajj groups for the past eight years. "Looking at the pictures and videos coming from Mekkah, I'm feeling the sadness of not being there. But we are here for the kids and staying safe. That is the silver lining in all this."
"In our own home, we have a tradition of buying gifts for all the children. We decorate the house. We make sure we get a bouncy castle for the backyard," Hussain said.
Hussain's five children, ages 5 through 8, have been involved in decorating. "That's a big part of the fun." The family exchanges gifts for the children on the afternoon of Al-Adha in a big celebration with their family in Chicago, including his children's 16 cousins.
"We ask our kids what is one thing they want to sacrifice for the sake of Allah, whether it be a toy or something else they are attached to. We want to encourage them to join in the spirit of the story of Ibrahim."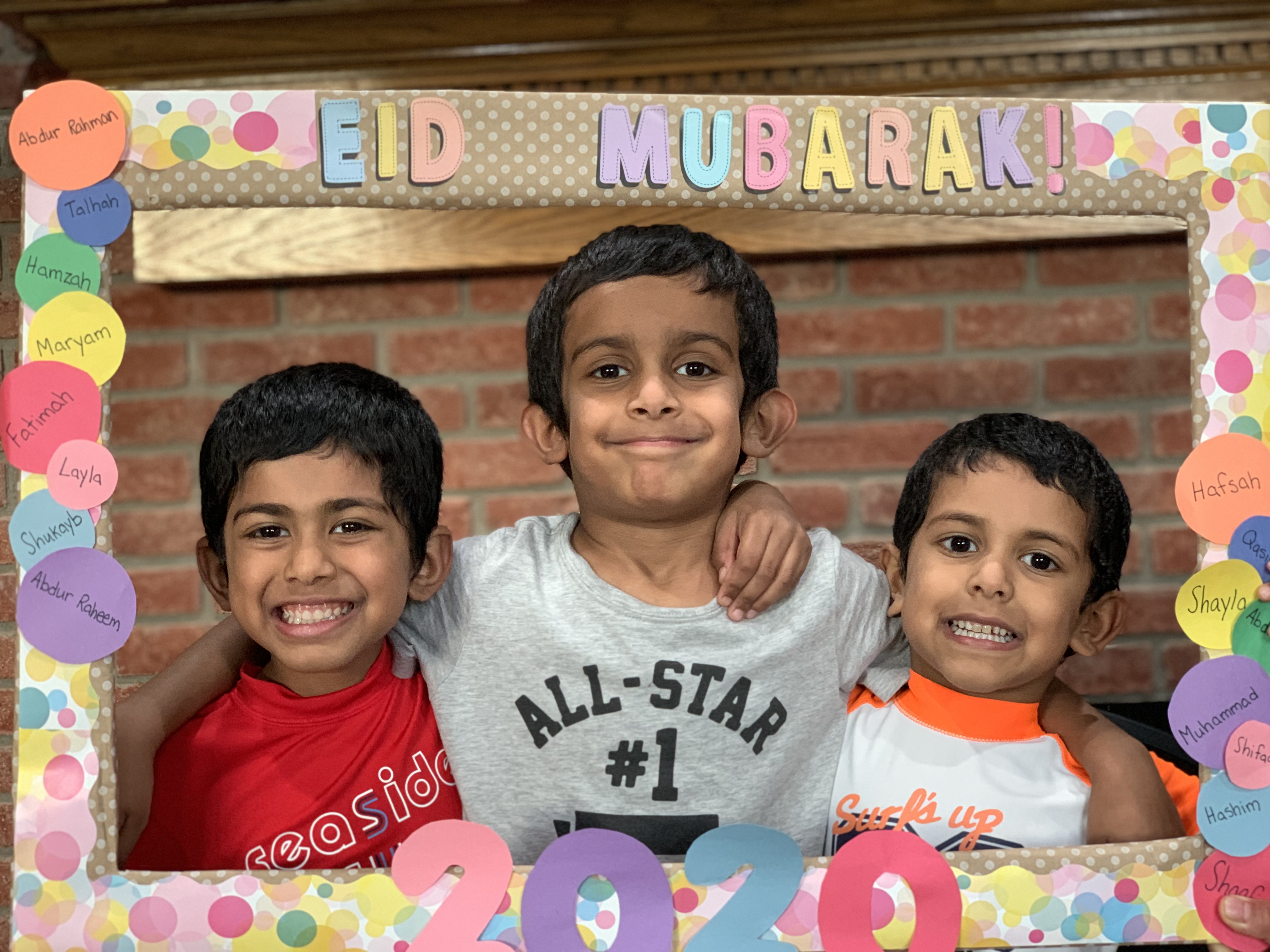 Hashim, Qasim, and Muhammad Hussain are excited about the Eid.
Setting the tone for the year
Laila and Ahmed Azam of Franklin consider the Eid al-Adha and the days leading up to it as a time to "set the tone for the year," said Laila. "We have Ramadan, then we always need a little boost to get back to remembering to do good deeds, not just these 10 days, but to keep it going."
She hopes their four children, from 5 months to 9 years old, will grow up learning about sacrifice. "There are some things we don't want to do, but we have to do them," she said.
"With this pandemic, I think that it is crucial to understand the importance of sacrifice," said Azam, who is a clinical assistant professor of public health at Carroll University in Waukesha.
For example, on the day of Eid, the Azams usually bring a petting zoo to a big gathering with extended family. Instead, the family will have a couple of smaller get-togethers and no petting zoo. "They are very sad about that, but they understand it is part of being safe and healthy, and that it is a sacrifice for the health of the community at large.
"We have to keep that momentum and that willingness to sacrifice because COVID is still around."
The Azams have marked the 10 days of Dhul-Hijjah by emphasizing good deeds and remembering Allah, said Laila.
"Now that our girls are older (Ayah, 9, and Sofia, 7), I feel like I can teach them these are the best days of the year for doing good deeds and remembering Allah. Let's be nice to each other and do good things."
Azam asked her daughters to write down a good deed they did at the end of each day. "Feeding some animals" and "Being nice to our little brother," they wrote.
Ayah is fasting with her mother and father. "I'm so proud of her because she really wants to fast," Azam said. "Yesterday we talked about how your sins will be forgiven for two years – the year before and the year that is coming.
"My girls are really into art and they love to decorate. They are getting into drawing and painting. I hang their art around the house, so we use them for decorating and getting into that spirit. We have something tangible to remind us."
They usually went to the Islamic Resource Center and participate in Eid activities with their friends. This year, "we are trying to do more things at home. It is different and harder," Azam said.
The Azam children meet friends for play dates on Zoom and talk about what they will wear on the Eid. Instead of going shopping this year, the family ordered new clothes online.
They plan to go to the drive-thru Eid at the Islamic Center of Milwaukee on Saturday, but otherwise, it will be a low-key celebration. Azam finds some ideas of ways to share their faith with their children at home through the Family and Youth Institute website. Still the family aims to capture the spirit of the holiday, she said.
Building family traditions
Three days before the Eid al-Adha, Nawal Ilili of Brookfield and her youngest son Zayd, 10, were baking Eid cookies. The day before the Eid, the whole family was fasting, including their sons Adam, 17, Bilal, 14, and Zayd. The morning of the Eid, the family will go to the outdoor prayer at Masjid Al-Noor in Brookfield.
"We try to think about how to make them feel it is the Eid," said Nawal Ilili. "I will make a special breakfast."
Hassan Ilili will go to sacrifice a sheep at a farm, while the rest of the family awaits his return. The meat from the sheep is distributed as an act of charity.
"We usually get together with friends after we eat or go to the lakefront and rent bikes. This year, I don't know exactly what we will do. This year will be different. We will see friends at the prayer but from far away. Then we will go home and celebrate with our kids," Ilili said.
Still, they make a point to have a festive atmosphere, with the house decorated with posters and candles. They will wear new clothes and eat delicious food, made especially for the holiday.
Eid decorations at the Ilili's home in Brookfield
Learning traditions together
As a convert to Islam, Marina Zouaghi of Milwaukee knows how important traditions are for grounding one in her faith. "I didn't grow up with it, so I know it is important for our kids to learn about our Islamic holiday and culture," she said.
Zouaghi's husband Messaoud is from Algeria. They have a 4-year-old son, Amine, and a one-and-a-half year old daughter, Amel.
One of her favorite methods to help her children learn is through reading. She frequently checks books out from the Islamic Resource Center on Milwaukee's South Side, buys books and joins a group of friends on Zoom for a story time with their children. They recently read The Green Dinosaur Umbrella, which is a Hajj story.
Their house is decorated in gold and black to remember the Kaaba. In between her own graduate studies, Zouaghi is working on a master's degree in education, she creates holiday craft projects for her son. For this Eid, they will make a lamb.
On the Eid, her mother and two sisters, who are also converts will come over in the early morning and they will have a discussion on a religious topic. "We do this on Fridays and since the Eid falls on a Friday, we will continue," she said.
Then we plan to do a family barbeque and have a video call with her husband's family in Algeria. "We will help our son talk with his other grandparents in Arabic." Building family ties and traditions are an important part of the Eid holiday, she said.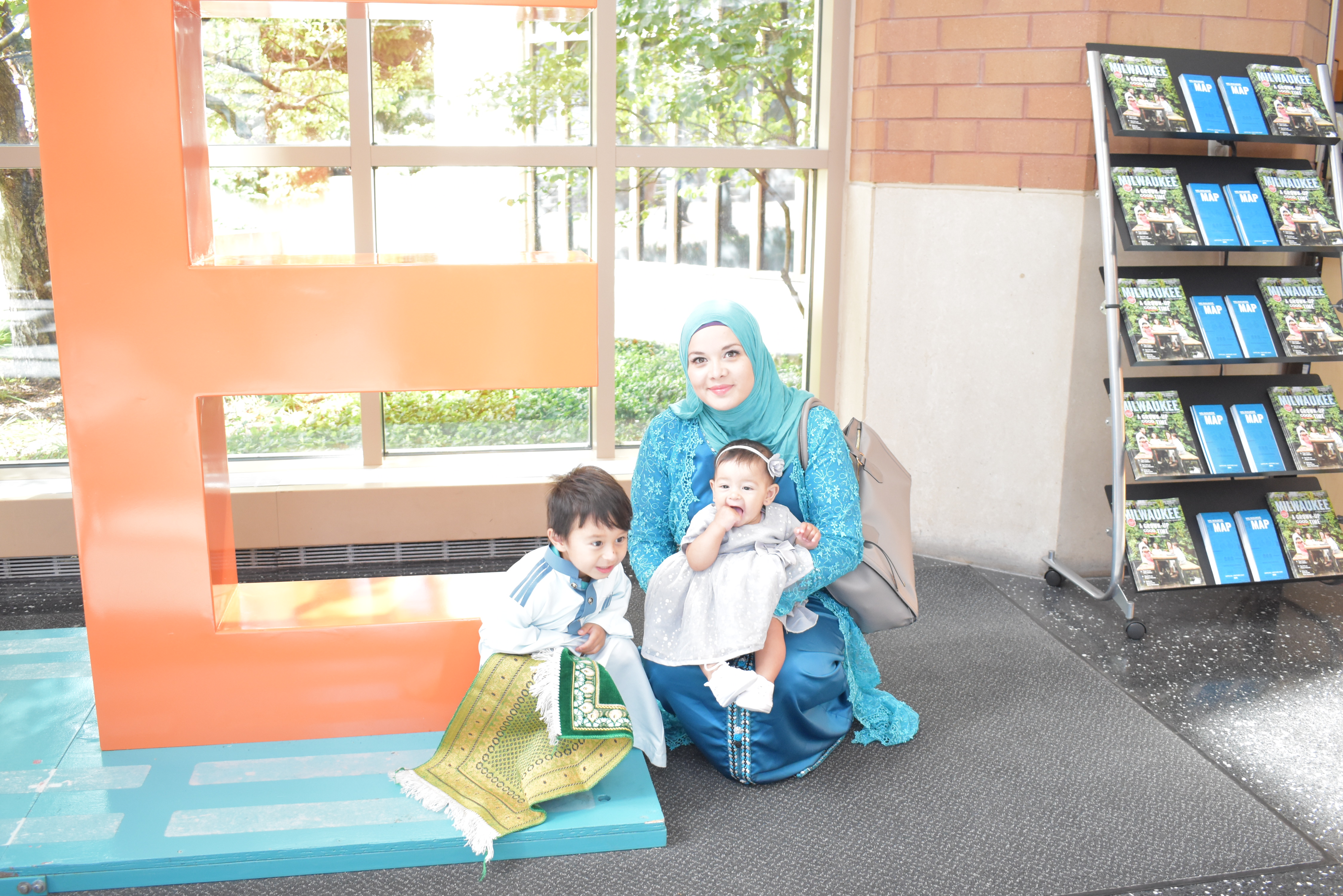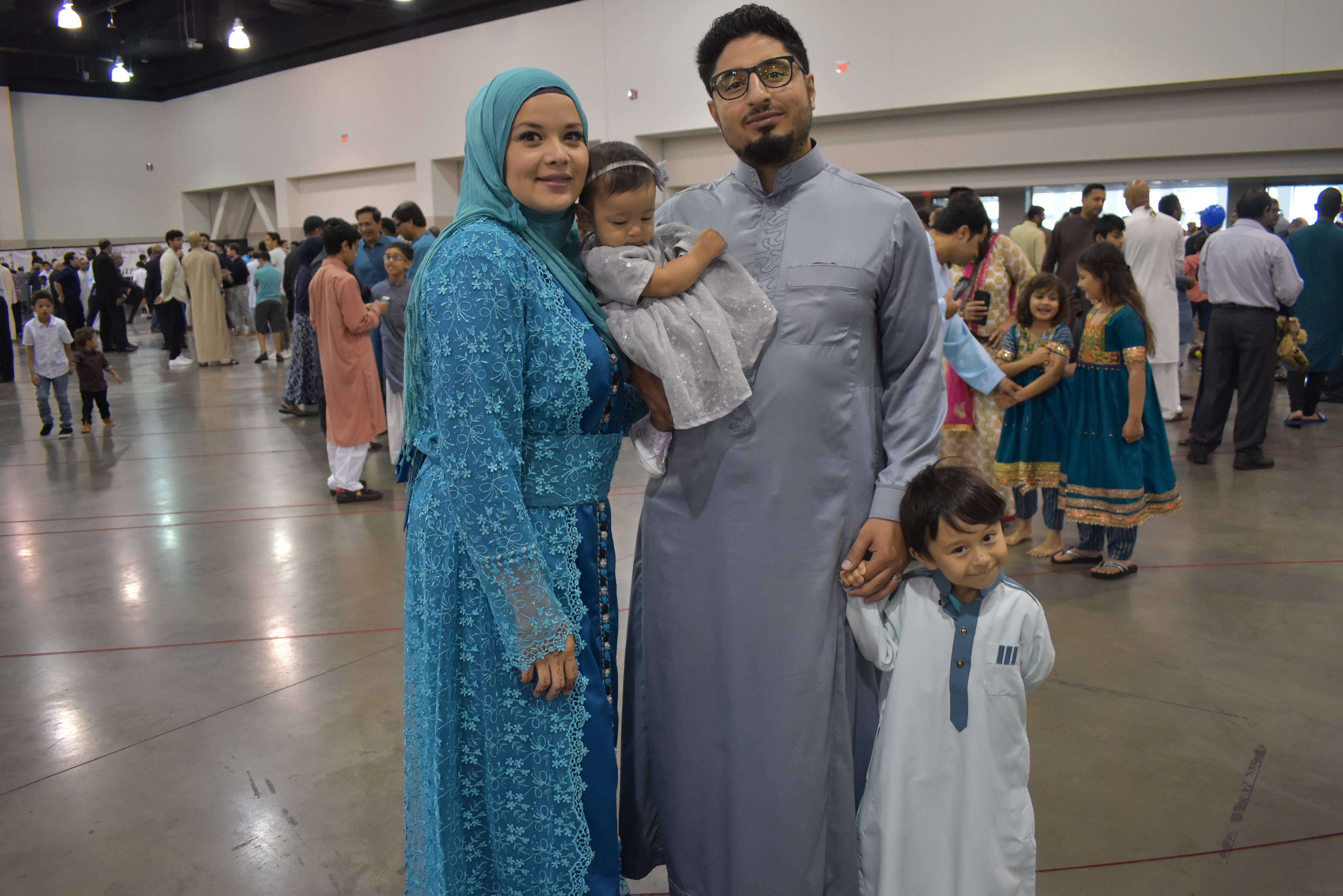 Marina Zaouaghi and family: Marina, Messaoud and children Amine and Amel
Enjoying the outdoors
Every Eid al-Adha, Tahjood Mohieldin and her husband of Milwaukee plan an outing for their children, Leeann, 11, and Abdu, 10. They often plan something outdoors, but during the pandemic, a family camping trip seemed safest. They are headed to a site in Kettle Moraine.
"We can still be with extended family but be socially distanced," Mohieldin said.
They will also enjoy eating lamb. "It's pretty much the only time of year we eat lamb, so that makes it pretty special," she said.
Last year, they had a backyard barbeque that attracted lots of neighborhood children who came to play. Tahjood ended up giving many of them candy and henna tattoos, after getting permission from their parents.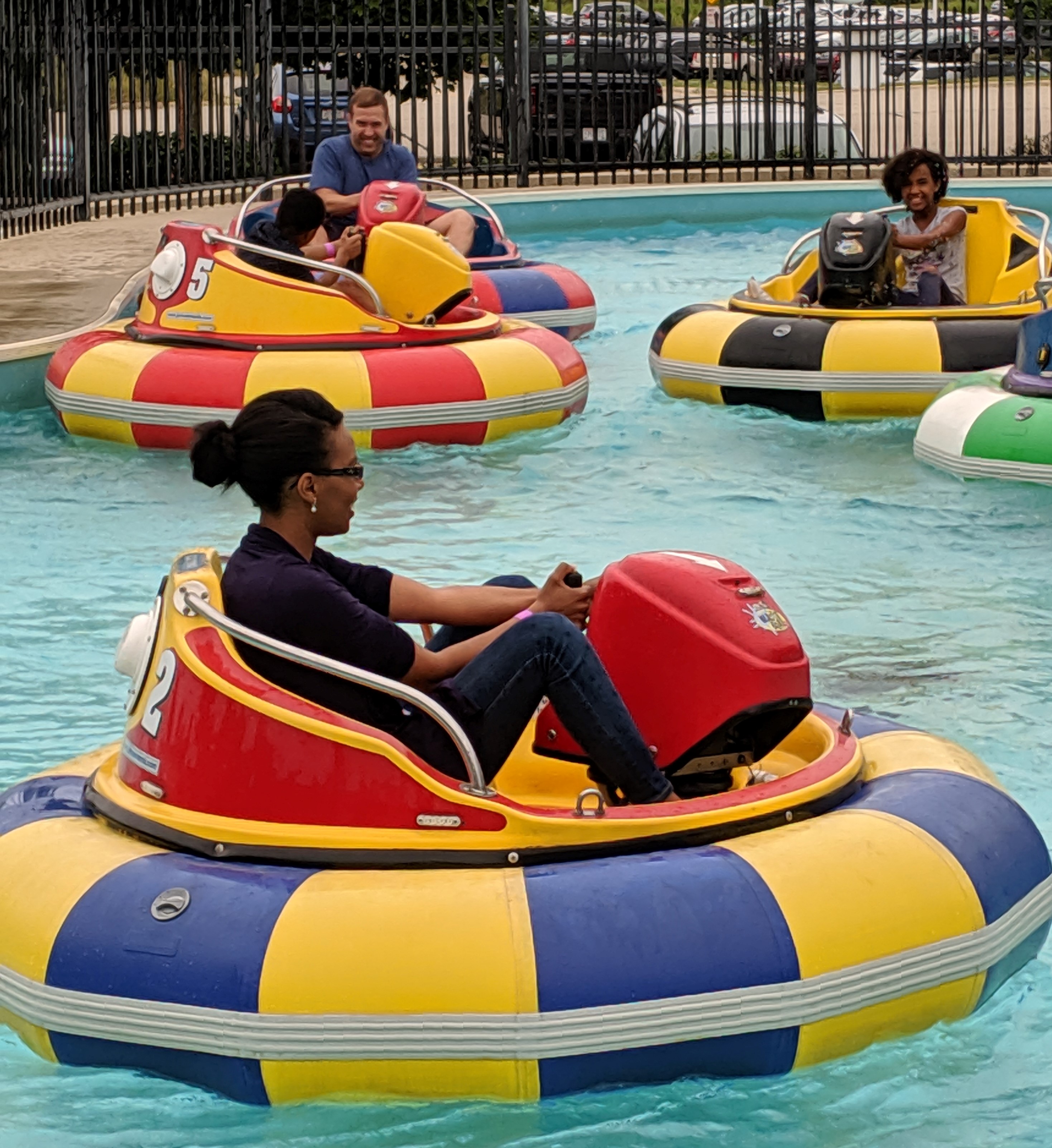 Tahjood with husband, Aaron and children, Leean and Abdu.