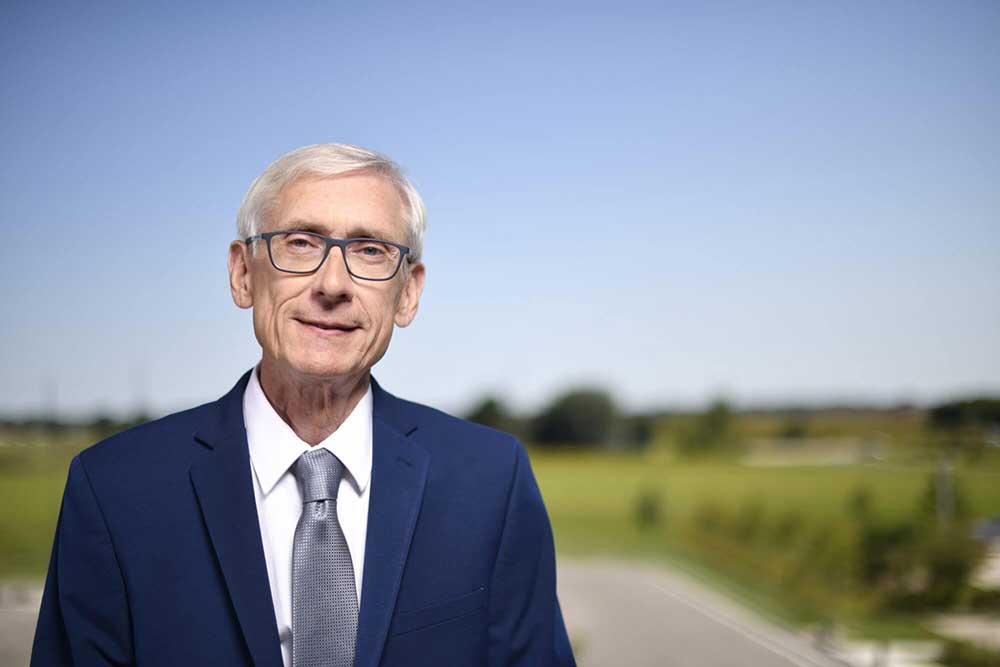 Photo courtesy of the State of Wisconsin 
Wisconsin Gov. Tony Evers proclaims July Muslim American Heritage Month.
Gov. Tony Evers signed a proclamation July 13 making July 2023 Muslim American Heritage Month in Wisconsin.
"Muslim Americans and Wisconsin's Muslim community are a critical part of our state and country, making essential contributions to our businesses, academia, law, healthcare and other aspects of our society," said Evers in correspondence to Wisconsin Muslim Journal through the Governor's Office. "It's so important that we recognize the history and contributions of Muslim Americans that are too often neglected and take opportunities like this to recognize their role in enriching our communities and our state. 
"I was glad to proclaim Muslim American Heritage Month in July as we keep working to celebrate our Muslim friends and neighbors and build a more just and inclusive state for everyone."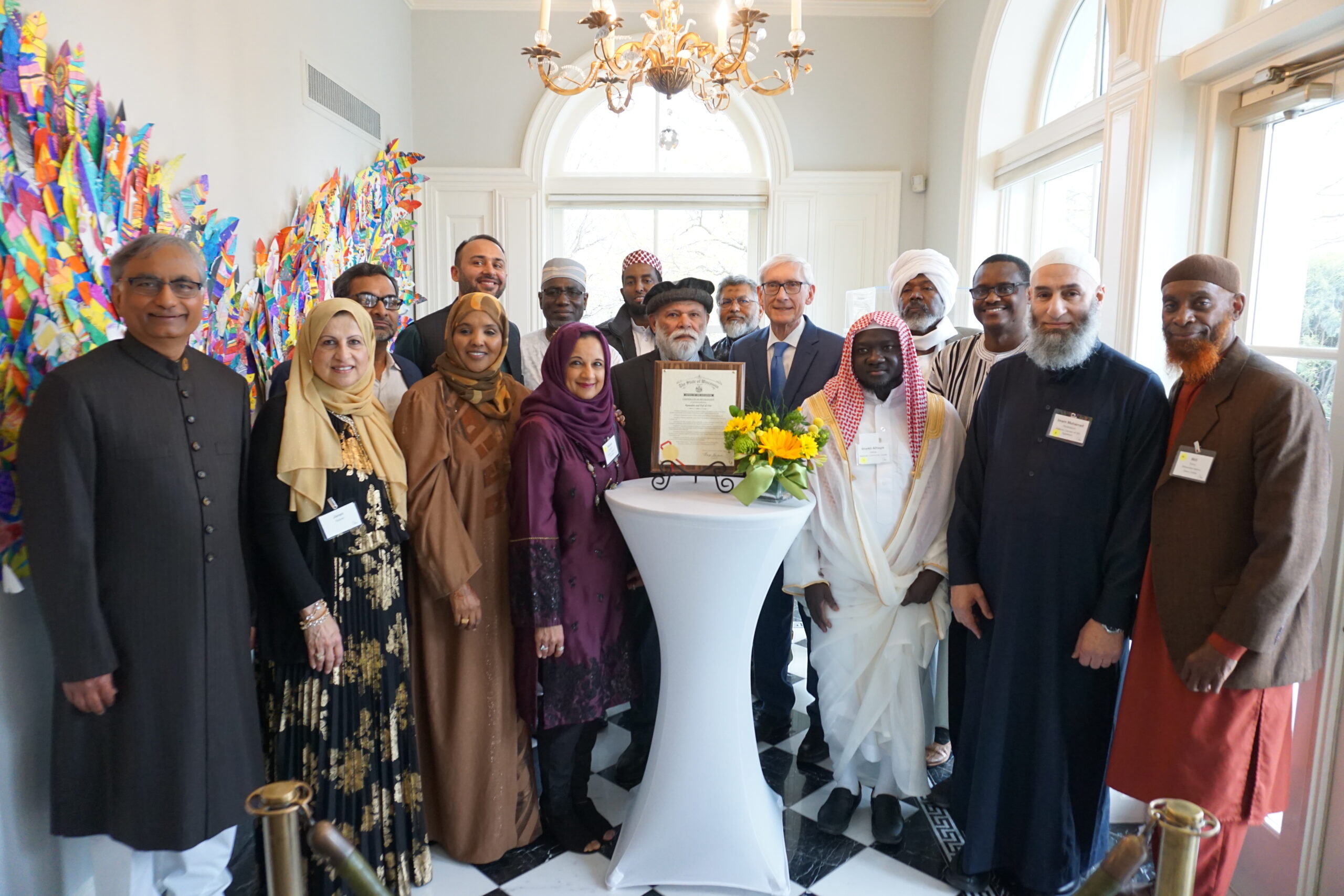 Gov. Tony Evers and First Lady Kathy Evers welcomed Muslim leaders from across Wisconsin to the Executive Residence to celebrate 2023 Eid-al-Fitr. (Front, left-right) Masood Akhtar, Janan Najeeb, Alder Nasra Wehelie, Tahseen Hussaini, Dr. Iftekhar Khan, Gov. Tony Evers, Sheikh Alhagie Jallow, Imam Mohamed Abdelazim and Will Perry; (Back, left-right) Abubakr Khan, Syed Abbas, Mamadou Coulibaly, Hasan Sheikh Abdali, Dr. Khalid Siddiqui, Ibrahim Saeed and Rep. Samba Baldeh.
The proclamation was requested by Masood Akhtar of Madison, founder of We Are Many-United Against Hate, a state-wide non-partisan movement that aims to address the root causes of hate, bigotry and racism. He also requested a proclamation that Evers signed in July 2022. With Evers' proclamations, Wisconsin joins a handful of states that recognize a Muslim American Heritage Month.
A smattering of recognition nationwide
A few states and cities have designated a month (not all the same month) to recognize Muslim American Heritage. New Jersey did it through legislation. Other states and cities issued proclamations. Some have permanent or long-term standing; others are annual recognitions that must be renewed each year.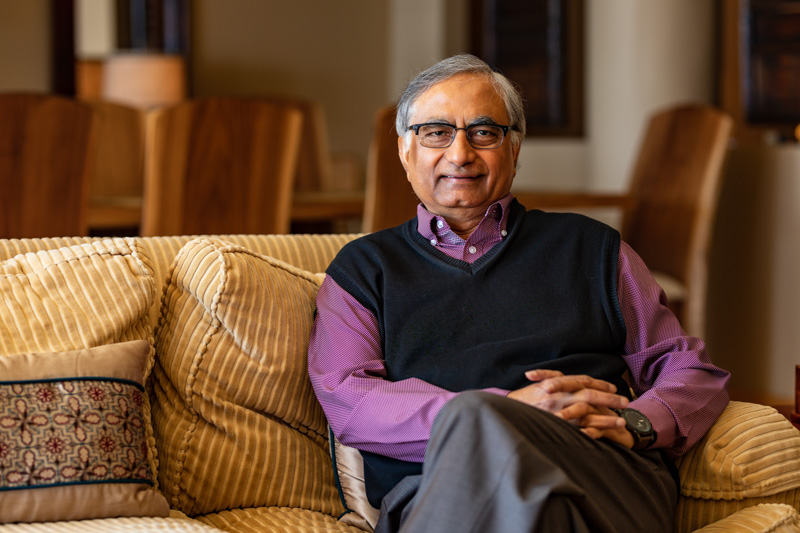 Photo by Hedi Lamarr Rudd
Masood Akhtar of Madison, founder of We Are Many-United Against Hate, requested the proclamation of Muslim Heritage Month in Wisconsin.
New Jersey made January Muslim Heritage Month. A bipartisan resolution passed by both state houses was signed by Gov. Phil Murphy at an Eid celebration at the end of Ramadan in April. New Jersey has the highest percentage of Muslim residents (3%) in the United States, according to the Pew Research Center.
The governors of Wisconsin, Utah and Washington have proclaimed July Muslim American Heritage Month since 2022. 
Illinois celebrates Muslim Americans in January. Illinois Gov. J.B. Pritzker issued a proclamation in December 2021 to mark every January starting in 2022 Muslim American Heritage Month.
A bill was introduced in April in the Texas House to designate the month of May as Muslim Heritage Month for a 10-year period beginning in 2024. It was left pending in committee.
At the city level, a similar scattering of resolutions and recognitions has developed in recent years. Thirty cities in Georgia passed formal proclamations marking July as Muslim American Heritage Month, according to a press release issued July 22 by Voice of Muslims, a grassroots organization of Muslim Americans that encourages participation in democracy.
The mayor of Richmond, Virginia, also recently declared July Muslim American Heritage, as did the City Councils of Olympia, Washington, and Los Angeles, California.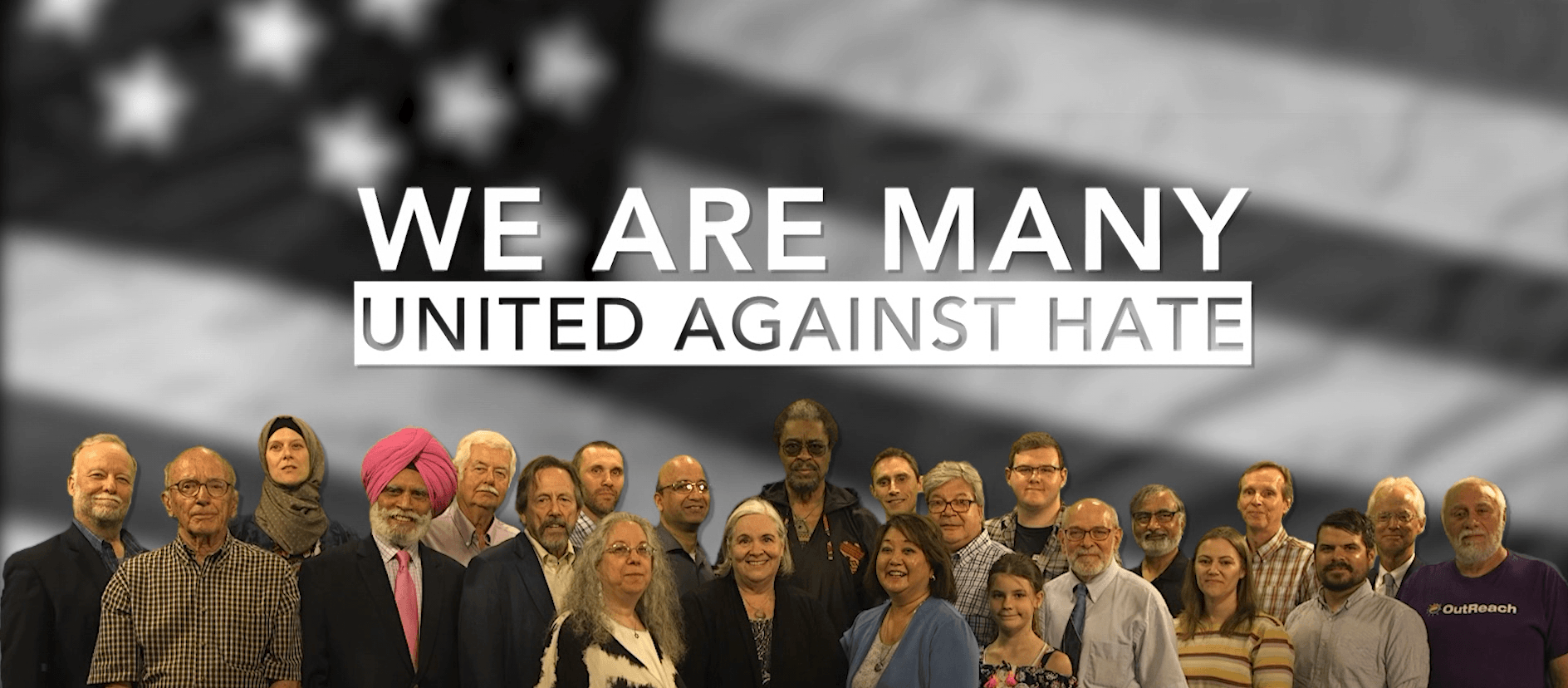 We are Many-United Against Hate's mission is to advocate policies that create greater economic security, promote religious tolerance, celebrate differences and honor America's heritage of openness to foreigners.
Cooper City, Florida, designated April to be Muslim Heritage Month and May 2 to be Muslim Day at a meeting in 2022. Another Florida city, North Lauderdale, proclaimed April 2018 to be Muslim Heritage Month. In 2021, Brown County, Florida, also proclaimed April as "American Muslim Heritage Month."
In 2018, the City Council of Anaheim, California, unanimously passed a proclamation to recognize June 2018 as Muslim Heritage Month.
What difference does it make?
"Securing a proclamation from a governor or mayor is a great start but only a start," said Janan Najeeb, founder of the Milwaukee Muslim Women's Coalition. "What we need is a statewide effort and collaboration to capitalize on it."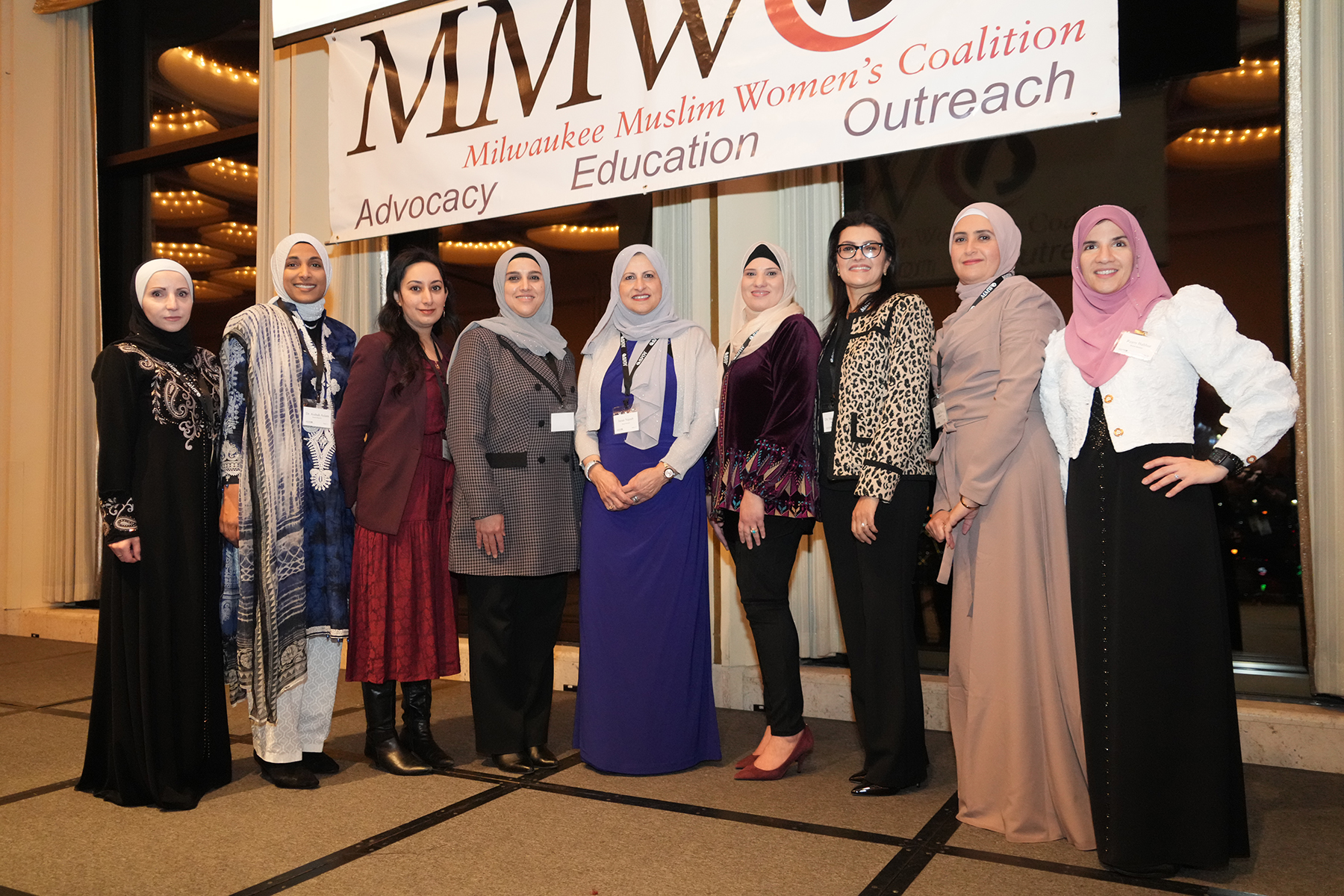 Photo courtesy of WMJ
Milwaukee Muslim Women's Coalition board of directors at its 2022 annual fundraiser (from left to right:) Dr. Dima Adl, Dr. Aishah Aslam, Dr. Soniya Yunus, Dr. Hana'a Alqam, Janan Najeeb, Sausan Naji, Dr. Hanadi BuAli, Nawal Illi and Ream Bahhur. (Not pictured: Dr. Fatoumata Ceesay and Dr. Sahar Kayata)
Akhtar agreed. "A lot of people still believe Muslims don't belong here and most of those people have never met a Muslim. We need to consider how we can use this platform (of Muslim Heritage Month) to educate them. We need to transition this proclamation into action."
Akhtar hopes to develop "an action-oriented" plan for next summer that includes Muslim organizations, non-Muslim organizations, Muslim public servants like Rep. Samba Baldeh (D-Madison), the first Muslim serving in the Wisconsin State Legislature, and local Muslim leaders to engage with fellow Wisconsinites. 
"In Dane County and Milwaukee, Muslims are engaged in the community and a lot of people know Muslims," he said. "People in rural communities have never met Muslims. I'd like to see an event in the Fox Valley area.
"We have to be strategic and patient," he added. "The state government is so divided. We need to move forward in a non-partisan way and build unity.
"Each of us needs to educate people in our communities, not just the politicians but also their constituents," Akhtar said.
Najeeb would also like to see events across the state throughout Muslim Heritage Month "that bring attention to the role and contributions of Muslims, particularly in areas where there is a minimal Muslim presence.
"I was part of a group that planned events for AAPI (Asian Americans and Pacific Islanders) Heritage Month. There were a number of events and it was very successful in highlighting the role of that population in Wisconsin. That's what I'd like to see us do as Muslims.
"Diversity has always been one of America's strengths. It's important for all Americans to understand its value."
Push for a nationwide heritage month
The United States recognizes nine cultural heritage months, all written into law, which include Black History Month (February), Asian and Pacific Islander Heritage Month (May), Jewish American Heritage Month (also May), Hispanic Heritage Month (Sept. 15 to Oct. 15) and American Indian Heritage Month (November). (Arab American Heritage Month was proposed by Rep. Rashida Tlaib (D-Mich.) in 2020 and referred to the House Committee on Oversight and Reform, where it is pending.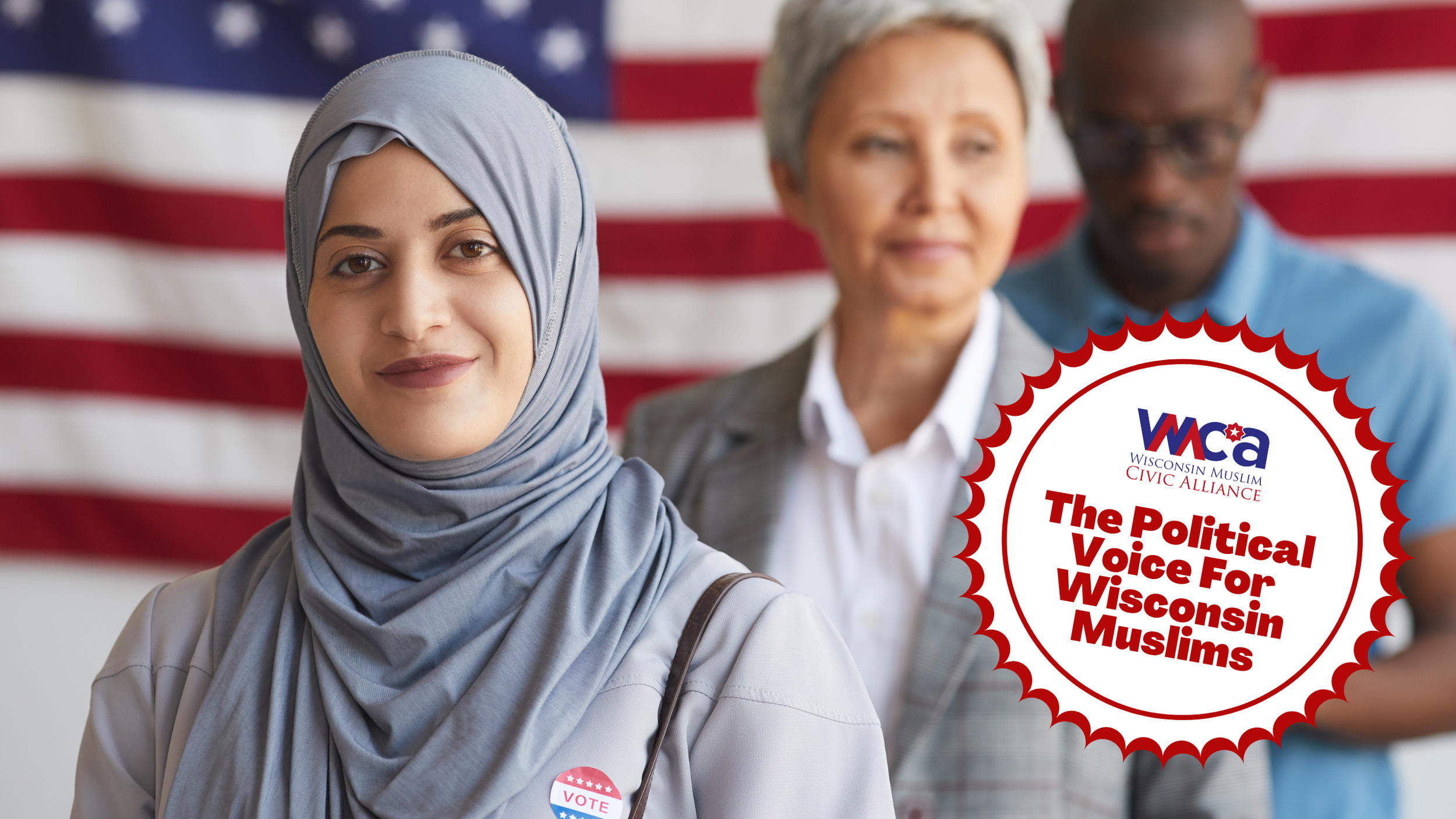 Photo courtesy of Wisconsin Muslim Civic Alliance
The Wisconsin Muslim Civic Alliance was founded in 2019 to empower the Muslim Community and its allies in civics, democracy and related issues, as well as to encourage participation in the electoral process.
Previous resolutions to recognize Muslim American Heritage Month were introduced in the Senate and House by U.S. Senator Cory Booker (D-NJ) in 2022 and by former Rep. Karen Bass, D-Calif., in 2021 but did not pass. (Wisconsin Congresswoman Gwen Moore was a co-sponsor of Bass' resolution.) In a press release, Bass explained that Muslim American Heritage Month is important because "of the numerous contributions and achievements of Muslim Americans through history and today" and because we must "address the persistent discrimination and bigotry Muslim Americans have faced and continue to face in this country."
"There have been a lot of individual efforts but until we have a concentrated, collaborative effort by Muslim organizations around the country, we can't expect major progress on establishing a national Muslim American Heritage Month," Najeeb said.