Photo courtesy of U.S. Palestinian Community Network
Nkosi Zwelivelile Mandela's U.S. tour commemorating the Nakba's 75th anniversary opens in Milwaukee Monday. Register to attend.
Grandson of anti-apartheid activist and South Africa's first president Nelson Mandela, Nkosi Zwelivelile Mandela, will visit Milwaukee Monday, May 15, to advocate for Palestinian liberation on the first stop of a U.S. Tour commemorating the 75th anniversary of the Nakba (an Arabic word meaning "catastrophe" that refers to the expulsion of Palestinians from their homeland in 1948.)
An outspoken advocate against oppression in his own right, the South African Parliament member and chief of the Mvezo Traditional Council will visit six cities in six days. Mandela will speak at 6:30 p.m. Monday at Turner Hall, 1034 Vel R. Phillips Ave., Milwaukee. Admission is free but advanced ticketing is recommended to reserve your seat. Reserve tickets here.
Mandela shares his strong position on Palestine
In an interview Monday in advance of his first visit to Wisconsin, Mandela explained why he considers Palestine is the greatest moral issue of our time. Below are paraphrased highlights of the conversation.
You and your grandfather have said Palestine is the greatest moral issue of our time. Why?
As South Africans, we have been in the struggle against colonialism for hundreds of years and 60 years against a brutal apartheid regime. We have been able to gain our freedom through a program we ran internally but also with support from the global community, not only from governments but from civil society as well. We have been able, through the United Nations, to declare apartheid a crime against humanity. That should mean there would be no other apartheid state anywhere.
In my visit to the West Bank in 2017, I witnessed the daily lives lived by Palestinians under occupied Palestine. I could not look away from the clear evidence of the violence and atrocities made against ordinary men, women and children, political prisoners in detention without trial. I came away from that experience with the realization that Palestinians are witnessing the worst apartheid regime we've ever seen, worse than South Africa's experience. 
What did you learn from your grandfather about Palestine?
My grandfather was the champion of many causes but the one that's very close to me is being a voice for the oppressed. In 1995, on his visit to Gaza, he said to the Palestinians that our freedom in South Africa is incomplete without the freedom of the Palestinians.
Tell us about your 2017 trip to Palestine.
I was not intending to visit because, as a South African, you must go to the apartheid Israeli embassy to apply for a visa. I refused to legitimize an apartheid state so did not apply. 
I flew to Amman, Jordan, and had meetings with various groups of Palestinians who came to see me. Every group, from women's and children's rights groups to those supporting political prisoners to civil society, asked me, 'Come see us.'
I decided we would do what was requested, see the daily lives of the Palestinians and I would share what I witnessed. I would go to the border and see if I would be allowed in. 
In the West Bank, a man told me he met a woman from Gaza at a university in Spain. They decided to marry. The entire family of the bride was not allowed to enter the West Bank for the wedding. The wife has been declared an illegal alien in her own country. If she leaves Jerusalem, she can never return. She can no longer see her family in Gaza. 
I met another family in Jerusalem. Some are living on top of the hill and they are not able to see their family living at the bottom of the hill—a husband and wife at the top of the hill and parents and grandparents at the bottom. The only way they can communicate is to raise a white flag every morning to say they are still alive. 
How do you feel about advocating for Palestinians in the United States?
I take this message anywhere and everywhere but there are particular reasons to come to the U.S.  When you unpack the U.S. involvement in our own struggle for liberation, various U.S. administrations supported apartheid South Africa whereas American civil society and civil rights groups in the United States supported our cause. It was found that the U.S. administration was very instrumental in my grandfather's capture in 1962. So, when we say we thank America for the freedom we enjoy today, we are saying thank you to civil rights organizations and activists who stood side by side with us, not U.S. regimes and administrations.
This is important because today the very same United States of America administrations are the ones that are funding apartheid Israel, spending hundreds of millions of dollar each year on military aid. As the American people stood with us and championed our cause, we want to call upon them to do likewise for the Palestinian people.
What is the most important thing you learned from your grandfather?
My grandfather dedicated 67 years of his life to serving humanity. In this, he has been able to inspire many generations of people across the globe to not be silent in the face of oppression. We should be able to rise and speak for the oppressed.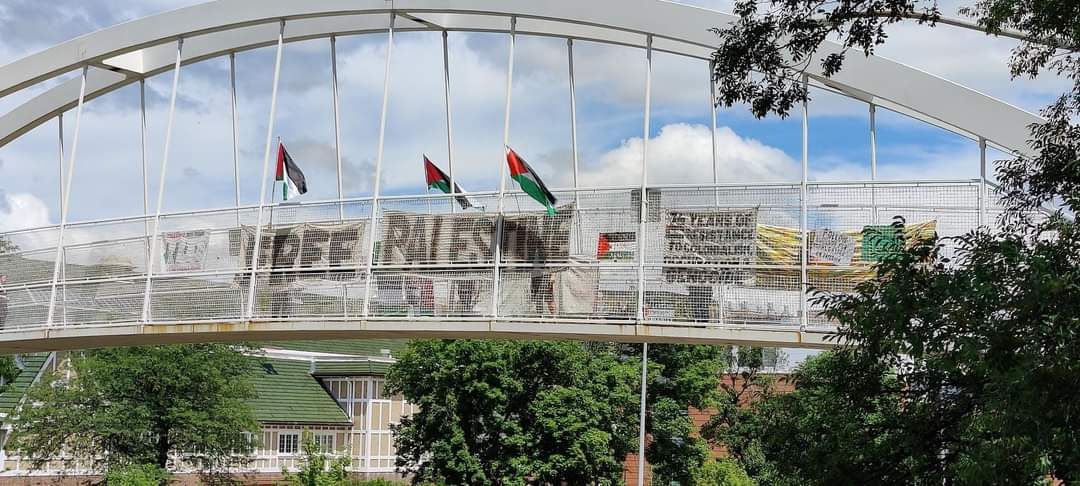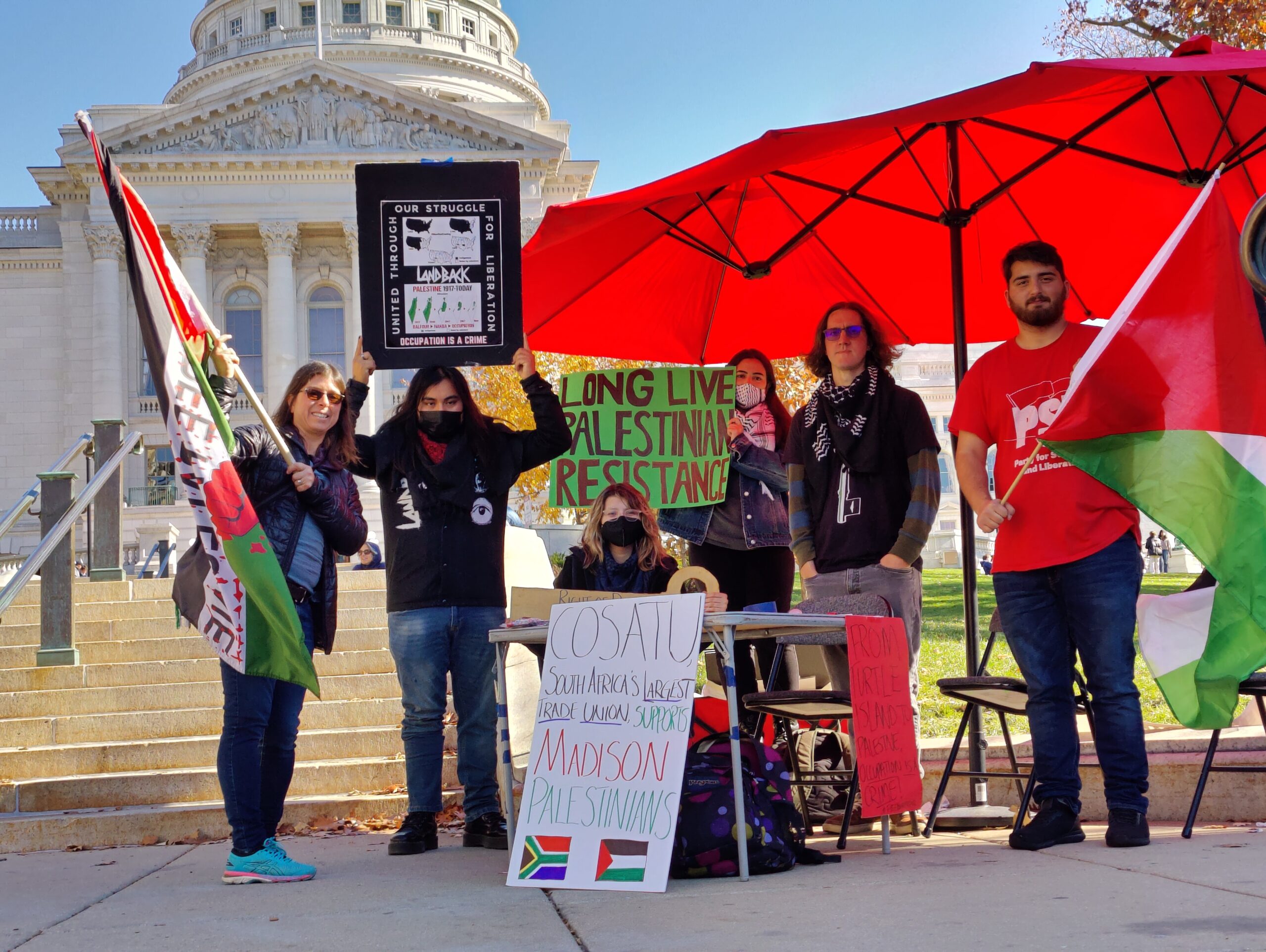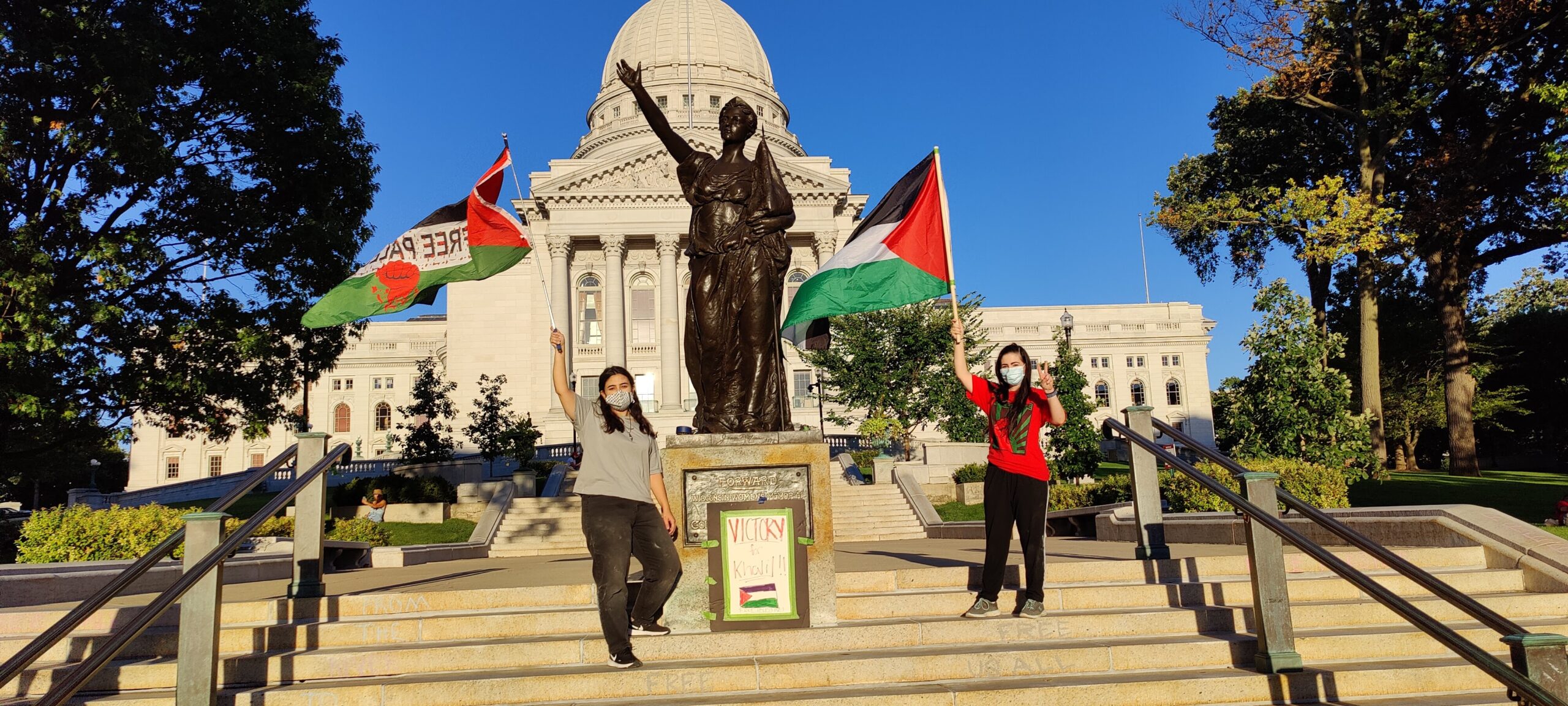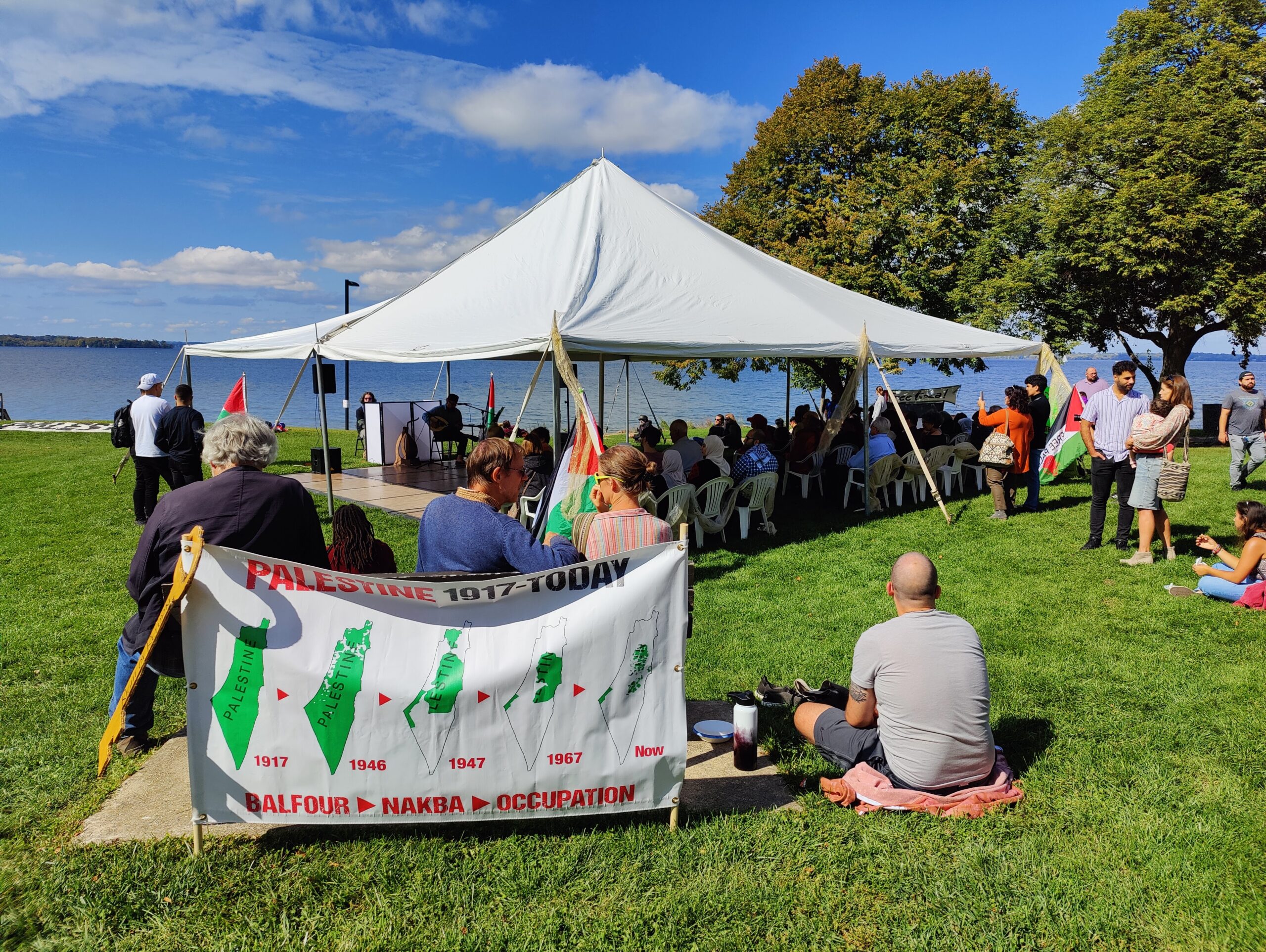 Photos courtesy of Madison for Palestine
Madison for Palestine and the Milwaukee Chapter of the U.S. Palestinian Community Network promote awareness in Wisconsin of the Palestinian struggle.
Wisconsin activists key in creating Mandela's tour
Members of Madison for Palestine caught Mandela's attention last summer with their posts about Palestinian issues. He reached out and a dialogue has continued ever since, said Ashley Hudson, founder of Madison for Palestine. Mandela met with members of Madison for Palestine last summer in a Zoom session to discuss mutual concerns about Palestine.
A few months ago, as Madison for Palestine's leaders discussed how they would commemorate the 75th anniversary of the Nakba, they thought of inviting Mandela. They also decided collaborating with the U.S. Palestinian Community Network would strengthen their invitation.
Hudson took the idea to USPCN National Chair Hatem Abudayyeh. "I said, 'Hey, this is a long shot, but what do you think about USPCN officially inviting him?'" 
They drafted a letter in March and made their case. "Given your steadfast commitment to Palestinian liberation, we think this would be a great opportunity to demonstrate to our communities and the world the significance of solidarity between the people of South Africa and Palestinians, both in Palestine and in the diaspora," they wrote. Then they waited for a response to their email.
"'Yeah, I'd love to do this,' he told us," Hudson recalled. 
With Mandela on board, they brought in the National Alliance Against Racist & Political Repression, a national Black liberation organization, as a like-minded partner. The national tour is hosted by the U.S. Palestinian Community Network and the National Alliance Against Racist & Political Repression.
USPCN national treasurer and Milwaukee chapter co-chair Haitham Salawdeh promoted Milwaukee as an important stop because of the city's vibrant Palestinian and Muslim communities, securing Milwaukee's place among the tour's six stops. 
Following Mandela's speech Monday at Turner Hall in Milwaukee, he will speak Tuesday through Saturday in Minneapolis, Cleveland, Los Angeles (Orange County), San Francisco and Chicago. See the complete tour here.