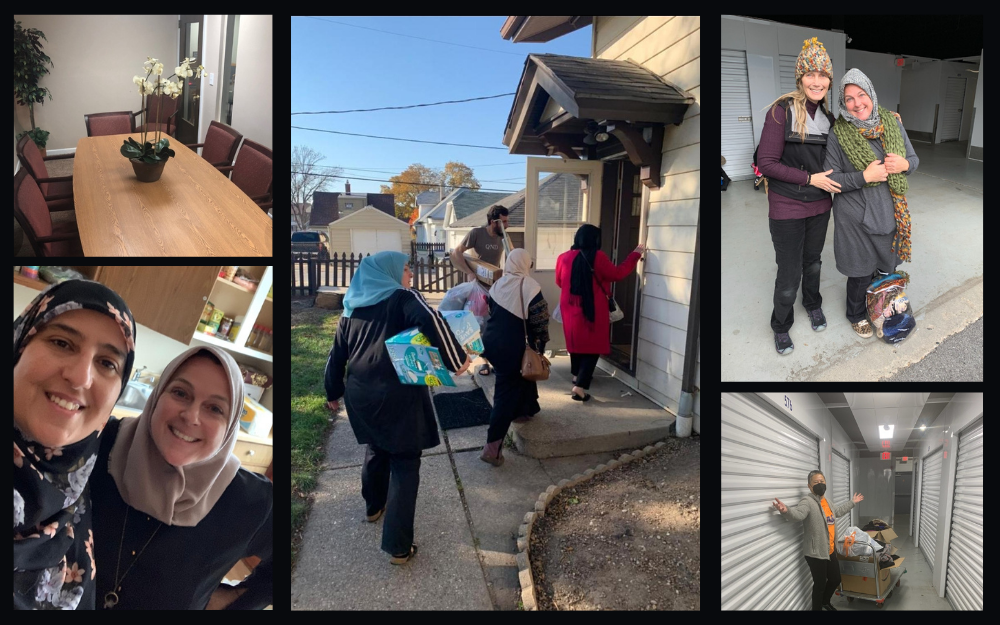 Hanan Refugee Relief Group is a 501(c)(3) nonprofit organization with a mission to transition refugees into contributing members of their host communities by providing long-term solutions, such as housing, labor opportunities and medical relief.
100% of the donations they receive will go directly towards charitable supplies. 
Since the Kabul airport attack on August 26th this year, Hanan Refugee Relief Group (HRRG) has focused its attention on Afghan evacuees, collecting and shipping new clothing and basic necessities to bases like Fort McCoy. HRRG will continue playing a large role for Afghan refugees in Wisconsin to assist them in the complex process of resettlement.
In the midst of this huge undertaking, HRRG opened their first office in Milwaukee, WI, at 3927 S. Howell Ave on the second floor above Classic Slice restaurant. I met with Sheila Badwan, vice president of the HRRG's Milwaukee chapter, to discover how this will benefit her team and the refugees they are working with.
Badwan was getting so many requests for a location and she knew it was time to centralize the corporate offices from Greenville, North Carolina to Milwaukee because they were becoming the largest and most active group.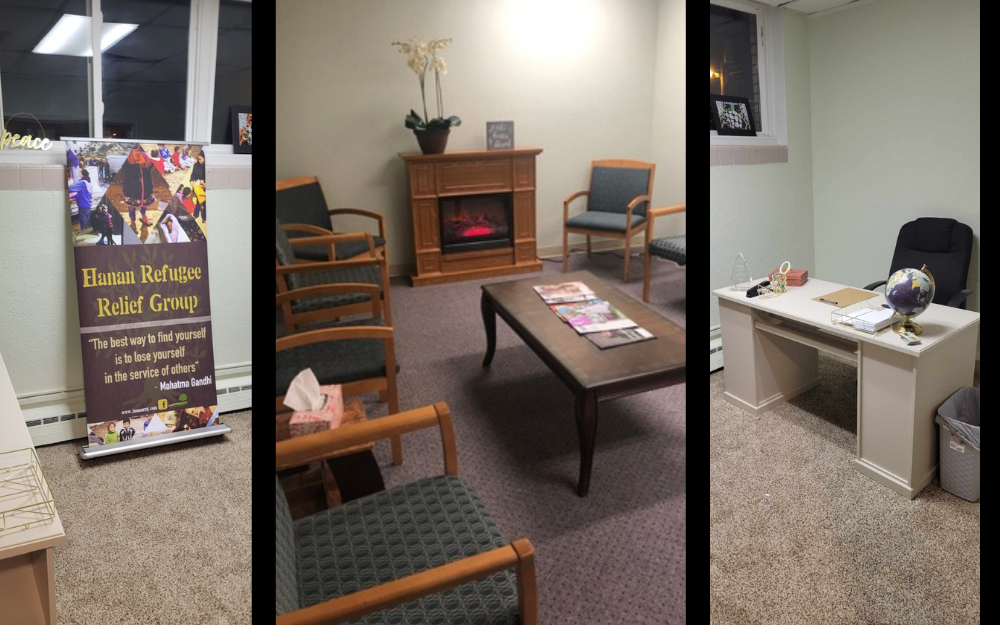 HRRG's first office in Milwaukee, WI., at 3927 S. Howell Ave
Marwan Otallah, Shelia's cousin, owns the building where the new offices are located. HRRG shares the upper office suites with Aziza Daher, of Zena Counseling. Daher is a licensed multilingual (Arabic) psychotherapist who has experience working with clients of diverse backgrounds. She will be able to provide group therapy for the Afghan refugees and their families. HRRG and Zena Counseling are designing an intentional, collaborative office that includes a classroom for ESL teachers, a conference room, lounge area, storage, and break room. 
Across the street from the HRRG offices, is the Milwaukee location of Lutheran Social Services. They are also focused on the Afghan refugee crisis and working closely with HRRG. This connection will expand each agency's capacities and limitations. For example, HRRG is not federally funded and relies heavily on donations. It is a community-based organization that has begun the process of applying for grants so they can hire one or two staff people.  What they offer other agencies is an understanding of Afghan culture and a knowledge of the comprehensive social services that will be needed now and in the future.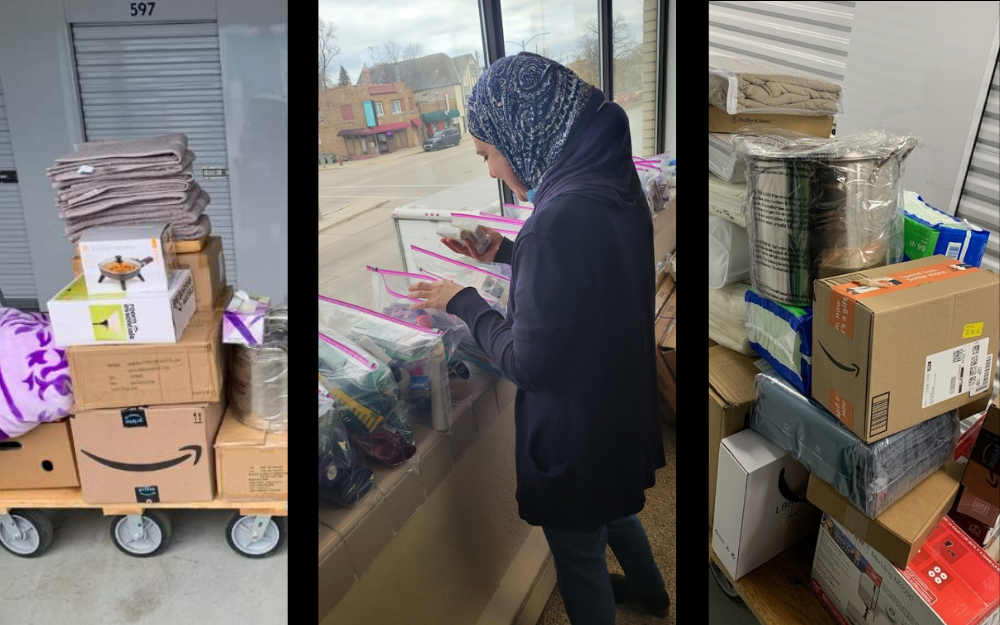 Services provided by HRRG
Social services
HRRG's staff works with the Department of Wisconsin Social Services to help clients identify and access benefits that are available to them through local, state and federal programs. They travel to offices to provide on-site interpretation to clients applying for assistance such as Food Stamps, Medicaid, TANF, SSI and WIC clinics. HRRG helps immigrant and refugee families face the many issues that are encountered as new Americans, providing assistance in many languages and dialects to match clients with appropriate resources and hosting a variety of job fairs and building resumes for families.
Education programs
Providing ESL for Adults to help women and men thrive in an English-speaking environment. HRRG volunteers tutor refugee students who have a strong desire to improve English language skills along with helping them complete homework assignments. Students range from Kindergarten to Middle School. HRRG volunteers have a sensitivity to cultural differences in addition to patience, understanding and fluency.
Healthy living
Healthy living programs are offered through a variety of programs and services. HRRG has partnered with other community organizations to provide free health screening at annual health fairs and community outreach activities
Food program
To address food insecurities and navigate the food environment as they encounter unfamiliar food choices. Refugees/immigrants particularly those in families with children may not have the financial resources or familiarity with the food environment needed to protect themselves or their children from food insecurity by providing food boxes temporarily to help assist for a short period of time until refugees are familiar with navigating the food environment.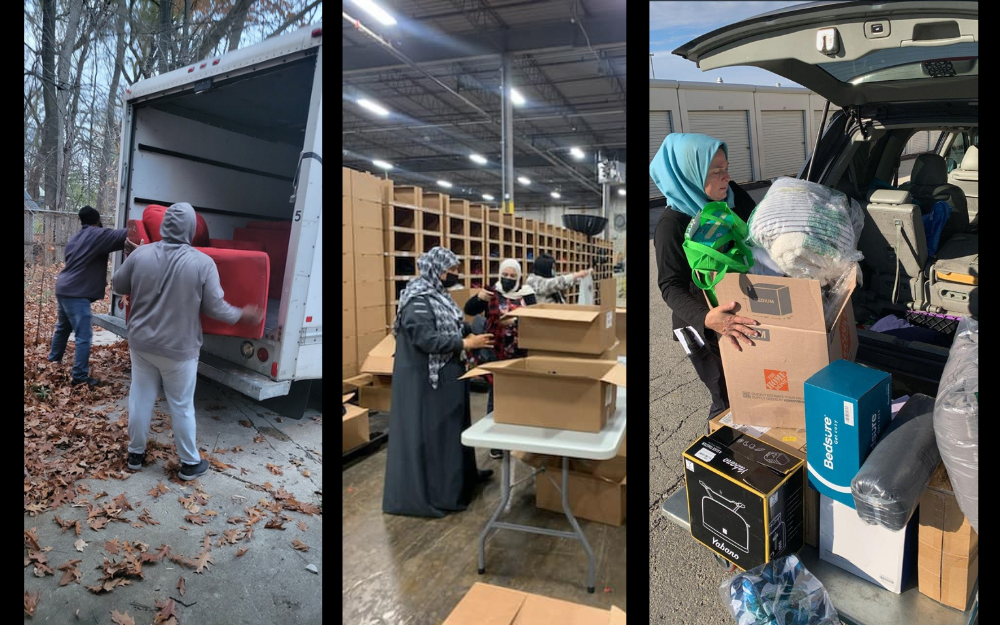 Refugees find HRRG through many different channels
The HRRG is often referred to by churches, other resettlement agencies, mosques, synagogues, and the larger community.  The International Institute of Wisconsin and Lutheran Social Services work closely with HRRG as well. There are 100+ people who have been placed in hotels and the next step is to find them homes.  The HRRG team has been on the ground every day, setting up apartments. Wisconsin Jews for Refugees have been and buying groceries and providing household items to get the families situated. 
"What we're really doing for these families…yes, they get money from the government, people think they get a huge amount. But the welcome money is intended to be used for groceries, for buying furniture, but this money goes quickly, it's also for rent.  There is a small time frame for finding a job.  We are able to extend their welcome money so they can pay their rent for a few more months.  Our goal is to help families to get on their feet.
Milwaukee doesn't have an Afghan community, the closest one is in Chicago, so we are literally forming a mini Afghan population, as we are set to get about 400-450 Afghans," Badwan said.
Jobs and professions 
Refugees are bringing their skills and professions with them. There are some who speak English and are educated as pharmacists, teachers, interpreters, but in the last couple of weeks HRRG has been seeing a lot of villagers who do not speak English, and 90% of them speak Pashto. It points to what the refugees have to overcome to learn a new language and find jobs.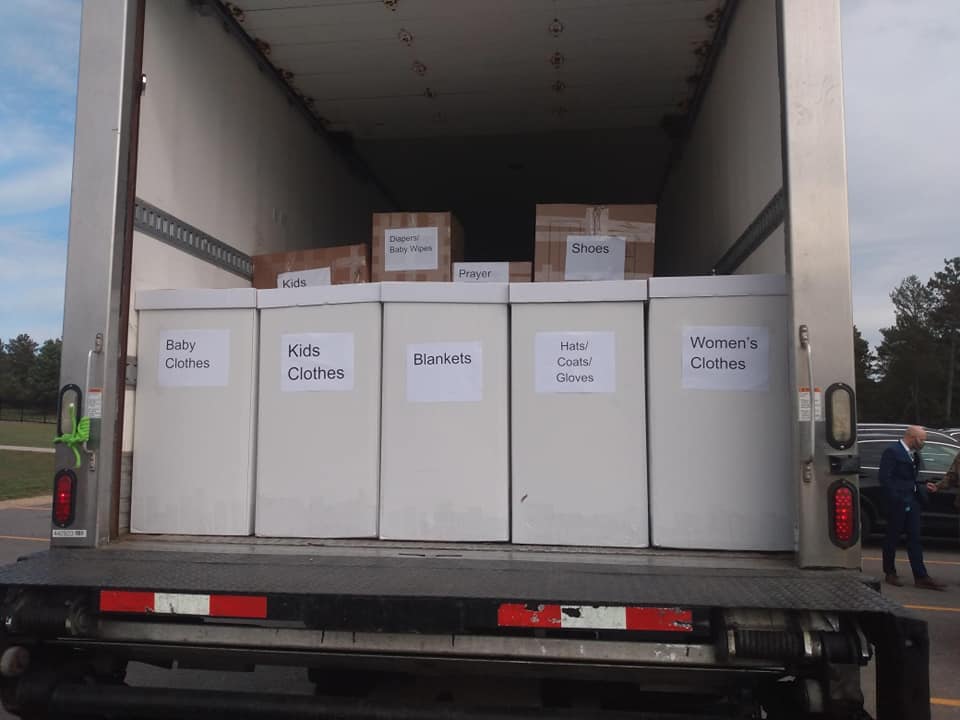 The Amazon Wishlist
The HRRG set up an Amazon Wish List on their Facebook page looking for toiletries, bed linens, sheets, diapers, and even a few larger household items. They reached 15,000 people on that Facebook post, and shortly thereafter, 300-400 boxes showed up. Sheila was stunned, "I tell people, Facebook is powerful." There is a Refugee Household Needs Wishlist on Amazon to find items you would like to send or you can donate Amazon gift cards.
Call for Volunteers During the Afghan Resettlement
An important concern in finding volunteers is to be sure they have a level of cultural competency for the nature of the work. While every generosity is greatly appreciated, a necessary part of the process will be to get volunteers trained in specialized care.
Truly the best thing people can do to help the helpers (HRRG) is to donate so that these operations and provisions can continue to flow.
Sheila said, "A lot of the refugees who we help, come back and help us. The Afghan refugees who have been here for three years, a lot of whom speak English, and came on SIV visas (Special Immigrant Visa), every single one of them is helping us with interpretation, and even moving furniture."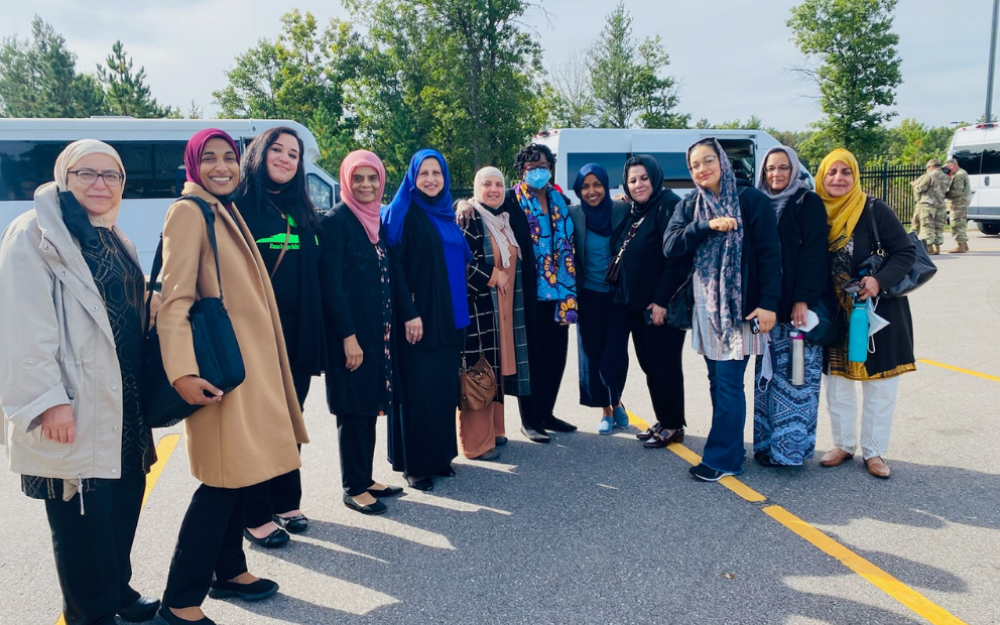 In partnership with Milwaukee Muslim Women's Coalition
Working in partnership with Milwaukee Muslim Women's Coalition (MMWC), HRRG was able to intake donations of new clothing, shoes, coats, and hygiene items to their conference room to sort supplies into boxes to take to Fort McCoy.  In total, six truckloads were sorted, packed and delivered over the course of two months of September and October.
MMWC was the only community organization in the state to be invited twice to accompany elected officials, Democratic Congresswoman Gwen Moore and Ilhan Omar of Minneapolis, and lieutenant governor Mandela Barnes, on a tour of Fort McCoy. Janan Najeeb, president of MMWC got a debriefing from the commanders there and met with the Afghani women to find out how they were doing. 
Najeeb invited HRRG National Board members, Sheila Badwan and Maysoun Ahmad from the Wisconsin Chapter to see the conditions of Afghan refugees on the base. They wanted to find out what their needs were and take suggestions on how things could be improved. 
One of the issues raised was the need for trauma-based care. Since then, conditions have tremendously improved and Fort McCoy leaders are working hard to help families on the base to help prepare for resettlement in the states.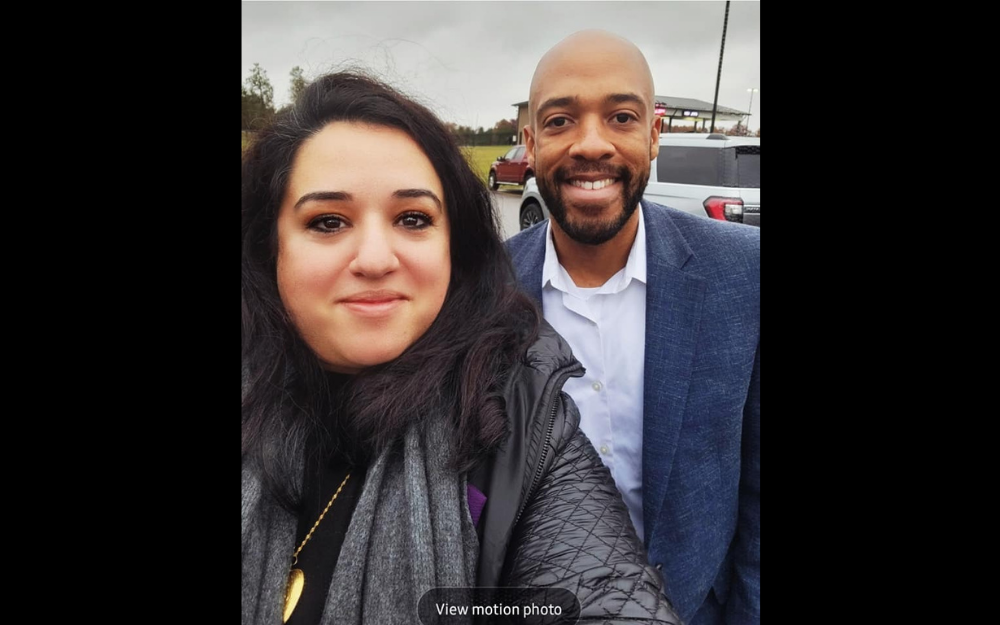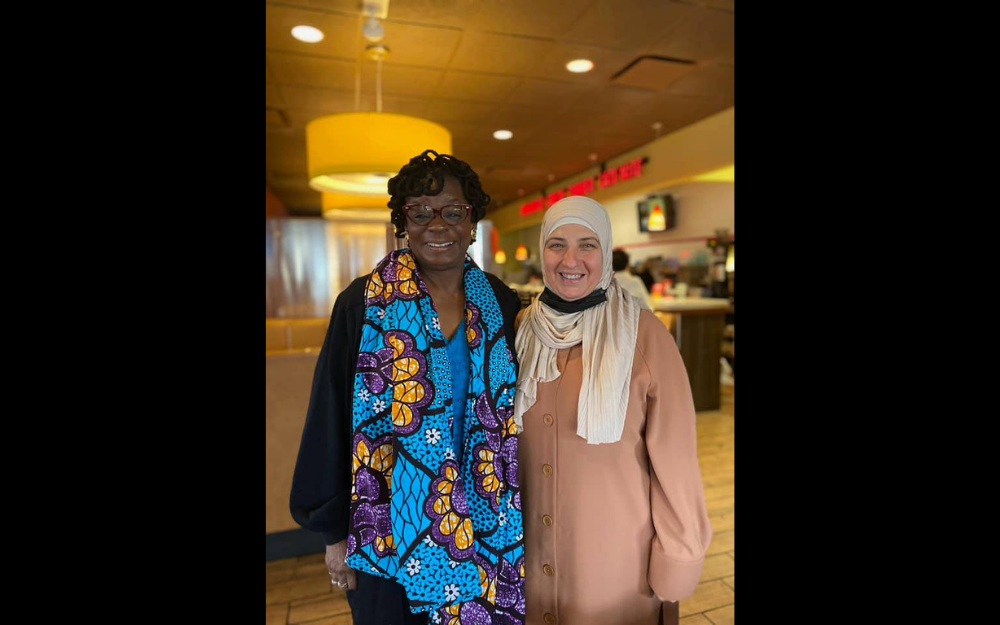 Other important Hanan Refugee Relief Committee Members
Dr. Ahmad Nasef
Dr. Ahmad Nasef was part of the founding committee for the HRRG Milwaukee chapter. He had a passion for helping others, especially refugees, establishing businesses, even co-signing homes for them. 
To honor him, the HRRG Milwaukee chapter created a scholarship in his name for refugee/immigrant students in Wisconsin. They had a very successful, "5K Gaza Walk"  fundraiser this year to raise money for the scholarship program. They partnered with Sea Literacy, a tutoring program for refugee children. Five of those student tutors received the first-ever Dr. Ahmad Nasef scholarship award. 
"Dr. Nasef was an amazing man, we need more people like him. If I didn't tell him about a project, he would get mad at me and say, hey, you should have told me, I want to help. He was the kind of person that would take off his shoes and give them to you. It's still hard to process (his passing)," Badwan said.
Dr. Ruba Sarsour
The original founder of Hanan Refugee Relief Group in Greenville, NC, Dr. Ruba Sarsour, was Sheila's longtime family friend.  When the Syrians started to come into Wisconsin in 2016, Sheila got involved with HRRG. 
"I saw how Syrian families were being placed in homes that were just not livable, it broke my heart, families that didn't have anything in their homes." 
At that time, she was raising her own two children and would take them with her to deliver heaters in winter because they didn't even have heat in their apartments. The families consider HRRG their "911" because they don't know who to call and often there is a language barrier. HRRG has a contact list of translators who speak many different languages, Urdu, Pashto, Rohinga Somali, etc because they help all refugees. 
HRRG national board members from Milwaukee are:
Sausan Naji, Maysoun Ahmad, and Sheila Badwan. The Milwaukee Committee members are, Charity Ramirez Baktesi, Helima Aichoune, Nisreen Abed, Walla Sarsour, Mary Ward, Achraf Al-Bakeer, Omar Kilomollari, Fatemah Farhoud, Sheila Badwan, Andrea Vodicka, Sausan Naji, Mohamed Hamed, Lailya Mohammad, and Dr. Ahmad Nasef.
HRRG website is in the process of being updated, (www.hananrrg.org) but the most current information can be found on their Facebook page, @Hananrrg.
Hanan is an Arabic word that demonstrates the importance of care and compassion in Arab culture. In addition to meaning compassion and kindness, hanan also translates to warm-heartedness and can be another way of saying the word love.