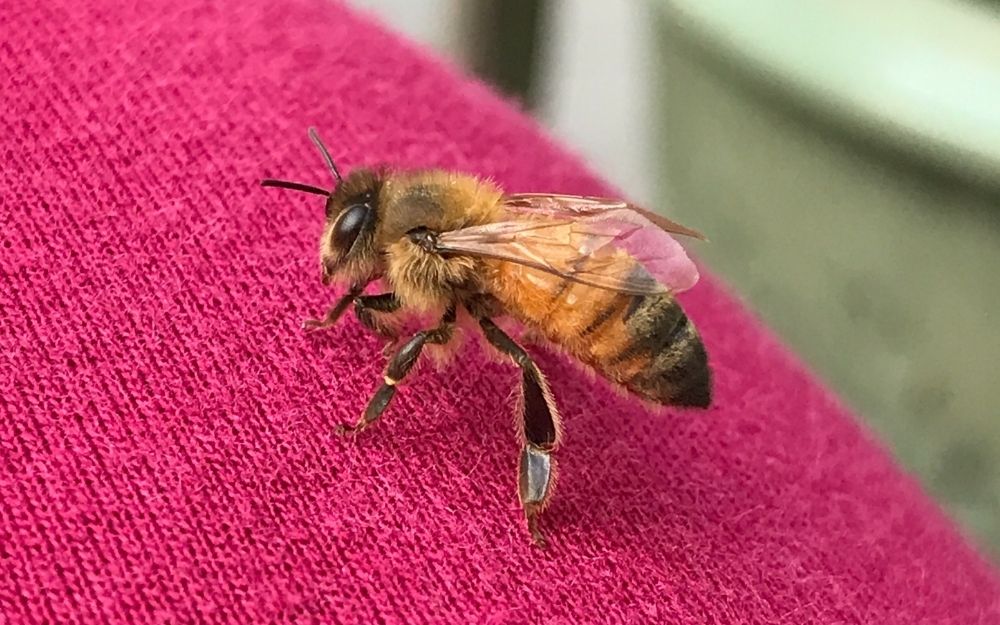 Photos by Cherrie Hanson Photography
"When a honey bee lands on your knee and visits your garden, you feel blessed, knowing what these precious pollinators are facing," said MMWC Special Project Manager Cherrie Hanson.
To raise awareness of the importance of bees to our survival, the threats they face and their contribution to sustainable development, the United Nations designated May 20 "World Bee Day." And as spring flowers burst into bloom, the Milwaukee Muslim Women's Coalition brings together two leading bee-devotees to share their knowledge about bees with the rest of us.
Wisconsin Department of Agriculture's former State Bee Inspector Charlie Koenen will join Masjid Al-Qur'an's imam Hafiz Muhammad Shafiq, also a beekeeper, to speak May 27 at the MMWC Networking Brunch, 10 a.m. – 12 p.m., at the Islamic Resource Center, 5235 S. 27th St., Greenfield.  
Koenen is also executive director and founder of BeeVangelists, a non-profit organization dedicated to advocacy for and education about bees. He also does work for the world's largest bee distributor, "which happens to be in Sullivan, Wisconsin," he noted.
Koenen will share "what bees have taught" him over the past two decades. Imam Shafiq will explain what the Quran says about bees and Muslims' responsibility to these important creatures.
The Networking Brunch, a public event, is open to all. The fee is $10 and registration is required. Register here.
MMWC Networking Brunch brings timely speakers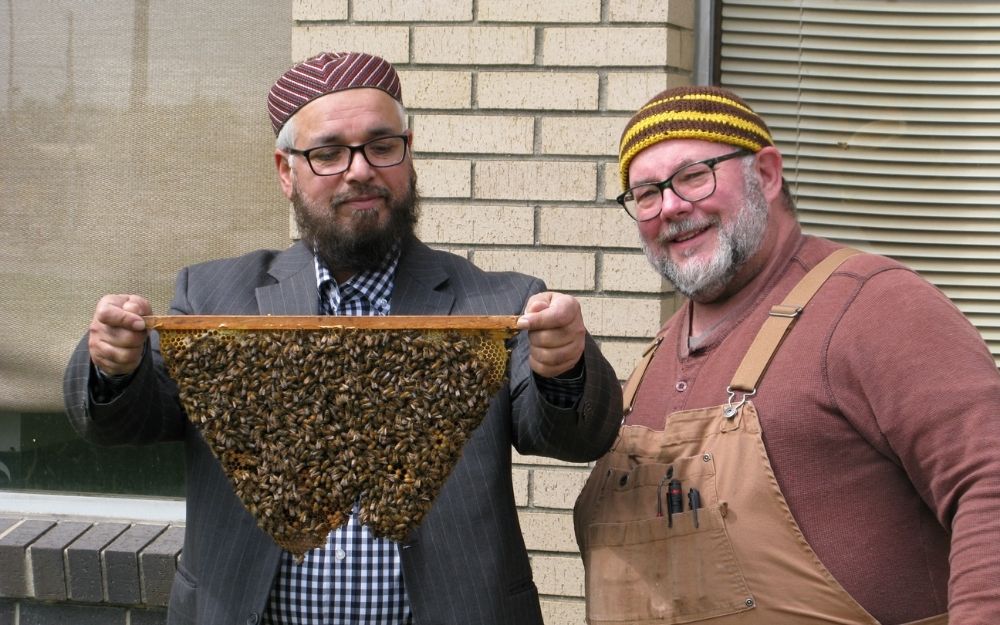 Masjid Al Qur'an Imam Hafiz Muhammad Shafiq holds up a honey comb as bee expert Charlie Koenen of BeeVangelists stands by.
When planning the Networking Brunch, "we ask, 'What do people want to know more about?' We address whatever is topical and then consider who would be an interesting, dynamic speaker. The speaker is the centerpiece," explained Cherrie Hanson, MMWC special projects manager. 
In February, as families who had escaped Afghanistan relocated to Milwaukee, the Networking Brunch featured Sheila Badwan, lead for Milwaukee's chapter of Hanan Refugee Services. Hanan and MMWC led efforts to organize donations of essential items and clothing to newly arrived Afghan families. 
In March, Women's History Month, MMWC brought TV and radio personality Cassandra McShepard just as she began hosting TMJ4's Milwaukee Tonight, a show that features "hidden gems," unique people, places and events in Milwaukee. 
The brunch is back in May, after a hiatus during Ramadan, with Wisconsin's lead beekeeper and bee expert Charlie Koenen and Masjid Al Qur'an's imam Hafiz Muhammad Shafiq, who has maintained a strong interest in bees for decades. "The month of May, when spring flowers are blossoming and we celebrate International Bee Day, bee education is a hot topic," Hanson said.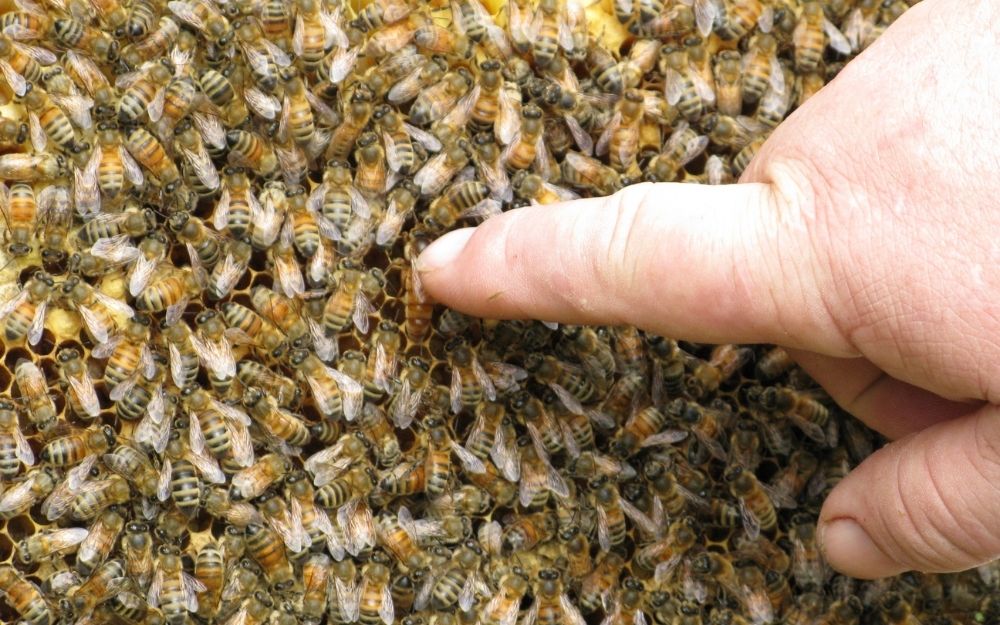 Wisconsin State Bee Inspector Charlie Koenen points out the queen bee.
"Our real goal is to bring a variety of people together for a meal. Our strategy is to consider how to get different communities interested," she said. Hanson sees the focus on bees as a way to interest the Al Qur'an community, especially its youth academy students, as well as others from the Milwaukee community.
Masjid Al Qur'an, 11723 W. Brown Deer Road, Milwaukee, is home to the Al Qur'an Foundation, one of Wisconsin's oldest Islamic organizations, established in 1992. It owns 8 acres that include beehives, a fruit orchard and a vegetable garden. The hives, orchard and garden were developed to create educational opportunities for Al Qur'an Academy students and the community, said Imam Shafiq. 
"MMWC's Networking Brunch is a community networking brunch that aims to build relationships inside and outside the Muslim community," Hanson added. "When people come face to face, labels dissolve. We want to bring people together across age, race, gender and ethnicity.
"I'm pleased to see more men participate this year," she added.
What's all the buzz about?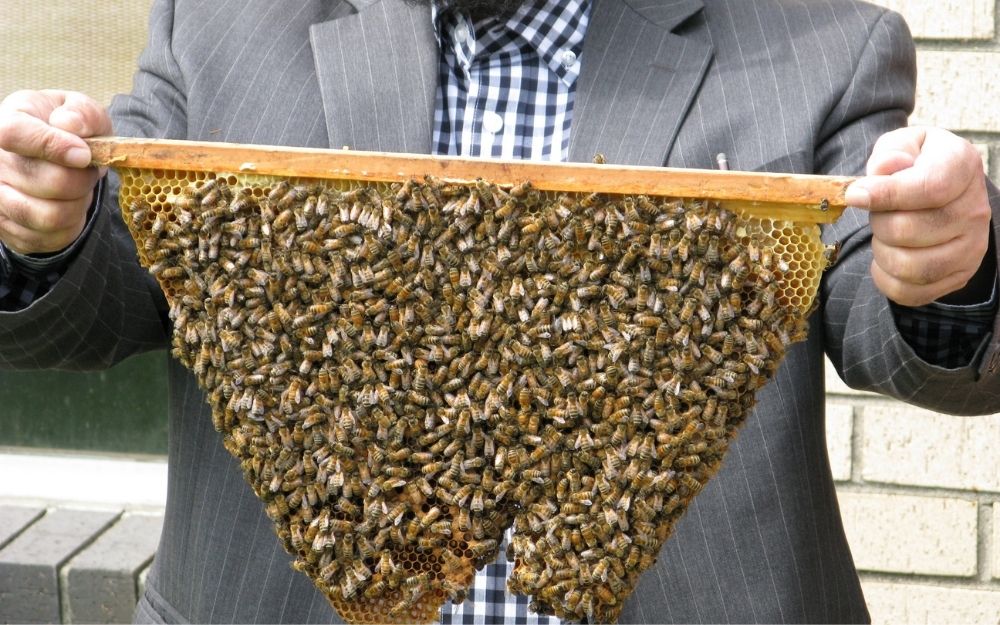 A sign outside BeeVangelists' headquarters, 6820 N. 43 St., Milwaukee, reads: "Pardon the weeds. We are feeding the bees." On May 9, the lawn is speckled with bright yellow dandelions, a warm day when flowers of all types began blooming simultaneously.
"They are new today, Charlie Koenen said of the dandelions to guests visiting the revamped warehouse, equipped with beehives, a classroom, a safe where honey is stored, old refrigerators converted to "honey heaters" and other equipment to facilitate caring for and teaching about bees. "The bees have not been out at all until today. So, this is the first day of spring as far as bees here are concerned."
Spring came about two weeks late this year and that may impact the bees' ability to pollinate as usual, Koenen explained. It may be more of a feast and famine this year.
"Ordinarily flowers bloom in progression," he said. "Certain flowers open and then another, then another. Our weather this year has been cold and all the plants have been on hold until the first big warm, which is right now. So the marigolds and the dogwood and the dandelions and the daffodils are happening at the same time. It's going to be very hard on the bees because they like to dedicate to one bloom at a time."
Among Koenen's guests are MMWC's Hanson and Masjid Al-Qur'an Imam Shafique, who were there to discuss the program for the MMWC's May 27 networking brunch. Koenen and Imam Shafiq, both bee-devotees, were meeting for the first time.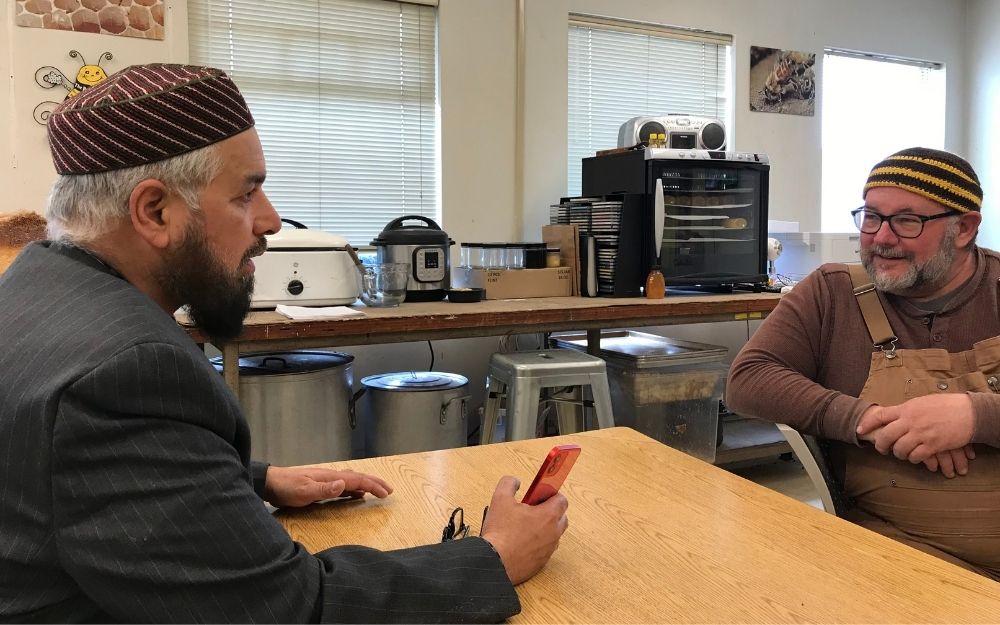 Imam Hafiz Muhammad Shafiq and Charlie Koenen meet at BeeVangelists' headquarters in Milwaukee to plan their talk on bees for the May 27th MMWC Networking Brunch.
Koenen has cared for, studied and taught about bees fulltime since 2000. Imam Shafiq has had a growing interest in bees since participating in a beekeeping program in 1987 when he was a university student in Pakistan. He shares his interest in bees with others in the Masjid Al-Qur'an community, where students and community members are keeping bees and harvesting honey. 
Koenen may best be described as jolly. His face beamed as he showed off his hives. He punctuates his conversation with bee-isms like: "It's not about the money, honey;
It's about the bee-ing in the box." He signs his emails, "Bee well, CharBee."
Wearing brown overalls and a knit brown and yellow striped cap, Koenen circulated among the bees, pulling up racks to display the developing honey combs and point out the queen bee. 
Although his personality is jovial, Koenen's message is serious. He preaches what he calls "the gospel of abundance according to bees," which he sums up like this: "When we accept bees as our teachers, we take into our beings what is right and necessary. They teach us cooperation, collaboration and coexistence brings abundance, diversity creating resilience and strength."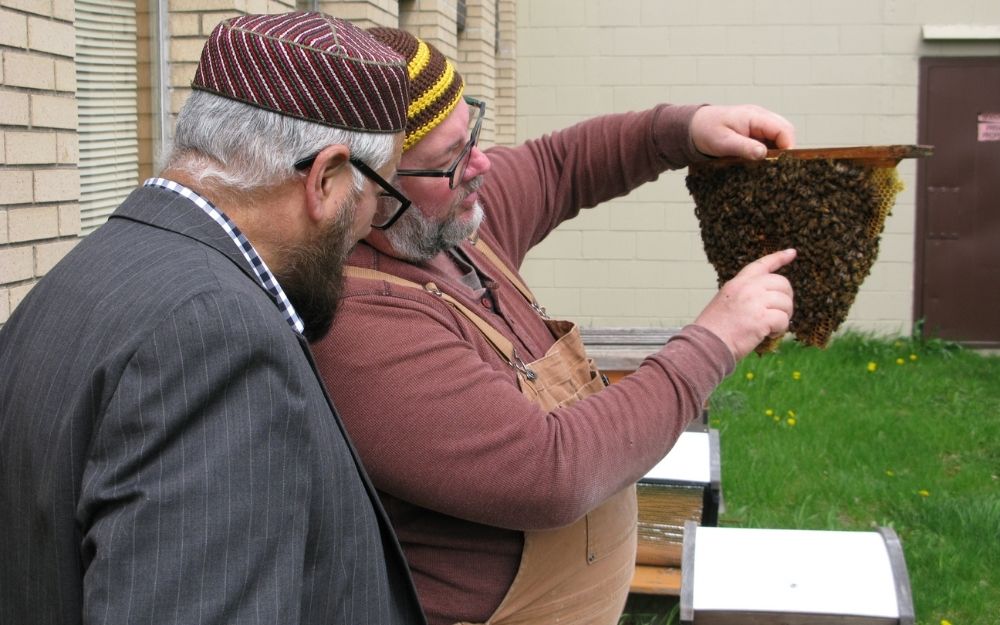 Imam Shafiq and Koenen told Hanson about "bee gum," wax from the comb with honey on it. "You can chew it for 10 minutes or so," Koenen said. "Swallow it or spit it out. It has a nice taste and it's good for you."
The two beekeepers shared tips with each other and lamented the unpredictable weather. They also shared concerns about human beings' impacts on bees. According to the U.N., present extinction rates are significantly higher than normal due to human activities. The role of pollution and pesticides are well known but other factors are making an impact as well.
"Something we BeeVangelists are pushing right now is the importance of solitary pollinators, bumble bees and others besides the honey bees. The Greater Milwaukee area has 520 different species of bees and only one is the honey bee. The other 519 don't make honey and live alone. They are important to pollination. The interdependence and the reliance that we have on not just the honey bee, but all bees," is important to our food supply, Koenen explained.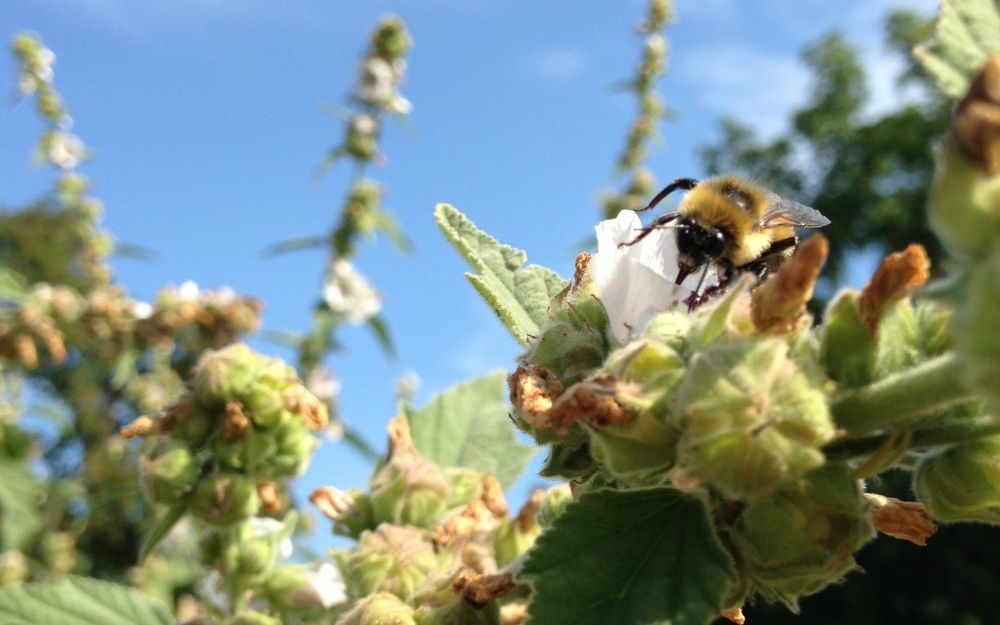 Besides climate change, another human-caused phenomenon that is impacting bees is agriculture. "Our flower patches are getting so big," Koenen said. "So the almond orchards in Southern California make 80% of the almonds on earth. They flower for three weeks in February. The area is 30 miles wide and 300 miles long of nothing but almonds. When the almond bloom goes away, the bees are starving to death because nothing is there. So, we load them up and truck them to the next place. 
"We're very reliant on these little critters to do what we need them to do and at the same time, they are suffering because of what we do and how we do it."