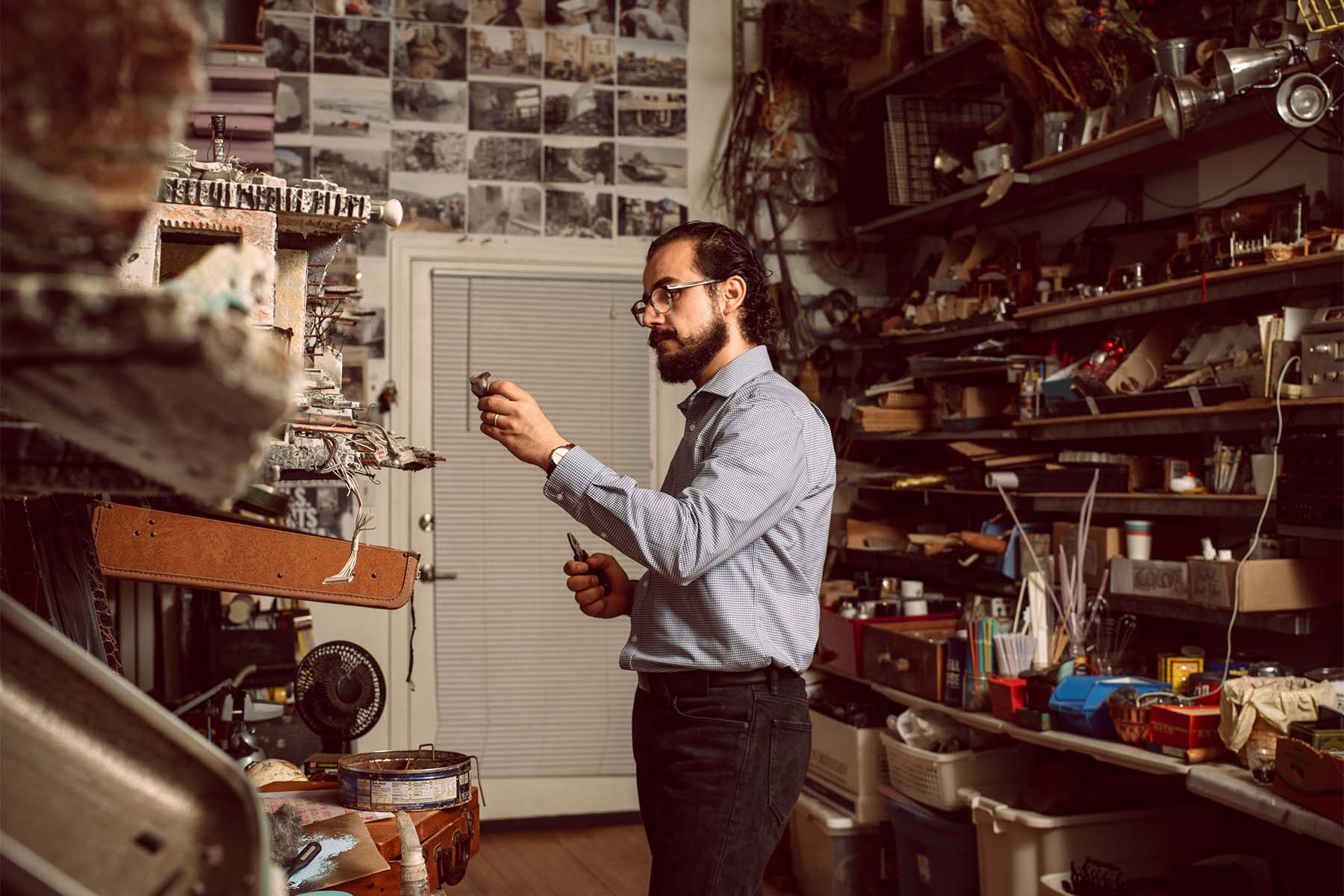 © Photo
Courtesy of Mohamad Hafez
Will all those with "American passports, raise your hands." Nobody seems to want to admit it, but at the urging of Mohamad Hafez, artist, architect and world traveler, quite a few hands go up. "European passports?" Three.
Most Muslim countries have green passports. European Union passports are generally red.
When Hafez says, "Can we ask all the blue passport holders to sit over in the back? However, the green and red passports will get expedited services," the audience on the fifth floor of Nancy Nicholas Hall at UW-Madison's Center for Human Ecology erupts in laughter. "You will have my full attention and a lot of my smiles," Hafez jokes.
Hafez was the keynote speaker last Friday before a daylong conference held March 7 on policies and education relating to Middle Eastern refugees. Hafez is an expert on the topic, as he explained during his funny, heartfelt and completely engaging presentation.
Though the artwork he produces is shown mostly at university galleries and art spaces, Hafez started off by announcing, "I am not an academic, and this is not an academic talk. I'm just a dumb architect. What you're going to hear today is just a story. I'll share with you my experience of how it felt going through the two parallel lives that I have" he said, living according to the "only recipe I've found: Embrace vulnerability. Be honest. Share your experience with the world."
As Hafez began sharing his experience with the packed room, he said, "Fasten your seatbelts. More seats in business class over here!" to more laughter. Hafez is very familiar with the different colors passports come in. His parents lived in Germany for 22 years and then in Saudi Arabia for 16 years as part of an international community. He and his three siblings all attended Iowa State.
In 1999, his Syrian parents bought a home in Damascus, the oldest inhabited city on Earth, and a place of great charm, diversity, and history.
Hafez's family history and the cataclysmic recent history of the Middle East, are intertwined with the evolution of his art, the sculptures like small dioramas that are modeled inside suitcases and comprise the show "Unpacked: Refugee Baggage," now in a first-floor gallery at Nancy Nicholas Hall.
While Hafez was a student at Iowa State, 9/11 happened. He did receive a visa to enter the United States as a student. He just couldn't leave.
Hafez began making art one Thanksgiving break on the Iowa State campus when "everyone was with their family. I wasn't." He looked at his watch at 7:00 p.m. and "started tinkering around." When he looked at his watch again "it was 3:00 in the morning. Where did the time go? This was very therapeutic. I felt something that was healing. Of course, I was young and naïve. I did not know what therapeutic art meant let alone what the word 'cathartic' meant."
Hafez used his art to feel a connection to his parent's beautiful home in Damascus where large family gatherings were a common occurrence. "If I couldn't go home, I wanted to recreate home. How do you do that? You utilize your found objects, your memories. My studio is my own refuge, my creative nook where I burn incense. Play Syrian music. You just go in there and it takes about 30 seconds to go into this creative cloud up here. . . I start modeling and modeling."
He makes art out of the detritus of everyday life, collecting "wood, metal, clock parts, Christmas ornaments, acorns" the "ingredients of the day."
After graduation from Iowa State, Hafez became an architect with the global firm Pickard Chilton Architects. His friend and mentor John Pickard designed the Petronus Towers in Kuala Lumpur. Pickard and Hafez traveled the world, meeting with high-powered corporate clients. Primarily based in Houston, Hafez was the lead designer on the 50-story office building at 609 Main in that Texas city.
All the while, in his studio, Hafez continued to make art. "This was my life. Week in, week out. Day in, day out. Designing towers [of] glass, very shiny. Meeting with folks from all over the world. Trusted in that circle." Art was something he did in the background, in secret.
Then, in 2011, came the Arab Spring, with its devastating consequences in Syria.
One day, Hafez received a communication from his much-admired Syrian architect brother-in-law, which said simply, "I made it to Sweden."
His brother-in-law, Hafez's sister and niece and nephew, had crossed the Mediterranean with 50 people in a dingy built for 7, paying around 10,000 Euros per person to make this perilous journey.
In response, Hafez made one of his most striking pieces, a rubber dinghy with a vast, ancient city inside it, hanging upside down from the ceiling.
It is the kind of art that he has become identified with. But Hafez was not a refugee. So who is he?
Now on a sabbatical from his architecture firm while a fellow at Yale University's Silliman College, Hafez says that, "For the past 6,7 years, I've been trying to change a persona and a label that has also been painted on me in the art world. Sometimes in the media they want to boil you down to 'the sad refugee guy that makes destruction artwork.'"
In fact, Hafez is anything but sad. He is witty and optimistic. His work depicts tragedy in a way that makes you feel hope, not pity.
But the realities he deals with are not, in themselves, light. And at first, Hafez worked with heavy materials, cast-plaster and concrete, the materials of an architect, what he calls "the real deal." The work got bigger, up to 6 feet wide. It wasn't very portable, but it was instructive.
"I worked in plaster or concrete for about ten years and it gave me the skills to paint a piece of foam or cardboard to look like concrete," he said. "So when you see my work, don't think that it's going to come crashing down."
The work Hafez makes today is so light it can fit inside a suitcase. In fact, the suitcases are the point. They are the suitcases of refugees from all over the Middle East and Africa, people driven from their homes by revolt and counter-revolution, by war and destruction. Hafez tells their stories, posted next to their suitcases, which contain scenes from their lives, the places they lived and how those places looked after the bombs came.
Hafez said he would "go back to New Haven where I would pray next to a Syrian or an African refugee. I would learn about the Minaret of Aleppo collapsing. An 1100 year-old minaret is now rubble." And then came the Trump anti-refugee rhetoric. "The one thing that kept me from not going crazy during this time is to start modeling the destruction and the emotional baggage I was carrying," he said.
"Where's hope? How do you maintain hope? How do you show defiance? When you come from a region where you could lose your life, literally, for speaking out." Hafez would stencil verses from the Qu'ran into his sculptures: "Do not think God is unaware of what the evildoers are committing."
As word about his suitcase art spread, Hafez said, "People from all over came to me with their parents' suitcases." He established the show "Unpacked" to tell the stories of the refugee families he befriended.
Today, the language of what Hafez calls "spicy opinions about refugees" continues unabated. This rhetoric, he said, "is not new." It's just history, repeating itself. Hafez's aim with this show is to paint a picture of the refugee crisis in global form, using 10 examples that "humanize," but don't "romanticize."
Included with his work at the Center for Human Ecology are headphones to listen to the "soundscapes of our cities" that accompany the sculptures. "Churches ringing their bells, mosques in every nook and cranny doing the call to prayers, cars, merchants."
Hafez's work is a reflection of what he believes is the "responsibility of artists today – to build that bridge" between today's refugee experience, and all of ours.
The show "Unpacked: Refugee Baggage" will be on display on the first floor of Nancy Nicholas Hall through April 3.