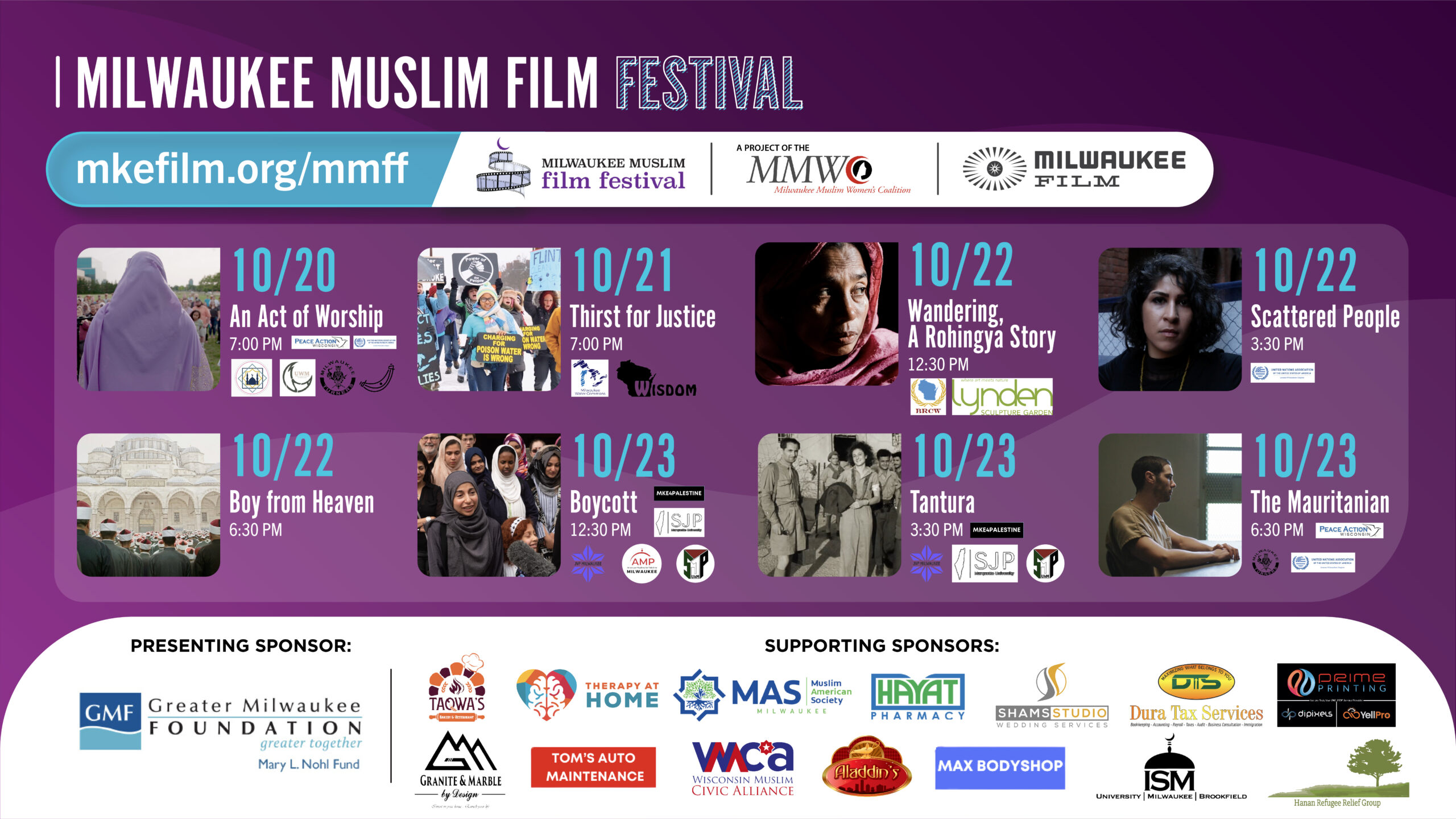 The 2022 MMFF runs from Oct. 20 through Oct. 23 at the Oriental Theater located at 2230 N. Farwell Ave, Milwaukee, WI.
The Milwaukee Muslim Film Festival is committed to screening thought provoking films about timely, relevant topics to generate meaningful discussion about Muslims. Each film will have a post-screening talkback session. 
Each year the team at the Milwaukee Muslim Women's Coalition thoughtfully selects films that transcend countries, languages and cultures while highlighting the humanity of all races, ethnicities and religious beliefs.
The Milwaukee Muslim Film Festival is an opportunity for award-winning films and filmmakers to receive the attention they deserve.  
Here is our comprehensive line up for 2022.  Click on the images to view the trailers.  Follow this link to purchase tickets
An Act of Worship

The annual festival opens with An Act of Worship, an acclaimed documentary on the bigotry faced by American Muslims and the actions by Muslim activists to work in alliance with other groups for social justice. The festival also includes an excellent array of other selections that explore Muslim identity and issues faced by Muslims across the world.
Boy from Heaven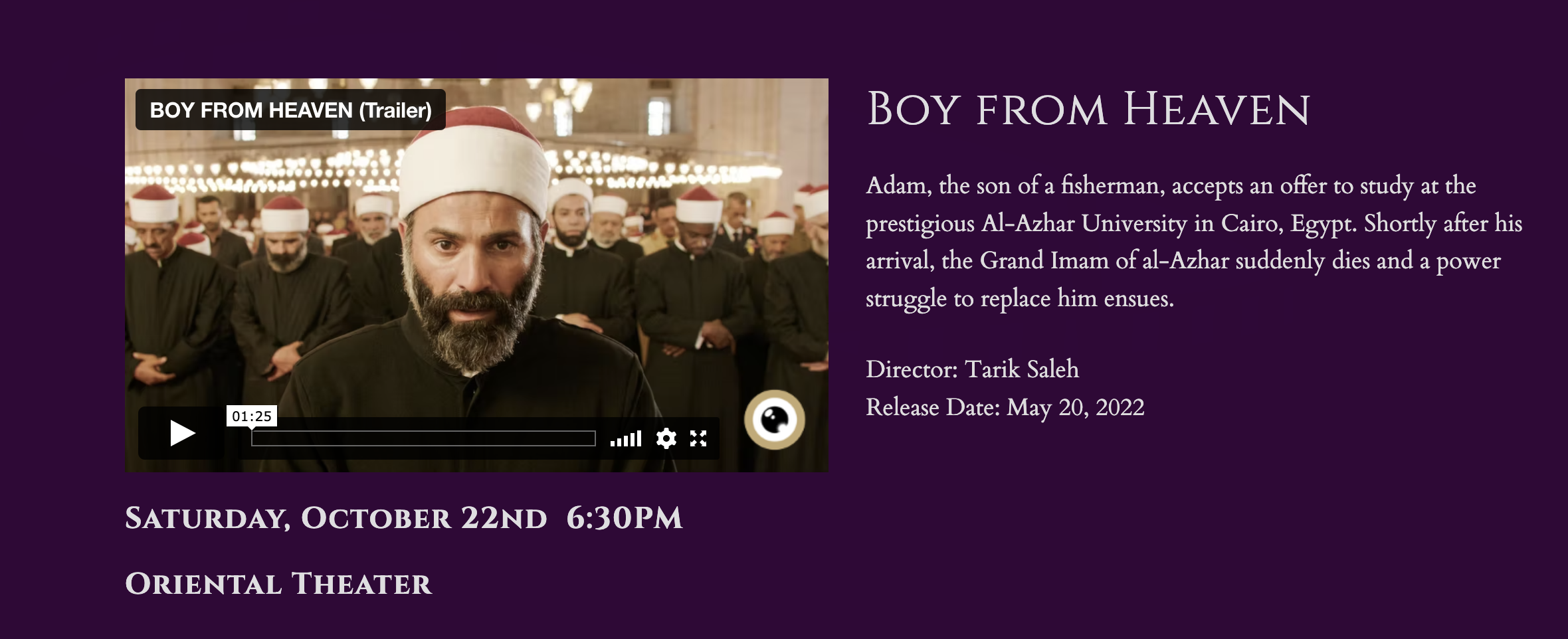 When we first meet Adam in Boy from Heaven, he's in a rowboat, fishing with his father and brother on the Egyptian shore, bringing home the modest catch that sustains their lives. The sea is rough, but so will be the next phase in his life, his scholarship to Cairo's Al-Azhard university. Boy from Heaven, a fascinating film by Sweden's Tarik Saleh, won Best Screenplay at the 2022 Cannes Film Festival.
For centuries, Al-Azhard has been the leading seminary in Sunni Islam, an Oxford of the Muslim world drawing the most learned lecturers and the brightest students. Al-Azhard's dean, the Grand Imam, is influential in Egypt and throughout Sunni Islam. In Boy from Heaven, the aged scholar's speech to incoming students is cut short as he collapses from a fatal illness. Egypt's State Security swings into action to ensure that their candidate is elected as the new Grand Imam, a man whose views align with the regime.
Adam is the innocent village boy in the big city, navigating through crowded streets, challenging classwork and the labyrinth of State Security when they recruit him as an informer. Adam's conscience is torn. His wily State Security handler arranges surgery that saves his father's life. In exchange, he demands names of fellow students attached to dissident clerics—and then, the entrapment of potential sympathizers for the outlawed Muslim Brotherhood.
Boy from Heaven's characters are fully rounded, their motivations understandable and well-acted in a film whose cinematography is at the highest level of international art house cinema. And from the backdrop, viewers can gain a solid education in Islamic theology.
Scattered People

The dangerous Mediterranean refugee crossings from North Africa to Europe have received much attention in the media. Less known are the equally dangerous crossings by leaky boats from Indonesia to Australia. Although Australia is a signatory to the Refugee Convention of 1951, those who survive the journey are kept behind barbed wire in detention centers.
Scattered People is a documentary about a nongovernmental organization that brings musical performances and encouragement to the detainees. The Australian film focuses on two young Iranian refugees, Saha and Mas, driven from their homeland by arbitrary abuse from Iran's Morality Police, whose dictates on dress and behavior (electric guitars are banned) made life intolerable. The recent unrest in Iran after a woman was killed while in Morality Police custody makes Scattered People especially timely. Saha and Mas are interviewed, along with the musicians and activists who have come to the aid of refugees.
Tantura

Most nations have dark secrets in their history and Israel's War of Independence has the Nakba, the expulsion of entire Arab villages from Palestine in violent acts of ethnic cleansing. The documentary Tantura by Israeli director Alon Schwarz centers around a village by that name on the Mediterranean shore. After a firefight, the village fell to an Israeli brigade in June 1948. There is evidence that the unit of Israeli teenagers, some of them Holocaust survivors, massacred nearly 300 village men after separating them from women and children. Rape and looting may also have occurred.
The story came to light in the 1990s through a University of Haifa master's thesis written by history student Teddy Katz, who taped 140 hours of interviews with the Israeli soldiers who took Tantura as well as Palestinian survivors. After the thesis was publicized by an Israeli newspaper, several Israeli veterans retracted their taped statements. Katz was sued for defamation and forced to sign an apology—which he then tried to repudiate. 
Schwarz interviews Katz, now elderly and confined to a wheelchair after a series of strokes, and surviving combatants, all of them in their 90s. A few of the Israelis admit to the events described in Katz's thesis; some say they heard rumors but saw nothing with their own eyes; others say they can't remember; others say it was just the warfare against a determined enemy. Quoted at the film's onset is a remark by the late Yagal Alon, a commander during the War of Independence and later an Israeli cabinet minister. "A country that cannot remember its past has a dull present and a future shrouded in fog."
Thirst for Justice

A Navajo shaman is seen chanting on a rocky precipice above a running river in the opening scene of Thirst for Justice. "People don't know how to use water," he tells filmmaker Leana Hosea. In his beliefs, water is a living being as well as the source of life—and humanity is killing it.
Hosea, a BBC reporter from several Middle Eastern capitals, received a grant to study the problem of deadly water at two U.S. sites, the Navajo reservation at Sanders, Arizona, and the more notorious problems in Flint, Michigan. The causes are different but rooted in the same dynamic of inhumanity, of valuing profit over life. The Navajo suffer high rates of cancer from their proximity to uranium mines. The toxins in the Flint River ate at the city's crumbling water pipes, attacking the nervous systems of Flint's residents. Children who never tasted a drop of tap water ingested lead from their mothers' milk.
One of the turning points for the Navajo occurred in 1979 with the collapse of a dam holding back a containment pond for radioactive waste. The event received almost no publicity and no assistance from federal or state authorities, despite injecting Chernobyl levels of radioactivity into the ground. Flint's disaster, caused by a penny-pinching austerity regime imposed on the economically ailing city by the State of Michigan, caught media attention and prompted lawsuits. One Flint resident tells Hosea that the reason was that the city's white residents were as impacted by the crisis as its minorities.
The response in recent years by Navajos and Flint residents is part of the growing global awareness that the Earth is running low on clean drinkable water and is on the brink of a catastrophe that links the fortunes of all nations. As the Navajo shaman says, we have failed in our role as custodians of the Earth.
Wandering, a Rohingya Story

In August 2017, 700,000 Rohingya, a Muslim ethnic minority in Myanmar (Burma), fled across muddy rivers into neighboring Bangladesh. Six hundred thousand of them remain in what might be the world's largest refugee camp, Kutupalong. Wandering, a documentary by Canadian filmmakers Olivier Higgins and Melanie Carrier, shows and tells their story through the poetic narratives of one refugee, a man called Kalam.
Myanmar had been an unstable state since gaining independence from Great Britain after World War II with phases of democracy broken by periods of military rule and an unceasing struggle by minority groups against the central government. As Kalam reminds viewers, the Rohingya had always suffered repression at the hands of their government, but matters turned worse in 2017 when Myanmar's army launched the offensive that drove his people into exile. "Sometimes I feel I don't exist," he says, reflecting on his shattered life.
Wandering, a Rohingya Story affords vivid impressions of existence in the Kutupalong camp whose wood and canvas shacks are packed tightly together, separated by a maze of narrow alleys. Men cut each other's hair and women hand wash their families' clothing by the well pumps as chicken cackle and scamper across the muddy ground. The children play and the adults wait and wait, faced by what Kalam calls "the specter of perpetual wandering." 
Their story is especially meaningful in Milwaukee, which has one of the largest Rohingya refugee populations in the U.S.
Boycott

(Trailer unavailable, synopsis courtesy of Just Vision)
Boycott traces the impact of a wave of legislation in 33 states (including WI) designed to penalize individuals and companies that choose to boycott Israel due to its human rights record. A legal thriller with "accidental plaintiffs" at the center of the story, Boycott is a bracing look at the far-reaching implications of anti-boycott legislation and an inspiring tale of everyday Americans standing up in an age of shifting politics and threats to freedom of speech. These dangerous bills remove the legal protection that has been awarded to boycotts for generations, granting governments the power to condition jobs on political viewpoints.
As this wave of anti-boycott legislation has swept through the country, so has a counter-wave in defense of freedom of speech. Everyday Americans are challenging these laws for their constitutionality in a nation-wide battle likely to go all the way to the Supreme Court.
With full access to the plaintiffs and in revelatory moments with elected officials, Boycott chronicles one of the most consequential First Amendment battles of the past few decades and investigates the question – how did we get here?
We are grateful to all of our sponsors who supported the Milwaukee Muslim Film Festival this year!
2022 Milwaukee Muslim Film Festival
SUPPORTING SPONSORS:
Tom's Auto Maintenance

Islamic Society of Milwaukee

Hayat

Muslim American Society

WMCA

Aladdin

Max Bodyshop

Granite & Marble by Design

Taqwa's Bakery and Restaurant

Prime Printing

Therapy at Home 

Hanan Refugee Relief Group

Shams Studio

Dura Services
COMMUNITY SPONSORS: 
An Act of Worship

Muslim Student Association – UWMilwaukee 

Muslim Student Association – Marquette University

Milwaukee Turners

Peace Action Wisconsin

Fanana Banana

United Nation Milwaukee Chapter
Tantura
Jewish Voices for Peace

Students for Justice in Palestine – Marquette University

Students for Justice in Palestine – UWMilwaukee 

MKE4Palestine
Boycott
Jewish Voices for Peace

AMP Milwaukee

Students for Justice in Palestine – Marquette University

Students for Justice in Palestine – UWMilwaukee

MKE4Palestine
Thirst for Justice
WISDOM

Milwaukee Water Commons
Wandering: A Rohingya Story
Lynden Sculpture Garden

BCRW
The Mauritanian
Milwaukee Turners

Peace Action Wisconsin

United Nation Milwaukee Chapter
Scattered People
United Nation Milwaukee Chapter