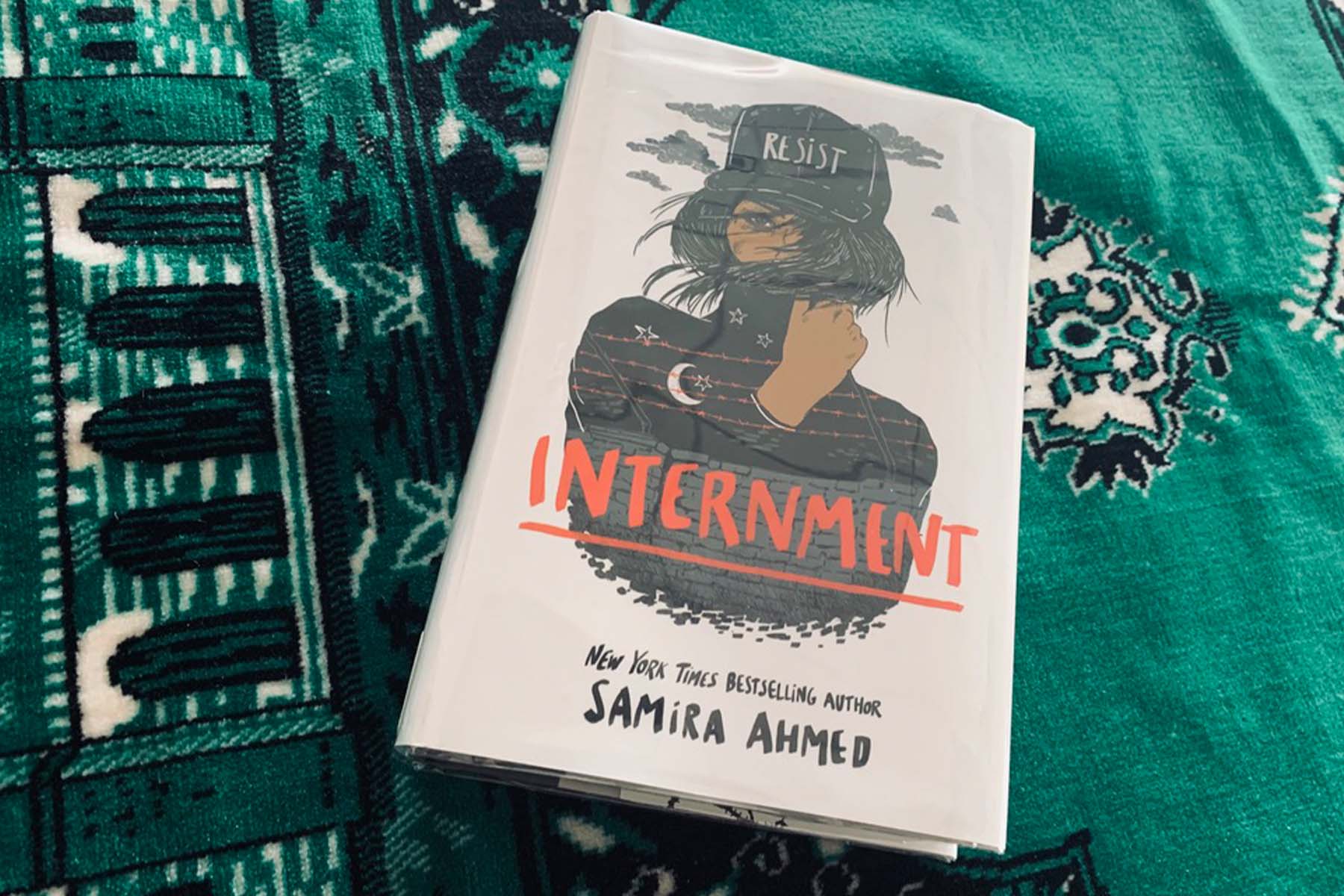 Elise Bellin, Librarian of the Islamic Resource Center, wrote this book review as part of an ongoing series that focuses on a range of books within the IRC collection as a service to the community.
Internment by Samira Ahmed (2019)
ISBN: 9780316522694
I admit that I don't review a lot of young adult books. As a general rule, it has been only in the past decade or two that mainstream young adult books have really begun coming into their own and as far as books by and/or about Muslims go, no matter the target age, it has only been in the past five or six years that we have really seen an uptick in the number making it into the mainstream awareness, making them more accessible. There currently just aren't that many yet. We are getting better at having Muslim or other minority aimed materials, but it will probably be a few years before it becomes truly easy to find them. Luckily trends like this tend to snowball.
That being said, that doesn't mean that limited numbers always means limited quality. There are a number of astounding titles out there. My last review was on a really good one. So is today's.
Internment by Samira Ahmed is a novel that I wish were farther from our country's reality in regards to immigrants and minorities (particularly Latinx and Muslim Americans) and the reality of millions of Americans today. It deals with issues of Islamophobia and racism and potential results if these issues are left unchecked and allowed to fester. It is a throwback to the Japanese American internment camps from WWII and the bones of current security structures acting as of now on the southern border of the United States. It is the raising up of historical resistance leaders and the condemnation of Trumpian philosophies and hate mongering. In short, Internment is a wakeup call both to those of us not in the fight and those adding fuel to the fear.
Internment, which began being written in January 2016 as Trumpian politics was really starting to hit its stride, is the story of Layla Amin, an American Muslim teen forced into an internment camp in the California desert along with all other Muslim Americans in the US. It is the story of her fight against the power, her fight for equality, her resistance to the societal beliefs against Muslims. It is a very politicized book fighting the current political climate and shouting out to be heard and recognized and legitimized. Many of the events in the book hauntingly and frighteningly mirror events in the real world. It is a powerful voice in what too often becomes a vacuum.
This is Samira Ahmed's second politically motivated Young Adult novel in as many years. Her first, entitled Love, Hate & Other Filters instantly put her on the New York Times Bestsellers list and was reviewed by half a dozen major book review magazines including Booklist, Publishers Weekly, and School Library Journal. This book debuted on the NYT YA Hardcover bestsellers list at #4 and has some serious reviews of its own. Internment even had its film options sold prior to release. She has a third book scheduled to come out later this year, Mad, Bad & Dangerous to Know. It should be exciting to see where these take her.
Founded in 2010, the Islamic Resource Center (IRC) is the first Islamic public lending library in Wisconsin. The IRC aims to provide resources to educators, students, health professionals, interfaith groups, and any members of the Milwaukee community that want an accurate understanding of the Islamic faith, its practices, and its people.