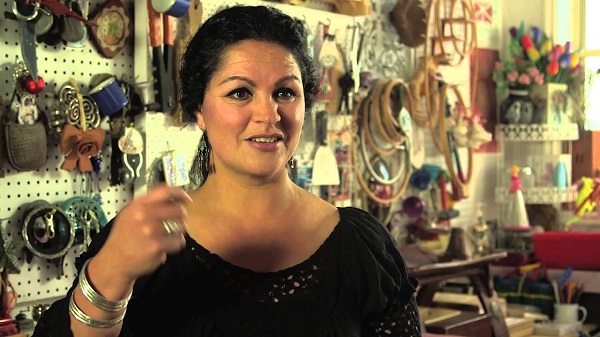 Fatima Killeen's award-winning work, The Crooked Narrative 2021.
Canberra artist Fatima Killeen won the first woman, the Australian Muslim Artist Art Award for $ 10,000.
Killeen, a graduate of ANU's School of Arts and Design's First Class Honorary Painting, won her award for her collage "The Crooked Narrative" printed on paper.
A respected member of the ACT art community, she was born in Morocco but has lived here with her husband and family for many years.
Her work has been exhibited in more than 60 solo and group exhibitions in Australia, Jordan and Morocco, and is held at the Australian National University, Australian National University, Australian Human Rights Commission and National Museum of Australia. And the Islamic Arts Museum Malaysia, which hosts the awards she just won.
She has won the International Honorary Award for Moroccan Art and Culture and the 2016 Australia / Africa Excellence Award.
Her grenade award-winning image was designed with the pomegranate in mind and is part of the pun, which means "grenade" in French.
On the surface of this explosive weapon, Killeen said: Nevertheless, the pomegranate is also a symbol of life and fertility and is described as sacred in both the Bible and the Quran. The juxtaposition of destructive weapons and fruits reminds us of our connection to nature in search of peace and love.
The scarlet heart shape in the image symbolizes the tension between old blood memories and old feuds, the desire to establish a common foundation for coexistence in conflicting societies, and the blue shades of the background are collective. Represents memory and non-aggression.
The Australian Muslim Artist Art Award is an annual finalist exhibition that provides a platform for upcoming and established artists to share their work. This year, 17 artworks by contemporary artists from around the country will be on display in the online gallery, allowing visitors to vote for People's Choice.
Australian Muslim Artist Art Award lasts until November 19th here..