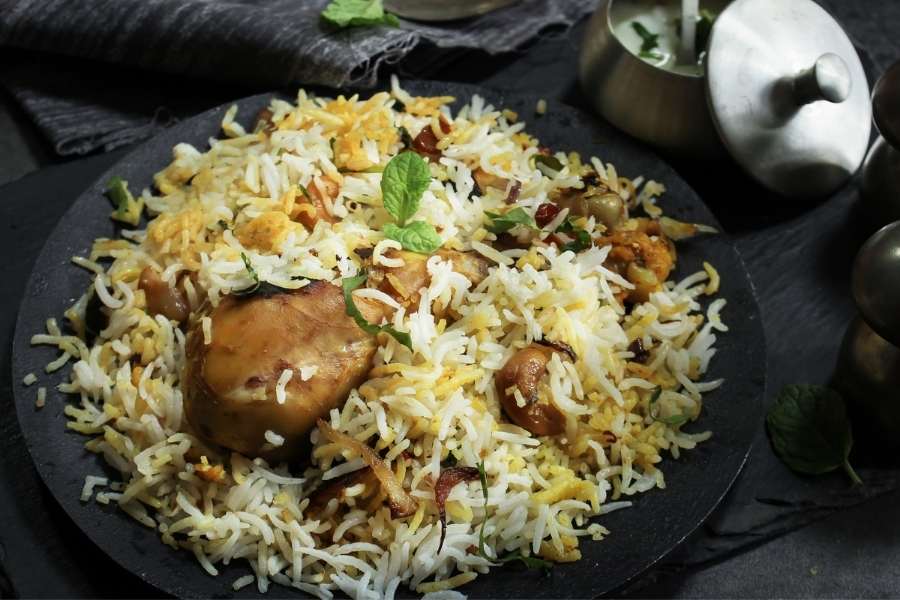 Chicken zorbiyan is a Yemeni dish from the south of the country, which mixes chicken, rice, and potatoes with spices and broth.
For Ramadan, Fork the System brings you stories of family, connection, and the dishes that made the month special for our guest chefs.
Our first guest chef, Akram Said, has taken social media by storm with his videos showing how traditional Yemeni dishes are made. He spoke to Al Jazeera over videoconference to tell his story and the story of the dish that makes Ramadan for him. Here is his story, in his words:
Growing up in Dallas, I had a really aggressive stuttering problem, so I had a hard time speaking. At its worst, my speech impediment would have me breaking things so that I could get the words out. I'd break something and suddenly, the words would come tumbling out.
I was made fun of, even by my own siblings. But my mom, she made me feel special. She took me to Mecca, on an umrah. We would go on vacations together, just the two of us. She would never say no to me and was always there for me.
I wish I could say that I returned the favour, but I was a really troubled kid. I was bad at school, and I dropped out of high school in 10th grade because I was always in and out of trouble. I ended up in juvenile detention centres. But my mom never gave up on me.
So, one day, while I was lost after a failed attempt at living in Yemen that was disrupted by a revolution, she told me her plan for me. She was going to take me to sign me up for culinary school. I don't know where the idea came from, I had never cooked and showed no interest in cooking. But, within a few hours of her telling me, I was signed up, and starting my culinary journey, on the road to becoming a chef.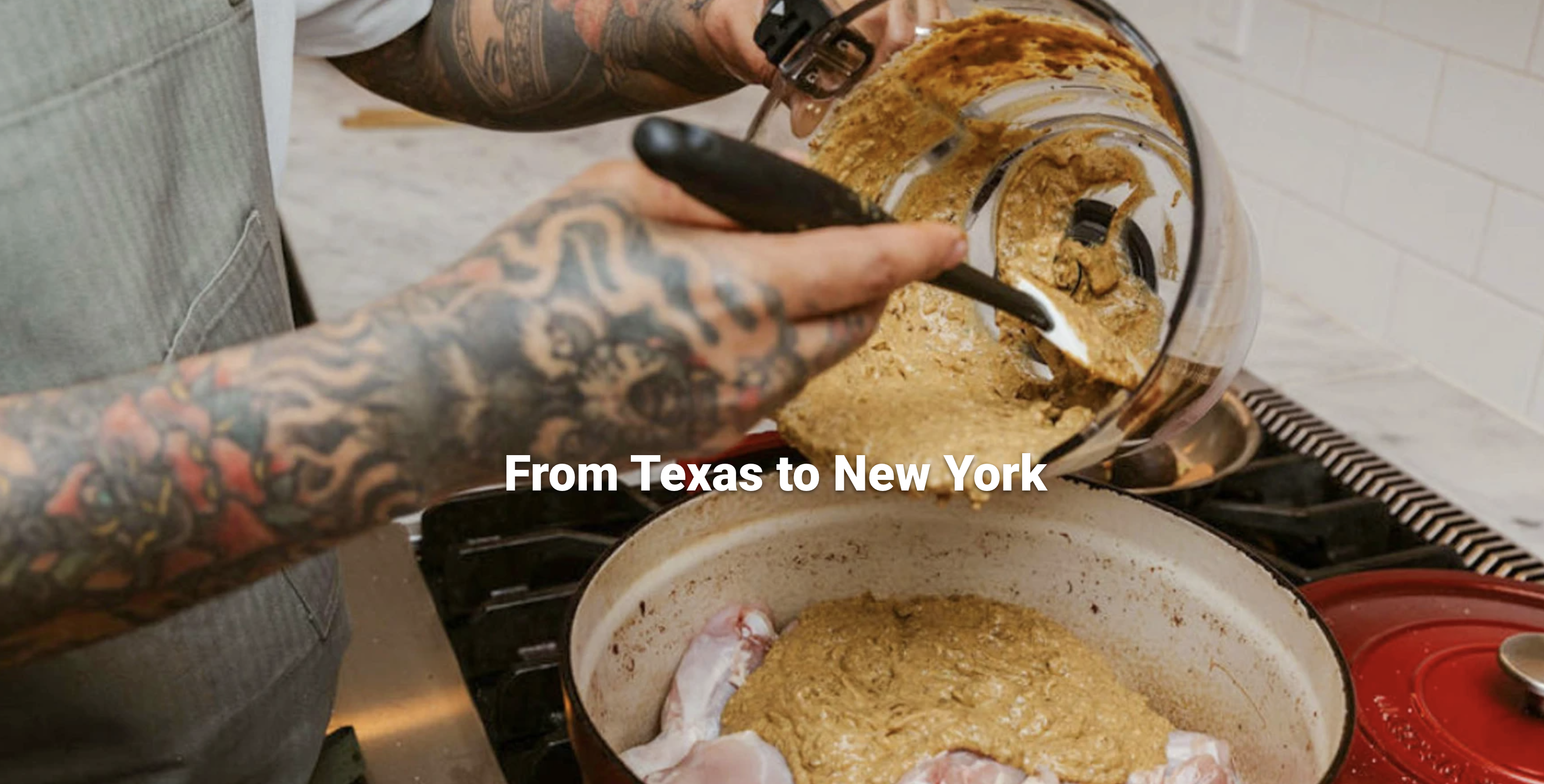 Akram Said only uses his mom's recipe to cook chicken zorbiyan. Here he coats the chicken in a specially-made marinade [Courtesy of Akram Said]
I was good at it. I got confident and thought, maybe I can do this? I graduated in the top 10 percent of my class. For the first time in my life, I had seen something through.
The next step was finding a restaurant to work at, so I went to New York, to find a chef my mom and I had seen on Netflix, Paul Liebrandt. His style made me excited about cooking. I knocked on his restaurant's door and told the manager I was Akram, from Texas, and I wanted a job.
It took me seven tries but they finally took me on. It was unpaid, and I spent my time cleaning shellfish. But it was a foot in the door and started my journey in the culinary world and high-end restaurants.
How did I get from a world of fine dining and Michelin stars to posting about Yemeni food on Instagram? I never thought I would be proud of my own cuisine, partly because I wasn't particularly into my culture or religion at the time, but also because I didn't think it had a prestigious place. It tasted good, but I wasn't proud of it.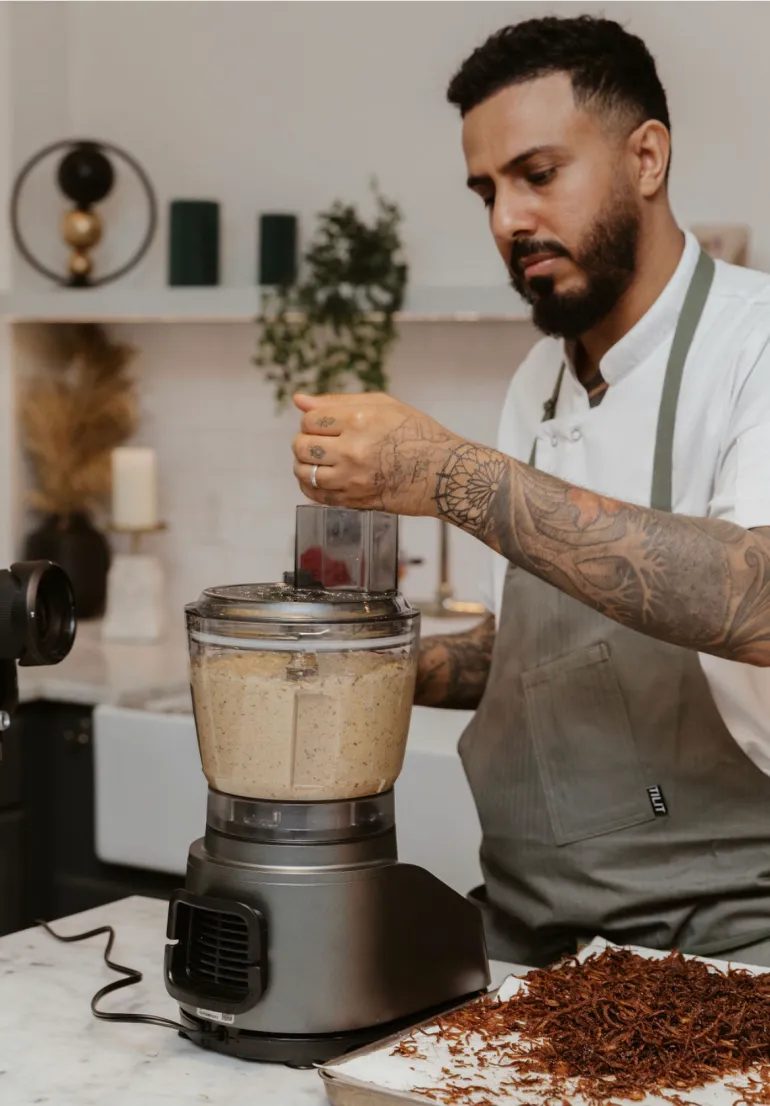 Akram Said's mother encouraged him to sign up to culinary school, setting him on a path to becoming a chef who specialises in both Western and Yemeni cuisine [Courtesy of Akram Said]
In 2018 though, me and my family rented a loft in Brooklyn, and we converted it into a restaurant for two days. My mom flew out from Texas, and based on her recipe, we made zorbiyan, a traditional dish from Aden that's a combination of rice, potatoes and meat or chicken. There are so many steps to it, the marinade, the searing. You have to cook it low for more than eight hours, and then you cook the rice in the broth with spices like cinnamon, cardamom, cloves and bay leaves. Every component is special – and everyone went crazy for it, starting my journey with Yemeni cuisine.
It also helped me to get another job. One of the 50 people who bought tickets to the pop-up was  a member of an Arab royal family. He loved the chicken zorbiyan, and offered me a job on the spot as his private chef.
The first meal he asked me to prepare: chicken zorbiyan. I called my mom. "You need to tell me everything," I asked her, worried I wasn't going to be able to make her signature dish. "Break it down for me."
And she did. Over the phone, step by step. It turned out exactly like it was at the pop-up – the sheikh loved it, and asked for it every week.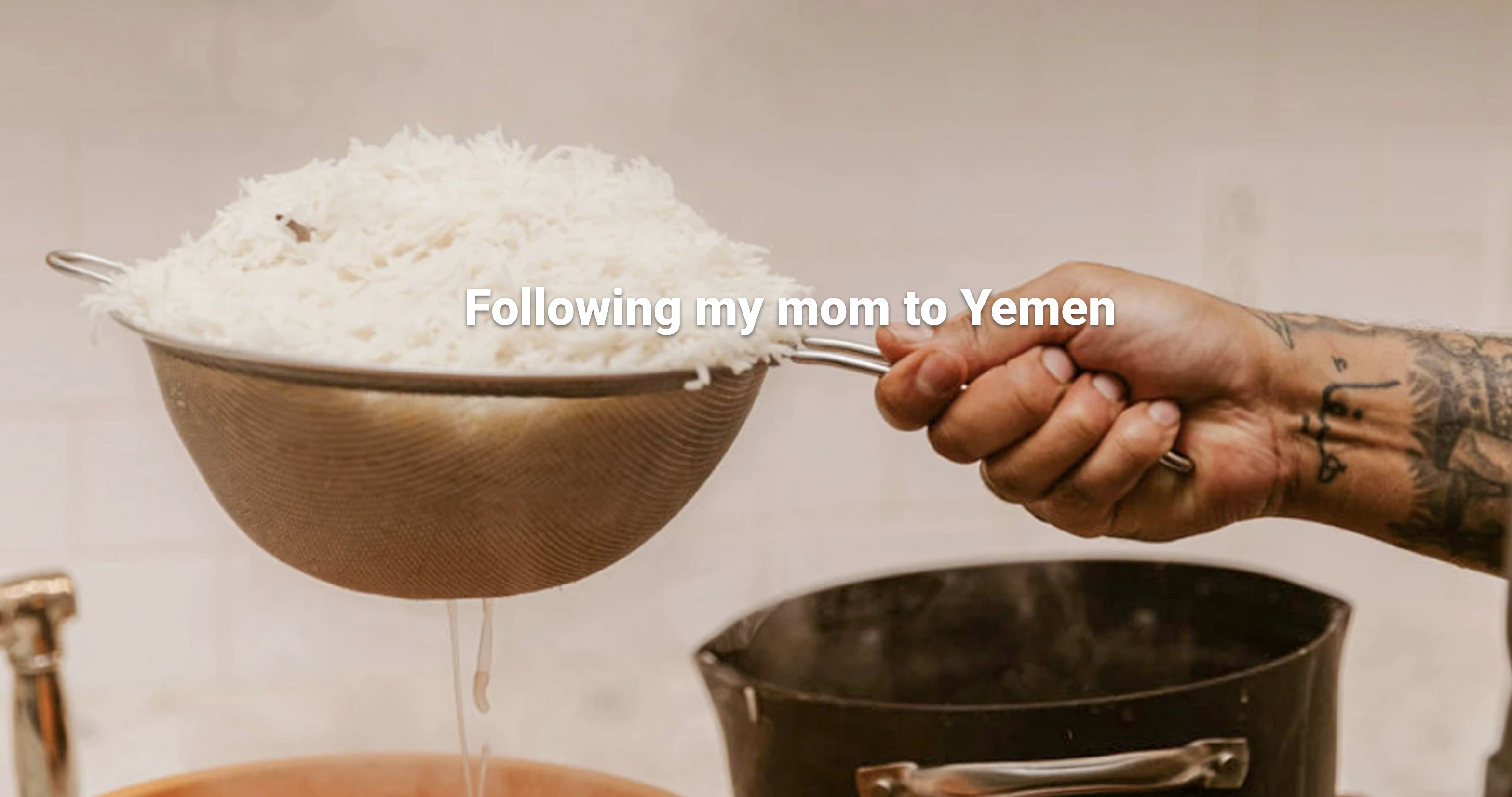 When the COVID-19 pandemic hit in 2020, my wife had just given birth to our twins. My mom came to visit us in New York, and then she planned to go to Yemen, to visit her mom. Everyone was telling her not to go, that she might not make it back. It was dangerous, both because of the war in Yemen, and the virus spreading around the country. "I don't care if I die," she said. "I have to see my mom."
She flew to Yemen, and she got sick after seeing her mom in the village. I knew right away that she wasn't going to make it.
I didn't think twice about it. I had to go to Yemen to see my mom. This was the woman who had always stuck by me, who never gave up on me.
It used to take six hours to get from where I landed in Aden to the capital Sanaa, where my mom had gone after being in the village. Instead, because of the war and the checkpoints, it takes 12 hours. But halfway to Sanaa I got a call.
My mom had passed away. And just like that, I was crushed.
At the same time, I was able to be there to bury my mom. My mom had always dreamed of being buried in Yemen; she loved the place. She was very social and had so many friends and family there.
So, here I am in Yemen, during the worst time of my life. I've never been this hurt. I've never been this crushed. But because I was in this place, Yemen, this place that my mom loved so much – it made things feel a little bit better. I was surrounded by family, these people my mom loved. And they embraced me.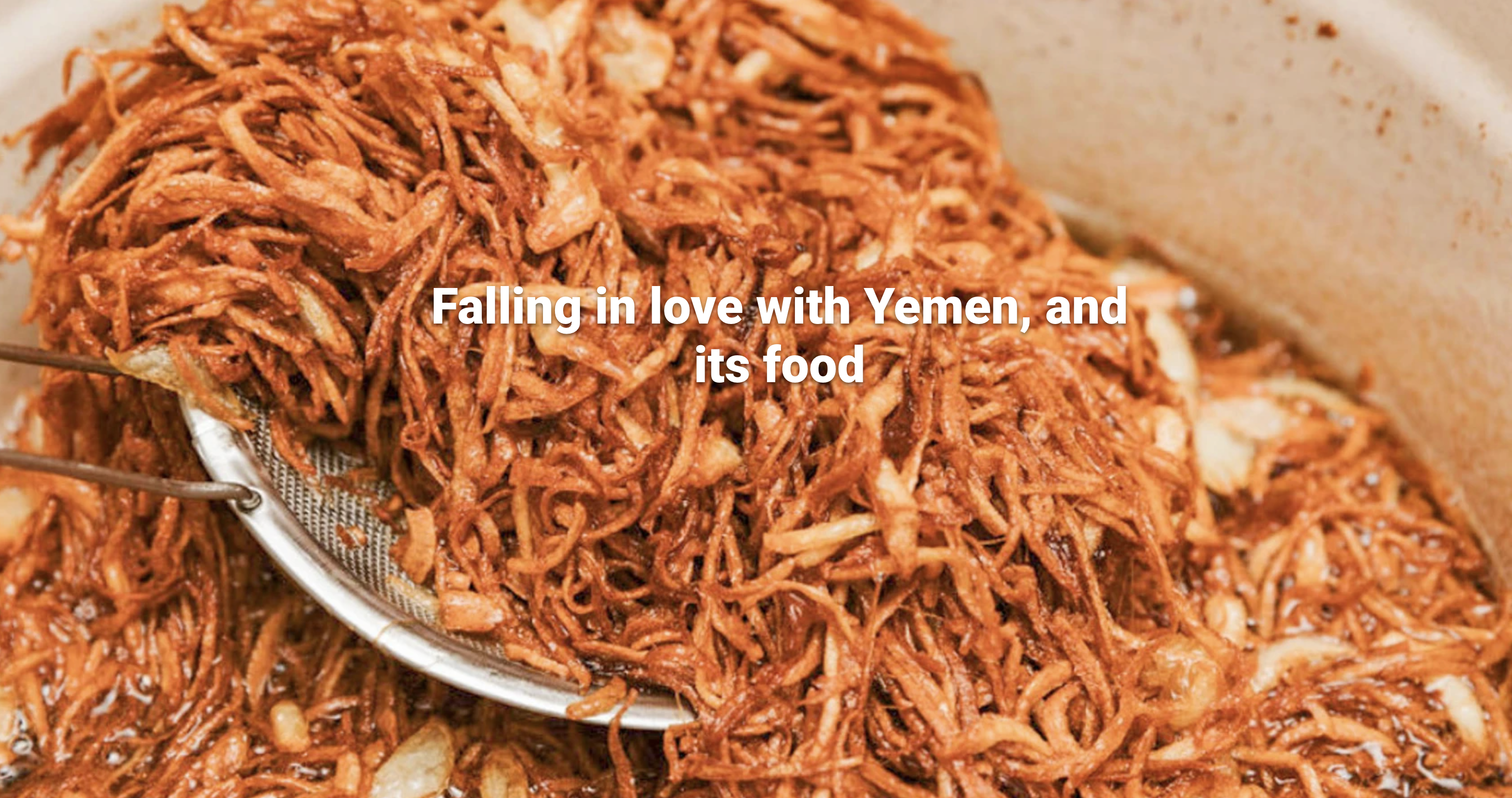 Fried onions are prepared beforehand so that they are ready to be spread over the rice, chicken and potatoes [Courtesy of Akram Said]
Yemeni people are amazing. The land is spectacular. Even though I've traveled to different places, nothing is like Yemen for me. There's a sense of peace, and it's just incredible.
It was my first time going to Yemen since I became a chef, which had become such a big part of who I am. I started learning more about the cuisine, and people would regularly invite me to eat lunch. But instead of waiting for the food to come out, I would go into the kitchen. In the homes I was going into, that was normally a space filled with women. But I wanted to see what they were doing. I wanted to help. I was learning. I was spending every day in the kitchen with these ladies, my mom's cousins, my mom's sisters, my mom's friends.
In Yemen, people would usually say that it was ayb, or not appropriate, for me to be in there. But because my mom had just died, they let it slide. And so, being around those people, and being in that land, it made me feel closer to my mom. It made me feel like she wasn't so far away.
That was when it clicked. This is what I needed to do. I was going to shift my focus to Yemeni cuisine. But I wasn't going to try to change it, or 'elevate' it. I wanted to preserve it, exactly how it is, like my mom made it, how she liked it.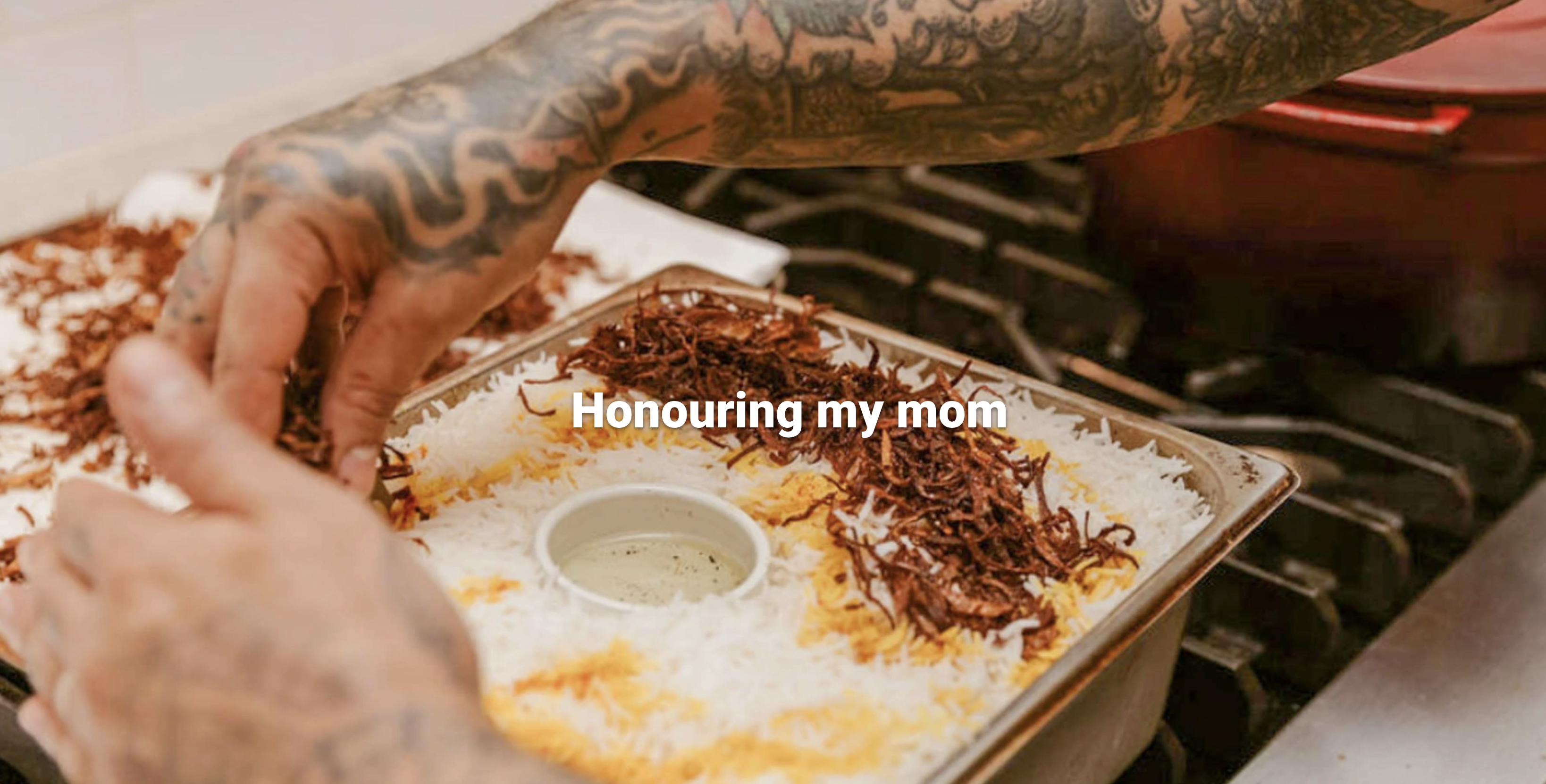 Akram adds a ramekin bowl in to the middle of the rice and puts oil and a hot piece of charcoal in it. This will give the zorbiyan a smoky flavour [Courtesy of Akram Said]
My mom was no casual cook. Take zorbiyan. Normally people make it in a similar way to biryani, you take the chicken or the meat, you pour the marinade over it, throw the potatoes in. And when you cook that, you pour the rice over it, all in one pot.
My mom didn't do that. Instead, she would cook the chicken and the potatoes in a marinade, and then transfer it into a hotel pan. Then she would take the rice and cook it like an al dente pasta, by taking a huge pot, fill it up with water, spice it up, salt it, and she would pour rice in there to cook until it is three-quarters of the way done. How do you know that? Well, you take a grain of rice and you squeeze it between two fingers. It should have cooked enough to the point where it just flattens, and then it's done. After that my mom would strain the rice, lay it on top of the meat in the pan, smoke it, colour it with the saffron, wrap it in parchment paper and aluminium foil.
There were more little details. Start on the stove top, and then finish it off in the oven. Others might not bother with these things; they might want to save time. But when you just cook the zorbiyan on the stove, it can get mushy, or overcooked. For consistent results the temperature needs to be consistent, and you can only get that by fully encapsulating the pot in an oven. How my mom knew that all those details were necessary I don't know. But what I do know is that's how she ensured that the results were always perfect.
I don't know whether it's to honour her or if it's just a coping mechanism right now. What I do know is that cooking Yemeni food brings back memories of her. Photos and videos aren't my connection to her, food is. And that's why I do what I do.
As told to Abubakr Al-Shamahi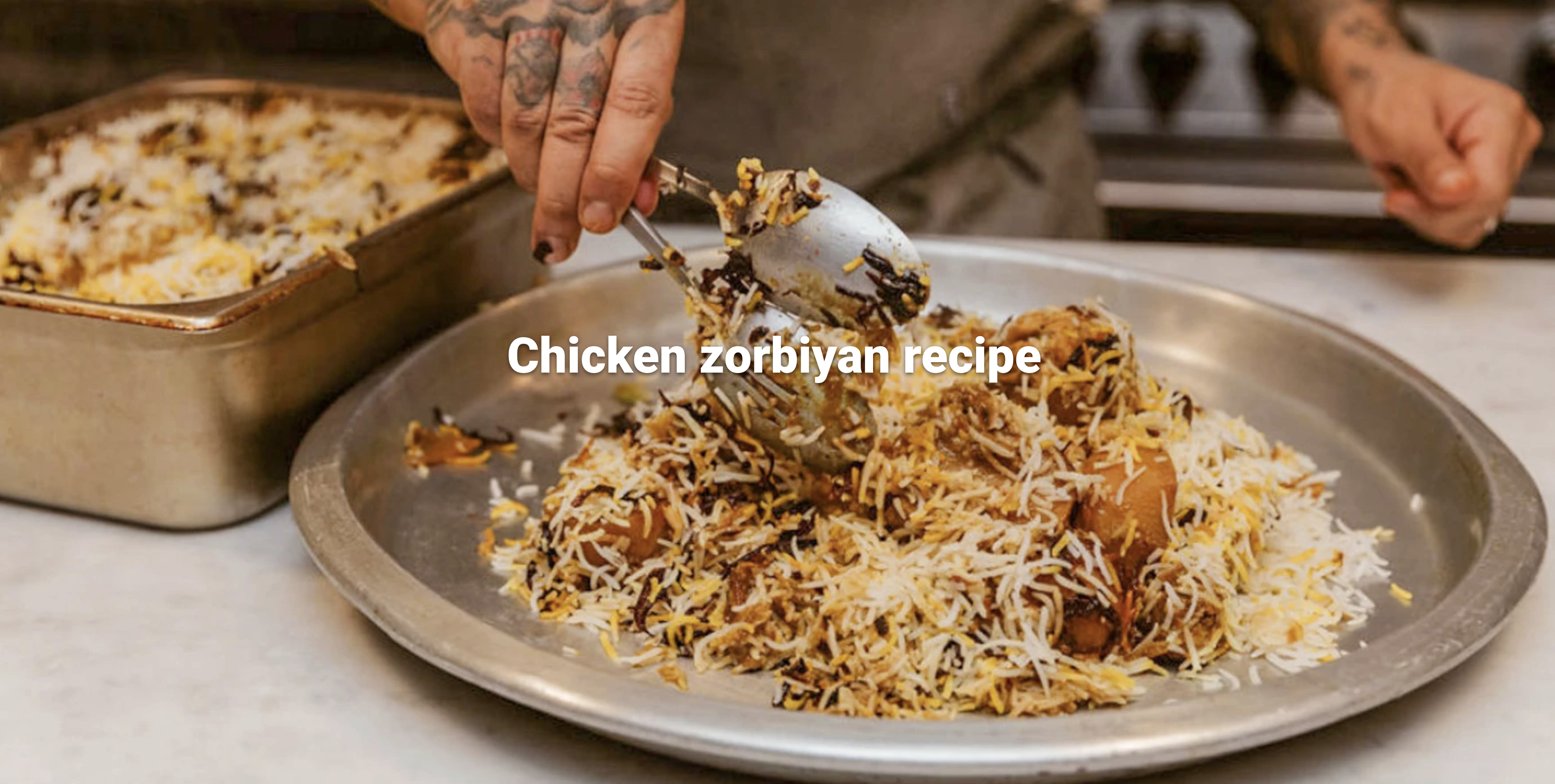 The best way to eat chicken zorbiyan is family style – shared between a big group of people [Courtesy of Akram Said]
Ingredients
For the zorbiyan base
 1.8kg (4 lb) of skinless bone-in chicken thighs and drumsticks
4 cups of whole fat yogurt
1 tablespoon of coriander seeds
1.5 tablespoons of cumin seeds
1 tablespoon of curry powder
3 whole dried black limes
1 tablespoon of black peppercorns
8 cardamom pods
1 teaspoon of cinnamon
1 teaspoon of turmeric powder
3 large, peeled russet potatoes cut into 4cm (1.5 inch) discs
15g of ginger
15g of garlic
1 green chili
12 medium onions
For the rice
4 cups of basmati rice
6 cardamom pods
6 cloves
1 cinnamon stick
3 bay leaves
salt to taste
1/4 teaspoon of saffron threads
1 piece of charcoal
Recipe
Slice onions thin and fry them until they are a deep golden brown. Set aside on a baking tray lined with paper towels, make sure to spread them out so the air can crisp them up.
In a dry pan, toast your whole spices for the zorbiyan base, then grind them.
In a blender, combine the yoghurt, spices, ginger, garlic, green chili, and half of the fried onions. Blend till smooth. Season with salt.
Wash the rice until the water runs clear, then soak it for 30 minutes. Strain and set aside.
In a wide pot, add potatoes, chicken, and the yogurt mixture with a 1/4 cup of water. Cover and cook on a medium-low flame for 45 minutes or until the potatoes and chicken are tender.
Once the base is done cooking, transfer everything to a deep baking dish.
Preheat oven to 350F (177C).
Bloom the saffron by grinding it in a mortar and pestle, add two ice cubes, let it melt.
Fill up a pot with water and add your whole spices for the rice. Once it is boiling, season generously with salt.
Cook the rice until it's three-quarters of the way done. You will know it is ready if you can crush it a little bit when you squeeze it between your fingers.
Drain the rice, spread it on top of the chicken and potatoes.
Drizzle the saffron water on top and sprinkle the remaining fried onions over.
Smoke the rice by placing a tablespoon of oil in a small ramekin bowl. Place it in the middle of the rice and drop a hot piece of charcoal in it.
Immediately cover and seal with parchment paper and foil to trap all the smoke in.
Place it in the oven on 350F (177 C) for 45 minutes.
When ready to serve, remove the ramekin bowl from the rice, and transfer the zorbiyan to a large platter.
This dish is best served family style with some laban and sahawiq (zhug). If you have Adeni oshar sauce, that's a plus.