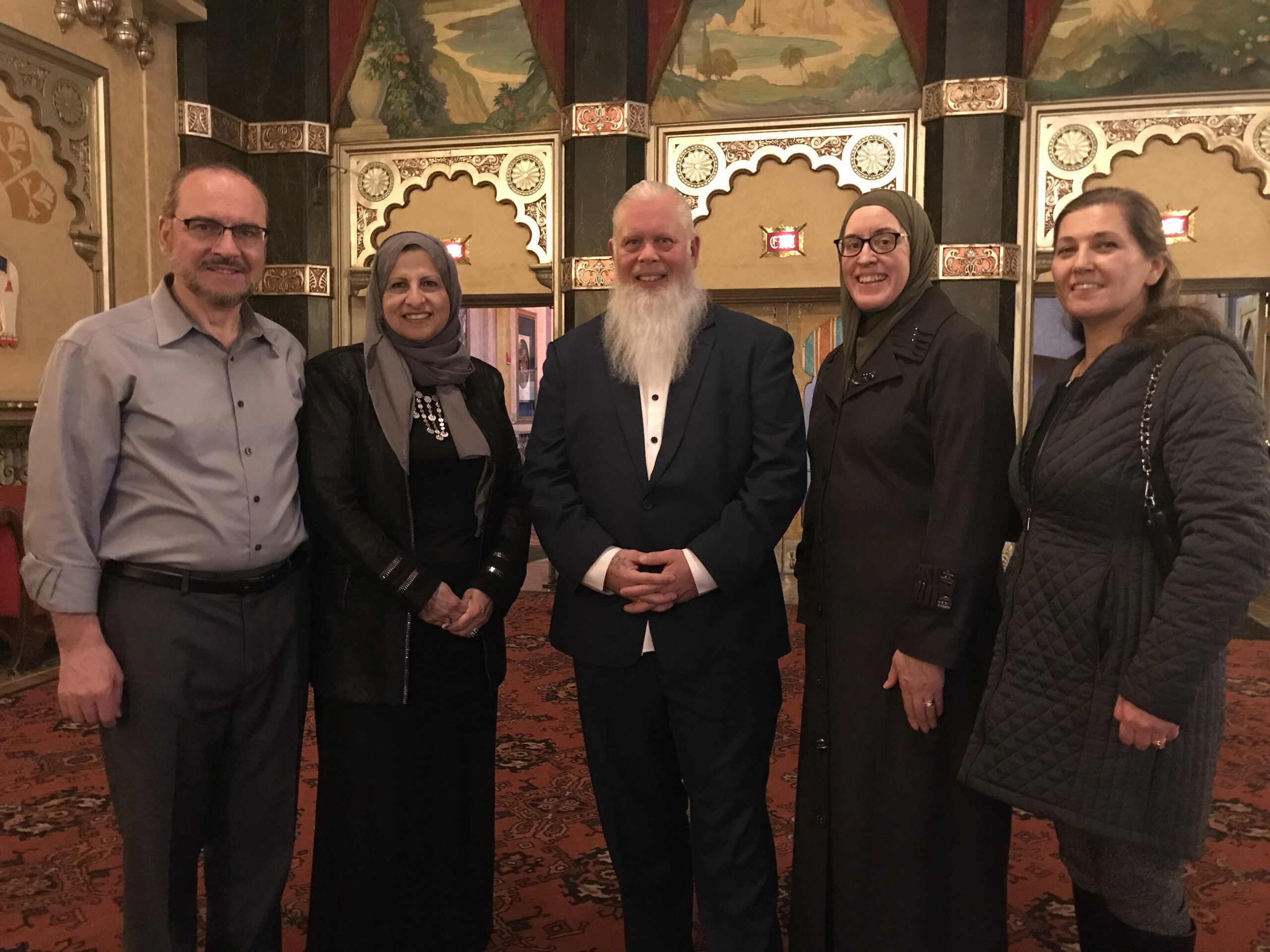 Photo by Cherrie Hanson
Left to right, Dr. Waleed Najeeb, Janan Najeeb, Mac McKinney, Heather Gilvary-Hamad and Dr. Ghudran Abdulal in the lobby of the Oriental theater in Milwaukee for the screening of Stranger at the Gate.
Mac McKinney almost became one of America's most infamous mass murderers. Instead, he became a leading spokesperson for tolerance and understanding. Had his 2009 plot succeeded, he might have killed as many as 200 Muslims. Instead, he became Muslim.
McKinney was in Milwaukee on March 17, speaking at the Oriental Theatre in conjunction with the screening of his Oscar-nominated short documentary, Stranger at the Gate. Milwaukee Muslim Women's Coalition (MMWC) invited Milwaukee Film to co-sponsor the event and they responded enthusiastically. 
The partnership between Milwaukee Film and the MMWC began years ago when Milwaukee Film invited the MMWC to bring their Muslim film festival to the Oriental Theater.  Last year, the Milwaukee Muslim Film Festival became a permanent part of Milwaukee Film's Cultures and Communities Festival. 
The post-film Q & A, moderated by MMWC president, Janan Najeeb, was delivered to a full house. Questions from the audience and responses from McKinney were as riveting and informative as the film itself.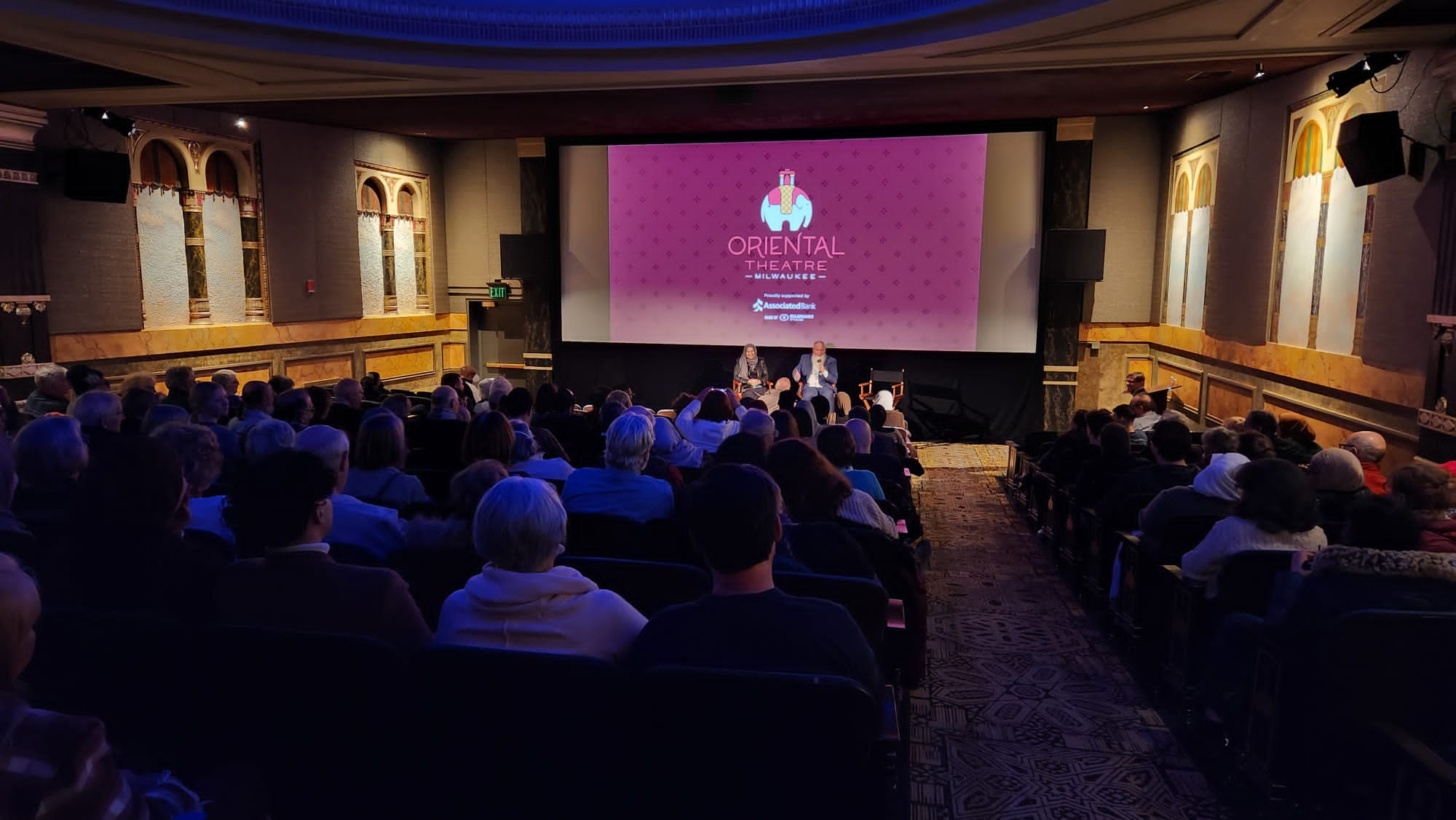 Photo by Rawand Yazaw
The film focuses on how McKinney, who served with the U.S. Marine Corps during the occupation of Iraq, returned home to Muncie, Indiana, embittered and hateful toward Muslims. 
In Stranger at the Gate, his wife Dana recalls leading him down the opposite aisle in supermarkets if she spotted women wearing the hijab. She was afraid of an angry outburst, but never imagined he might actually kill.
A powerful-looking man with USMC tattoos and the heft of a weightlifter, McKinney speaks frankly about himself and his experiences in the documentary, which also includes memories and comments by members of the Islamic Center of Muncie. 
He was a troubled teen, using and dealing drugs. He joined the Marines when he turned 18, looking for discipline and seeking the respect of his father, a Marine veteran. McKinney served in the Corps for 25 years.
In Iraq, he was on the front lines of a conflict that had no front lines. Improvised Explosive Devices (IEDs) and snipers posed an ongoing threat to the occupation forces and could crop up almost anywhere at any time. Asked in the film about killing, McKinney recalled that an officer told him, "As long as you can look at them as anything but human, you won't have a problem." 
With that dehumanized ethos in mind, and traumatized by his deployment in Iraq, McKinney built his own IED and planned to leave it at the Muncie Islamic Center on a Friday afternoon in 2009.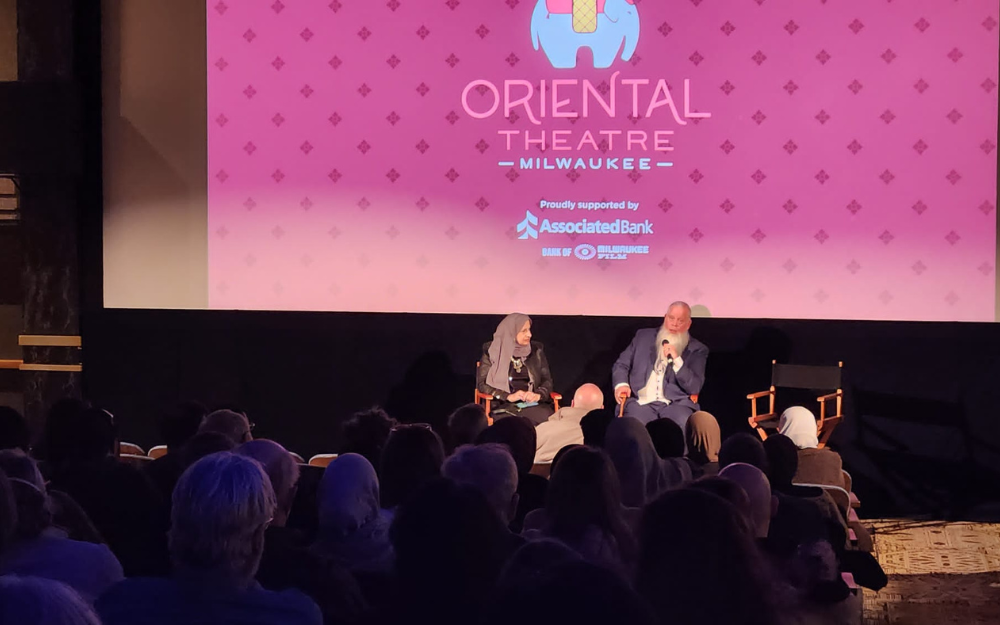 MMWC president Janan Najeeb moderated the post-screening Q & A with Mac McKinney at the Oriental theater. 
Muncie's Muslim community is largely composed of immigrants from several nations and their children. One member interviewed for the film, Jomo Williams, is an African American (his great grandfather was lynched) who converted to Islam at age 21. He recounts that hostility from the surrounding city after 911 became visible. 
"We were just as devastated as any American," he says, adding that his neighbors treated him "differently" following Al Qaeda's assault on the U.S. 
Bibi Bahrami, an Afghan refugee who came to America in the '80s, says how difficult it was to see the violence of 911 in her adopted country—and the hateful remarks, aimed at her and other Muncie Muslims, that followed.
McKinney had never known any Muslims except as real or potential adversaries on the streets of Iraq. Seeing that a Muslim community had grown up in Muncie enraged him. "It got to the point where I wanted to do harm to them … I knew I'd get caught. I was good with that. I wanted to tell people, 'Yes, I did this!'"
It could have been another hate driven, house of worship massacre, like the shootings at Oak Creek's Sikh temple or the Pittsburgh synagogue. What happened instead resulted from worshippers instinctively adhering to the best precepts of their faith and tradition. 
Although many of them sensed that he meant trouble, McKinney was greeted as a welcome guest. Reflecting on his prejudices, he recalls, "These people [who] kill nonbelievers for sport hugged me." 
"I comforted him," Bahrami says. "I would do this for any guest … We should be more kind to people under stress than those who are successful." 
To his great surprise, McKinney, who thought he was invading a den of terrorists, found that "these people were plain old pleasant. Happy to be alive. Happy to be in America."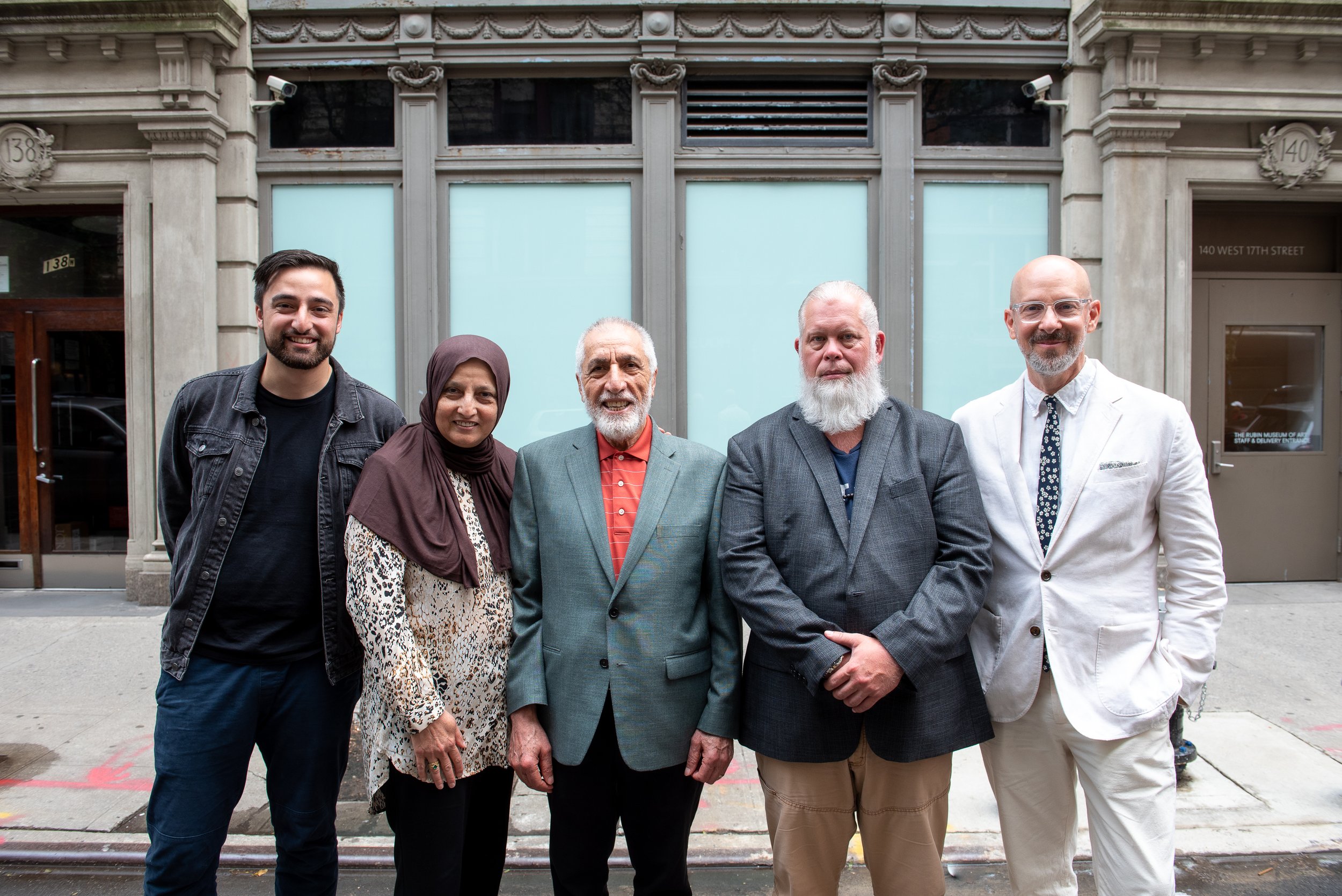 Photo by Gabi Porter
The Bahrami family, Richard "Mac" McKinney and filmmaker Josh Seftel.
The members of the Muncie Islamic Center were even more surprised when McKinney kept coming back, attending talks, dinners and Friday prayers. 
Williams recalls that McKinney discussed his tours in Iraq and that he had been "at war with Muslims in his mind." 
Within eight weeks, McKinney decided to become Muslim. Eventually, his new friends learned the reason why he first came to the mosque, but they continued to invite him to dinner. 
Among other things, McKinney found the community, and the sense of being part of something bigger than himself, that went missing after he left the Marines. "It saved his life," says his wife Dana, who adds that Islam was not the right choice for her. 
The story of how a plot to kill had been foiled by kindness began to spread. In a phone interview before his Milwaukee visit, McKinney recalled that he decided, "I had better tell my story to anybody that would listen. It got into the papers," and then into episodes of the Emmy-nominated series, The Secret Lives of Muslims. 
With the 2019 mosque shootings in Christchurch, New Zealand, McKinney found himself on CBS Sunday Morning.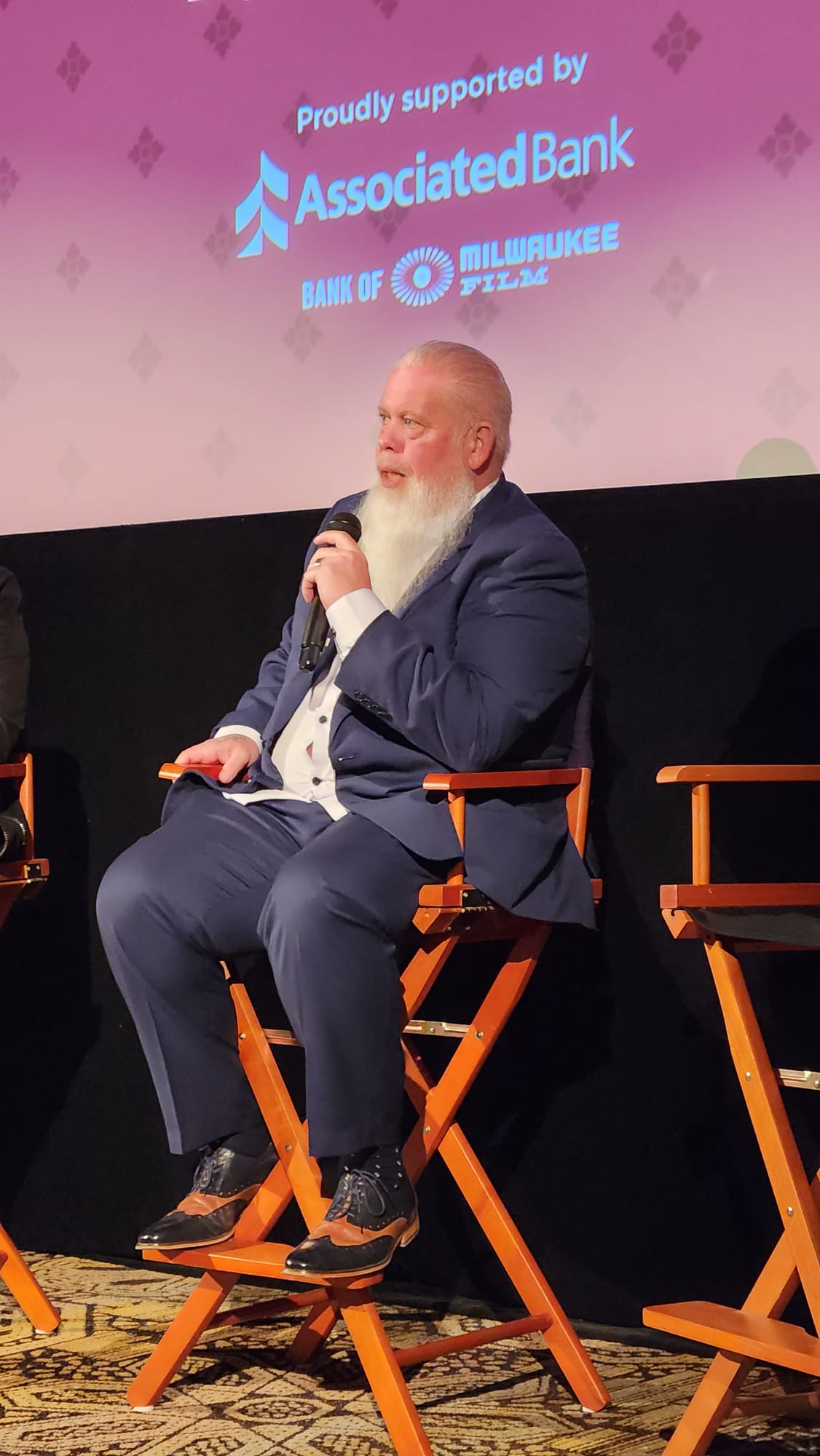 "From that point, the story just blew up," McKinney continued. "It was so surreal—the idea of making something bigger, filming a documentary in Muncie and inviting other people in the community to be part of it."
McKinney is still living in Muncie and "still active in the Islamic Center—as much as I can be. I do have a regular job—as a life coach—and I give talks." Lots of them. 
McKinney has told his story in churches and synagogues, to veterans' groups as well as Muslims, across the U.S. Asked about his religious upbringing, he replied that his mother was a believer in Jesus and his father was an atheist. He attended Baptist summer camps because "I just wanted to have fun with the other kids." He had not been personally religious.
Director Joshua Steftel's nomination for an Academy Award for Best Documentary Short (under 40 minutes in length) and Malala Yousafzai coming on as executive producer, has helped raise his story's profile. 
"I've never cared about winning an Oscar—filmmaking is not my field," he said. "But after Oscar night, I came to the producers and said, 'I'm really sorry, I wanted to win it for you guys.' They said, 'Don't worry. Getting nominated is tremendous. We're not done.'"
Plans are being drawn up for a feature film, lightly fictionalized, based on McKinney's encounter at the Islamic Center of Muncie. According to McKinney, actors have already come forward hoping to play himself and Bibi Bahrami.
Milwaukee Muslim Women's Coalition would like to thank our partnering organizations for supporting this memorable event:
Milwaukee Dawah Center, Wisconsin Muslim Civic Alliance, Veterans for Peace, Milwaukee Turners, Hanan Refugee Relief Group, Wisdom Wisconsin, Interfaith Conference of Greater Milwaukee and Masjid Al-Quran.