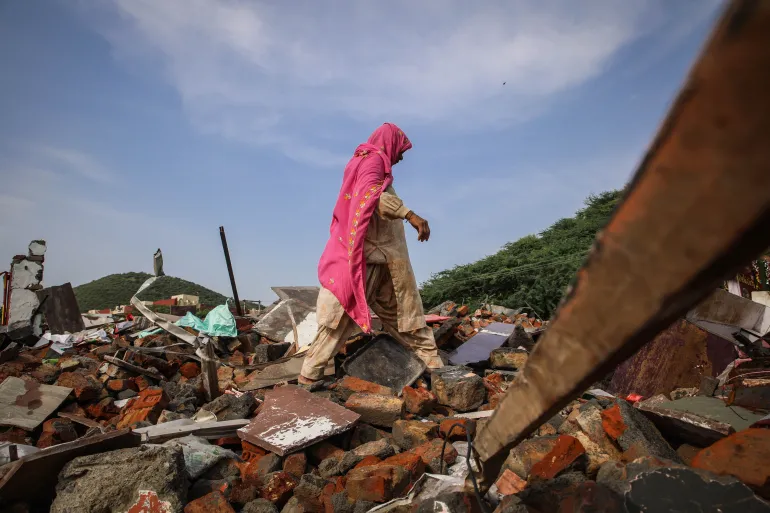 An Indian court has asked whether days of demolitions of homes and businesses of mainly Muslim residents in the northern state of Haryana were "an exercise of ethnic cleansing".
Ordering a halt to four days of bulldozing of properties in the state's Nuh district, the Punjab and Haryana High Court on Monday said: "The issue also arises whether the buildings belonging to a particular community are being brought down under the guise of law and order problem and an exercise of ethnic cleansing is being conducted by the state."
The bench of Justice GS Sandhawalia and Justice Harpreet Kaur Jeewan also observed that the state authorities had conducted the demolition drive "without following the procedure established by law" or issuing any prior notices to the people owning the properties, legal news website LiveLaw reported.
Al Jazeera on Monday reported that the ruling Bharatiya Janata Party (BJP) government in Haryana demolished hundreds of homes, shops and shanties in Nuh, the state's only Muslim-majority district.
In recent years, several rights groups have condemned the BJP for making the bulldozing of properties owned by mainly Muslim suspects in cases of violence – and even political dissenters – a common practice in the states governed by the right-wing party.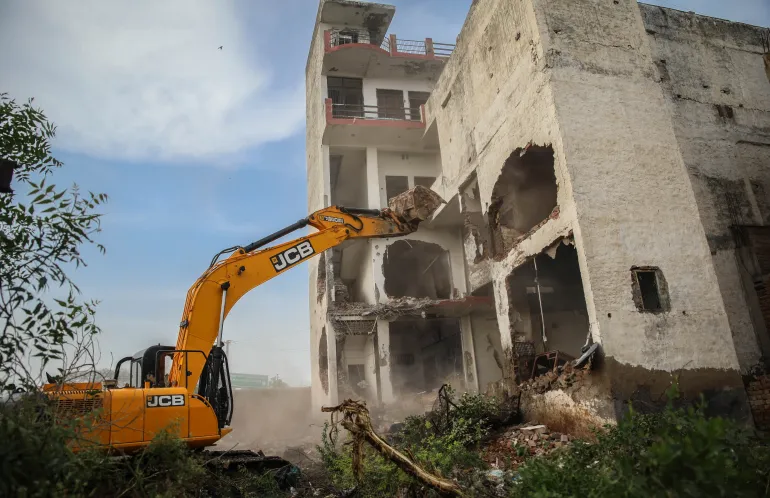 A bulldozer demolishes the property of a Muslim family in Nuh, Haryana [File: Md Meharban/Al Jazeera]
The observation by the Punjab and Haryana High Court is a rare example of India's judiciary asking a question that is already being asked by rights groups and experts around the world.
In January last year, Gregory Stanton, the founder and director of Genocide Watch, a non-governmental organisation he launched in 1999, told a United States congressional briefing that genocide of Muslims could take place in India.
"We are warning that genocide could very well happen in India," Stanton said, adding that there were early "signs and processes" of it in the northeastern Indian state of Assam and Indian-administered Kashmir.
Nearly a month before Stanton's statement, a group of Hindu religious leaders had congregated along the banks of the Ganges River in the northern Indian town of Haridwar and called for a genocide of Muslims.
Videos from the Dharm Sansad (religious parliament) showed multiple Hindu monks, some of them having close ties with Prime Minister Narendra Modi's BJP, saying Hindus should kill Muslims.
Several BJP leaders, including government ministers, have been accused of making public remarks threatening the entire Muslim community since the Hindu nationalist party came into power in 2014.
Stanton said genocide was "not an event but a process" as he drew parallels between the policies pursued by the BJP government in India and the attacks on Rohingya in 2017, when Myanmar's military attacked its mainly Muslim minority, killing thousands, raping women and burning their villages.
The United Nations said the Myanmar military's campaign was conducted with a "genocidal intent".