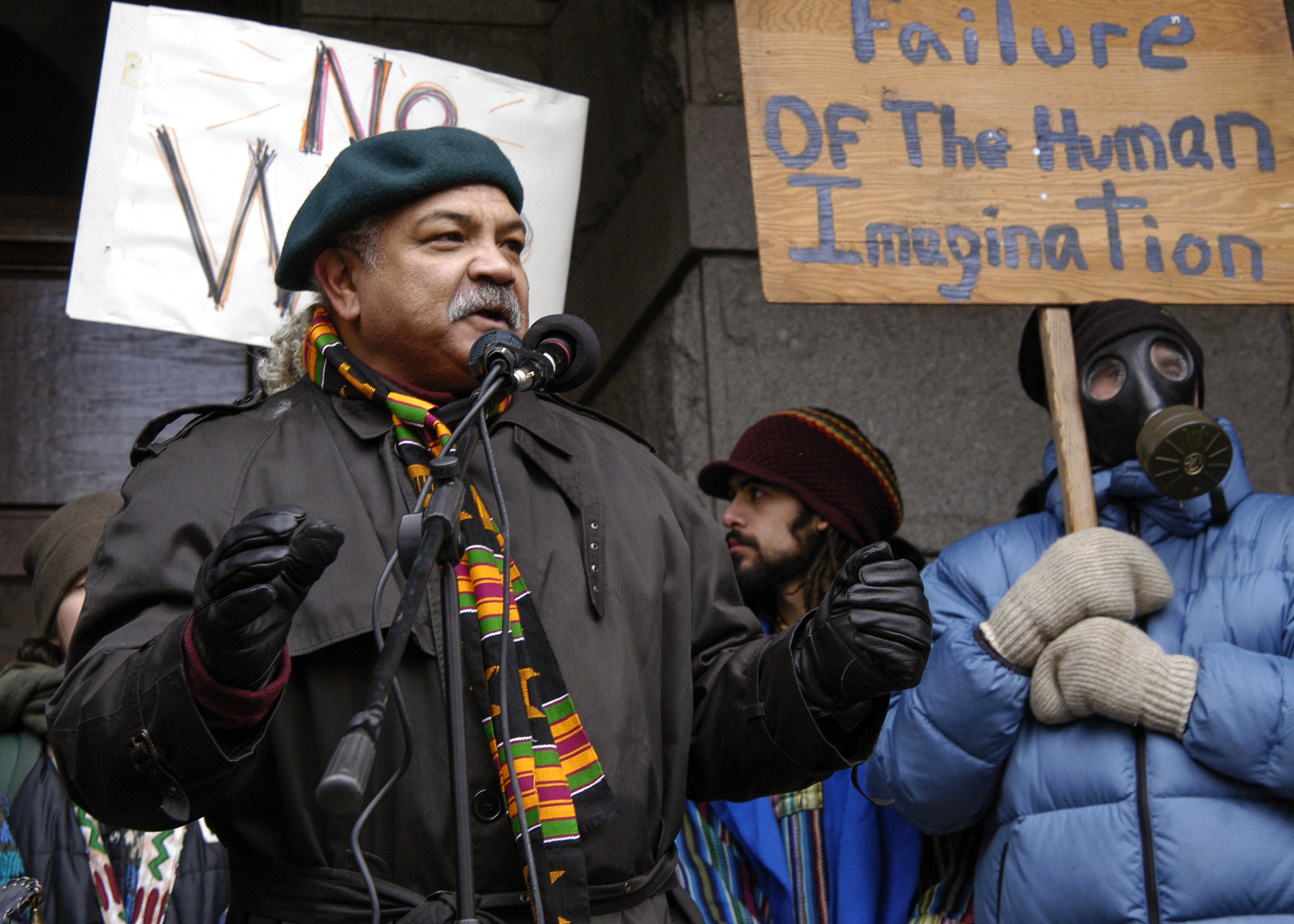 Photos by Susan Ruggles
Milwaukee activist George Martin stood against war, oppression and policies causing climate change. 
Milwaukee activist George Martin, who rose to national and international prominence as a dynamic orator and tireless organizer against the United States' 2003 Iraq War, died July 16 at 77.
Martin is remembered in Milwaukee's Muslim community for his strong stance against U.S. military actions in the Middle East, his compassion for the oppressed and his unflagging support of the Palestinians, said Islamic Society of Milwaukee director Othman Atta. 
"I knew George for decades and was impressed by his leadership and commitment towards international justice and peace," Atta wrote Wednesday in an email from the West Bank to the Wisconsin Muslim Journal. "He was always unafraid to express his views about any issue involving human and civil rights violations, violence and racism, whether in this country or internationally.
"George worked tirelessly to oppose the occupation and destruction of Iraq and the atrocities committed against the Iraqi people. George also took a strong stance against the Israeli occupation and the atrocities committed against the Palestinian people. Especially significant was the fact that he was opposed to those who were hypocritically 'progressive except Palestine.'" 
Celebrating an impactful life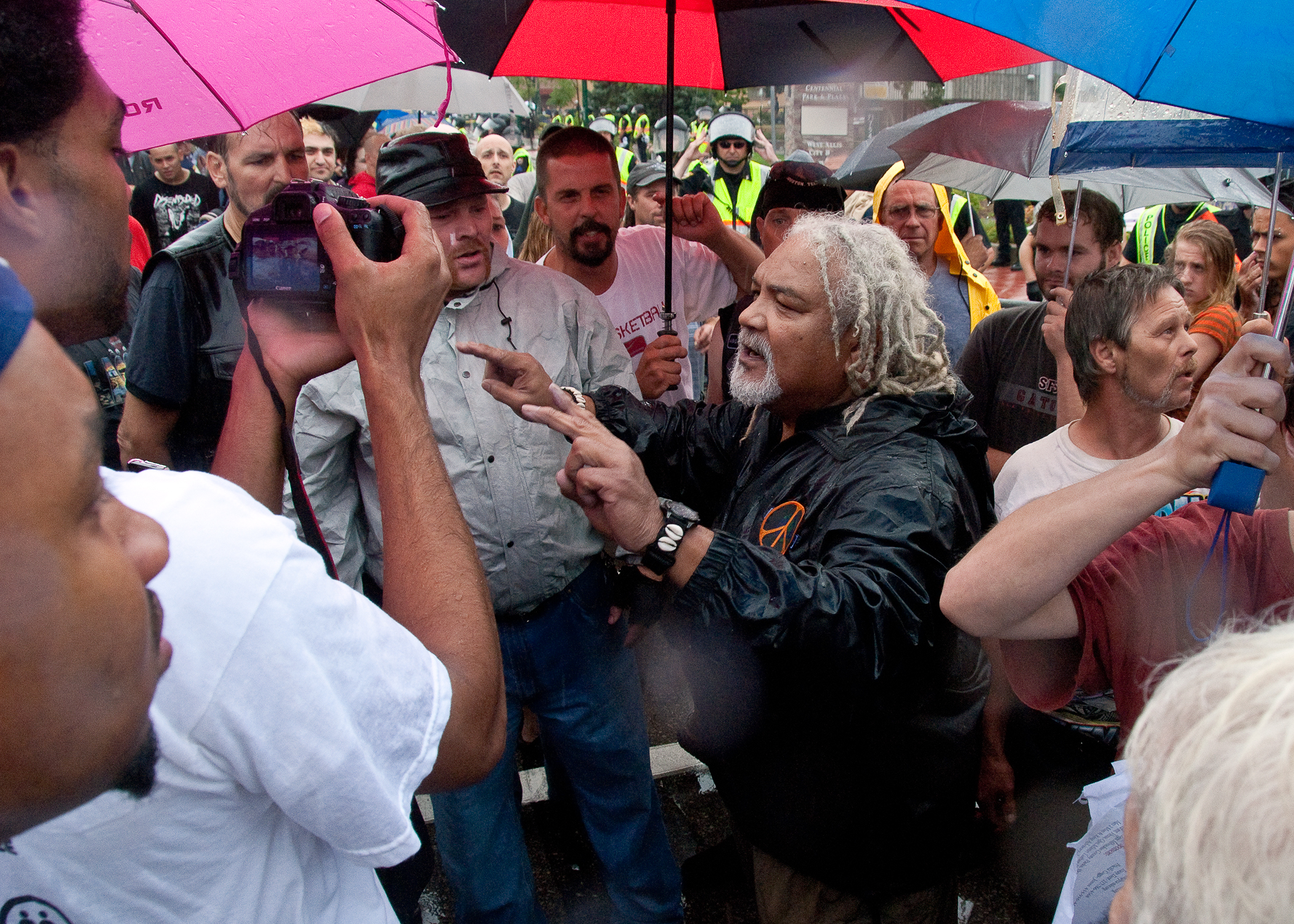 Activist George Martin spoke at a 2011 anti-Nazi Rally in Milwaukee.
More than 300 people honored Martin's life at a memorial service Saturday at Zao MKE Church,  2319 E. Kenwood Blvd., Milwaukee. Among them were former ISM president Ahmed Quereshi, ISM shura member and religious chair Waleed Najeeb, M.D., and Milwaukee Muslim Women's Coalition founder Janan Najeeb. "It was a beautiful memorial," Janan Najeeb said. "He has been a tireless activist against the Iraq War, for Palestine and others." 
National president of Peace Action Kevin Martin came from Maryland to join local activists and friends to commemorate the man they called "Citizen of the World." Indeed, George Martin's work for peace and justice led him to travel in Africa, Europe, South America and Asia, including a fact-finding mission to Iraq following the 2003 U.S. military attack on Baghdad that launched the Iraq War. He also served as a non-governmental delegate to the United Nations.
His partner Julie Enslow of Shorewood wrote in an announcement of Martin's death, "His dynamic presence will be greatly missed by friends all over the country and beyond.
"George was a 'force of nature,' as a friend has said. He was a trainer, organizer, leader and passionate orator for peace and justice. He was committed to nonviolence and the teachings of Dr. Martin Luther King, Jr. 
"His work and leadership over the years with economic development, civil rights, homeless veterans, healthcare for the homeless, the Green Party, the World Social Forum, the World Peace Council, the anti-war/nuclear disarmament movement and climate action have made a powerful impact locally, nationally and internationally."
Martin's early years
In an interview in the Shorewood home they shared, Enslow reflected on Martin's lifetime of work for peace and justice. 
He grew up with strong opposition to war, she explained. "His mother was from the Philippines and his father was an American GI who met her there. His mother hated war so much for what her family suffered from both the Japanese and the American armies. She hated war. She raised him to hate it, too."
Martin was born in the Philippines in 1946. The family moved to Chicago when he was about a year and a half, Enslow said. They moved to Milwaukee when George was 6 years old.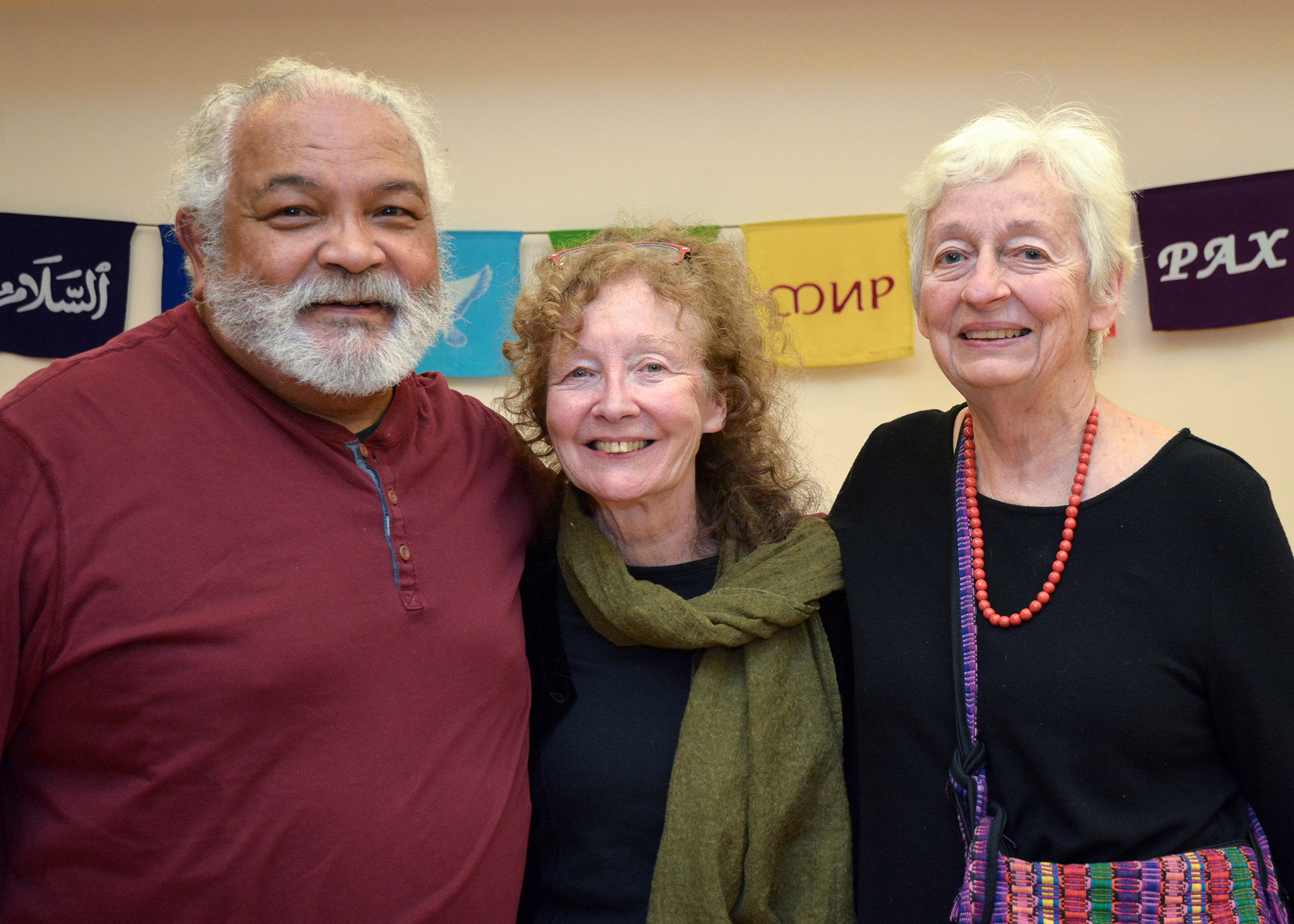 From left to right, George Martin, Kathy Kelly and Julie Enzlow pose for a photo at the Friends Meeting House in 2018. 
One formative influence in Martin's childhood was Father James Groppi, a Catholic priest who became well-known in the 1960s as a leader of civil rights protests in Milwaukee. George had been an altar boy for him at St. Boniface Church.
Another major influence on young George was Dr. Martin Luther King, Jr., she said. As a 16-year-old involved in the Civil Rights Movement, he was at the 1963 March on Washington and made his way to the stage, where he stood 10 feet away from Rev. King as he delivered his "I Have a Dream" speech. "George was so mesmerized by that whole experience," she said. 
Back in Milwaukee, Martin helped start the first organization for Black high school students. After graduating from Marquette University High School, he went on to Marquette University but left school to work in community organizing.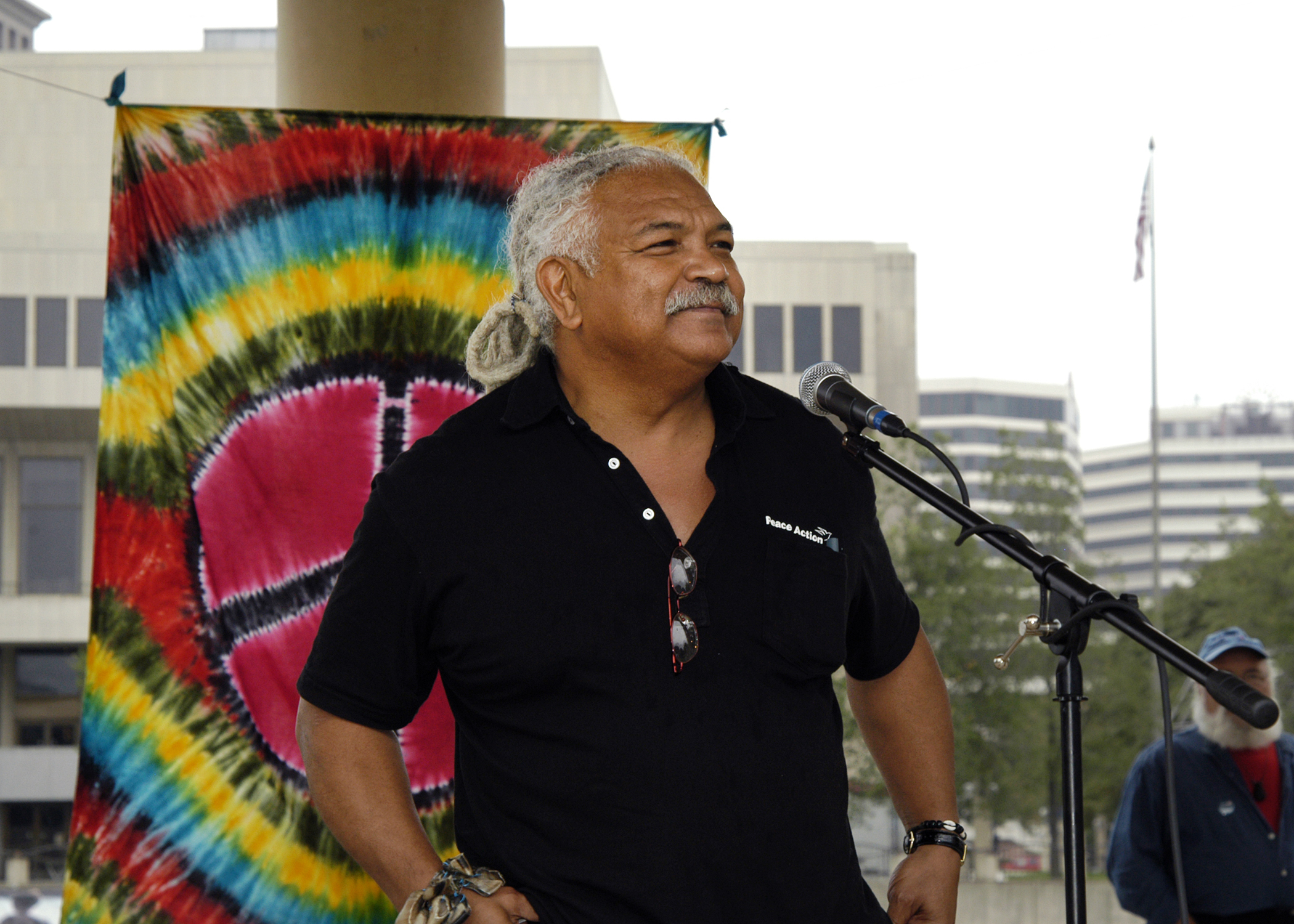 George Martin, a national anti-war leader, spoke at the 2006 Iraq War Moratorium Rally.
Throughout his life, he worked on economic development in the Black community. He helped a prominent Black doctor create one of the first Healthcare Management Organizations, which became a national model. 
He moved to Chicago to work on Rev. Jesse Jackson's Push for Excellence Project, a program to improve academic achievement among inner-city youth by enhancing student motivation and a sense of responsibility, increasing opportunity and improving the atmosphere for learning. 
Some years later, when Martin returned to Milwaukee, he worked with homeless veterans, Enslow said. He helped found Vets Place Central, a residence facility in Milwaukee for veterans. Martin continued to work for civil rights, the Black community and homeless veterans for the rest of his life, she added.
Citizen of the World
Enslow met Martin in 2000, when she was co-chair of the Ralph Nader Presidential Campaign for the Greater Milwaukee area and he came on board. "We were active in the Green Party after that for quite a while," she said. "George became very active in the Green Party both locally and nationally. He was on the national board.
"George was a very powerful personality. He filled a room. And he was very committed to action. When he spoke, he was very passionate. He became quite a well-known orator. He spoke at national anti-war rallies and climate rallies. He could be in front of 50,000 people and hold an audience. He wouldn't blink an eye."
Martin also worked well as a leader in organizations, she said. "He could pull people together when there was dissension. He knew how to bring everybody under one umbrella to solve issues and get the work done."
Martin joined Peace Action, an organization Enslow co-founded in 1977. He became a board member and, in a couple of years, when the program director stepped down, Martin was hired to take his place. 
For many years, Janan Najeeb was in constant interaction with Martin, Enslow and many of the Peace Action members as part of a Peace Action Team that organized rallies, letter-writing campaigns and educational forums against the wars in Iraq, blind American government support for Israeli apartheid practices  and Islamophobic policies following the September 11, 2001 attacks.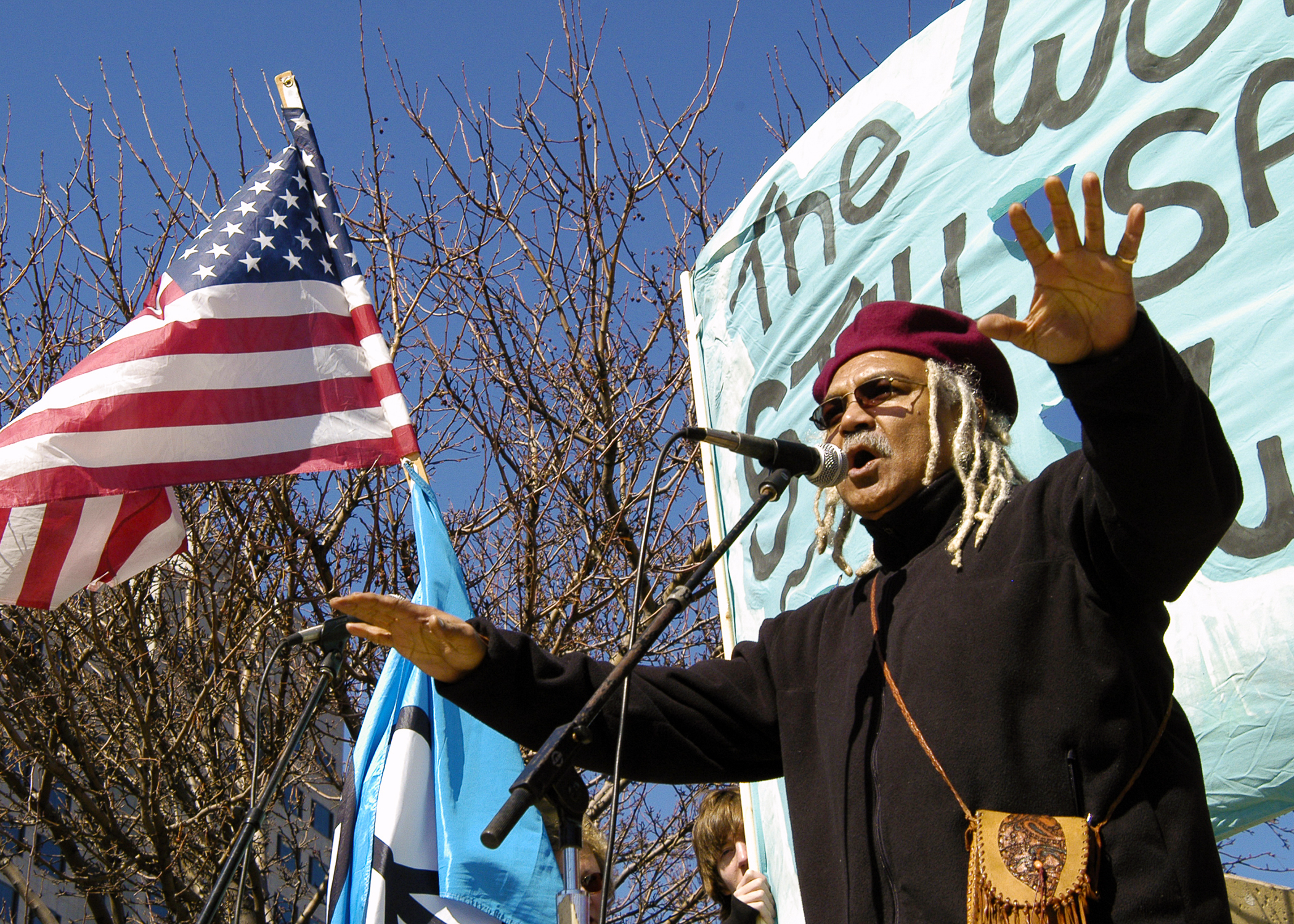 George Martin spoke at the 2006 "Out of Iraq Now" Peace Rally in O'Donnell Park, Milwaukee.
"When George moved into that director position, we already had quite robust programs on sanctions against Iraq and on the Palestinian cause. Peace Action had been doing work on the Middle East as an organization since 1980. We went to Iraq with Dr. Waleed Najeeb during the Clinton Administration to see the impacts of sanctions on the Iraqi people. We were also working on the Palestinian issue. George understood their importance right away. He took off with it.
"When 9/11 happened, we were out in the streets exactly five days later, saying 'No war of vengeance. Do not attack Afghanistan.'
"And then the government tried to blame Iraq, to use anything as an excuse to attack Iraq at that point. We had huge demonstrations here. Three or four thousand people were out in the streets of Milwaukee, opposing a U.S. attack on Iraq."
Shortly after the attack on Baghdad, Martin was elected to be on a national steering committee for "a huge coalition, the largest antiwar coalition in the country," United for Peace and Justice, Enslow recalled. He served as one of three co-chairs, becoming a national leader in the anti-war movement. He served in that role for eight years.
Martin went to Iraq on a fact-finding mission after the 2003 U.S. attack on Baghdad named "Shock and Awe." "We were all terrified that he wouldn't come home, that he would be killed in the midst of all that," Enslow remembered. "When he came back, he was speaking everywhere about what he saw. He got lots of media coverage. It became a huge part of his work."
In Milwaukee, Martin led Peace Action in collaborating with members of Milwaukee's Muslim community to send medical equipment to Iraq.
When the war in Syria was beginning, "there was still hope a resolution might be reached," Enslow said. Martin and Enslow met with European peace activists at a forum in Tunisia. The Europeans formed a team to promote a negotiated settlement and tried to meet with the parties involved before the situation worsened.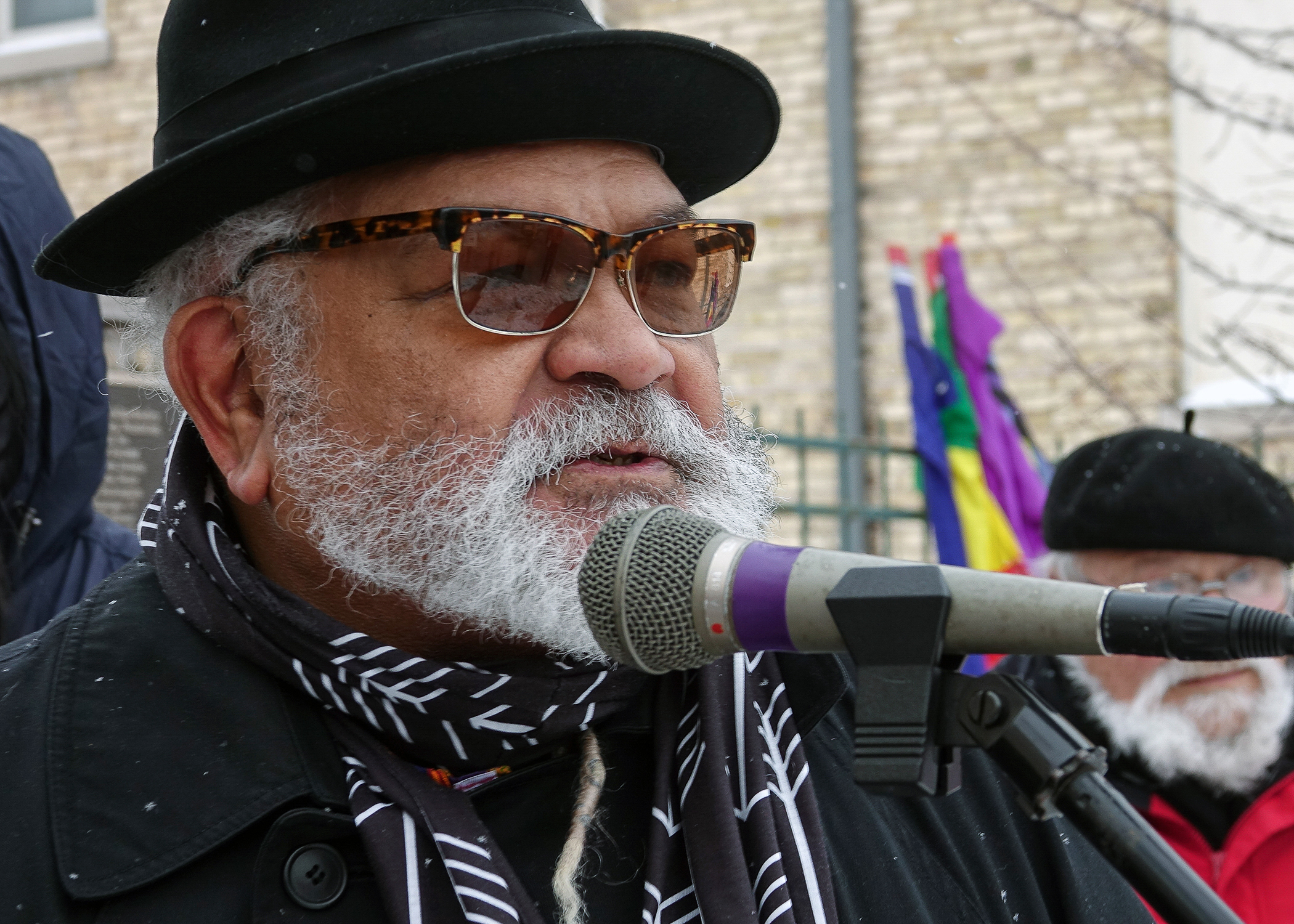 George Martin became a strong voice for climate action, a global social movement focused on pressuring governments and industry to take action to prevent climate change. 
"We started seeing links between climate change and a lot of the violence and unrest in Syria and other parts of the world," Enslow said. "There had been a terrible drought in Syria that destroyed a lot of farms in what was the breadbasket of the region. Farmers had to leave their lands and the government wasn't supporting them. The water issue is also huge for Palestinians. I think one of George's strengths was to see the connections between a lot of these critical issues.
"George was a man with a lot of energy and strong convictions," Enslow noted. "He believed if you know something is wrong, you have an obligation to act on it. He had real compassion for people who were oppressed. 
"His deep concern about the Palestinian issue grew as he became close friends with many people in Milwaukee's Palestinian and Muslim community," and learned about the plight of the Palestinians. "He was always there for them at demonstrations and events," and co-sponsored speakers with the Muslim community through Peace Action.
"There hadn't been any national demonstrations in D.C. or New York around the Palestinian issue until a few years back when United for Peace and Justice formed a coalition around Palestinian rights and there was a big demonstration and march in Washington, D.C. The rally and march against Israeli apartheid were held on June 10, 2007. That was the first one of that level in this country and George was one of the speakers. He was very proud and happy to be able to do that. We organized people to go from Milwaukee."
He traveled to Japan for an annual Peace Memorial Ceremony at Hiroshima and Nagasaki, the sites of the atomic bombings on Aug. 6 and 9, 1945. "He spoke to huge crowds of people who were so amazed to find out that in Milwaukee we are floating lanterns every year to commemorate the victims as they are," Enslow said.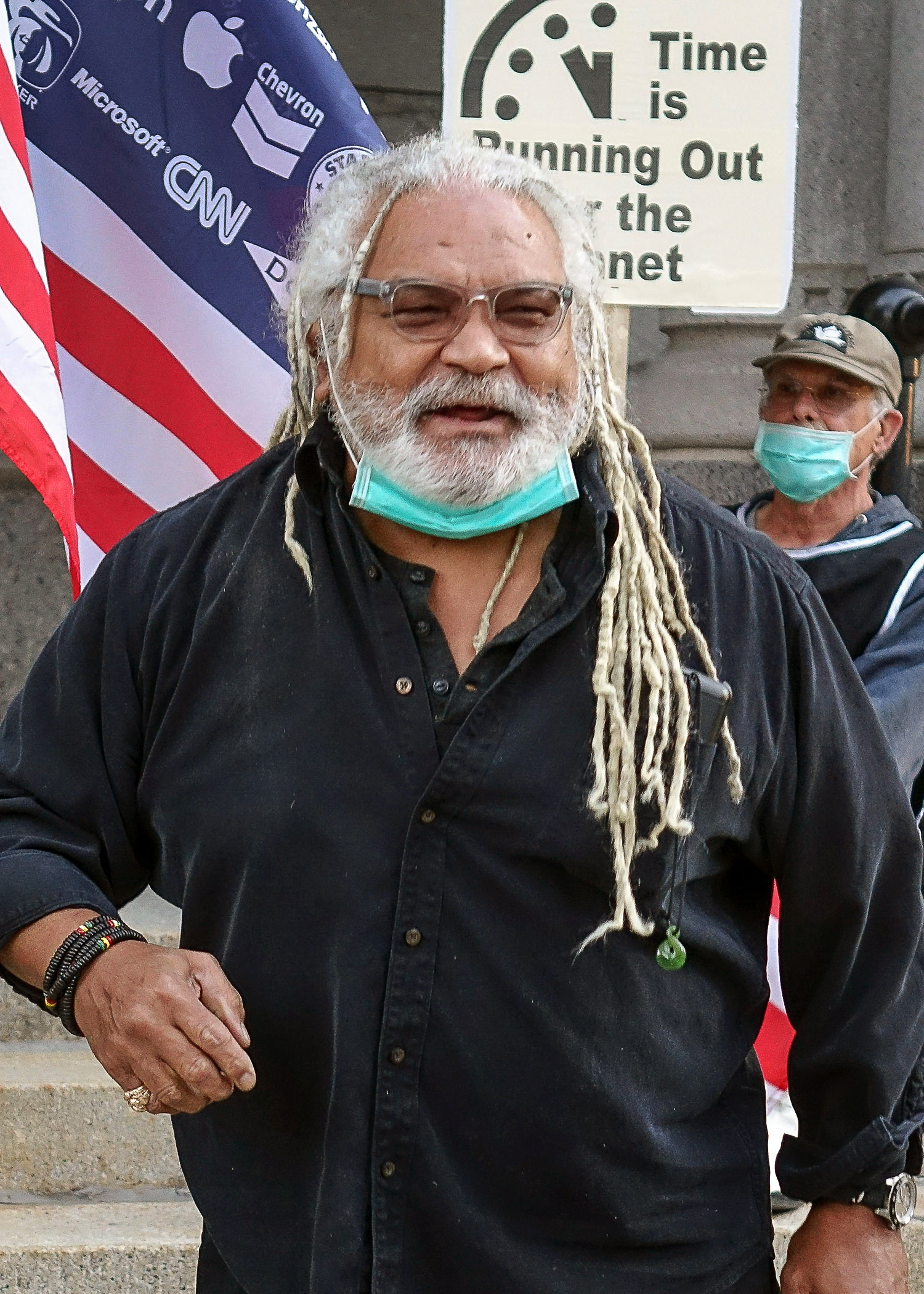 George Martin spoke at the 2015 Climate Action Rally on the Federal Courthouse steps in Milwaukee.
Leaving a legacy
"George always said education is the first thing you have to do. And then move into action," Enslow said. During his life, Martin trained many hundreds of people in non-violent civil disobedience, she noted. 
Martin also helped sponsor and promote the Milwaukee-area stint of national tours of peace activists from Palestine and military resistors from Israel. "They'd team up and travel across the country on speaking tours. It was always so powerful when they would stand side-by-side," she said.
Atta added, "George Martin's legacy will live on in the hearts and efforts of all those he educated and influenced to stand up for the human rights of all people. We can best honor George Martin by expanding our efforts to continue to work for peace based on justice."