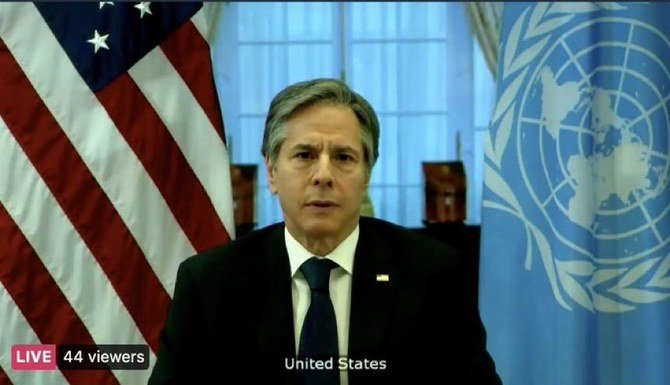 NEW YORK: US Secretary of State Antony Blinken on Monday asked the UN Security Council how it is possible "that we can't find in our hearts the common humanity to actually do something" to ease the suffering of Syrians.
"This is our responsibility and shame on us if we don't meet it," he added.
In an address to the council, which is deeply divided on the issue of the Syrian conflict, Blinken urged members to stop politicizing humanitarian aid to the war-torn country. He called on them to authorize the reopening of three border crossings so that food and other life-saving aid can reach the more than 13 million Syrians that are in desperate need of it.
"It's clear that these needs — including having enough to eat and access to essential medicine — are not going to be met by the Assad regime," he said. "So (the) question before us is what can the Security Council do to help the millions of Syrians whose lives hang in the balance?
"Every month, the Security Council gathers to discuss the humanitarian situation in Syria, and these massive numbers are rattled off. In the process, it's all-too easy to lose sight of the fact that contained in each one of these numbers are the lives of individual human beings."
Although the Security Council is faced with many challenges that are complicated, Blinken said the Syrian crisis is not one of them.
"The lives of people in Syria depend on getting urgent help," he said. "We have to do everything in our power to create ways for that aid to get to them — to open pathways, not to close them."
The UN has lost access in the past year to three of four border crossings it was using to deliver humanitarian aid to Syria. As a result of pressure from Russia and China, on behalf of the Assad regime, the crossings have remained closed despite pleas to reopen them.
As a result, the entire humanitarian aid effort to help 2.4 million people in northwestern Syria has is funneled through a single checkpoint on the border with Turkey.
"The members of this council have a job to do," Blinken said. "Reauthorize all three border crossings for humanitarian assistance to the Syrian people."
In remarks clearly targeted at the Assad regime and its main ally, Russia, Blinken said: "Stop taking part in — or making excuses for — attacks that close these pathways, and stop targeting humanitarian-aid workers and the Syrian civilians they are trying to help.
"Stop making humanitarian assistance, on which millions of Syrians' lives depends, a political issue, waiting in hope for the Security Council. Waiting in hope for the Security Council."
Blinken, who chaired the virtual meeting, told council members that he thinks of his own children whenever he ponders the plight of Syrian youngsters.
"I ask you to do the same thing: think of yours, look into your hearts, and then talk to your colleagues," he said.
"Look, we all sit in these chairs, we speak these words, we represent our countries. But how is it possible that we can't find in our hearts the common humanity to actually take meaningful action to do something? How is that possible?
"Despite our differences, we have to find a way to do something to take action to help people. That is our responsibility and shame on us if we don't meet it."
Mark Lowcock, the UN's humanitarian chief, told the council that the latest research reveals that the needs of the Syrian people are greater than ever.
An estimated 13.4 million require aid, 20 percent more than last year.
He said the UN is now seeking $4.2 billion of funding to help 12.3 million people inside Syria, and another $5.8 billion to support Syrian refugees in the region.
Henrietta Fore, head of the UN children's agency UNICEF, said the worst-ever economic crisis in Syria is "plunging 90 percent of the population into poverty, and across the country nearly 90 percent of children now require humanitarian assistance."
She also listed some of the problems Syrians are facing: "Homes, hospitals, schools and water systems destroyed. Humanitarian law flouted with impunity. Millions internally displaced or fleeing across Syria's borders.
And shocking violence that has killed or injured 12,000 children, and likely many more, since the fighting began.
"Tragedy upon tragedy for a once-beautiful country rendered unrecognizable today — and for a generation of children growing up knowing nothing but war."