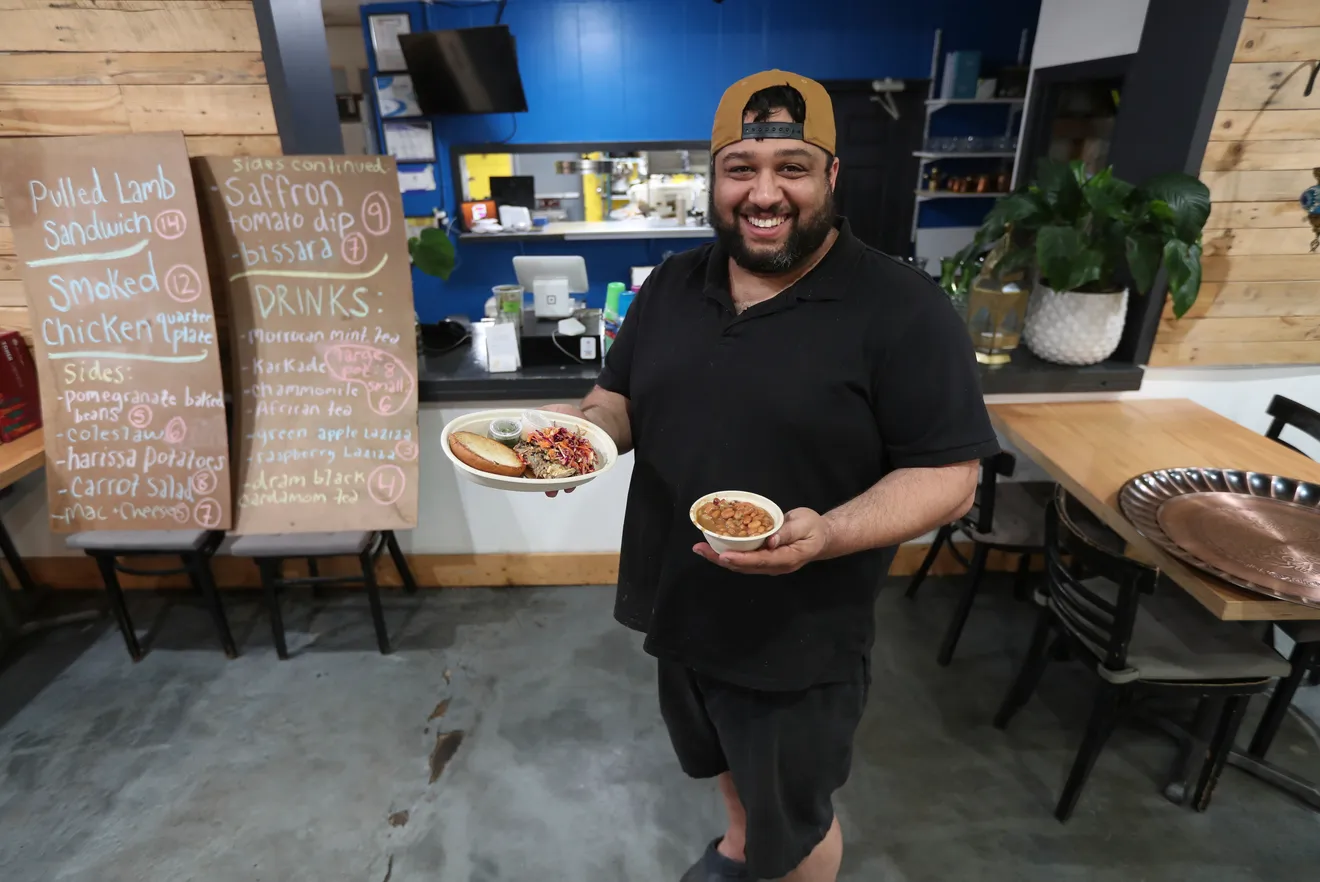 Owner and head chef, Omar Anani in the kitchen of Saffron De Twah in Detroit.  The restaurant specializes in modern Moroccan food.  Anani is pictured with a pulled barbecue lamb sandwich and a side of beans. Kirthmon F. Dozier, Detroit Free Press
The past few years have been eventful for Detroit chef Omar Anani.
In 2021, Anani was named a Detroit Free Press/Metro Detroit Chevy Dealers Food Fighter for his efforts to feed metro Detroiters in need during the COVID-19 pandemic, and for two consecutive years, he has been a contender for the James Beard Award for Best Chef of the Great Lakes region.
On Tuesday night, Anani, who runs Detroit restaurant Saffron De Twah, shined on Food Network's "Chopped: All-American Showdown," taking home the title as king of the North region.
For an update on the beloved cooking competition series, this season has culled 16 cooks from cities across the country to represent the North, South, East and West regions. As one of four chefs representing the North, Anani created three dishes with ingredients from the infamous "Chopped" mystery box to compete for a chance to win $50,000 in the grand finale.
"It feels great," Anani said at a watch party Tuesday night at Mack Market on Detroit's east side. "It's a huge honor, to be honest. Never in a million years would I have guessed that this was possible."
Throughout the competition, judges Eric Adjepong, Scott Conant and Alex Guarnaschelli sought out all-American dishes. Anani, who noted metro Detroit's high concentration of Arab Americans, served up dishes reflective of America's diverse flair. The chef delighted judges with fried lake perch with a sautéed corn salad; goat meatballs infused with cardamom, clove, coriander and other warm spices, and a chocolate peanut butter mahalabia with a root beer cherry gastrique.
True to his supportive, spirited nature, Anani uplifted fellow competitors, fist-bumping the contestants between rounds and assuring judges of other chefs' abilities. "You got this, girl," he encouraged competitor Jill Vedaa, of Ohio, early in the competition.
The Michigan-Ohio rivalry carried into the dessert course, when Anani battled it out with Vedaa for the winning dish. With cherries (a Michigan summertime favorite) and buckeyes (the popular Ohio chocolate-covered peanut butter candy) on the menu, Anani's sweet treat came out victorious, making Michiganders especially proud.
At the watch party, Anani called guests to donate to the Saffron Community Kitchen (SCK) meal relief fund. With a goal of $18,000, the campaign objective is to fund 935 meals for residents surrounding Saffron De Twah and to launch a community fridge, which Anani will stock with prepared dishes. He also called for volunteers to help distribute meals and additional SCK programming.
Next week, four chefs from the South will have their chance to compete for a spot in the grand finale of "Chopped: All-American Showdown," which will air at 8 p.m. Aug. 8. Tune in to see whether Anani takes home the winning prize.