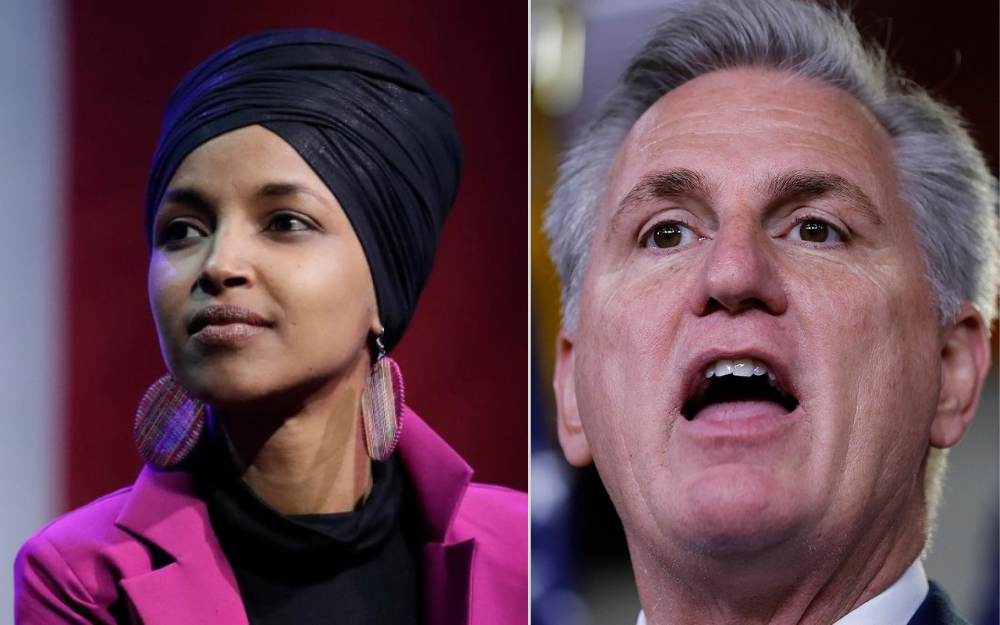 WASHINGTON — House Speaker Kevin McCarthy (R-Calif.) has vowed to bar Democrats Adam Schiff, Eric Swalwell and Ilhan Omar from serving on House committees.
The threat, which McCarthy repeated this week, is retaliation for Democrats having removed Reps. Paul Gosar of Arizona and Marjorie Taylor Greene of Georgia from their committee assignments in 2021 for highly inflammatory statements, including about Omar.
The putative reasons for Omar's prospective committee ban are a little more hazy. A refugee from Somalia and the first African-born member of the Foreign Affairs Committee, Omar is a frequent target for members of the GOP.
Republicans have often claimed Omar, who has represented Minnesota's 5th
District since 2019, is an anti-Semite. But Omar said she believes McCarthy wants her off committees because she's Muslim.
"I do not actually think that he has a reason outside of me being Muslim and thinking I should not be," Omar told HuffPost. "If you look at the comments from Republicans, it's precisely for only that reason."
For years, Republicans have targeted Omar and espoused conspiracy theories about her, while shrugging off egregious behaviors and comments from members of their own party, such as when Rep. Lauren Boebert (R-Colo.) repeatedly described Omar as a terrorist who might blow up the Capitol.
House Majority Leader Steve Scalise (R-La.) said Tuesday that Republicans would consider removing people from committees because Democrats had done it.
"The Democrats set a precedent that we urged them strongly not to go down last Congress," Scalise said. "They decided they would break the precedent that had been in place for over 200 years and remove members of the opposing party that our party selected to be on committees, so that was a practice they set."
But Scalise declined to say any Democrats would definitely get booted since neither party had made committee appointments yet. Rep. Pete Aguilar (Calif.), a member of Democratic leadership, said Tuesday that Democrats were working on their committee assignments and refused to get into a "hypothetical" question about what would happen if McCarthy blocked members.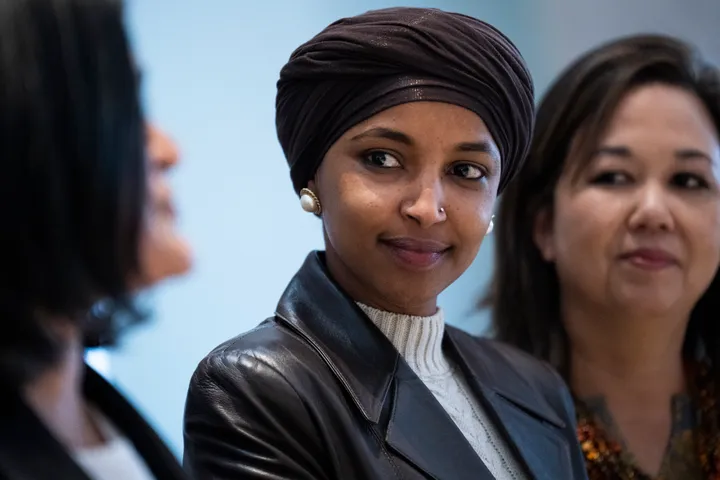 House Speaker Kevin McCarthy has vowed to remove Rep. Ilhan Omar (center above) from the House Foreign Affairs Committee. TOM WILLIAMS VIA GETTY IMAGES
Republicans Gosar and Greene were stripped of their committee assignments in the previous Congress. In 2021, Gosar posted a video on social media depicting violence against President Joe Biden and Rep. Alexandria Ocasio-Cortez (D-N.Y.), while Greene has repeatedly posted racist and antisemitic conspiracy theories and advocated for executing top Democrats, including Omar
McCarthy said last year that he would allow Greene and Gosar to return to their committees when Republicans regained control of the House — a statement made the same week the pair participated in an actual white nationalist conference.
McCarthy can unilaterally block Swalwell and Schiff (both from California) from returning to the House Intelligence Committee because it's a "select" committee over which the speaker has more control than regular standing committees. Republicans have criticized Schiff for hyping what turned out to be bogus information about Donald Trump in a discredited spy dossier. Swalwell had contacts with an alleged Chinese spy who tried to help his political career from 2011 to 2015, though Swalwell was not accused of any wrongdoing.
But removing Omar from the House Foreign Affairs Committee, should Democrats place her back on it, would likely require a majority vote by the entire House.
Omar has faced a number of allegations of antisemitism for her highly inflammatory criticism of the Israeli government. In 2019, the congresswoman apologized for her "it's all about the Benjamins" tweet — which she said was meant to criticize pro-Israel lobbying groups. Since then, House Republicans swiftly began calling for Omar to be removed from Foreign Affairs, a vow McCarthy said in November that he'd uphold.
"I promised you last year that as speaker she would no longer be on Foreign Affairs, and I'm keeping that promise," McCarthy told the Republican Jewish Coalition.
A number of progressive Jewish organizations published their own letter a few weeks later opposing McCarthy's vow, writing that the groups "categorically reject the suggestion that any of her policy positions or statements merit disqualification from her role on the committee."
"As crude and as cynical as it is for the nativist factions in our government, targeting Muslims is reliably good politics," said Sumayyah Waheed, senior policy counsel at Muslim Advocates, a national civil rights group based in Washington, D.C.
"By stripping Rep. Omar of her committees, McCarthy kills two birds with one stone: He attempts to silence an effective, principled voice on the Foreign Affairs Committee, and he stokes the ugly culture of anti-Muslim hate for cheap political points," she added.
Omar, who is one of the first two Muslim women elected to Congress, has long been targeted by Republicans in a series of Islamophobic attacks and has been the subject of death threats. In March 2019, a poster of Omar and the Sept. 11 attacks was posted at an event sponsored by the Republican Party of West Virginia. That same year in July, then-president Donald Trump said the four progressive congresswomen of color known as the "Squad," including Omar, should "go back and help fix the totally broken and crime-infested places from which they came."
"To date, the Republican Party leadership has done nothing to condemn and hold their own members accountable for repeated instances of anti-Muslim hate and harassment," Omar said in November 2021 after Boebert refused to apologize directly to the congresswoman after suggesting she was a terrorist.
"This is not about one hateful statement or one politician; it is about a party that has mainstreamed bigotry and hatred. It is time for Republican Leader McCarthy to actually hold his party accountable."