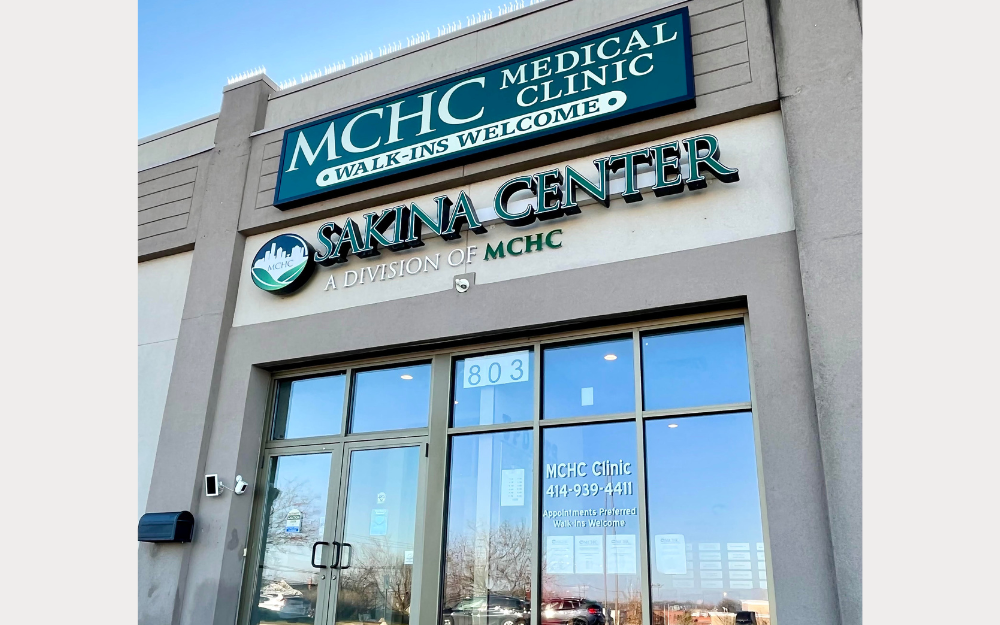 The Muslim Community and Health Center of Wisconsin is getting a lot of news coverage lately. 
In this first two weeks of 2023, Wisconsin Muslim Journal reported on the $290,000 Congress approved in December in its federal spending bill for MCHC to expand its mental health services, and TMJ4 and Milwaukee Neighborhood News Service reported on its new status as a "federally qualified healthcare center look-a-like," opening a door to additional grant funding and moving it a step closer to becoming a federally qualified healthcare center," which will lead to even more resources. Urban Milwaukee picked up the NNS story and it seemed headlines about MCHC were everywhere.
MCHC is the first healthcare clinic in Wisconsin to receive the "look-a-like" designation, given in August 2022. (One more was tagged this month in Rock River.)
Additional funding opportunities are important to this small, grassroots community clinic on Milwaukee's south side. Besides expanding its Behavioral Health and Mental Health Clinic, plans are underway to develop its dental services and add specialties in neurology, physical therapy and podiatry.
Meanwhile, it continues to operate its Family Practice Clinic, Sakina Senior Center and Refugee Resource Center. While medical services are at the core of its mission, it also offers social services, counseling, emergency assistance, and educational and job-training programs.
MCHC, 803 W. Layton Ave., as the Milwaukee Journal Sentinel noted, is "uniquely positioned to serve vulnerable immigrants and refugees on the south side" due to its interpretation services and low-cost health care for the uninsured and under-insured. 
However, "we are open for everyone," emphasized MCHC founder and president Fozia Ahmed of Mequon, who said MCHC aims to provide free and charitable health care services to anyone who needs them. It accepts self-pay, private insurance, and state and federal insurances, but also uses Zakat funds (donations from the Muslim community) to help needy patients.
MCHC's plans are big because the need is great, Ahmed said. 
In an interview on site Tuesday with WMJ, Ahmed and CEO Arman Tahir shared MCHC's 19-year history, its mission and services, and plans for the future, and explained how their work is driven by MCHC's guiding principles, which are based on the Muslim values of compassion, kindness, peace and diversity.
Humble beginnings
Ahmed began MCHC in 2004 in response to the "pressing need" she saw in the refugee and immigrant communities. "There were many in the immigrant population who did not have insurance or much money. Some did not know English. So, they did not seek help for any of their medical needs," she said.
"I started it with a group of very close friends," she recalled. They worked on the phone, helping connect people in need of medical care with services and resources. Meanwhile, Ahmed began the process of creating a board, researching the steps to creating a non-profit organization and finding a space to operate.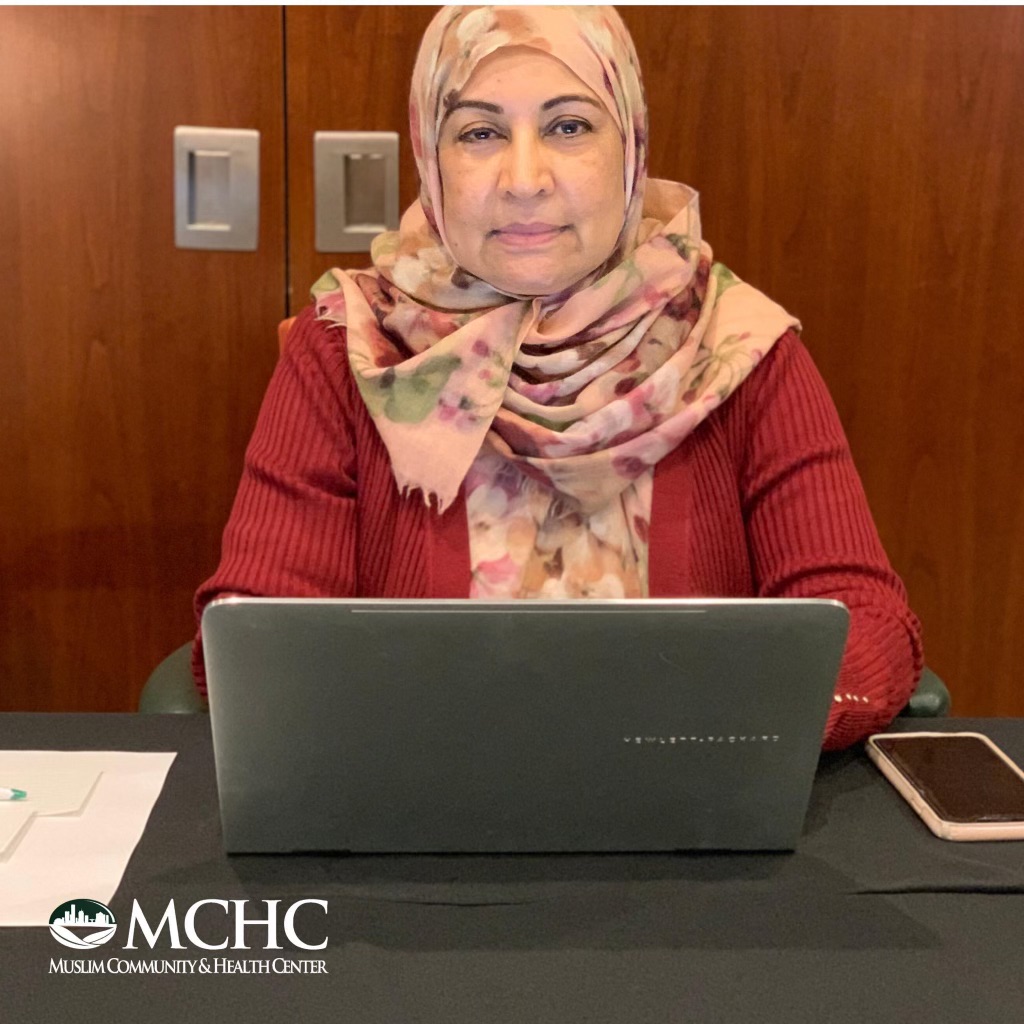 Fozia Ahmed, MCHC founder and president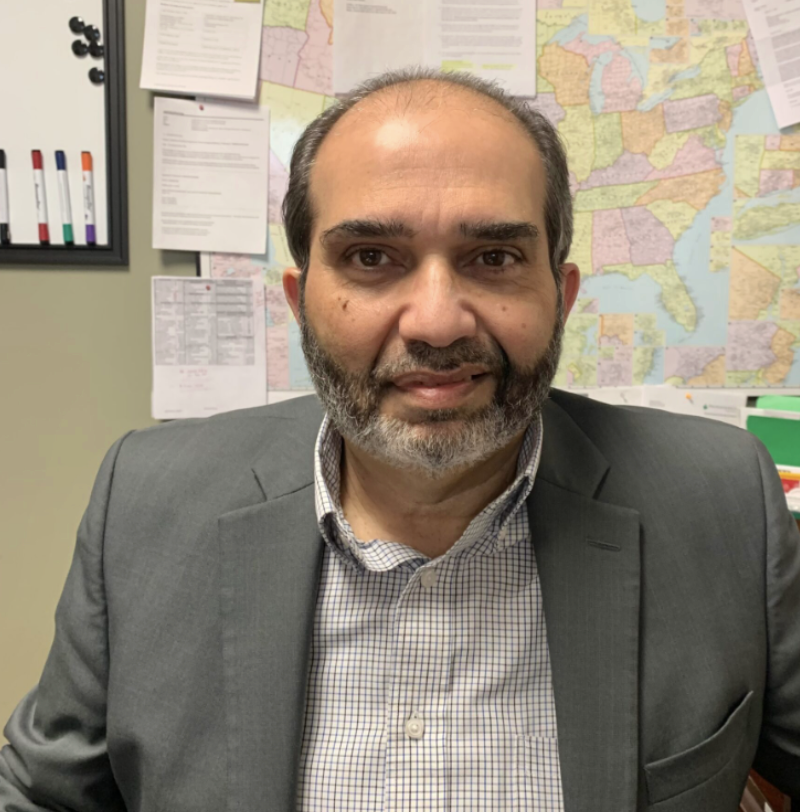 In 2008, MCHC started a free clinic with volunteer doctors. The Islamic Society of Milwaukee "generously gave us two rooms where doctors met with patients once a week," Ahmed said. 
Run by volunteers, the free clinic was open from 6-8 p.m., or sometimes until 10 p.m., so doctors could be at the clinic after their work. "Most of our funding came as donations from the Muslim community," she recalled. 
Meanwhile, Ahmed and her small but growing band of volunteers applied for non-profit status, which they received in 2012. Acquiring non-profit status, MCHC became eligible to receive grants. 
"Our first was from the Susan G. Komen Foundation to increase breast cancer awareness in the community we serve," Ahmed said. MCHC did educational presentations in mosques and also in Hindu and Sikh temples, reaching new audiences with information about the importance of regular mammograms and breast screenings. 
That was followed by two major grants from Bader Philanthropies, Inc., that are critical to the growth of MCHC's services, CEO Tahir said.
Yet, the demand was "overwhelming," she said. They clearly needed to grow their operation.
Growing in service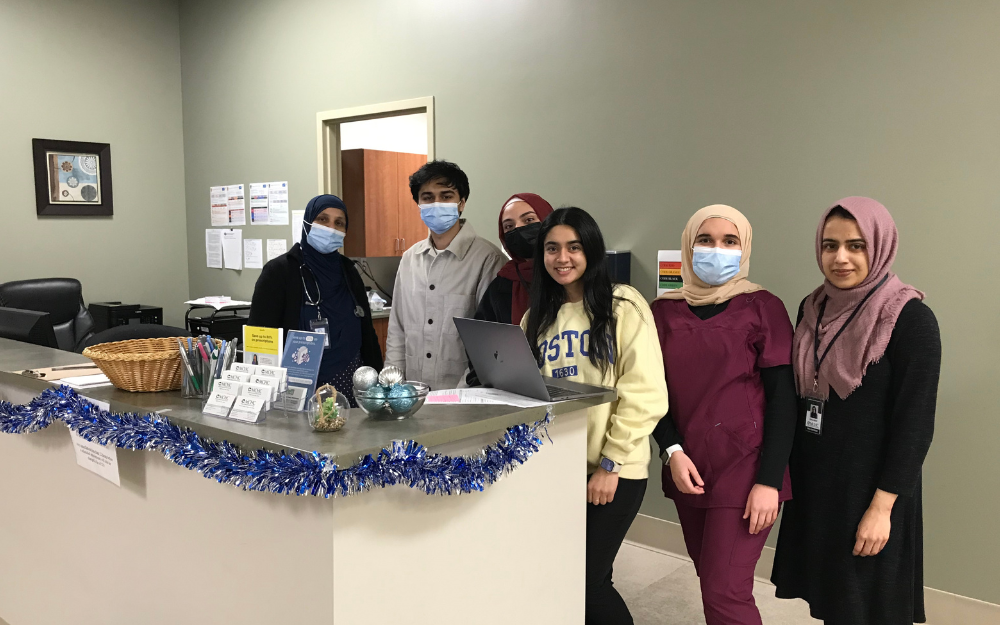 From left to right, Sohela Nikhat, R.N., Ali Riaz, medical assistant, Seeham Shelleh, medical assistant, Lina Riaz, clinic lead, Gadah Abduljalil, medical assistant, and Salma Akhter, office coordinator.
When ISM was building the Salam School, it had a space, "a white box, just walls," Ahmed said. ISM provided it to MCHC and "we renovated it to make a 5,000-square-foot clinic," she said.
"When we moved to the new space, we opened during the day and had to hire staff. We hired a director who had 25 years of experience in a large healthcare system (Tahir, who is now the CEO) and gradually hired more staff."
Its broad range of services grew organically with the need seen in the community—a primary care service with in-house lab, mental and behavioral health services, some dental services, a senior center and services to the high number of refugees from various backgrounds who live nearby.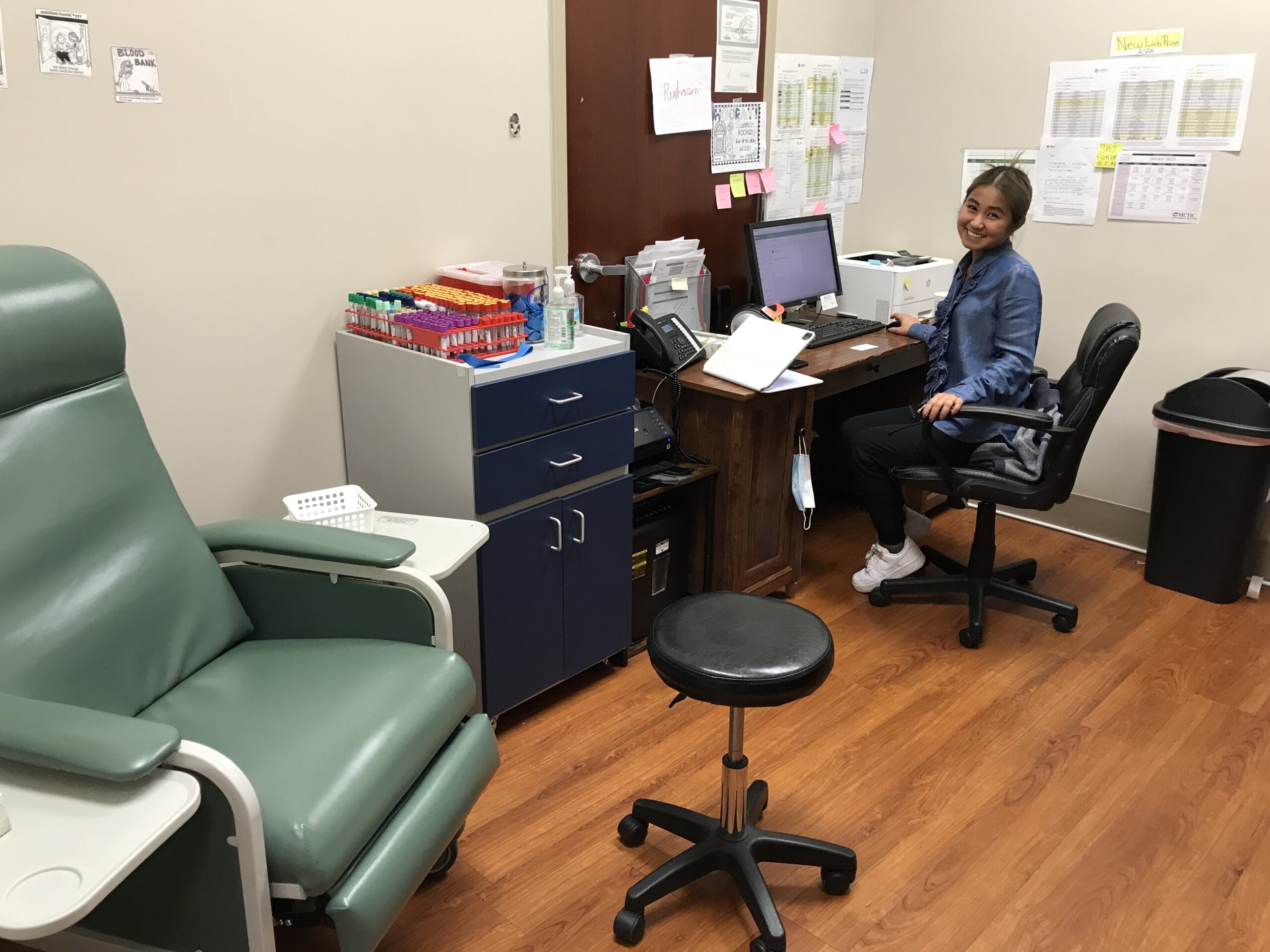 Dawt Tial, phlebotomist at MCHC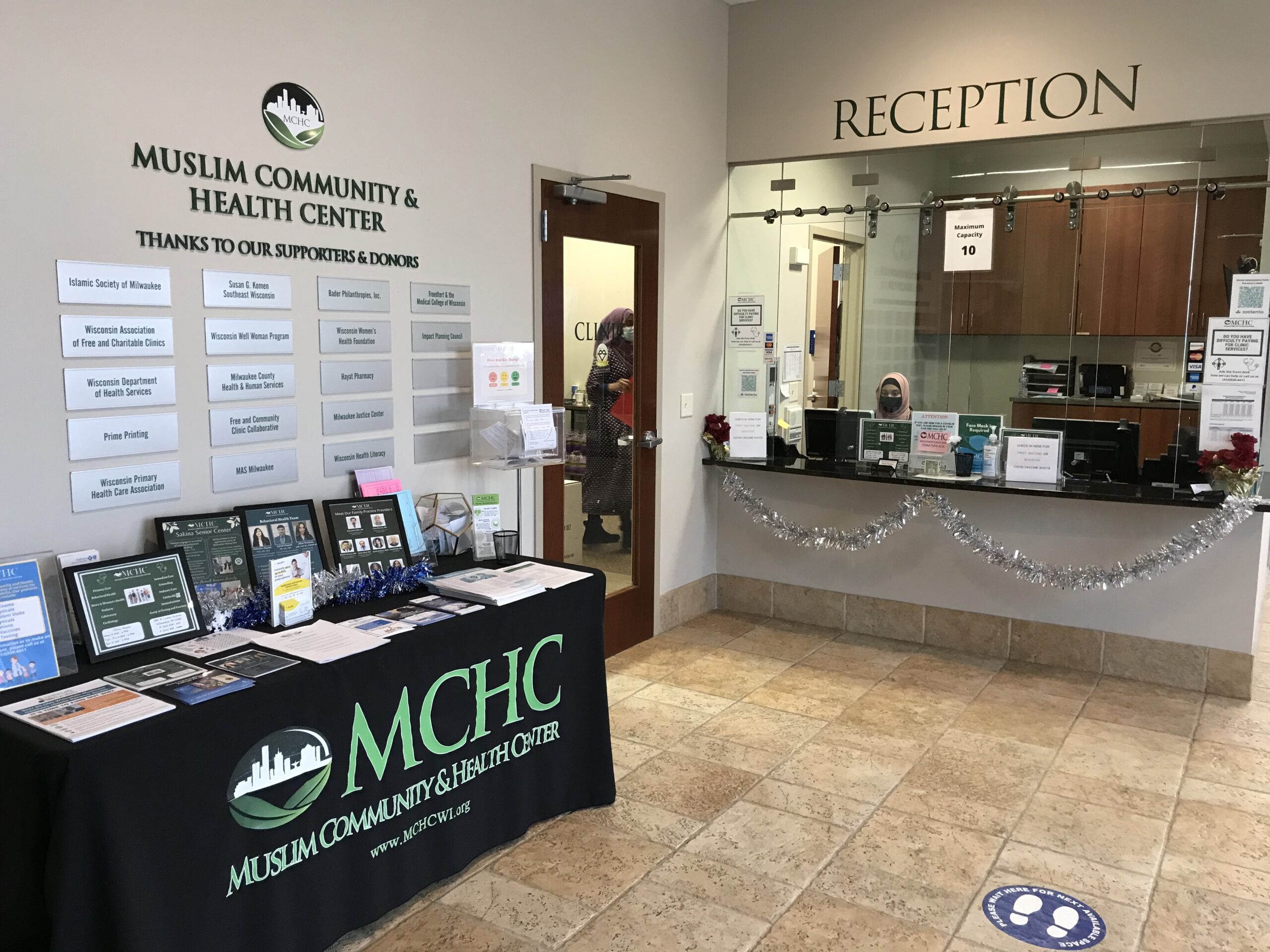 During the COVID-19 pandemic, MCHC leveraged its translation services and cultural understanding to reach out to the immigrant and refugee community, and nearby underserved population with information and education. In 2021, MCHC provided 21,000 COVID vaccines or tests. In 2022, it provided 15,000.
Despite the pandemic, MCHC continued to grow because it provided much needed services to the community, Tahir said. It's a meal service for seniors adapted by shifting to a meal pick-up operation. And doctors saw patients in the clinic, on screen from other rooms, making visits possible for those without internet or computer access at home.
A visit this week
At noon on Tuesday, a reporter and visitor peeked in the Sakina Senior Center, which hosted a lecture by Islamic Society of Milwaukee imam Ziad Hamdan. Seniors ate kebobs and savory rice, hummus and pita bread. Hamdan volunteers his time to offer weekly talks and lunch is provided daily, Monday – Thursday, at this official Milwaukee County dining site.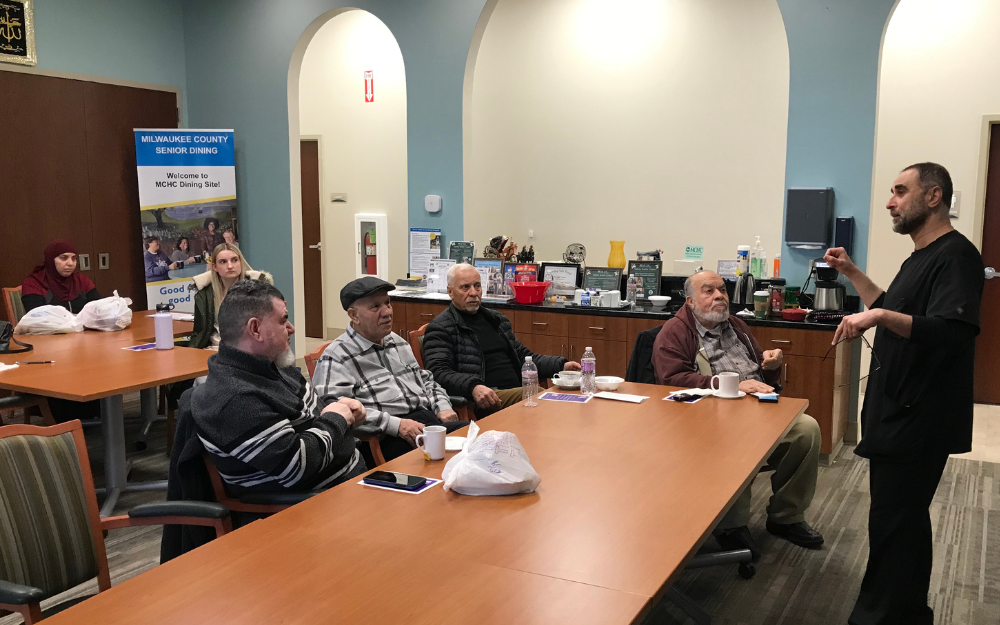 Dr. Hashim Zaibak of Hayat Pharmacy, teaches a class on how to properly take medications for the seniors at Sakina Center.
The Sakina Center offers a variety of programs and activities for adults 60 years old and above, Tahir explained. Programs include art, cooking, exercise, field trips and educational workshops on health, religion and other topics of interest to participants.
Just down the hall, we strolled past medical examination rooms for primary and urgent care, a dental clinic and pediatric dental clinic with a bright mural on the wall. Opened six days a week with multiple providers, the medical clinic serves almost 4,000 patients a year. A lab on-site offers convenient testing and MCHC makes referrals to specialists when needed.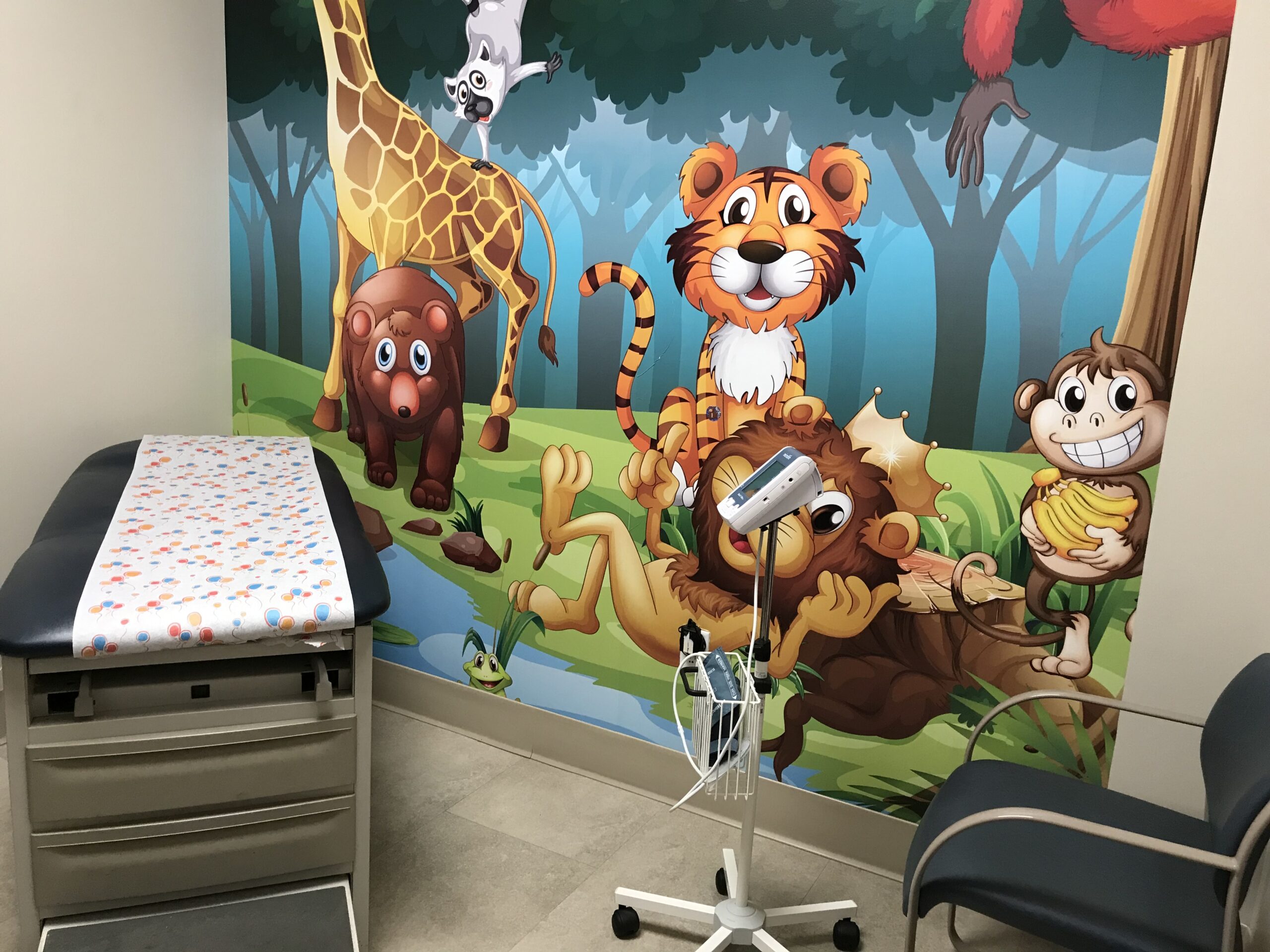 The playful mural on the clinic wall engages children to help them not be as nervous while they receive medical attention at MCHC.  
Down another hall, further removed, is the Behavioral and Mental Health Clinic, where two counselors, one male and one female, see therapy patients. White noise plays in the background to ensure privacy. The Behavioral and Mental Health Clinic served more than 3000 patients in 2022, Tahir noted.
The visitor commented that she was "struck by how clean the clinic is."
On the way back to the entrance, we passed a wall with numerous plaques, recognizing MCHC: "The Wisconsin Association of Free & Charitable Clinics 2019 Seal of Excellence," "Shepherd Best of Milwaukee 2019 Finalist – Best Urgent Care," "Shepherd Best of Milwaukee 2020 Finalist – Best Telemedicine Provider," "American Cancer Society Harvest of Success" award for creating a cancer prevention curriculum reaching multiple cultural and language communities, and the American Heart Association and American Medical Association's gold coins, given to recognize a practice of distinction for commitment to blood pressure management.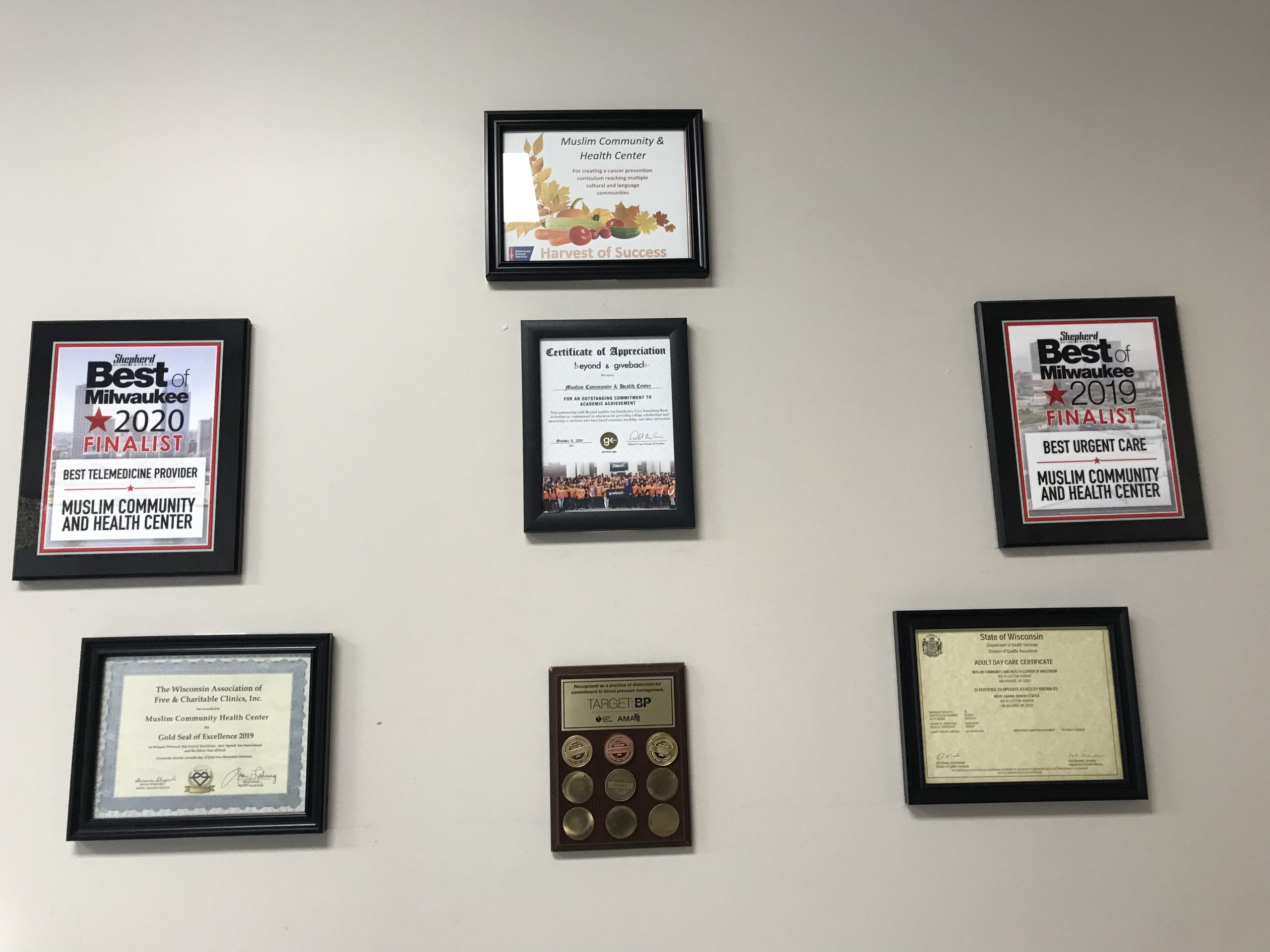 Back in Ahmed's office, Ahmed and Tahir talked about big plans for the future: developing a full-service dental clinic, adding a variety of specialties, expanding mental health and behavior health care, collaborating with providers to provide in-home hospice care and, one day, provide a senior assisted living facility.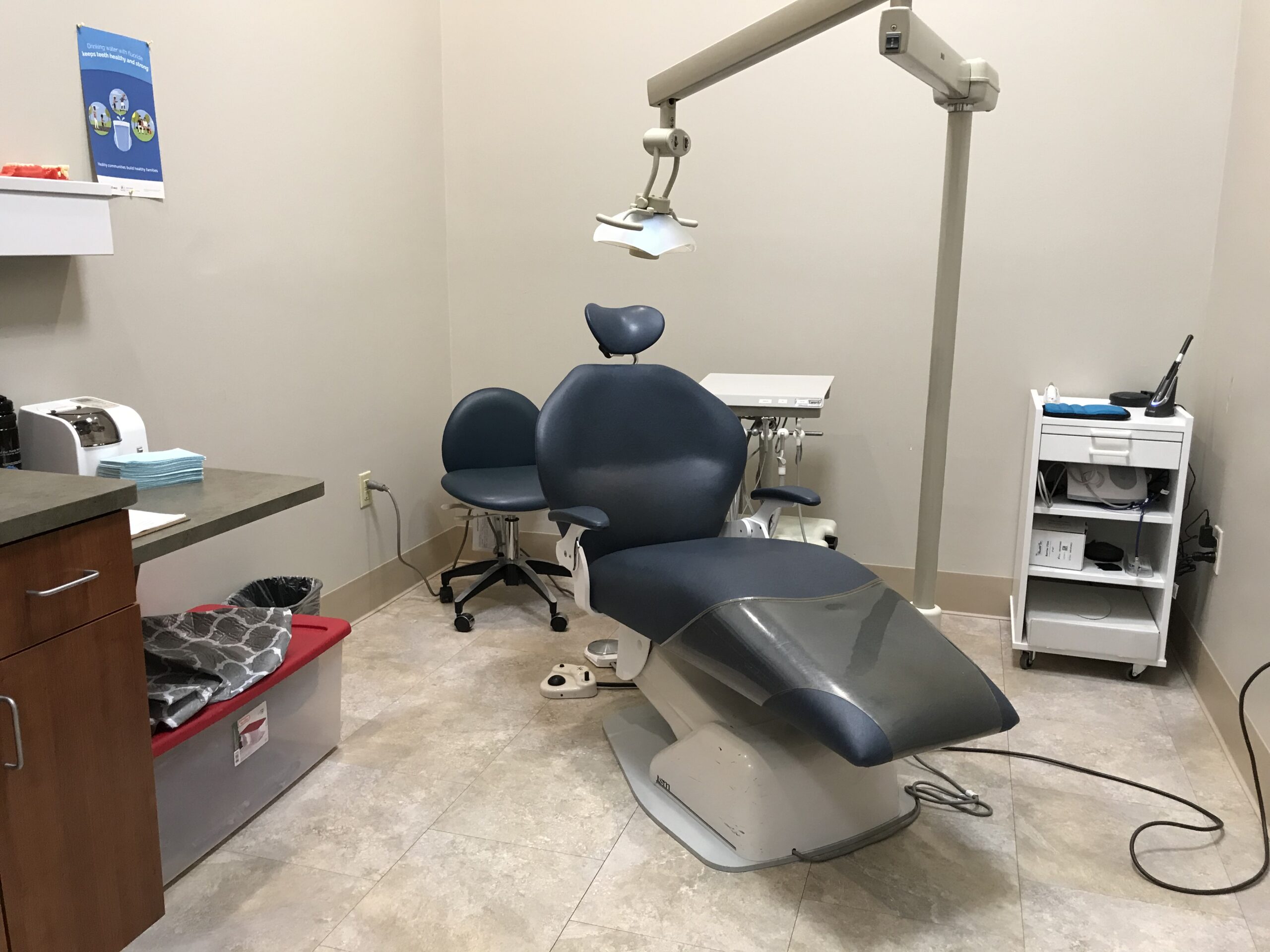 The dental room where patients will soon be able to receive oral health care at MCHC.
The need never ends so MCHC's growth doesn't either. Two registered nurses were recently hired and research continues about expanding services. "I'm not afraid to start anything," said Ahmed. "I just want to be sure we will be able to sustain them."
Religious values inspire MCHC
"Thank God, I am in a place where I do not have to work for a living," Ahmed explained. "I thought I have to give back to the community. 
"I look around and even though we are in a developed country, there are many gaps. Some people do not have the means or the knowledge or the language to be able to get the medical care they need."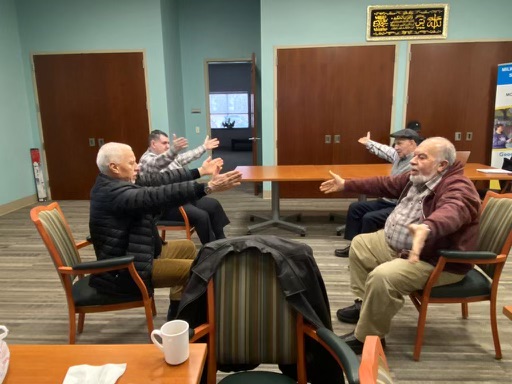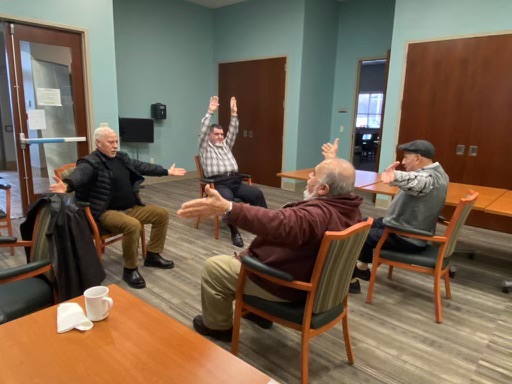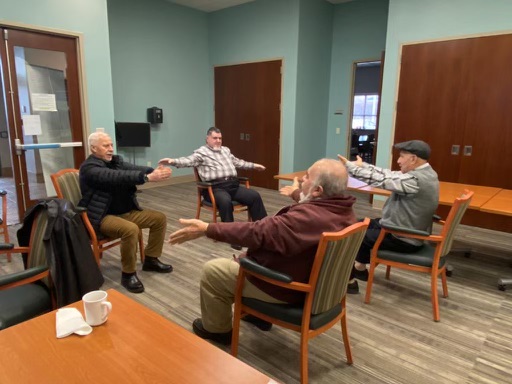 MCHC clinic offers chair yoga as one of the reoccurring programs at the Sakina center.
From the beginning, Ahmed wanted to create a place where "we are reaching out to people in their language, that we create a place where they feel comfortable in their clothes and with their customs, where they find it easy to get the help they need.
"All my life, I have seen the nicest hospitals and schools built by religious, often Christian, organizations. They inspired me. I thought I should do that. As a Muslim, I know I should do something meaningful with my life for now and for the hereafter."