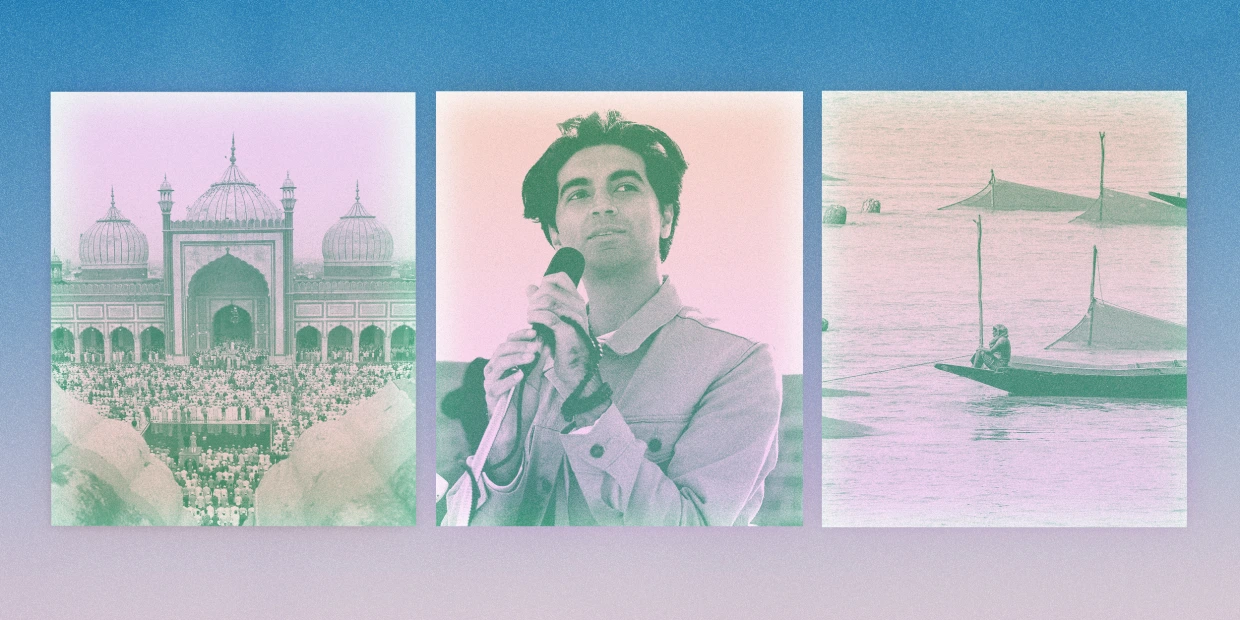 Saad Amer, 28, is a Pakistani American climate activist who says his family back home sees climate change reflected in volatile temperatures, natural disasters and crop shortages. Leila Register / NBC News; Getty Images
As climate disasters ravage much of the Muslim world — from record-breaking heat in the Middle East to devastating floods in Pakistan — Earth Day and Eid al-Fitr falling on the same weekend feels kismet to some Muslim Americans.
"My faith is the biggest reason I have for climate optimism," said Zahra Biabani, 24, an American organizer and author who is of Pakistani and Indian descent. "When we look at how much of our text is about nature and valuing it and caring for it, that can be a really powerful tool. Protecting people and things that can't speak for themselves is the most pure thing you can do."
Eid al-Fitr marks the end of the month of Ramadan and is determined by the sighting of a new moon. It's a joyous time, and Biabani hopes it can also be a powerful moment of reflection. 
The new, young faces fighting climate change want their peers to know that while their mission is urgent, it doesn't have to be depressing. They are working to rebrand their message through social media, celebrity and festivity — and doing so online has helped a new generation get involved from home. 
Saad Amer, 28, is a Pakistani American climate activist who has led this effort and even taken it to the White House and United Nations. With tens of thousands of followers on Instagram and Twitter, he meets Gen Z and Alpha where they are.
Over the last few years, he's become something of an influencer himself, regularly going viral for his work. He poses on red carpets with movie stars and YouTubers, but he also doesn't shy away from taking to the streets with a bullhorn and rallying voters during election seasons. 
Amer will stand at a White House lectern one day and lead a protest outside its doors the next. 
"The key is authenticity," said Amer, also the founder of the social impact group Justice Environment. "I will never compromise who I am to do the work that I do."
Most Gen Zers have grown up with climate change being discussed as a pressing reality in their lives, he said. But for young people of color, it cuts deeper. 
Muslim activists with family members in hard-hit areas say they are intimately connected to climate justice.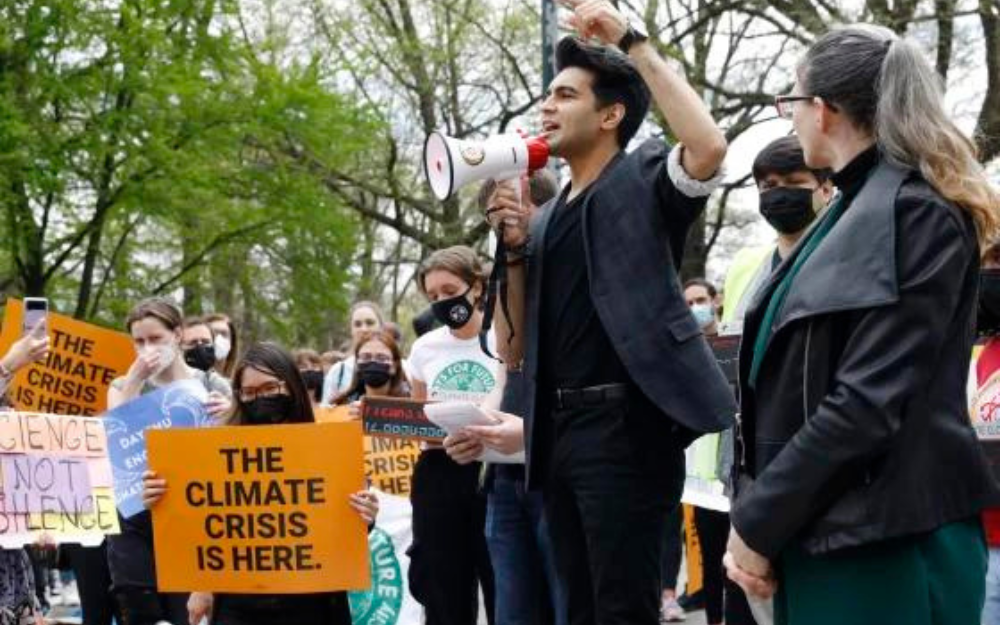 Saad Amer, at a March for Science NYC rally last year.Monica Schipper / Getty Images for March for Science NYC file
"Communities across the Muslim world are disproportionately impacted by the climate," Amer said. "People who have never gone through a proper education or heard the term climate change described from their first person accounts to me of how things have changed exactly in line with what science had predicted."
Watching relatives back home suffer the consequences of more volatile temperatures, natural disasters and crop shortages, these activists say they bring a perspective many others can't understand. Climate language back home often looks a lot different than it does in the U.S., they say, and the diaspora can help bridge the gap.
"My family back in Pakistan, they're not thinking about switching from plastic to reusable materials. They're more so thinking about, like, why their house keeps flooding," said Biabani, who has also amassed thousands of followers for her writing and activism. 
Coming from South Asia, taking care of the Earth and their communities is something that comes naturally, Amer said. 
He cited locally sourced food and clothing, both of which are much more commonly found walking the streets of cities on the subcontinent. 
"Even if you open up my mom's spice cabinet, all of the spices are contained in old jars that are reused," he said. 
But while the brunt of climate change's impacts might be felt in the global south, Amer wants people to know that the U.S. isn't so far removed. 
"This isn't just a developing world issue," he said. "This isn't just something inherent to Pakistan. This is something that is true for America as well. We just do a much better job of hiding it. … We're using our atmosphere as a sewer, the same way that we use our land as literal dumps."
With more awareness and more diaspora youth ready to fight, activists say they can see a renewed sense of purpose and joy in the movement. There is always a win happening somewhere, they said, and social media makes those stories a lot more visible. 
Eid falling at roughly the same time as Earth Day offers this growing coalition the chance to do exactly that, Amer said — to reflect on its wins, be in community with one another and to come into the next phase renewed. 
"Eid is really a time of joy and celebration, and it's marked by this celestial event, the sighting of a new moon," Amer said. "To form community in this way is so powerful and joyous. There are so many ways that we can come together."