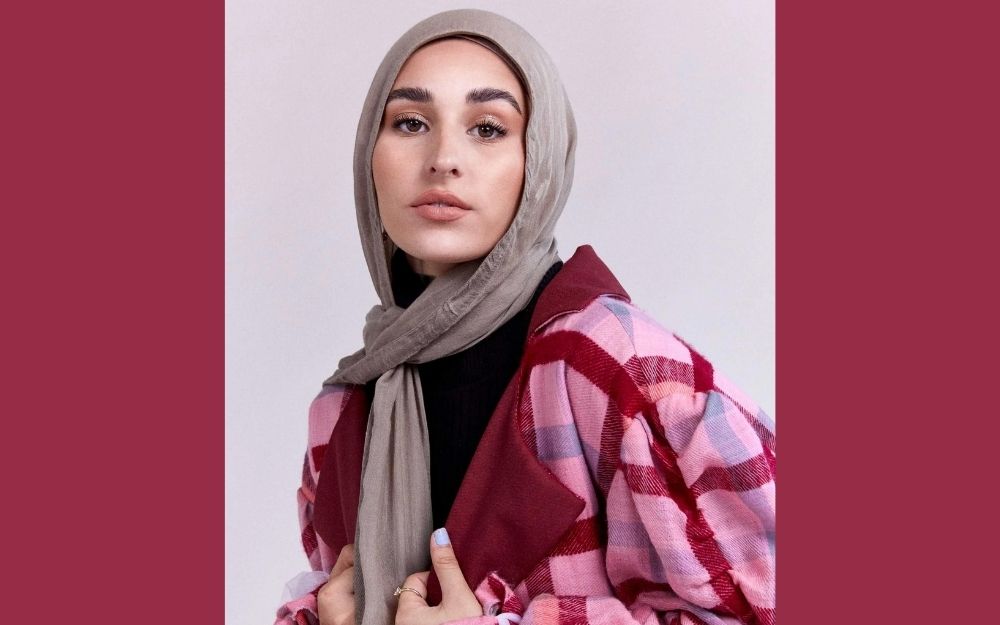 PHOTO: LUCY ALCORN
Can a mini skirt be worn modestly? The answer is a confident yes, when layered over baggy trousers, explains 26-year-old TikToker Maha Gondal.
Modest fashion inspiration has surged on TikTok as well as Instagram, with influencers expanding the narrative around what it means to dress modestly. The hashtag #modestfashion currently has over 1.3 billion views on TikTok. Gen Z and millennial content creators are leading the way, often leaning away from more traditional wear, such as abayas and kaftans, and experimenting with fashion and layering in a way that gives a contemporary spin on modest dressing. And, there's a growing cohort of male modest fashion influencers like UK-based creator Mohamed Sharif who incorporates traditional Islamic pieces such as the kufis (the short, rounded cap that is often used as a Muslim prayer head covering) into his everyday "Scandi-minimalist" aesthetic.
"Gen Z is very experimental and creative, and the same goes for modest fashion," says Gondal. "Layering is huge — you can really make any piece of clothing work." This opens the doors to brands not specifically targeting modest consumers. Gondal, whose TikToks have received over 5 million likes, has turned to names such as Ssense, Farfetch and Ganni. It's important for brands to understand that modest dressing is not always rooted in religious choice — many people choose to dress modestly for other reasons, ranging from personal aesthetic considerations to work requirements.
It's a menswear opportunity, too, which has been identified by some brands. All Saints, Reebok and Asos are among those looking to tap into the modest fashion market by releasing Ramadan or Eid capsule menswear collections. Typically, these brands tap Muslim and modest influencers to support marketing.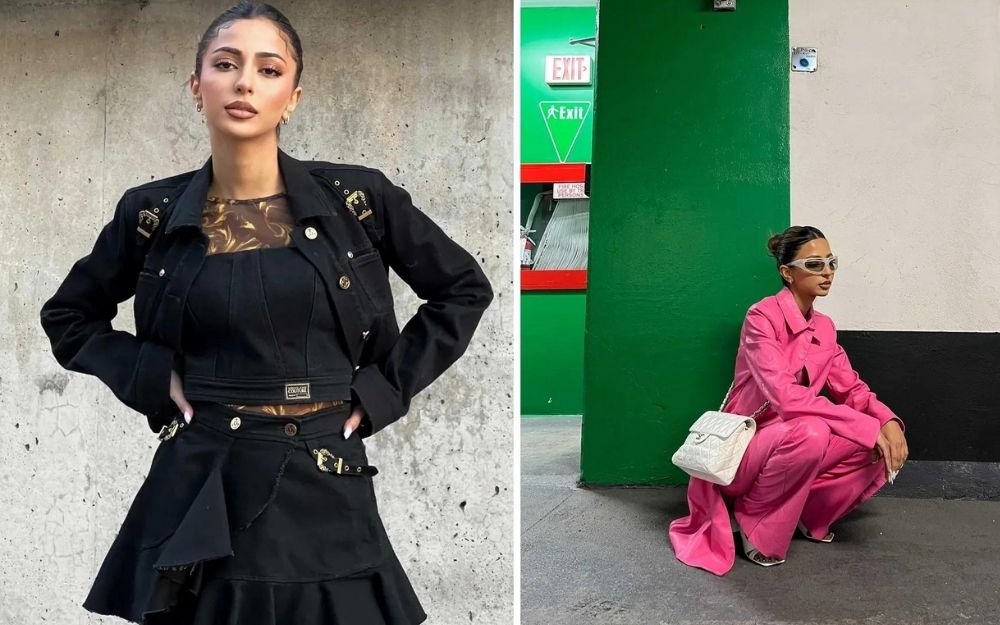 PHOTO: KWAME ESSIEN / TAYLOR WANG
Left: Gondal styled a Versace mini skirt and denim jacket to fit her modest aesthetic.
Muslim spending continues to accelerate, demonstrating its potential for luxury brands. Spending on modest fashion increased by 5.7 per cent in 2021, up from $279 billion to $295 billion, according to the 2022 State of the Global Islamic Economy Report. The sector is expected to grow a further 6 per cent this year reaching $313 billion, with the largest markets for modest fashion including Iran, Turkey and Saudi Arabia. Strong growth is forecast for countries such as Indonesia. Outside of the Middle East and Africa, the modest fashion community is valued at $160 million, expected to reach $170 million in 2022.
Regional variations
Modestwear can vary significantly across regions, notes Aaliya Mia, an analyst at research and advisory firm Dinar Standard. What a Muslim modest dresser wears in the UAE might be notably different to a modest dresser in, for example, Malaysia. "Across most regions, the basis is in Islamic roots," says Mia. "However the culture of those regions influences the direction of those [fashion] interpretations."
In the US, UK and some other countries "it's not easy to get your modest fashion pieces or go to a one-stop shop," adds Mia, so consumers have to be much more creative — hence much more layering. And, they are just as eager to "be fashionable and be in line with the trends happening in their country".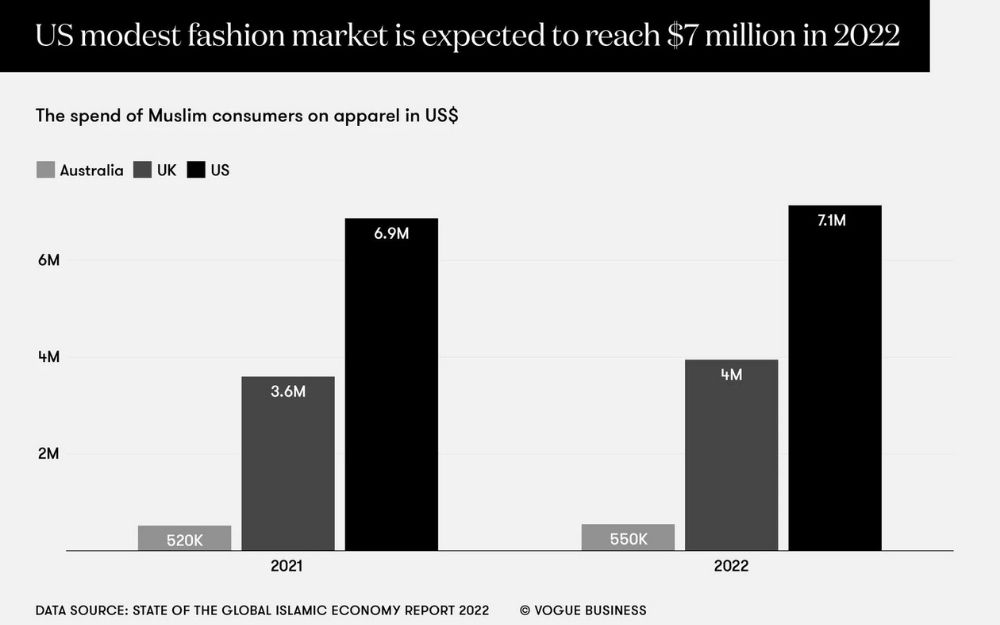 With the support of content creators, brands can tap the modestwear market without launching specific modest collections, previously considered the best entrypoint to reach Muslim consumers. Visual merchandising has a role to play. Brands can show how one item of clothing can be styled multiple ways, including modestly. That, Gondal argues, may well be enough to entice modest dressing consumers to shop.
Another way to narrow the gap between Muslim communities and luxury brands is to collaborate with Muslim stylists, influencers and consultants to benefit from their experience and connections. For Nawal Sari, a Sydney-based modest fashion content creator, her modest aesthetic merges vintage fashion with streetwear. The modest offering in Australia is limited, she says — it's a country that doesn't have a large modest or Muslim community. There are some limitations with modest fashion edits, she says: "These edits are amazing, we need and love them. But they are not for every type of girl." Imports from abroad may also be out of sync with Australia's seasons.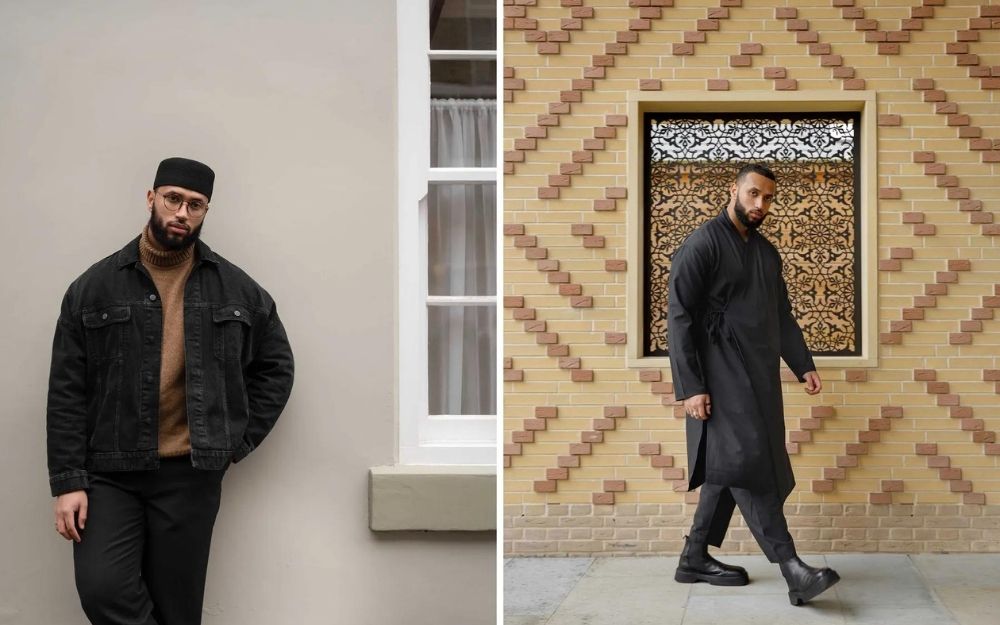 PHOTO CREDIT: JAVZEDIT / BILAL SAYEED
Instagrammer Mohamed Sharif worked with brands like Asos to help boost their men's modest fashion offering.
In 2020, UK-based creator Mohamed Sharif set up his Instagram account dedicated to what he describes as his "Scandi-minimalist" take on men's modest fashion, building 18,000 Muslim and non-Muslim followers. His aesthetic has moved away from heavily branded, tight-fitting clothing to now incorporate traditional Islamic pieces. "A lot of people really liked my content. Other people were just curious, asking 'what the hell is men's modest fashion?'" he says. "My mission is to keep working with reputable brands to draw attention to the Muslim modest fashion world, and especially men's modest fashion."
Brands should put their trust in Muslim creatives who understand the nuances of modest dressing to curate Ramadan or Eid edits, says Sari. They can also help broaden definitions. "A lot of retailers think of the general long baggy dress or abaya, which there is definitely a market for, but there are also a lot of girls like me who opt for really baggy pants and maybe a really cool turtleneck on Eid," she says.
Importance of Instagram
Modest dressers are using Instagram as a visual fashion diary, many showcasing their personal aesthetic under the hashtag #modestfashion. In the countdown to Ramadan, Instagram says the hashtag grew 29 per cent in the UK and 45 per cent in the UAE. Instagram's standout modest creators in the UK include Saeedah Haque, founder of the eponymous modest streetwear, with 18,000 followers; Habiba Da Silva with 850,000 Instagram followers; and Nabeeha Fakih Sheikh with 70,000 followers. In the Middle East and Africa, top modest fashion creators include Fatma Husam with 607,000 followers; Dubai-based entrepreneur Aya Barqawi with 195,000 followers; and Leena Al Ghouti with 313,000 followers.
"Contemporary modesty continues to take over the Instagram fashion scene," says Moon Baz, the head of creators partnerships, Middle East, Africa and Turkey at Meta, which owns Instagram. "We're delighted to be part of this transformation. It is all about representation and reach… The originality brought forth by this group [modest dressers] on Instagram has helped modernise modest fashion and appeal to a rapidly growing demographic."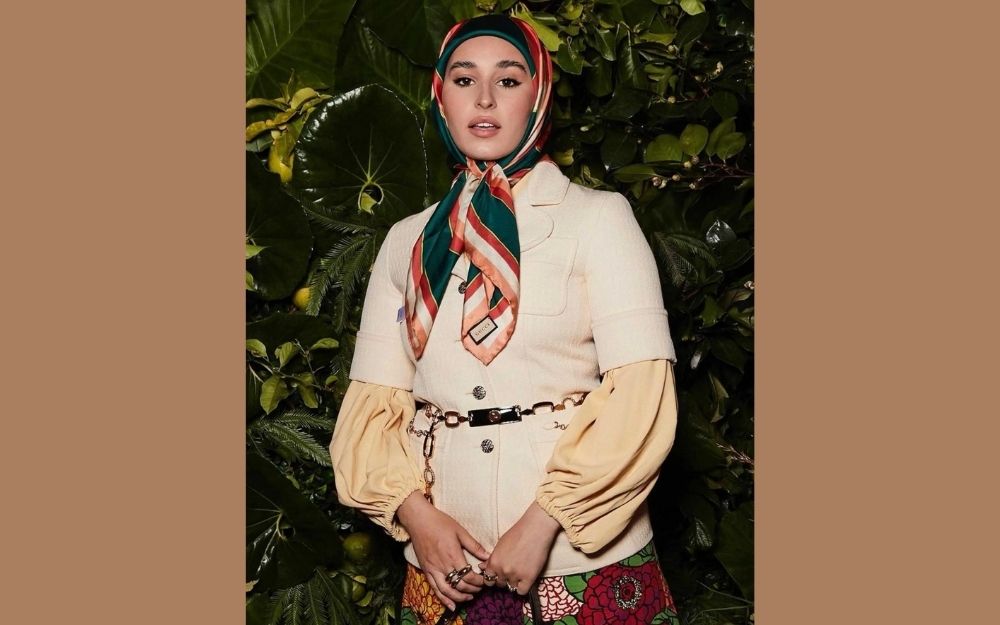 PHOTO: CHLOE PAUL
Influencers are showing luxury brands how their garments can be worn modestly. Gondal recalls how she worked with Versace to showcase a mini skirt and denim jacket on her Instagram and TikTok page. "I've noticed how brands are opening up to the idea of letting us be who we are and accepting our creativity," she says. "Brands reach out to me knowing my main focus is modesty. I always let them know in advance that I will pick pieces that adhere to my style and it's really interesting for them to see."
Diversity and inclusion efforts can apply to the casting and hiring process too. Inclusive casting helps brands broaden their reach, making modest dressers feel seen by brands, which translates into sales, says modest fashion consultant Yousra Zein. "Brands should hire a modest fashion stylist," says Zein. "The inclusivity should be behind-the-scenes, in the creativity space and not only in the diversity and inclusion [or] PR campaigns."
German e-commerce retailer Zalando worked with Zein on the casting process, ensuring that hijabi models were included in campaigns. "I gave a workshop to 40 stylists about modest styling, look composition, cultural approach, modesty search and hijab styling [to help] the platform to introduce modest fashion collections," she says.
Zalando has identified a gap to fill. "We have the opportunity to cater to communities historically underserved by the fashion industry in Europe," a spokesperson for the retailer says. "Offering a truly diverse assortment, including hijabs and other modestwear, enables and empowers our customers to make their own choice [about] how to dress."