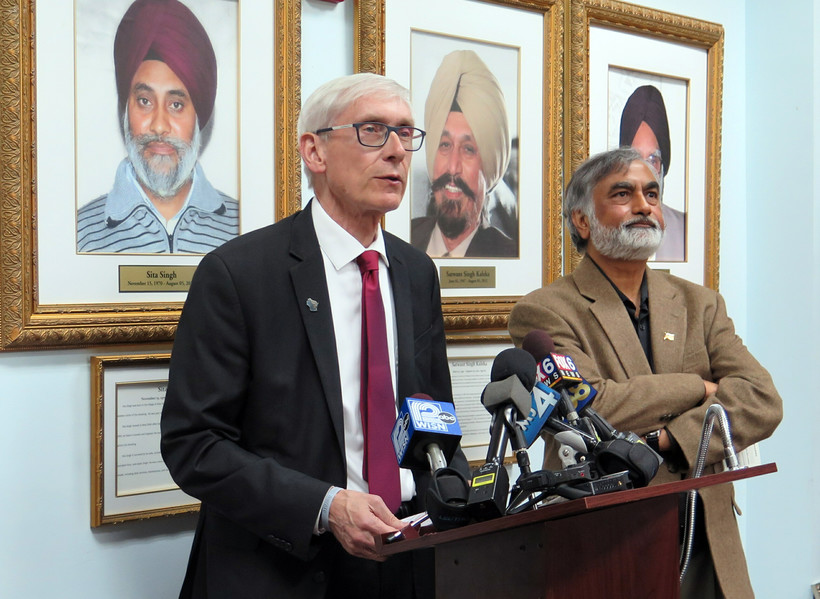 Gov. Tony Evers, left, speaks about Sikh Awareness and Appreciation month, alongside Masood Akhtar, who started the group "We Are Many-United Against Hate." Tuesday, April 30, 2019. Ivan Moreno/AP Photo
Nearly 40 years ago, Masood Akhtar left India driven by his conviction that the United States was the ideal place to practice his religion. But his experience in America hasn't been so simple.
On Thursday, President Joe Biden honored the Madison resident at the White House for spending decades rooting out hate and fear directed at his Muslim community.
At the United We Stand Summit, Akhtar was among 15 other civil rights and faith leaders from across the country as federal officials announced new efforts to stop and respond to hate crimes. Technology companies, including YouTube and Meta, also outlined work they'll do to combat hate-fueled violence.
"Too much hate-fueled extremist violence has been allowed to fester and grow," Biden said at the summit. "As a result, our very own intelligence agencies in the United States of America have determined that domestic terrorism rooted in white supremacy is the greatest terrorist threat to our homeland today."
That threat has been years in the making, Akhtar said Wednesday.
"A lot of these people react out of fear the environment has created," Akhtar said. "So the most important thing that we can all do is engagement. Find a way to connect with these people, and that's exactly what the Muslim community has been doing since 9/11."
After the twin towers fell, violence against Muslims surged. Between 2000 and 2009, the percentage of reported hate crimes in the U.S. directed at Muslims increased by more than 500 percent.
Media created a culture of fear toward the Muslim community, Akhtar said, and it continues to fuel misunderstanding and confusion decades later. 
In 2016, alarmed by former President Donald Trump's proposal to create a Muslim registry, Akhtar founded the nonprofit We Are Many-United Against Hate. The group digs into the root causes of fear and division, especially surrounding the Muslim community, to help people and communities overcome prejudices and misunderstanding.
Since then, he's dedicated his life to that work, even as he's seen misinformation and intolerance surge. 
"We need to wake up and come up with policies to deal with this situation on the one hand," he said. "But at the same time, we need to focus on education, particularly at middle school and high school early on about the U.S. Constitution, about civic education, how this country was founded and why people come to this country."
In 2018, students in Baraboo were photographed giving a Nazi salute. As many community members and administrators condemned the action, two United Against Hate leaders — a former white supremacist and an ex-police officer whose father was killed in the 2012 mass shooting at an Oak Creek Sikh temple — intervened, speaking to students and community members about how they found common ground.
Since then, three Wisconsin middle and high schools have started chapters of We Are Many-United Against Hate, Akhtar said.
But as his organization has grown, Akhtar himself has become a target.
"Sometimes I get hate letters," he said. "I just write them back, and very politely say, 'Hello, thank you so much for writing about Islam and Muslim(s). You're not the only one, actually, who has misconceptions about my religion, about myself and other people like myself' … And sometimes I will just say, 'Hey, I would be happy to come down and sit down with you.'"
Despite Akhtar's efforts and progress, he said recent years haven't been promising.
In 2017, Trump signed an executive order to ban citizens from seven predominantly Muslim countries from traveling to the U.S and suspended the resettlement of Syrian refugees, which Akhtar called "simply a political decision." That same year, members of a white supremacist group bombed a Minnesota mosque where several men were gathered for morning prayer. 
After the Jan. 6, 2021 insurrection, Akhtar said lawmakers' failure to quickly condemn the protestors' actions and pass new policies let fear and hate fester.
Still, he remains hopeful.
"Unity is our power and the U.S. Constitution is our hope," Akhtar said. "And I believe there will be a day when America will again stand up and become a role model for other countries to follow. But we've got a lot of homework to do before we get to that."