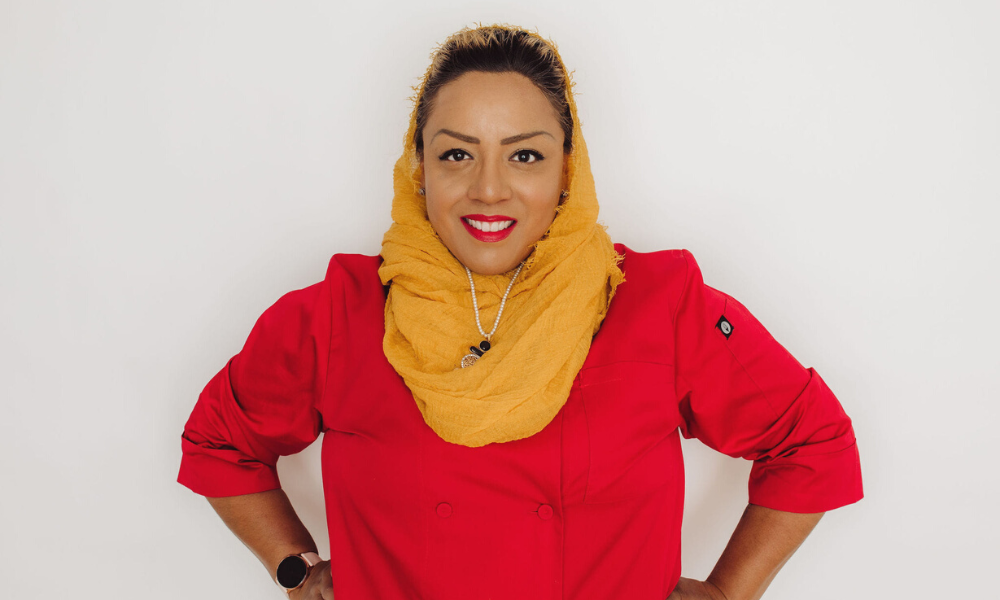 Chef Malina Schweinert of Bay View creates halal global fusion dishes.
Much of Milwaukee chef Malina Schweinert's life has been an uphill battle. In her teen years, family life became chaotic. Once a child who loved to learn, she dropped out of high school at 17 and fell in with the wrong crowd. After leaving a difficult relationship, she struggled financially as a single mom. She lost faith in God, although she had studied the Bible and prayed faithfully every day of her childhood.
Now, at 45, she has rewritten her life story, developed deep faith and a career she loves. Chosen to be a contestant in the Battle of the Chefs 2022 in Milwaukee, Sunday, Sept. 25, Schweinert will introduce her halal global fusion recipes to a wider audience.
A portion of the ticket sales and 100% of proceeds from a silent auction will be donated to Teens Grow Greens for select graduates of the organization's internship program to pursue a career in hospitality through an apprenticeship program. Tickets are available online.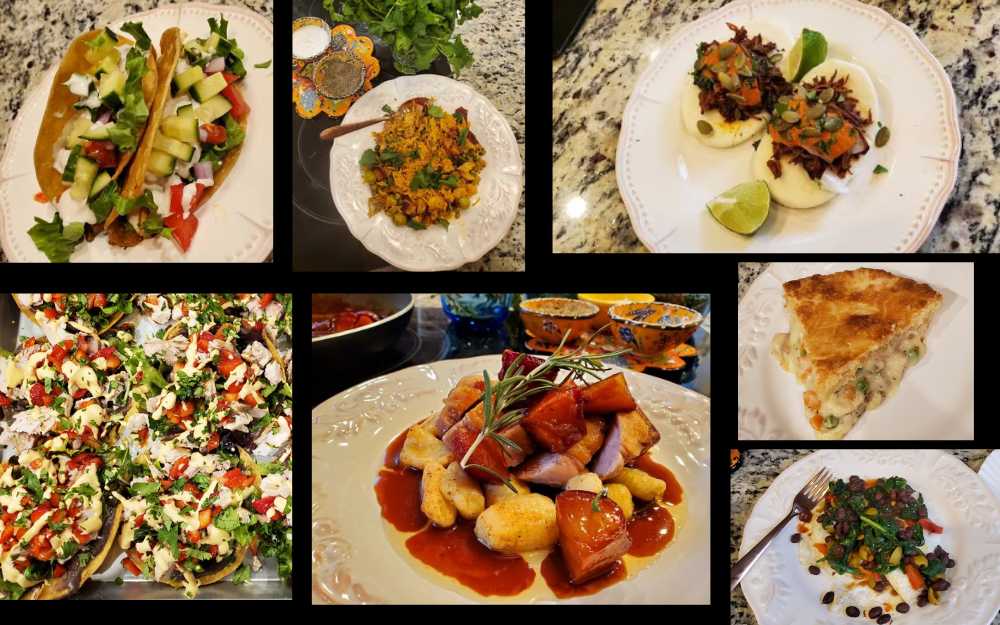 A few of Malina Schweinert's signature dishes. Clockwise from top left: Lebanese-inspired Shawarma Tacos; Arroi con Pollo with Gandules; Birria Bao with roasted carrot, chipotle tahini sauce, topped with toasted pepitas; Chicken Pot Pie; Eggs with Beans and Spinach; Duck Breast with Plum Sauce and Brown Sugar Sage Gnocchi; Ahi Tuna Tostadas with Balsamic; 
"God has the best intentions for us," Schweinert wrote recently on her Facebook page. "Uphill, downhill, the detours—they all lead us to our destinies."
In an interview with Wisconsin Muslim Journal, she described her transformation from an Islamophobe to a devote Muslim, her love of cooking and baking and how it has grown into a meaningful career. Here are the highlights:
What were you thinking about when you wrote that quote on your Facebook page about God's intentions for us?
I have been to some pretty low places in my life. I didn't value myself and didn't have a lot of confidence. I've changed that story. I do value myself. I have new truths about myself that I believe in.
I think Islam provides a person with the knowledge that we were created wonderfully and with so much potential. And that God is so merciful and forgiving and compassionate. When you know that, you learn to be that way towards yourself and others.
You prayed and studied the Bible when you were a child. Your family must have been religious.
My mother always had me in church to a point of excessiveness. The Bible was very important to me. I was well read with the Bible. I even as a child would read Bible commentary and the Bible because those were the only books we had in our house. 
We were non-denominational and went to a variety of churches: Assembly of God, Baptist, Pentecostal and Evangelical.
What were your years as a teen like?
My father was estranged from the family. Then my mother met my stepfather. They had a tumultuous relationship. From my seventh grade until my high school years, it was difficult. There was a point when going to church completely stopped.
No one was keeping tabs on me anymore. I went from my every move being watched to complete freedom. I could do whatever I wanted to do and that's what I did. I started drinking excessively. No one was paying attention to my education either, my report cards, my attendance, nothing. I just lost interest.
So, what happened?
After dropping out of high school when I was 17, I worked full time. I started working in the restaurant industry at a young age as a waitress.
At 25, I had two kids and I was with their dad. We were in a toxic relationship but I still wanted to continue my education. I went back and finished my high school diploma and applied for college, even though I didn't have any idea what I was doing at the time. 
I was accepted in Alverno with a financial aid, the Pell grant. I majored in psychology. Then, in my third year, I left that relationship and was a single mom. I was without transportation so I had to stop going to college.
I continued to work but then I knew I wanted to continue my education. I just didn't know in what? I enrolled at MATC in criminal justice.
At the time, my sister and I were applying for the Milwaukee Police Department. We were going through all the tests. I passed all the tests except the one where you have to jump over a 6-foot wall. I'm 5 foot 3. I didn't make it over the wall.
After the next semester, I went for human services. I thought maybe I would become a social worker and help people. But then I found out that job doesn't pay enough. Anyway, my heart is way too big for a job like that. It would be too much for me emotionally.
I took a break from school and that's when Brian (now her husband) came back in my life. It was 2011. I was a single mom raising two boys.
When did you first meet Brian?
It was 1998 or 99. I was 21, working as a bartender and Brian was a customer at the bar. That's how we met. We started seeing each other as friends and then we lost touch with each other until 2011. 
When he came back into my life, he told me he had become a Muslim. And at that time, my idea of Muslims was not good. Every Muslim I met I thought was in a sleeper cell. I thought the prophet was a moon god Muslims worshiped.  I had heard Prophet Muhammed was a pedophile.
What changed your mind about Islam?
I was very skeptical. However, I knew Brian was a good person. Brian had good manners. He would go pray and he wasn't drinking.  
We fell in love. He came to church with me on Sundays, but he would still practice his religion. So, this was how I thought it was going to be. I thought we would get married, that I was going to continue being a Christian and he was going to continue coming to church with me. Eventually, I was going to learn as much as I could about Islam so I could prove to him it was the wrong religion. That was my plan. We married in July 2011.
I began my research on Islam. It started with reading the Qur'an. I went online and watched lectures and debates comparing faiths. I think the Qur'an is what really touched my heart. I ended up converting in 2012 and did the shahada (profession of faith) in our living room.
In addition to reading the Qur'an, what helps you grow in your faith?
We have a WhatsApp group for Muslim converts. We are about 15 girls that all converted to Islam. We try to get together once a month. Today everyone is coming over to my place. It's a potluck. It's going to be nice. The Milwaukee Muslim Women's Coalition opened its doors to us, so we started meeting there once a month.
After being a Christian all your life, what made you doubt it was the right path?
I was well-read with the Bible and knew a lot about the history and theology of Christianity. There were some questions I had asked myself even before Brian came back into my life. 
Who compiled the Bible? When I was 16, a guy I dated gave me a Catholic Bible and there were books in there that weren't in the Bible I had at home. Growing up, I was always curious about who decided, who had that authority to decide, these books are going to stay in and these are going to go? 
There were other things. The idea of original sin didn't make sense. If God forgave Adam and his wife immediately after they repented, why was mankind all cursed for their sin. Many more things came up as I researched it; that's just the tip of the iceberg.
Why did you study culinary arts?
Over the years, I worked in the hospitality industry. And I was always the person who did the birthday parties for the children in the family. I have too many nieces and nephews and great nieces and nephews to count.  I cooked dinners and baked goods. Everyone came to Tia (Auntie) Malina's house for dinner. I loved it.
I had heard about MATC's culinary arts program but I always heard there was a wait list to get in so I didn't bother to apply. Then one day, I decided to call and see. It was 2014 and I found out there was no wait list. That's when I started my first semester. 
I was waitressing on Fridays, Saturdays and Sundays. Then Monday through Thursday, I'd go to school. I did that for the whole three and a half years. I graduated in 2018 with an education in culinary management.
Did finishing that degree change your career?
I started working in the back of the house, baking, expediting, cooking and some supervisor positions. I worked on a few food trucks. I helped open a café. I liked to put myself in positions to work directly with small business owners. They mentored me. 
Then I started teaching. I became a high school culinary arts instructor for the West Allis-West Milwaukee School District and did that for four years. I'm still teaching now but focusing on Native American recipes and that side of my culture. My ethnicity is Spanish and Native American, Mescalero Apache. 
Where do you teach now?
I teach on two reservations for the Ute Mountain Tribe, one in Colorado and one in Utah. I stay at each one for four days each month.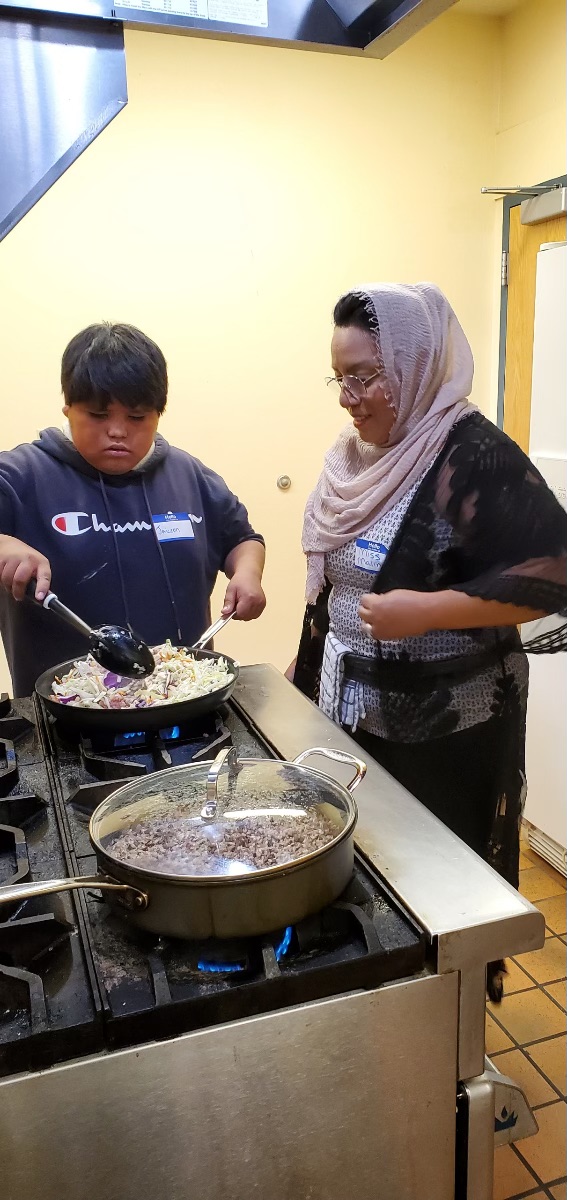 Chef Malina Schweinert teaches cooking at Ute Mountain reservations in Colorado and Utah.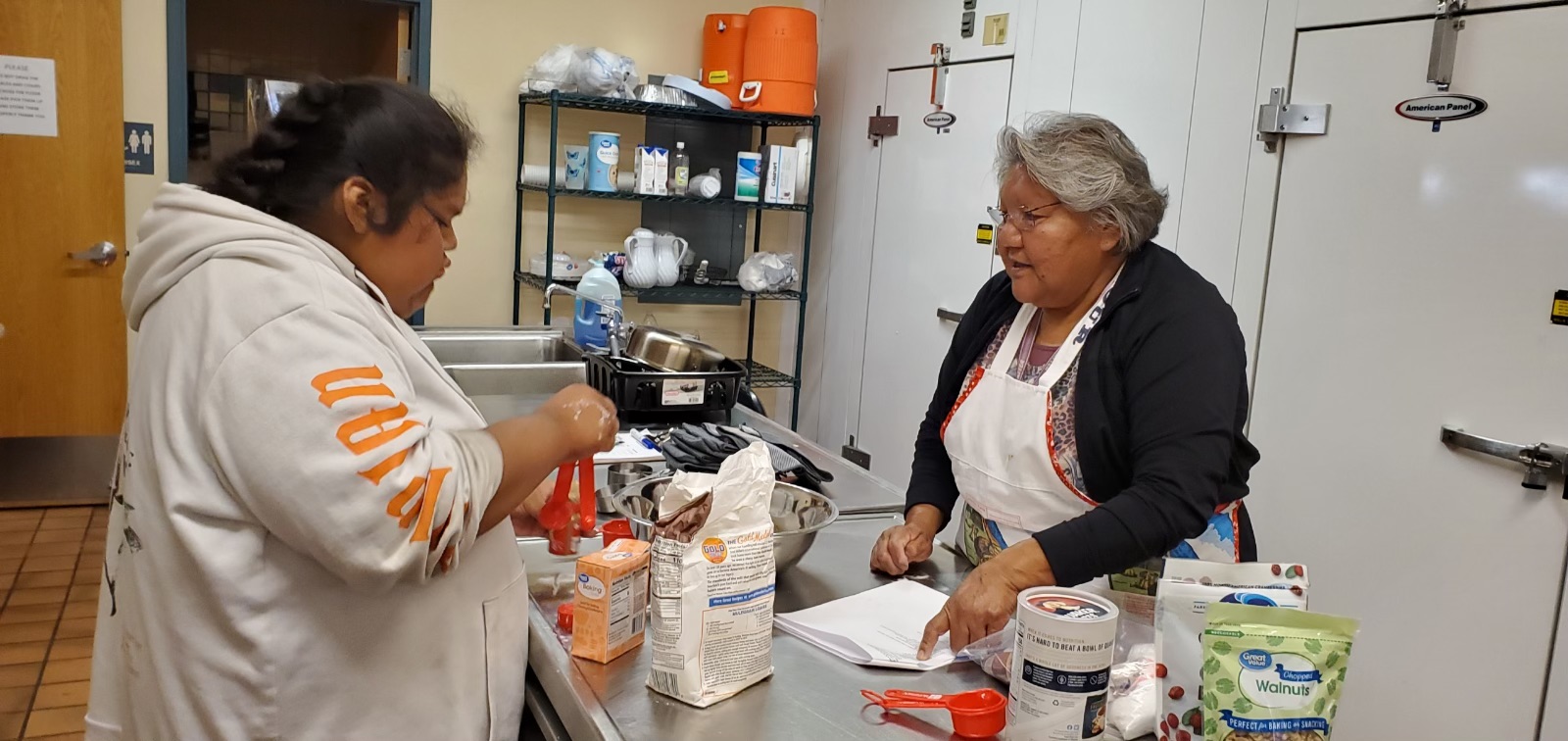 An elder joins in Schweinert's cooking class on the Ute Mountain reservation.
What do you do when you aren't teaching?
A lot of recipe research. And right now, I'm preparing for this competition on Sept. 25. It's not so much about the competition as it is a fundraiser, but it is a great way to market my food truck. It will help me break the ice, get out there and have more people taste my food.
How do you describe your cooking?
I call it halal global fusion. People ask me, "Do you like to cook or bake?" I do both. I don't stick myself in any box. I cook Indian food, Asian food, Mexican food, Spanish food, African food. I like to come up with my own recipes. I'll make any kind of American food halal.  
You seem very driven and determined. What do you want to do with your career.
I want to eventually open up my own cooking school, maybe write a few recipe books. Then, maybe open a café or diner.
But before that, start with the food truck and maybe open a few food trucks, maybe a franchise. Brian volunteered to help set up the food truck to save labor costs, then his back went out. That's one of the downs.
In spite of challenges and setbacks, you seem to keep moving forward. 
Totally. I've been working on being reflective in the most productive way. We need to reflect. That's how we grow.