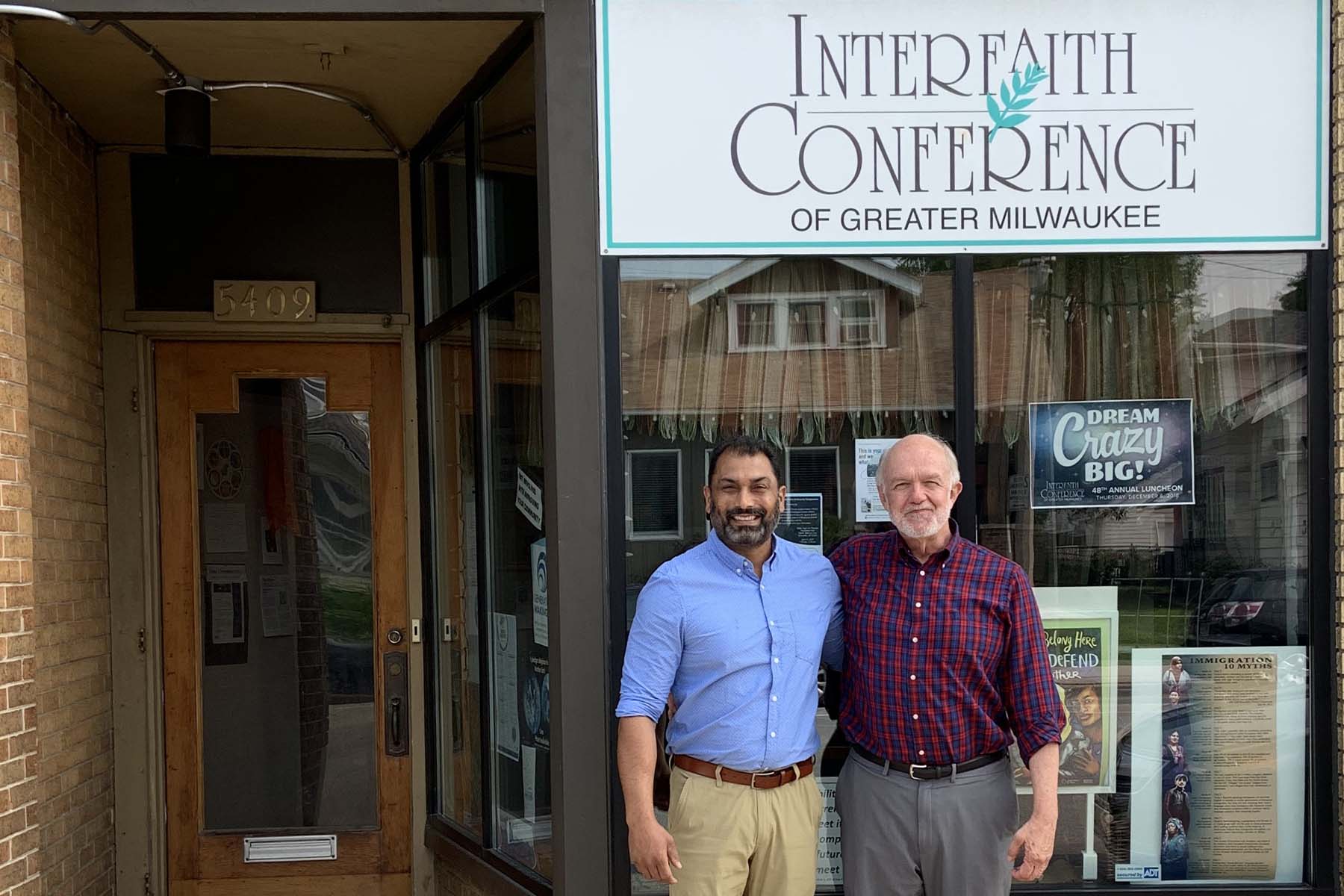 The Interfaith Conference of Greater Milwaukee announced earlier this month that Pardeep Kaleka has been appointed as its new executive director. Founded in 1970, IFC's mission is "to uphold the dignity of every person and the solidarity of every community."
Kaleka's qualifications for his new role were honed by tragedy. He is the oldest son of Satwant Singh Kaleka, the founder of the Sikh temple (gurdwara) in Oak Creek. On August 5, 2012, Satwant Kaleka was murdered in a mass shooting by a white supremacist at the gurdwara.
After a career in law enforcement and education, Kaleka has since devoted himself to addressing the issue of hate. He is the co-founder, along with former white power activist Arno Michaelis, of the organization Serve 2 Unite, which counters hate with peacebuilding programs for young people.
"I am excited by the passion and commitment he brings to the position as well as the ability to expand the Interfaith Conference's outreach through the connections he has developed through Serve 2 Unite," said Ahmed Quereshi, who serves on IFC's Conference Cabinet (board of directors).
"Pardeep brings a unique perspective and experience into his new role, and it is very necessary for the type of polarized world we live in," said Janan Najeeb, president of the Milwaukee Muslim Women's Coalition and chair of the Committee for Interfaith Understanding of the Interfaith Conference.
An important part of IFC's mission, outgoing executive director Tom Heinen said, is to "dispel vicious stereotypes" about people of different faiths, to "touch [people's] hearts and cause them to "feel a sense of connectedness."
"I want people to see themselves in one another," Kaleka said. "It's a dream come true to be able to do this for a living."
As Kaleka has personally experienced, religious organizations today must consider, "how [to] assure the physical safety" of the mosque, temple, or church. And, Heinen added, "How do you have security without giving up religious values."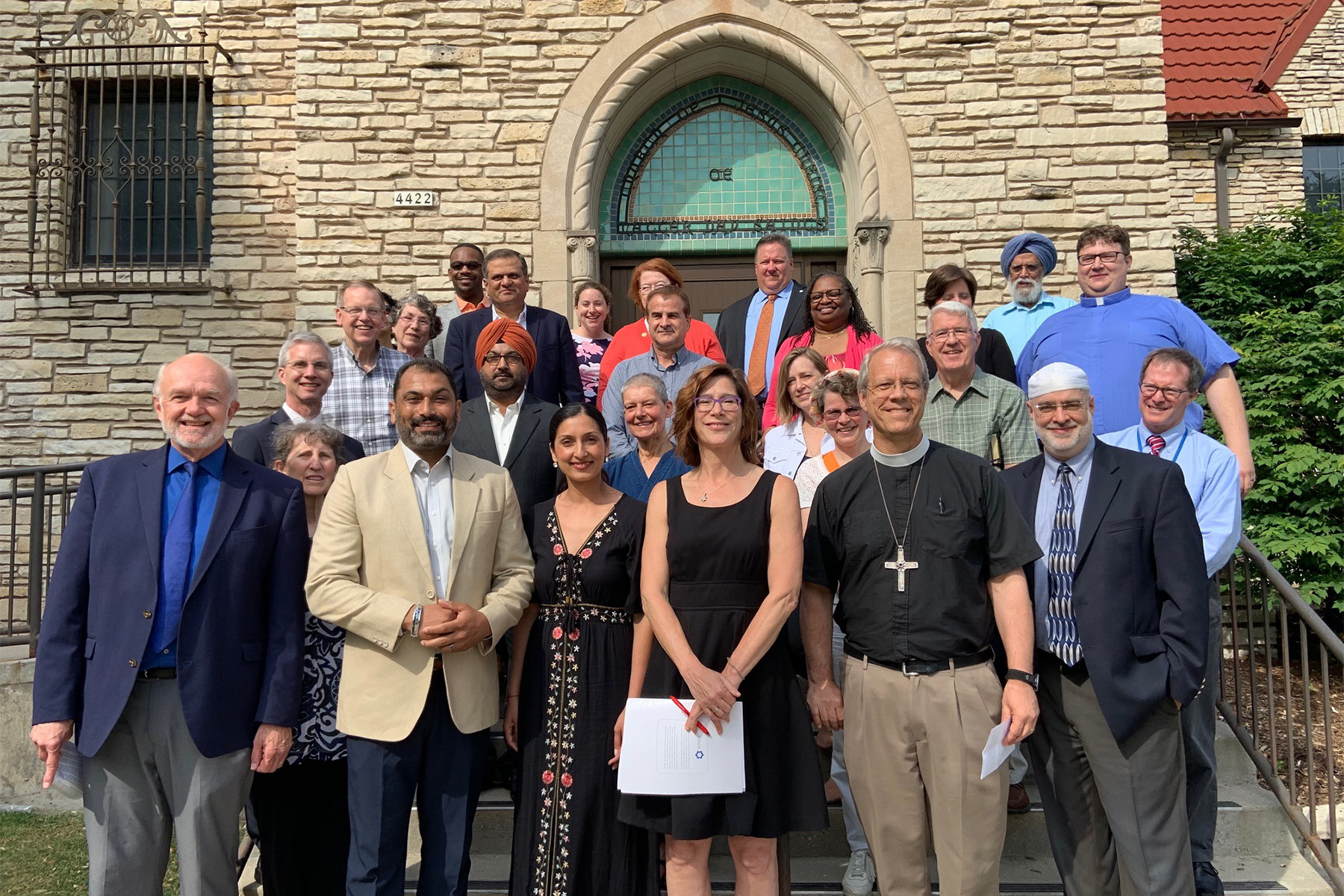 Heinen is a member of Milwaukee's St. Michael's parish, the spiritual home to Hmong, Laotian, Burmese, and Latinx immigrants, many of them refugees. "If they come from a war zone," parishioners sometimes ask that the door be locked during Mass," Heinen said. But under those circumstances, "How do you stay open?"
For Kaleka, a good connection to law enforcement is key. During the investigation into the Sikh temple shooting, the Justice Department referred to the location as a "church site," he said.
This caused Kaleka to realize that "different entities, federal and state . . . did not have a relationship with faith communities. Trust was not there." One of his goals as executive director is to "build [that] relationship."
IFC sponsored and helped publicize prayer vigils last spring in response to the Easter bombings in Sri Lanka and the mass shootings that killed 50 people at two mosques in New Zealand.
However, much of the organization's focus is on pre-empting the need for such gatherings. In June, IFC partnered with various agencies, including the Department of Homeland Security, the U.S. Attorney's Office, and the Cybersecurity and Infrastructure Security Agency to present the Wisconsin Interfaith and Security Symposium at the Miller High Life Theater. Presentations included a "Faith-based Threat Briefing" and a "Threat Assessment Presentation" by the FBI.
As the outgoing executive director, Heinen presided over a ten-year period of growth in both member faiths and programing at IFC. Heinen, who is a former religion reporter for the Milwaukee-Journal Sentinel, brought "experience and knowledge" that "helped the Interfaith Conference grow and deepen faith connections," Janan Najeeb said.
The Islamic Society of Milwaukee is one of the 20 member faiths, or judicatories that make up the IFC.  The judicatories grew from 13 to 20 under Heinen's leadership, according to Ahmed Quereshi. The seven faiths/denominations  that were added include the Sikh Community (Oak Creek & Brookfield Temples), Church of Jesus Christ of Latter-day Saints (Milwaukee North and South Stakes), Buddhist Peace Fellowship Milwaukee,  African Methodist Episcopal Church (Milwaukee District), M.T.O. Shahmaghsoudi School of Islamic Sufism, Hindu Temple of Wisconsin, and Moravian Church (Western District).
"Our society is becoming highly siloed," Heinen said. "When you have no contact with the other, it's easy to think things about them that are not accurate." To help provide that contact, IFC has created "opportunities for people of different faiths to dialogue" and "share their personal stories," Heinen said.
These include programs like the Amazing Faith Dinner Dialogues. At the dinners, attendees are seated at tables of 8 to 12 people. A question is chosen from a set of cards and "you speak (about your faith) for up to five minutes and no one can interrupt you," Heinen said. More than 2000 people have participated in the past two years.
The Dinner Dialogues program, Heinen said, "addresses deeper life questions with the power of storytelling. . .You see that [people of different faiths] have some of the same concerns that you have." In Kenosha last January, 90 people participated in dinner dialogues held at the Islamic Center as part of Kenosha's annual Kindness Week, Heinen said.
At Rockwell Automation in Milwaukee, IFC has a "longstanding relationship" with an employee interfaith resource group that holds lunchtime dialogues. "Where do people of different faiths come together? Generally, it's the workplace," Heinen said.
"We want to help foster a corporate culture that is inclusive," Kaleka said. "How do we make decisions that are not accidentally exclusionary? How do we build a corporate culture that embraces faith?"
IFC also reaches into areas "where faith communities do not have a strong connection," Heinen said. IFC recently sponsored a Traveling Photo Exhibition on Gratitude for Faith and Diversity. Twenty students from MIAD, most of whom had no faith affiliation, visited places of worship and meditation and took photos that were displayed at Milwaukee City Hall last November before traveling to the Medical College of Wisconsin.
"Our initiatives," Kaleka said, exist to "bring about connection and foster commonality."
In the nearly 50 years of its existence, IFC has born witness to both turmoil and change: the battle against housing segregation, race riots, the Vietnam War, the wars in the Middle East, the continuing struggle with urban poverty. Recently, IFC brought the Earth Network under its umbrella. Earth Network partners with the Urban Ecology Center and House of Peace to support people of faith "to care for the Earth based on their own sacred teachings," according to an IFC resource.
However, "we don't engage in telling faith members what they should be preaching," Kaleka said. "IFC exists to foster interfaith understanding."
In the coming year, three former executive directors, Heinen, Marcus White, and Jack Murtaugh, will be leading an endowment campaign in acknowledgement of IFC's 50th anniversary. Currently, more than half of IFC's annual budget of around $150,000 comes from member faiths. The executive director is the only full-time position.
Pardeep Kaleka wears the stainless-steel bracelet called the kara that is an article of faith for Sikhs, who believe in one God for all of creation and the equality of all people. Moving forward into the next 50 years, Kaleka said he will focus on "providing access" to IFC programs and "building relationships both regionally and nationally," always with the understanding that "to uphold the dignity of every person is very much a spiritual mission."