Masjid Al Qur'an imam and religious director Hafiz Muhammad Shafiq displays a honeycomb from the mosque's second harvest.
Dozens of people gathered Sunday behind Masjid Al Qur'an, 11723 W Brown Deer Road, Milwaukee, to witness its second harvest of honey and meet special guest Dr. Muhammad bin Yahya Al-Ninowy, founder of the Madina Institute, a fully accredited Islamic seminary in Atlanta, Georgia, with campuses in South Africa, the United Kingdom, Norway, Sudan and Malaysia.
Al Qur'an Foundation, one of Wisconsin's oldest Islamic organizations, was established in 1992 as a religious, educational and charitable organization. Its mosque, Masjid Al Qur'an, which opened in 1997, sits on 8 acres, along with 12 rental apartments, an office, a sisters' prayer hall, a community center, beehives, a fruit orchard and a vegetable garden.
The hives, orchard and garden were developed to create educational opportunities for Al Qur'an Academy students and the community, said imam and religious director Hafiz Muhammad Shafiq. 
Masjid Al Qur'an is a new affiliate of Madina Institute, which focuses on "making traditional Islamic Sciences accessible to the next generation of American Muslim scholars on U.S. soil, and calling Muslims to go back to the basics of the religion: the Qur'an and the Authentic Sunnah, as well as tolerance, peace and compassion," the institute's website states.
Al Qur'an Academy students were joined in harvesting honey by Shaykh Al-Ninowy and students from the Madina Institute, as well as Muslims from across Greater Milwaukee.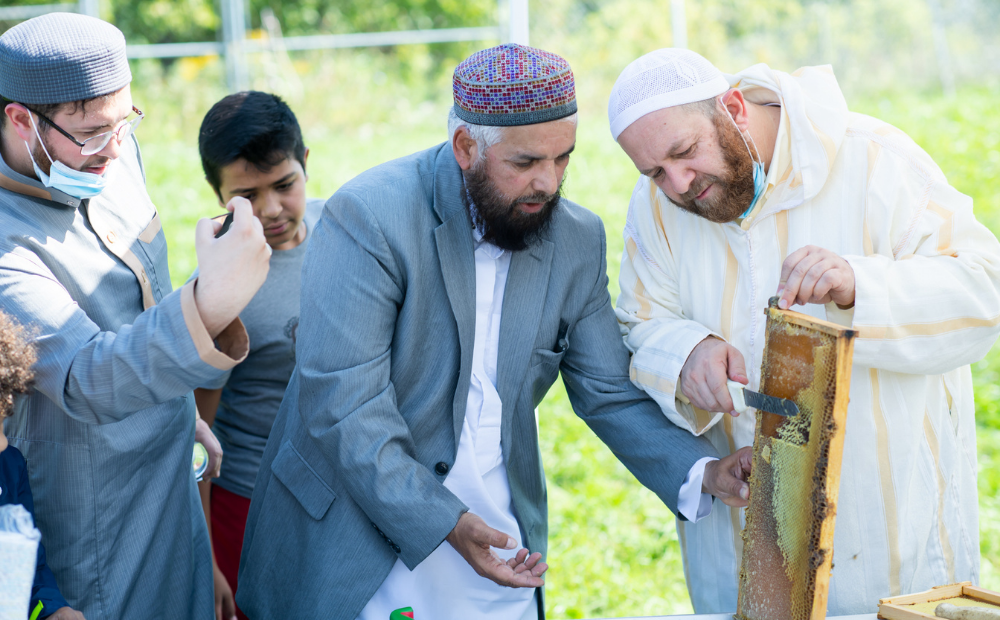 Dr. Muhammad bin Yahya Al-Ninowy, founder of the Madina Institute, scrapes the top layer from a honeycomb as Masjid Al Qur'an imam Hafiz Shafiq assists and students of the Al Qur'an Academy watch.
A special guest
Shaykh Al-Ninowy, founder and director of Madina Institute, is a muhaddith, a scholar of Hadith sciences. He is listed in The Muslim 500: The World's 500 Most Influential Muslims in the "preachers and spiritual guides" category. The list is compiled by the Royal Islamic Strategic Studies Centre, which is affiliated with the Royal Aal al-Bayt Institute for Islamic Thought in Amman, Jordan. Being on the list is a recognition of the influence an individual has "to make a change that will have a significant impact on the Muslim world or Muslims," says its website.
Al-Ninowy is known for promoting unconditional compassion, love and non-violence among all people, his biography on the Madina Institute site says. He holds a doctorate in Islamic Studies, a bachelor's degree in microbiology and a doctor of medicine degree. 
He is also the teacher of Al Qur'an's lead beekeeper Shaimai Wu, who prefers to be called Abu Zakaria in honor of his now 4-year-old son. Wu studies in the part-time intensive Islamic studies program offered through a collaboration between the Madina Institute and Al Qur'an.
"The Madina Institute partners with Al Qur'an and for the past four years has been offering intensive courses here about theology, spirituality and community building," Shaykh Al-Ninowy explained. "Being here today is something beautiful, in unity with you, in these surroundings, seeing everyone involved from little ones to men and women, and especially seeing the smiles of the children."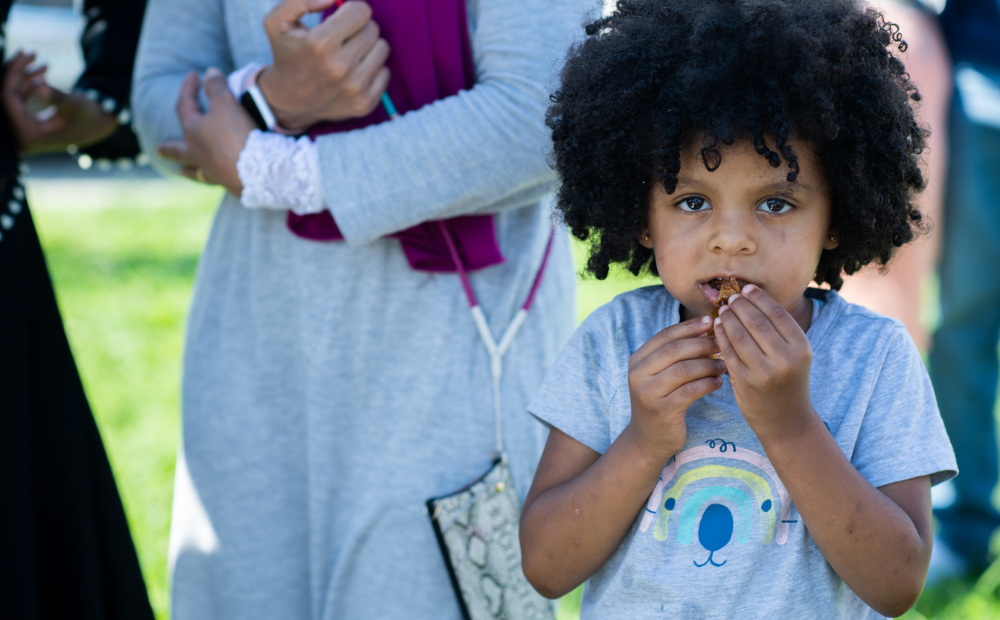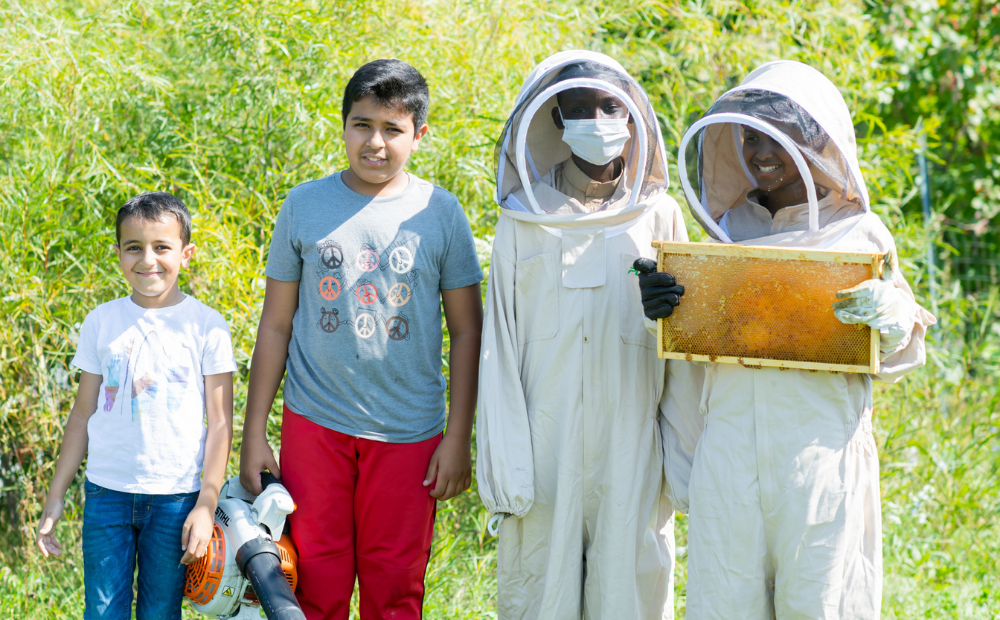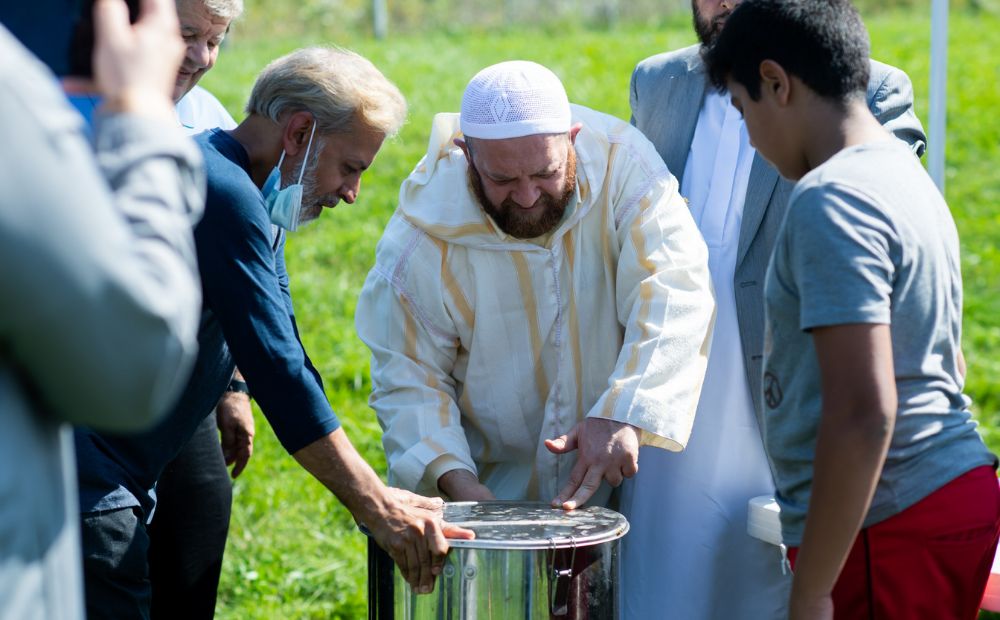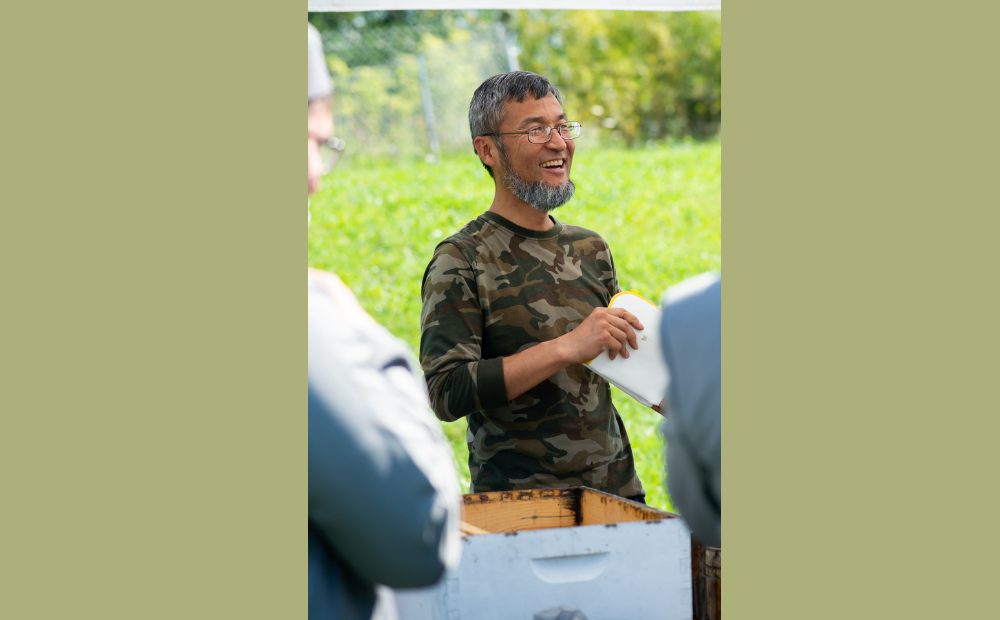 Masjid Al Qur'an's lead beekeeper Shaimai Wu has been tending the bees since they arrived at the beginning of Ramadan.
United in their interest in bees
Shaimai Wu, or as he prefers Abu Zakaria, grew up in a Muslim family in China on his mother's side that kept bees. "I spent a number of summers at my grandparents' place, witnessing beekeeping and the honey harvest, but I never kept bees myself," he said. 
Today he works in the supply-chain field as the director of planning and purchasing for Design House in Mequon. "About five years ago, I discovered a beekeeping club in Milwaukee and I thought, I can pick up where I left off many years ago," he said.
Abu Zakaria has been keeping bees on his own for the past five years.
Imam Hafiz Muhammad Shafiq has had a growing interest in bees since participating in a beekeeping program in 1987 when he was a university student in Pakistan. 
"It was only a few weeks but I learned a lot about beekeeping and bees," he said. "Since then I have been inspired to learn more about bees. I always love to go to talks about honey and bees. When I came to the U.S. I found out there are many people who doing this. 
"There is a family about a 10-minute drive from here. I used to go buy honey from them and talk to them. I learned a lot from them.
When the imam's daughter Aiman was a junior in high school, she did a project about how signals emitted by cell phones cause a decline in bees. In doing that project, "We developed a closer connection with this family and we started learning more about that," he said.
Meanwhile, four years ago, Abu Zakaria joined Al Qur'an's Madina program as a student, Imam Shafiq said. Abu Zakaria invited the imam to go with him to see his beehives, which he did several times.
Last year Imam Shafiq asked Abu Zakaria if he thought the Al Qur'an community could keep their own bees. They considered the educational benefits for youth and the entire community.
It would create "a hands-on learning opportunity," Imam Shafiq said.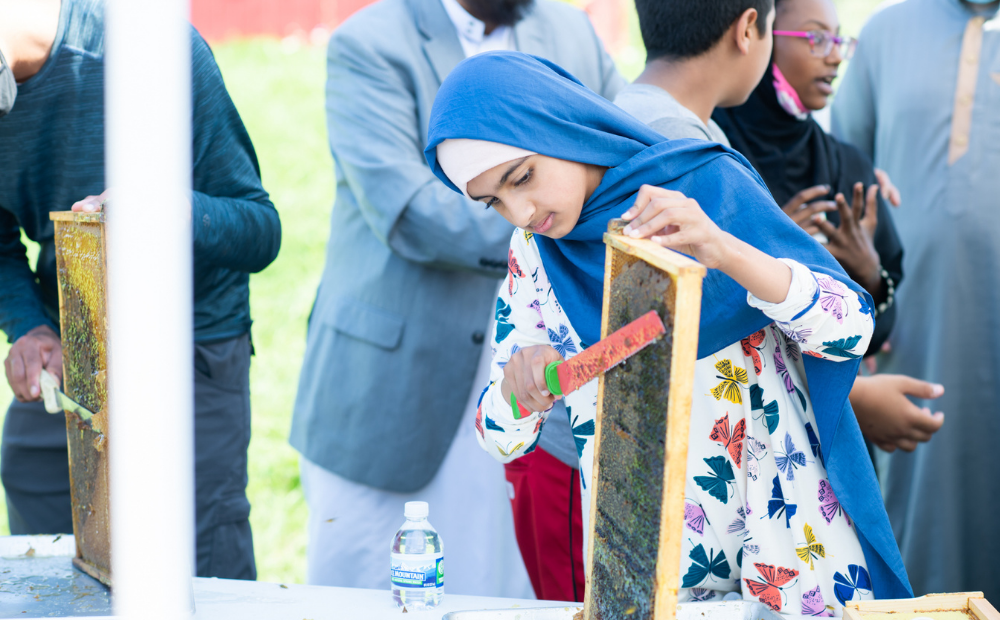 Students from Al Qur'an Academy assisted in harvesting the honey.
Creating hands-on learning experiences
Al Qur'an applied to the City of Milwaukee and received a permit for two hives. They ordered a kit online that included a queen bee and 2 or 3 pounds of worker bees, Abu Zakaria said. The kit arrived just before Ramadan in mid-April.
"We put the bees in the hive April 13," he said. "The bees mostly do their own work from there."
However, Abu Zakaria had to feed the bees until spring flowers blossomed. He made a syrup of water and sugar and pollen patties he bought online. That kept them happy until natural nectar and pollen were available. 
"It has extraordinary," he said. "We harvested a month ago and got about 8-10 gallons. Even 8 gallons is extraordinary. From the other hive we harvested today, I'd say we got about 3 gallons."
When Al Qur'an held its summer camp for three weeks in June, the students were able to visit the hives and learn about bees, said Imam Shafiq.
"At the same time, we started this garden," he said, pointing to a nearby vegetable patch. "We teach them how to plant the seeds and grow vegetables. Al hamdullah, we see interest from some of our students."
Students also picked cherries from trees in the orchard. "Last summer we had these trees full of cherries and the summer school kids loved picking up these cherries," Imam Shafiq said.
"Last month we had our first honey harvest," he added. "I was expecting eight or 10 jars of honey. Mashallah, there were 8 or 10 gallons, much more than I expected. 
"It went very well. Students and the community participated and learned from it.
"We want them to spend some time away from their gadgets and do something productive that keeps them busy mentally and physically. And we can do more than this. We can get parents involved and bring people from the community to participate."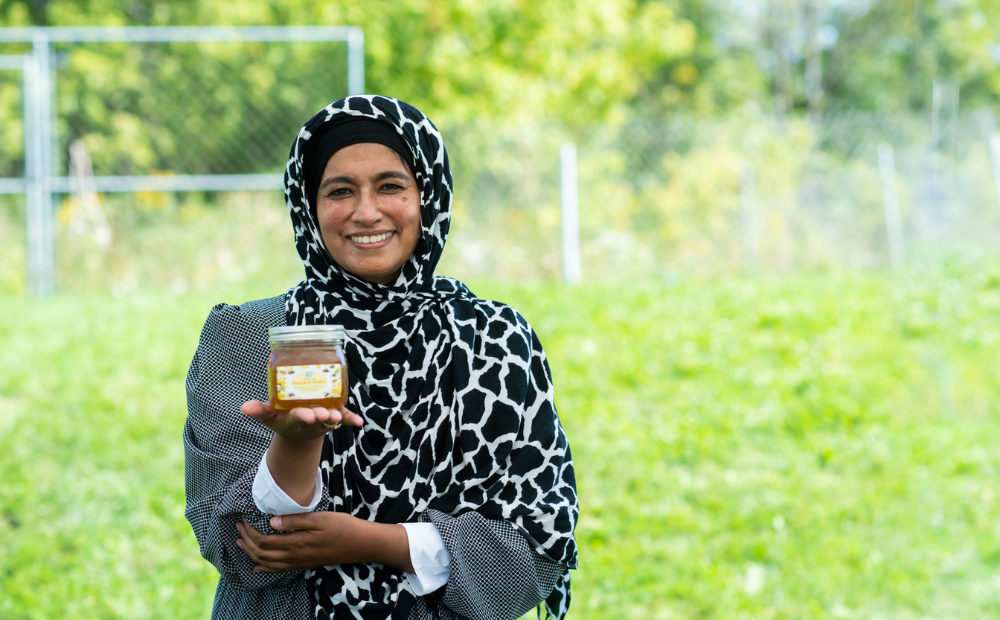 Dr. Fatima Hendricks, assistant professor of occupational therapy at Chicago State University and a student at Madina Institute, said she finds bees inspiring. 
"We can learn so much from the bees," said Dr. Fatima Hendricks, an assistant professor of occupational therapy at Chicago State University. She came to Milwaukee to attend the Milwaukee Muslim Women's Coalition's mental health conference and the honey harvest. 
"Seeing how the bees collaborate and work together to create honey inspires me to think about what people can do if we put in a collective effort."