Elise Bellin, Librarian of the Islamic Resource Center, wrote this book review as part of an ongoing series that focuses on a range of books within the IRC collection as a service to the community.
A Gift of the Sands by Julia Johnson, illustrated by Emily Styles (2005)
ISBN: 1900988917
Julia Johnson and Emily Styles are a master storytelling mother-daughter team that partnered on a number of books primarily in the early 2000's. While Johnson is obviously the more polished of the two, in this case the two complement each other extremely well. Johnson weaves the words telling the tale of the pearl that travels from its formation within an oyster to dropped by a bird to eaten by a fish, caught by fishermen, carted to market, devoured by cats, brought by a mouse to its family, on and on until it reaches its final destination as a gift to a Bedouin's beloved, finally realizing just how insignificant it is in the grand scheme of things and yet how lucky to have had so many adventures it has been, all to finally be a story in and of itself, while Styles is busy creating cray-pas and watercolor combination images that have a dream-like quality that underscore the conclusion of the story when we discover that someone else is further communicating this story to a new generation.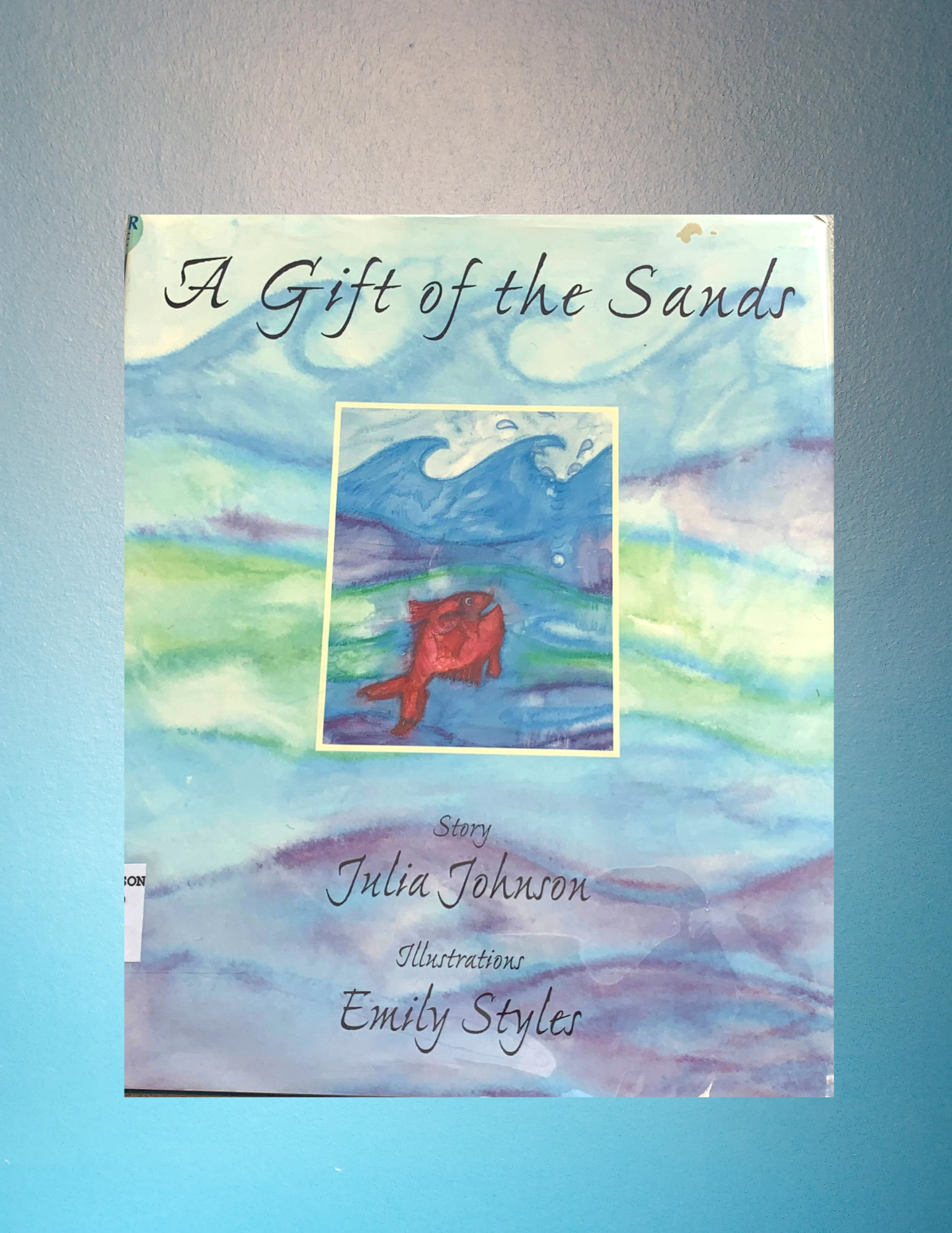 There is something about a well-crafted fairy or folk tale that speaks to the heart. A Gift of the Sands is no exception. The colors and textures flow from the cool, sandy depths of the ocean to the hot, arid oceans of sand that forms the desert. One large pearl decides it is the most perfect in the entire world and must be admired by the sultan. So begins the tale of one pearl on its way to its fated destination. Along the way, none of the pearl's carriers recognized its perceived value. They discarded it without much if any thought. For them, in their situation, that value didn't exist. And yet, that didn't change its value. If the story teaches us anything by its conclusion it is this: None of us know our own worth or that of those around us. It isn't until we have reached our destiny and see what we have accomplished that our true worth is revealed. Even then, it takes a level of enlightenment and introspection and grace.
If you are looking for a children's story that can teach on different levels and even mean something to the adults that read it, this might be a good place to start. The value of this story, like that of the pearl, isn't revealed until all the pages have been turned. It is with subtlety and grace that we learn something about ourselves in the reading. It may be geared for children aged 5-8, but it is well-worth the read at any age.