Elise Bellin, Librarian of the Islamic Resource Center, wrote this book review as part of an ongoing series that focuses on a range of books within the IRC collection as a service to the community.
Leila in Saffron by Rukhsanna Guidroz, illustrated by Dinara Mirtalipova (2019)
ISBN: 9781534425644
Liking yourself for who you are, what you look like, where you come from… These are difficult concepts for a lot of people. Self esteem is hard for adults, much less children, but at least adults usually have the words. Add in that the child is a minority, a group that while representation is growing is still far too often underrepresented, and you are looking at someone who is far more likely to not understand and not like themselves because they don't see themselves in those around them.
The upbeat, poetic, vibrantly illustrated book of Leila in Saffron certainly works on this concept, adding to a growing body of literature aimed at letting minority children know that they should be proud of who they are and what they look like, that they are not alone and that being from somewhere different than many of those around themselves isn't a bad thing.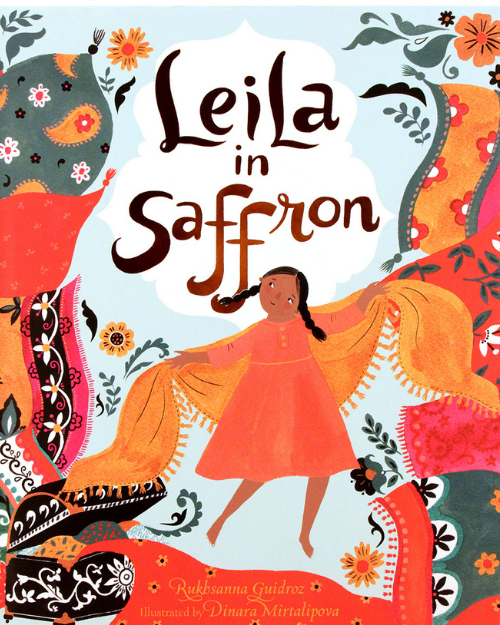 In the book, Leila is a sweet young girl visiting her grandmother for a family dinner. Her grandmother compliments her on her saffron-colored dress bringing out the beauty of her eyes. This sends her on a journey of self-discovery as Leila attempts to find other parts of her that she can love, proving that she is more than just a collection of "skinny arms and knobby knees."
In the course of a picture book, Guidroz manages to cover appearance, ethnicity, culture, race, and so much more all in a journey of self-acceptance and discovery. Maybe a little too much was covered, as we seem to be headed toward an examination of her appearance only to jump to her love of Arabic books and looking forward, to her first trip to Pakistan to the family loving her cooking, to… Each pair of pages seems to cover yet another aspect for her to love. It can jump a little too fast. But in the end, we discover it isn't just appearance and there is a lot for her to love about herself.
To this end, the illustrator really must be commended. The images are both simple and vibrant, beautiful and welcoming.
Traditional patterns and textures, clothing and decorations, all are shown and come together in a rich tapestry of belonging. With all of the eye-catching colors and patterns, it is no wonder that it has been so well-received.